An essential piece of CCA's campus expansion is to transform the San Francisco location into a residential campus for the first time in the college's history. CCA students will be able to live, eat, study, and bond on their campus like never before.
The project introduces two new state-of-the-art buildings to CCA: Blattner Hall opened in fall 2018, and Founders Hall, which is located directly on campus at 188 Hooper Street, has doors that open into a courtyard connected to first-year studios.
"With residential life, you don't just have housing," says Blattner Hall Residential Life Coordinator Joren Plunkett. "There are staff members that are eager to greet and assist, events that promote education, community service, self-responsibility, sense of belonging, and social interaction. It's a home away from home."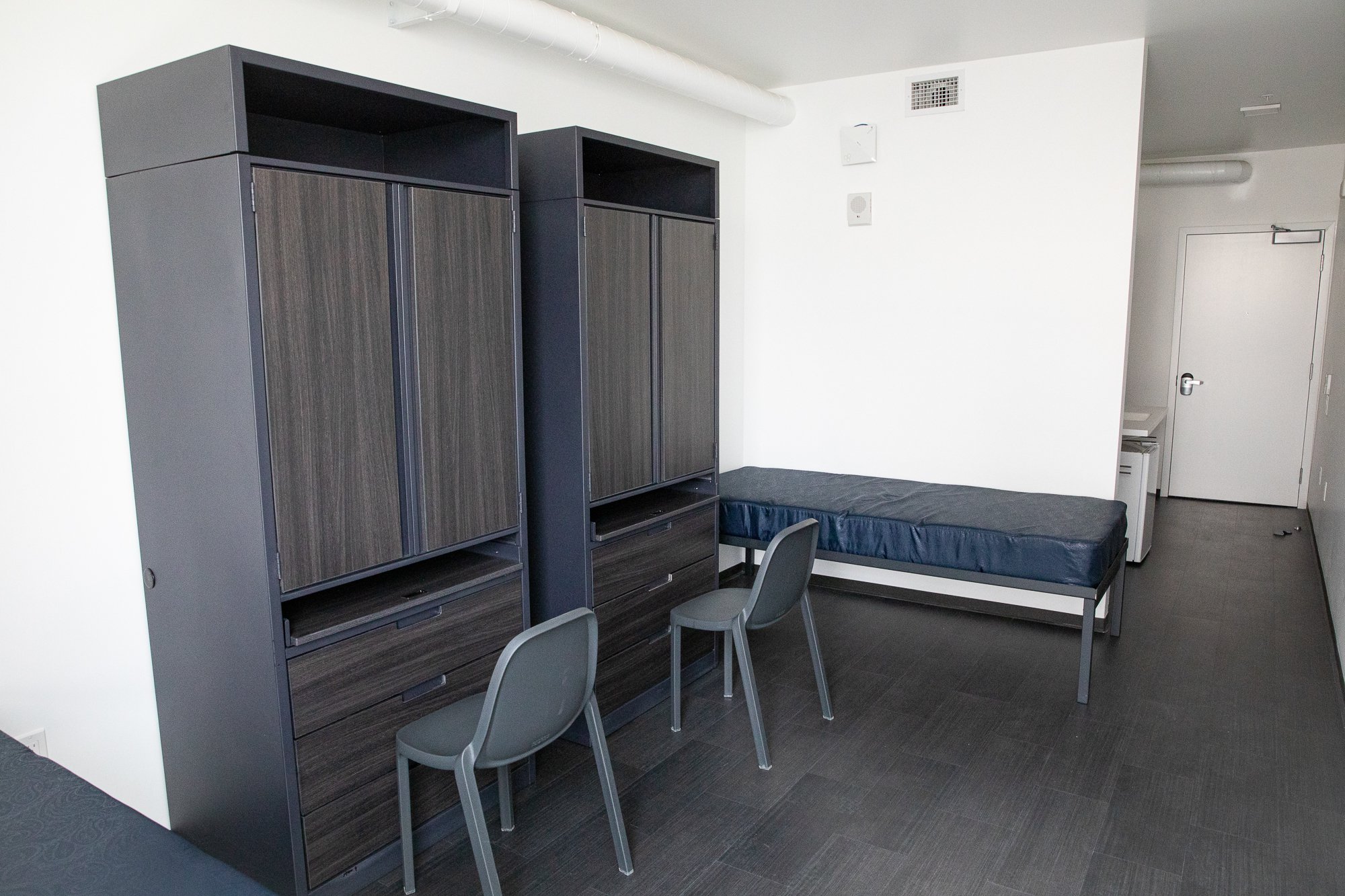 First- and second-year students are required to live in campus housing so they have complete access to on-site counseling and psychological services, social events, and residential programming. Every student can enjoy a diminishing-balance meal plan centered in Makers Cafe, Founders Hall's ground-floor dining hall. There's also the convenience factor.
"Since being in the Graphic Design major requires us to use the printers in large quantities, living close to the only accessible printers I could use at any time of the day was a good thing," says Tony Fung, a second-year student from Costa Rica, who used to live in Webster Hall near the Oakland campus and woke up at 6 am every day to catch the shuttle to get to class. "Now, living in Blattner, I can wake up around 7 and still have some extra time before going to my 8 am class. It's also safe walking from campus to my dorm, especially during nighttime."
"It's a home away from home."
Residential Life Coordinator
Indeed, the benefits of building residence halls mere steps from campus are multi-layered. Offering a balm for the Bay Area's rising real estate costs—often inaccessible to students—is chief among them. When Founders Hall is complete in fall 2020, in combination with Blattner Hall and Panoramic Residences, CCA will provide much-needed, below-market-rate housing for about 900 students in San Francisco. These residential options offer an answer to many of the questions prospective students have when trying to find a place to live, like how far away will I be? What is the neighborhood like? Will I have anything in common with my roommates?
"Those worries are not as prevalent for those who decide to stay and live on campus," Plunkett says. And while the proximity to classrooms, labs, and studios is an obvious benefit for students, the investment in campus housing demonstrates CCA's value to the wider community as well, offering the Bay Area creative energy and talent, as well as meeting spaces and innovative leadership, that doesn't leave the city after 5 pm. The 8,000-square-foot Makers Cafe, for example, in Founders Hall will be open to the public, making it one of the largest restaurants in San Francisco. CCA is working with Bon Appétit, a food service management company and industry leader in environmentally and socially responsible practices, to develop a food program that's as sustainable as possible.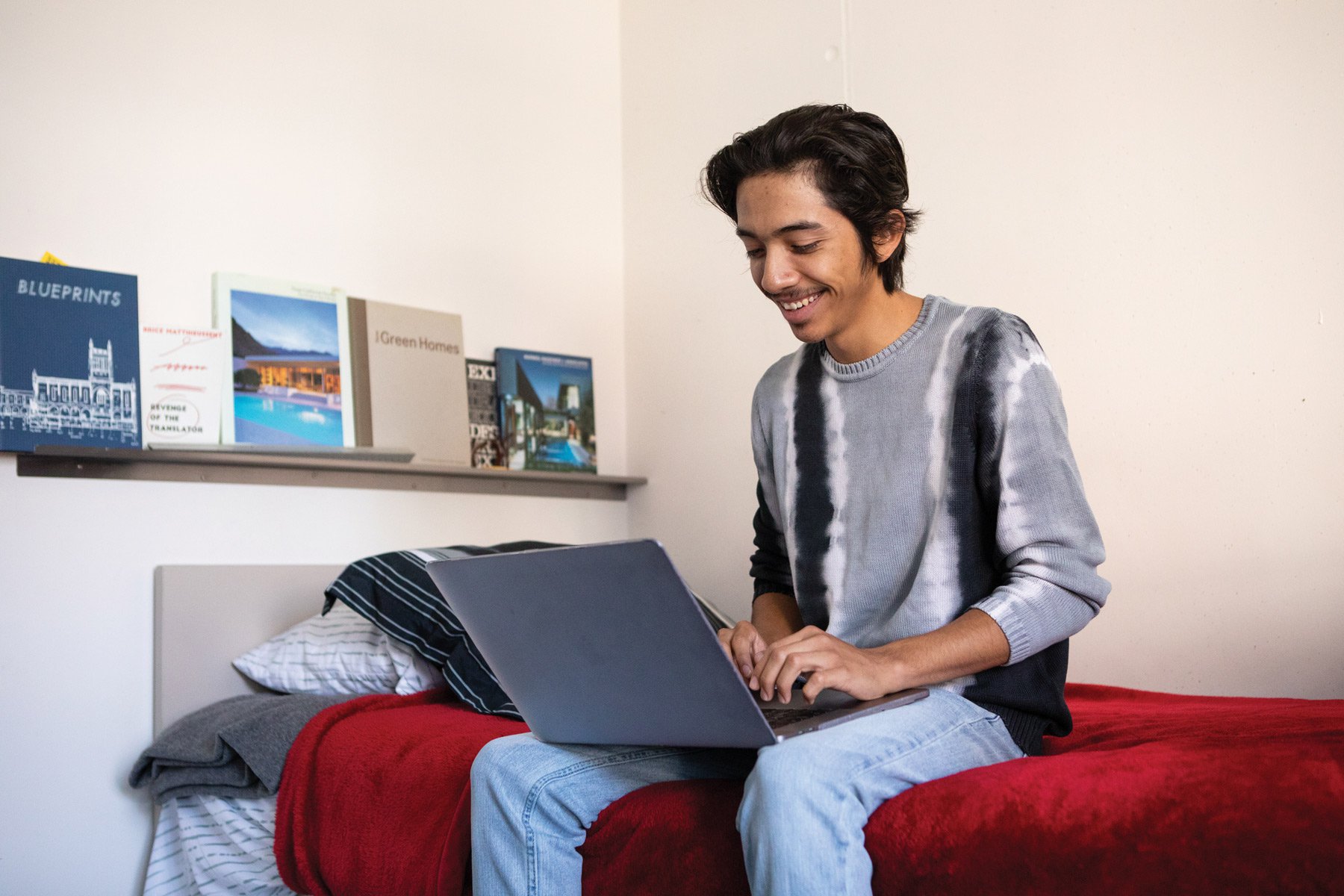 The cafe will feature seasonal menus and daily specials made with local and organic ingredients, and dining options will accommodate a diversity of dietary needs, including kosher, halal, vegan, and gluten-, dairy-, and allergen-free choices. Made-to-order hot and cold items and fresh coffee and espresso from a full-service counter will also be available, and a convenience store will keep hours for late-night service.
Student residents also experience robust mentorship and security. Housing, Dining, and Residential Education team members are always close by for 24/7 assistance. In each hall, professional staff members, graduate interns, and trained student resident advisors provide a welcoming environment and guidance in personal and artistic pursuits outside the classroom. Plus, students as next-door neighbors to each other can enable an uncommon level of comfort and opportunity for student leadership and support.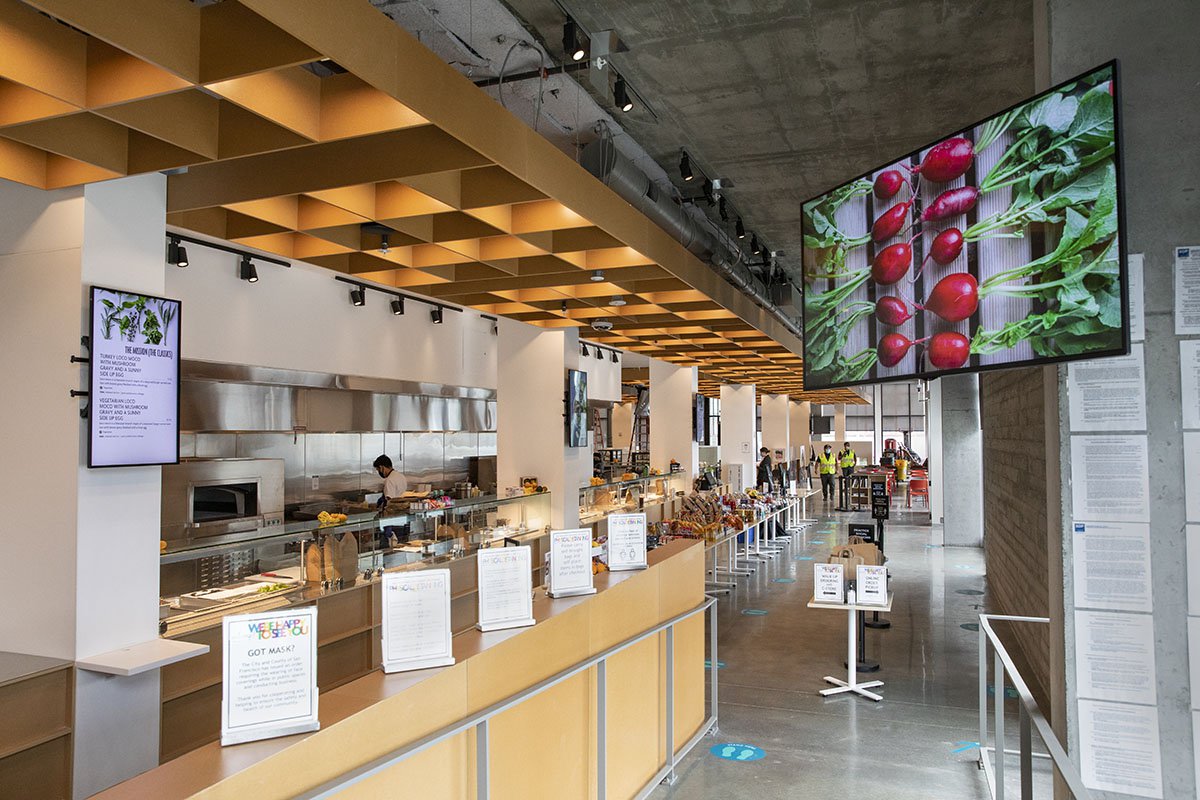 "Being away from home for the very first time brings feelings of excitement, adventure, and thrill. These feelings sometimes fade away when time management, demanding coursework, and homesickness come into play," Plunkett says. "For a first-year student, it can all be overwhelming and feel isolating. But for an upperclassman, it's the ebb and flow of the semester. Many upperclassmen in Blattner Hall were empathetic and could relate to the first-year students who were attempting to 'adult.' This developed a tighter community, a space for understanding, non-judgment, and many first-year students began to express that they felt like this was a second home."
Living at CCA greatly enhances the educational experience and enables professional staff like Plunkett and her colleagues to better support and challenge students "as they learn how to navigate new and tough conversations," she adds. "Whether it be about sharing fridge space, personal boundaries, or homelessness in an urban environment."