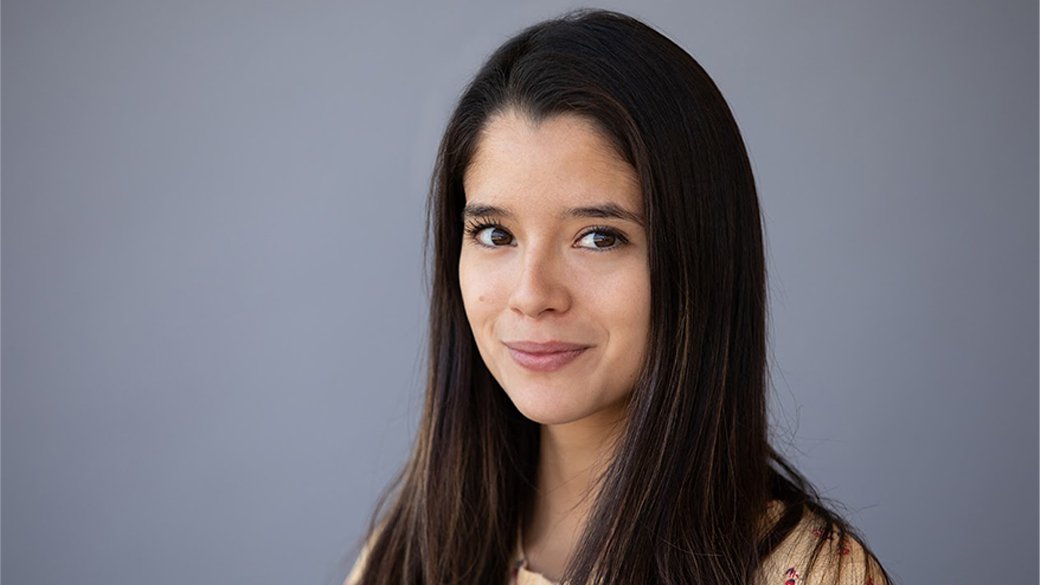 What's the main focus of your work?
I am an industrial design student here at CCA and I genuinely try to do something that no one else has. For example, I worked on a project called Empow, which was a cultural cuisine dish I developed for an industrial design class. Everyone made a unique project based on their favorite dish. What made mine stand out was the fact that I added mechanics. You turn a knob and it reveals the empanadas [fried or baked turnovers with a delicious filling] hidden inside. I like to bring that surprise element into my work.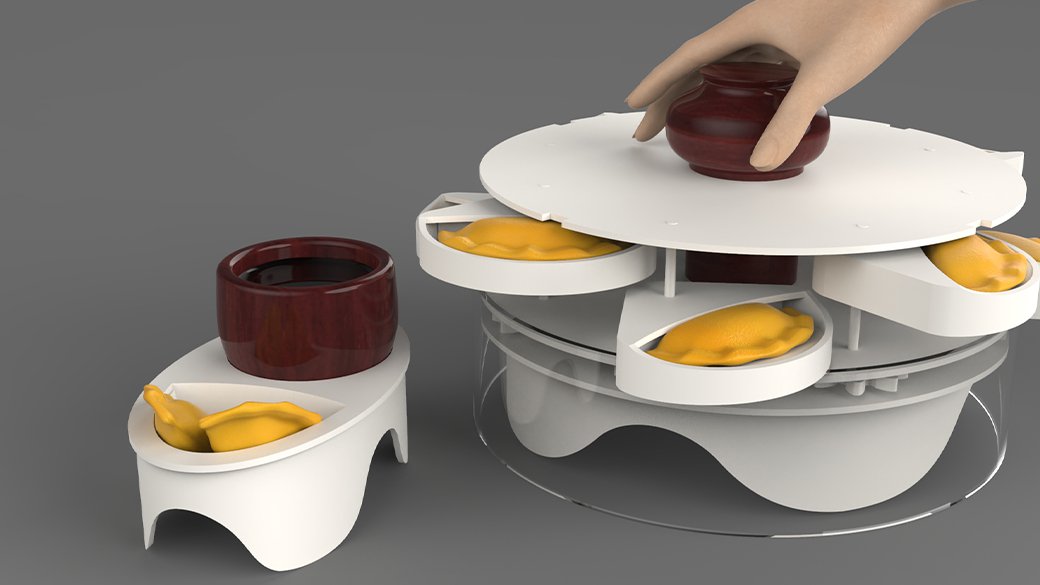 What was your inspiration for creating Empow, the empanada-serving set?
I was born in Ecuador, and one of the hardest things for me immigrating to the United States was getting used to the new foods and leaving my family. My family is huge, with about 39 cousins or so. I have strong memories of everyone at the beach, where our moms brought empanadas they made for us all to eat. Sometimes it was an ordeal. Everyone was dropping their empanadas, mothers were trying to serve every single person.
I designed something where everyone would get their own little customized bowl that you could insert into the sand without worrying about it tipping over. And then it comes with a server, which has a closed cover that keeps them warm and out of the sand. Then you turn the knob and the empanadas are served. It conveys, "Okay. It's time to eat." Through design, what I recreated from my childhood was this sense of building togetherness.
What are you currently designing? And how else does your heritage inform some of the things you make?
I am designing a dancing mat that has its own little tips and tricks to teach you Latin dance. The way I present this is: "Hello everybody, my name is Emilie. I am an Ecuadorian who can't dance." Whenever I've been at family parties I'm that one person who stands in the corner because I can't feel the music—it's so embarrassing! And I really wished I had something that could teach me how to dance.
The actual mat is going to light up and it's going to tell you where to step. Latin dance has very specific patterns, so that makes it perfect for my work, because I know exactly where to place the lights based on the pattern of the dance. It will also have a setting that lets you see yourself as you follow the instructor.
Your ideas are so lively and useful. Was your idea for the Cat Mobile—a colorful toy that resembles a futuristic, robotic cat—inspired by a problem you needed to solve?
I was once a nanny, and the family had cats that were always looking for attention and wanted to play. I had to dangle a string with me everywhere I went to distract the kitties. So I decided, "Okay, I need to make a toy that they can play with on their own." I whipped out my sketchbook and designed a cat-mobile toy which they could chase.
I also want to be a toy designer. I wanted to break away from the rules, from what you need to do for school. I thought, "I want to make something fun, something cool, something the toy industry will want from me." So that gave me the opportunity to make something more blobby, more playful.
"Through design, what I recreated from my childhood was this sense of building togetherness."
BFA Industrial Design 2022
Whose work inspires you?
Robert Sabuda, definitely. He is a paper engineer and pop-up book artist. I thought it was so amazing to turn something from just a 2D drawing into 3D. I even built my own pop-up books for high school projects.
I am also very inspired by my CCA teachers and how they tell their stories.
Brian Gulassa (faculty, Industrial Design) opened my eyes to toy design and sustainability. He works for Green Toys, a toy design company where they make fully sustainable toys and they're very careful about the life cycle of the plastics they use.
Mara Holt (associate professor, Industrial Design) taught me a lot about "blobjects," which is something I was not aware of. I saw the freedom of having curves and soft edges, I didn't just have to do sharp-angled and square objects.
And I will never forget Jim Deasy (faculty, Industrial Design). He also worked in the toy industry. His amazing presentation skills really inspire me.
Why did you decide to attend CCA?
I know it sounds cheesy, but I feel like CCA chose me.
Shiraz Chavan (senior director of Enrollment Management and Undergraduate Admissions) came to my school and wowed me. There were some students who came to this presentation, just to get out of class, sitting in the back of the room. But I was there in the front row with my eyes wide open.
At the time, I was struggling to figure out where to go to college. My guidance counselor asked me, "Have you thought about art school?" My immediate thought was to the stereotype of the painter and the starving artist; sadly, I fell for that stereotype. But CCA's presentation about industrial design opened a new door, and I thought, "I cannot believe my hobby could be a full-time career."
You were in the 2021 Scholarship Exhibition. What was that like? What other awards have you earned through your work in school?
I was awarded the Kalmanovitz Charitable Foundation Scholarship. And every year those of us who received a scholarship turn in some of our favorite work. It's part of an exhibition that recognizes not just the scholarships recipients' creativity, but also serves as a thank you to the donors who make these awards possible.
I was also proud to win the coveted Red Dot Award. I designed the product and packaging for a special drone designed by Bumbler, which was focused on allowing kids to learn more about nature and their surroundings.
And CCA selected me to present my work to Jony Ive, the long-time Apple designer. He was amazing, the sweetest guy, and a lot of his feedback was so positive and a reminder for us all when we get overwhelmed or bogged down: "Keep going, you're doing great!"
Works by Emilie Cevallos Paredes