At a time when glitzy, celebrity-studded art fairs and record-breaking auction prices for contemporary art make headlines, it might be hard to see how making art can make a difference. Can art be used as a force for good in the current climate? Or as artist Kim Anno, a professor at California College of the Arts (CCA) who teaches in its master of fine arts program, puts it: "How can artists exist in and critique capitalism at the same time?"
"There is a fluidity, a fertile back-and-forth, between art and popular culture today that does enable artists to have a significant impact on social change and social justice," says Anno. And she should know: CCA is at the epicenter of the growing field of social practice art, an approach that exists outside the art market and is concerned with making an impact.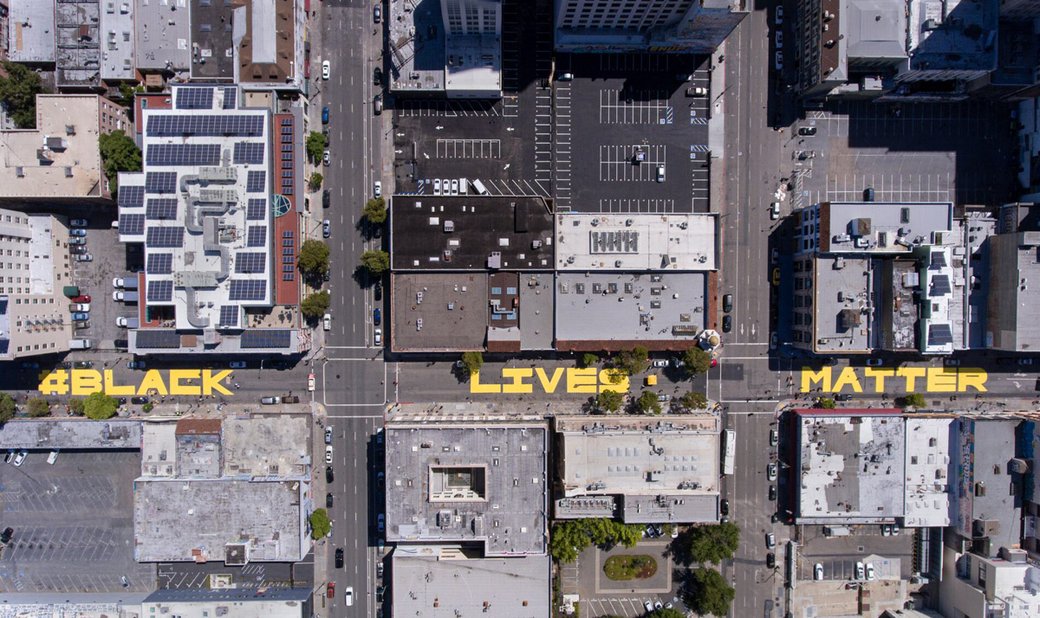 What is social practice?
Some of what social practice artists make, or more often do, might not strike you as art: community organizing, political protest, food distribution, shellfish aquaculture, storytelling, environmental activism.
For example, artists working in social practice, whether they have a master of fine arts degree or comparable education, might work to make the communities they live in better. A notable example is the Row Houses project in Houston by artist Rick Lowe. A MacArthur Genius grant recipient, Lowe and a group of artists purchased 22 neglected row houses in Houston's Third Ward neighborhood. The houses were renovated and the area now serves as a cultural, community, and socially uplifting hub for the neighborhood's residents.
Unlike other art movements, social practice is an approach, or methodology, rather than an aesthetic or style. It lives outside of the market forces of art fairs, commercial galleries, and auction houses. The focus is on social engagement rather than object-making. The audience is not the connoisseur at a museum or gallery, but everyday people in their own communities who are engaged as participants rather than spectators.
CCA: birthplace of social practice art education
"Since its founding as the California College of Arts and Crafts in 1907, the idea of art as fully integrated into the politics of the world was at the core of what the school taught and stood for," says Jordan Kantor, chair of CCA's master of fine arts program. That ethos was formalized with the founding of the social practice program in 2005—the first graduate program in social practice in North America. "Where else would registering Latinx voters in California's San Joaquin Valley be part of a master of fine arts program?" adds Anno.
In 2005, CCA  began offering social practice as a concentration within its MFA program and soon put it in the curriculum. Former faculty and social practice artist Ted Purves founded the concentration with the mindset of reimagining what our world and local communities could be.
Additionally, the Arts and Crafts movement upon which CCA was founded always looked to making the world a better place. "Social justice is interwoven through both the master of fine arts program and CCA's own college mission," says Kantor. "We are always asking students to consider the question, 'what is the impact of what I'm doing?'"
How artists use social practice art for social justice work
CCA alum and faculty can be seen all over the Bay Area and beyond making socially engaged work. For example, artist and professor Kim Anno is facilitating intergenerational conversations among residents in the seaside Northern California town of Pacifica to help them grapple with sea level rise and coastal erosion. CCA alum Shaghayegh Cyrous invites people to gather to speak their native languages in the ongoing project Mother Tongue Space. Temescal Amity Works, a project of artists and CCA faculty Susanne Cockrell, distributes locally grown fruit, as well as information, in an Oakland neighborhood facing the pressures of gentrification.
Social practice also extends into the nonprofit world and world of museums. For example, museums such as the San Francisco Museum of Modern Art and the Hammer Museum in Los Angeles have unique programs that employ specialists of social practice and social engagement to support mission-driven work.
Options to transform an MFA degree toward social advocacy today are multifaceted and speak to a legacy of the arts shaping our culture. As Kim Anno reiterates, "The National Parks were a sphere of social justice practice. They were established because the Hudson River Valley art movement brought the idea to congress." She adds, "Now, of course, we're reevaluating what it means that the land the national parks now reside on is indigenous land."
As social practice art continues to grow, new questions continue to arise in place of old answers. These artists propel our culture forward by continuing to ask profound questions about the human condition.
Published on May 19, 2022