Among the many scenes of protest and uprising that defined the summer of 2020 were those of toppled statues and destroyed monuments—the bringing down of markers of this country's racist and colonizing history. Some had stood for generations in public parks and plazas, their significance and meaning often unconsidered, visual white noise passed by without critique or contemplation. For many, though, they stood as painful celebrations of oppression, erased histories, and white supremacy. Dozens were toppled, defaced, or removed. Many more still stand.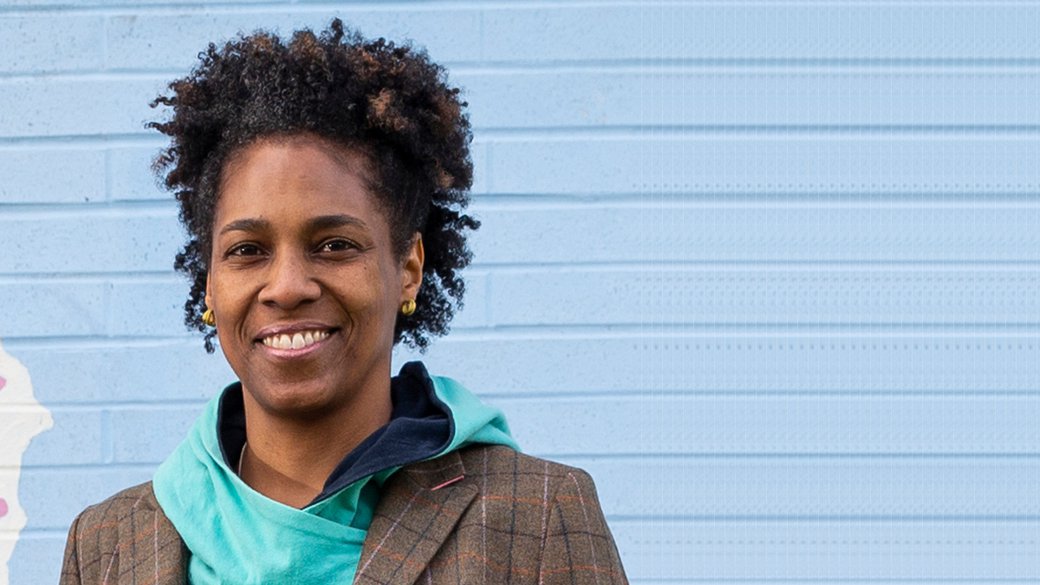 The events of the summer brought a conversation about the significance of public monuments into American living rooms in a new way, but many artists and scholars have been engaged in this discourse far longer. Notable among them are artists Karyn Olivier and Jeffrey Gibson, who join Peter Simensky (chair of CCA's Sculpture, Individualized Studies, and Community Arts programs) and CCA student Ebtihal Shedid (MFA Fine Arts 2021) for a panel titled Monuments—Must Change: Reimagining the role of monuments now on March 29, 2021. Tapping into the dynamic social, political, and formal considerations of these artists' works, the topic aligns with an ongoing dialogue at CCA about community engagement and the roles and responsibilities of artists whose practice involves the public sphere.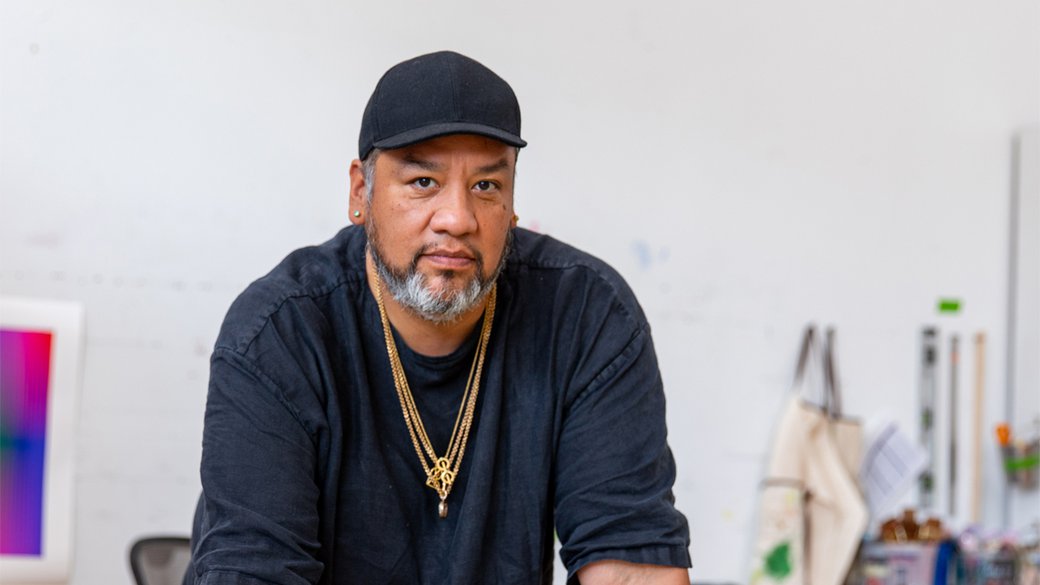 Simensky organized the event through the programs he chairs, in partnership with the Fine Arts division. He envisions the panel as part of an ongoing initiative to explore these ideas at a time of racial reckoning within the United States; a time in which the discourse around historical monuments has intensified the focus on issues Olivier and Gibson engage in their work. "What many of us are interested in," Simensky says, "is not solely the removal of those histories and those markers, but the ways that artists have actually been reimagining what a memorial or monument could be."
The conversation with Olivier and Gibson looks at several of the artists' recent works that disrupt notions of permanence and endurance, countering the notion of the inviolable monument with considerations of the dynamic social and temporal context in which a monument exists. In her 2017 work The Battle Is Joined, for example, Olivier covered The Battle of Germantown Memorial—a 20-foot edifice in Philadelphia (where she lives) erected in 1903 to commemorate a Civil War-era battle—with a shell of mirrored acrylic. The reflective surface brilliantly brings the monument to life, replacing the historical figures, for the three months of its installation, with present-day members of the community.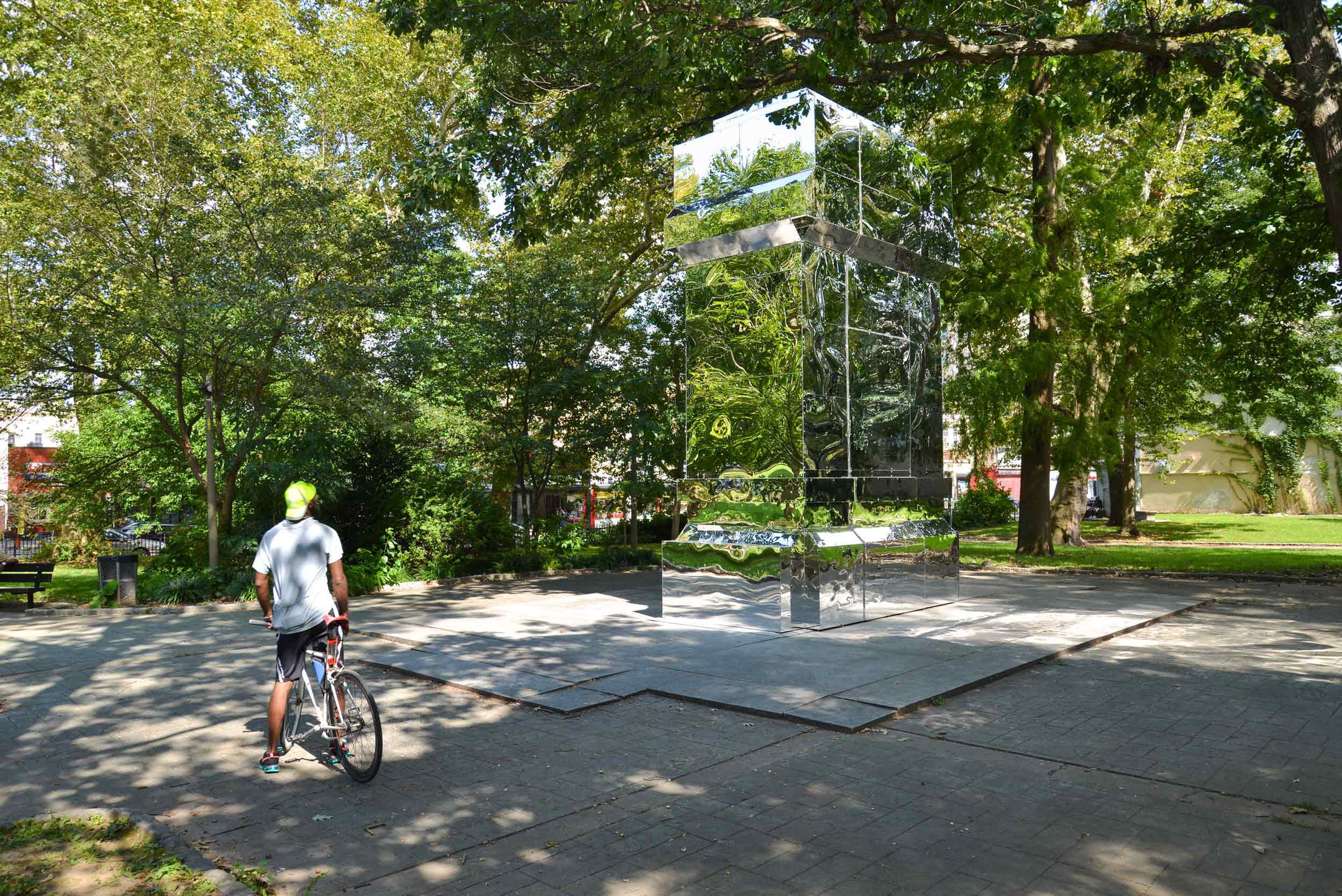 "The ability to see oneself in the monument would lead us to consider the piece as a living/breathing monument that is not static or staid, but as one that reflects today's America and our current political and social moment," wrote Olivier in an artist statement. "Monuments are established with the assumption that we as a nation have collectively decided that something should be remembered, honored, and celebrated. In reality, we don't have equal voices in this mandate, but in my insertion, the intention will be for each of us to see and imagine our critical role in the ever-evolving American story."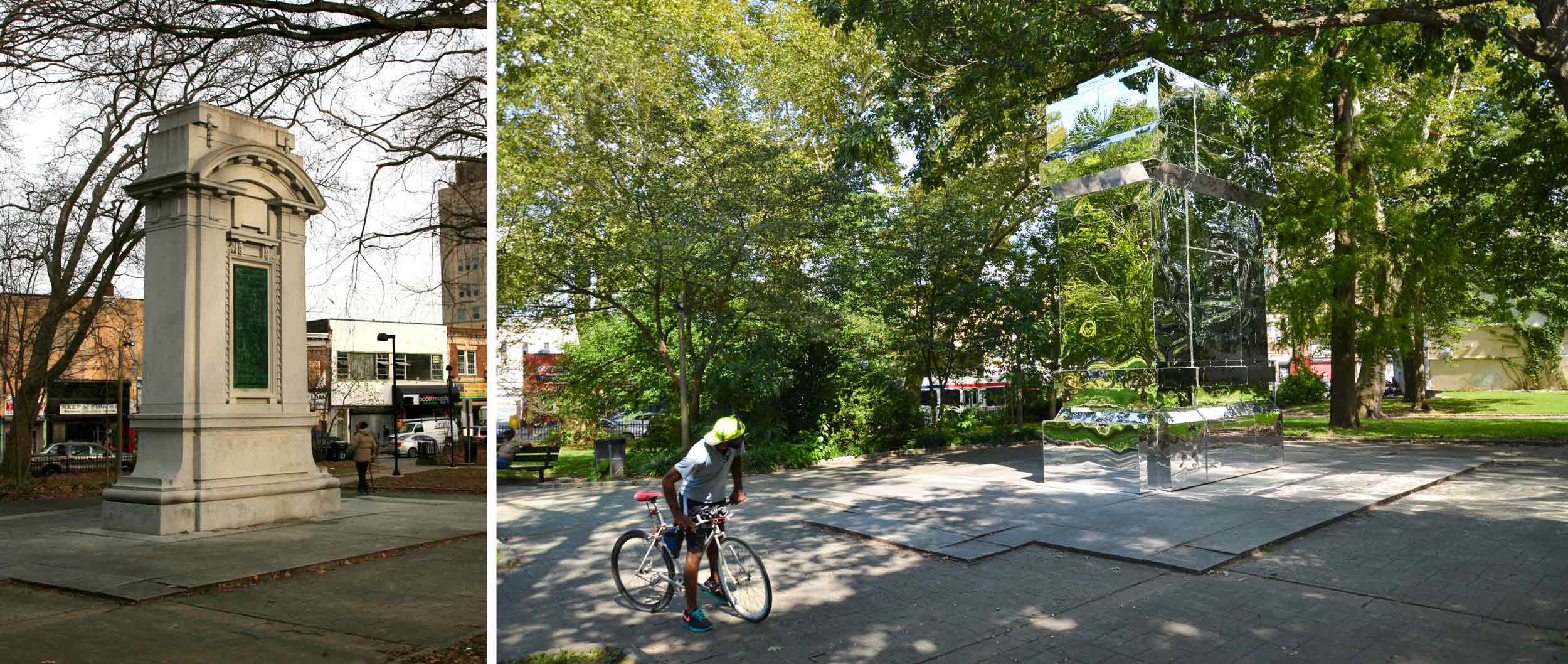 A recent work by Gibson, Because Once You Enter My House It Becomes Our House, is one of several by the artist that challenge the dominant histories of colonialism traditional monuments so often celebrate. A ziggurat-shaped plywood structure measuring 21-feet high and 44-feet square at its base, the work is an homage to pre-Columbian, Indigenous North American peoples and cultures, as well as to present-day queer camp aesthetics. The structure is covered with colorful, trippy, wheat-pasted posters displaying messages such as "the future is present" and "in numbers too big to ignore," the latter of which the artist has said refers to missing and murdered Indigenous women. The work was commissioned by and installed in New York's Socrates Sculpture Park as part of "Monuments Now," a 2020–2021 exhibition and program series examining the role of monuments in American society. (In fall 2020, Gibson presented a newly commissioned video, Nothing Is Eternal, in a solo exhibition for CCA's Wattis Institute.)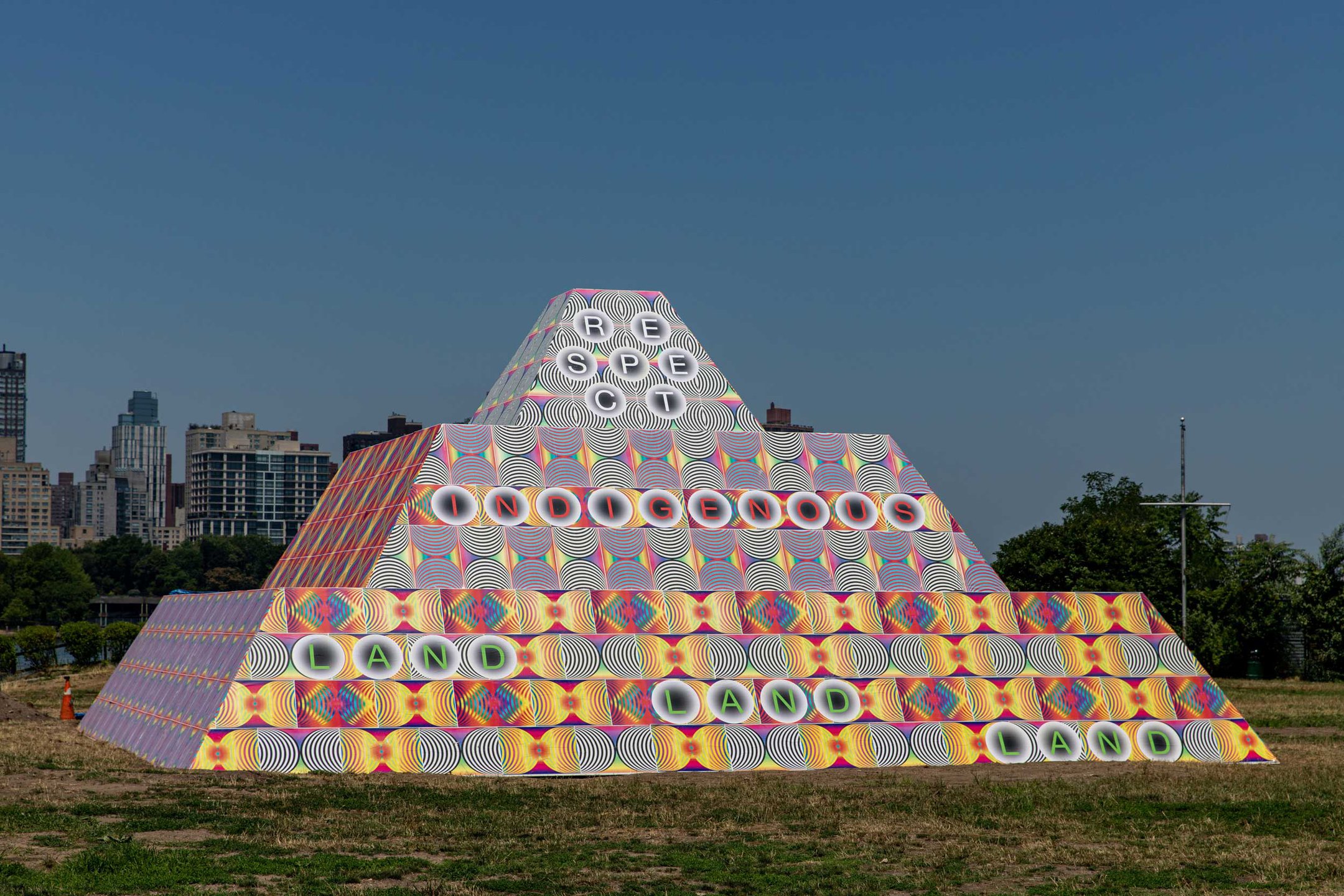 For Simensky, these artists' works are emblematic of a broader context in which artists are engaging with the idea of the monument as, he says, "dynamic and shifting in time, as opposed to some of the historical monuments, which present a kind of obdurate endurance with their solidity. These are directly in opposition to that, with their radical sociality and presence."
In presenting this panel, Simensky is adding to an ongoing dialogue at CCA, which he hopes will continue into the future. In 2018, for example, CCA and the San Francisco Museum of Modern Art jointly presented a symposium titled Reckoning: Monuments and Racial History, marking the fifth anniversary of the founding of the Black Lives Matter movement. Featuring CCA Architecture professors Irene Cheng and Darell Fields, as well as scholars from across the country, including keynote speaker Mabel O. Wilson, the symposium asked how makers of monuments, photographs, sculptures, and other designed objects might negotiate and make visible racial histories of violence and struggle as part of a reckoning with racism and systemic oppression.
The challenge Simensky sees for himself and his fellow chairs and faculty at CCA is to think, "How do we create sites for engagement and community where students can feel a sense of belonging and connection, and have ongoing conversations about the responsibilities of the artist when making work in public, when engaging with a community or site? How are we responding to our times in our practice? How might we represent the histories that both exist and are evolving?"
"How are we responding to our times in our practice? How might we represent the histories that both exist and are evolving?"
Chair of Sculpture, Individualized Studies, and Community Arts
Following the conversation with Gibson and Olivier on March 29, Simensky hopes to continue to engage students with ongoing opportunities to explore the idea of monuments, such as a workshop once campus reopens, and perhaps a socially distanced field trip for students currently in the Bay Area to see and discuss works like Hank Willis Thomas's (MFA Photography, MA Visual Criticism 2003) sculpture All Power to All People, on view outdoors in Oakland through May 17, 2021, alongside works by Arthur Jafa and Kehinde Wiley as part of the Monumental Tour.
"We're in this very unique time," Simensky says, "both with a collective reckoning with racism and also with COVID-19. There will be a time when our students think about this time they are living through as artists and makers, and choose how to reckon with this history and loss of life in their practice, how they want to represent and memorialize some of this."
Initiatives such as Monuments—Must Change can offer those students a space to work through those challenges together.