Doughnuts, drinks, thread and glue, chatter and a steady '70s punk playlist going strong; it felt like a dream from yesteryear, perhaps pre-COVID, maybe even from an earlier time when we hung out and made things together. This was the feeling at "Sewing Connections," the workshop in March hosted by the MBA in Design Strategy's (or the DMBA for short) Women in Leadership team and the feminist design collective GRL GRP (all CCA alumnae).

As educators, almost nothing is as gratifying as seeing former students not only flourish but manifest what we worked to give them and go places we hadn't imagined. The women of GRL GRP graduated in 2021 as part of a strong cohort of MFA Design students who transcended the challenges of remote learning and ran with the uncertainties and surprises of those times. GRL GRP's founders, Ashlyn Jackson, Abigayle Cosinuke, Rebecca Gardea, Chloe Looker, Meg Quarton, and Sarah Chieko Bonnickson formed the collective after graduating to encourage and inspire each other, to collaborate, and to share opportunities. While many designers fresh out of school are looking for their landing spot, there is a different spirit here, a sense that they want to make an opportunity rather than find it. The members talk every day. A founding member, Abigayle Cosinuke says they share in a way that "is outside the capitalist patriarchal model of professional life that I grew up thinking about." She adds, "It's empowering to know so much about the people that I'm working with. It's a new framework for professionalism." When I met with GRL GRP, we talked about the tendency of women to deepen our voices at work, to hide details of our personal lives, to try to fit the sound of what we think will be taken seriously. "Feeling like you don't have to put on your 'work voice' to get real work done," is the culture we've created at GRL GRP, says Chloe Looker.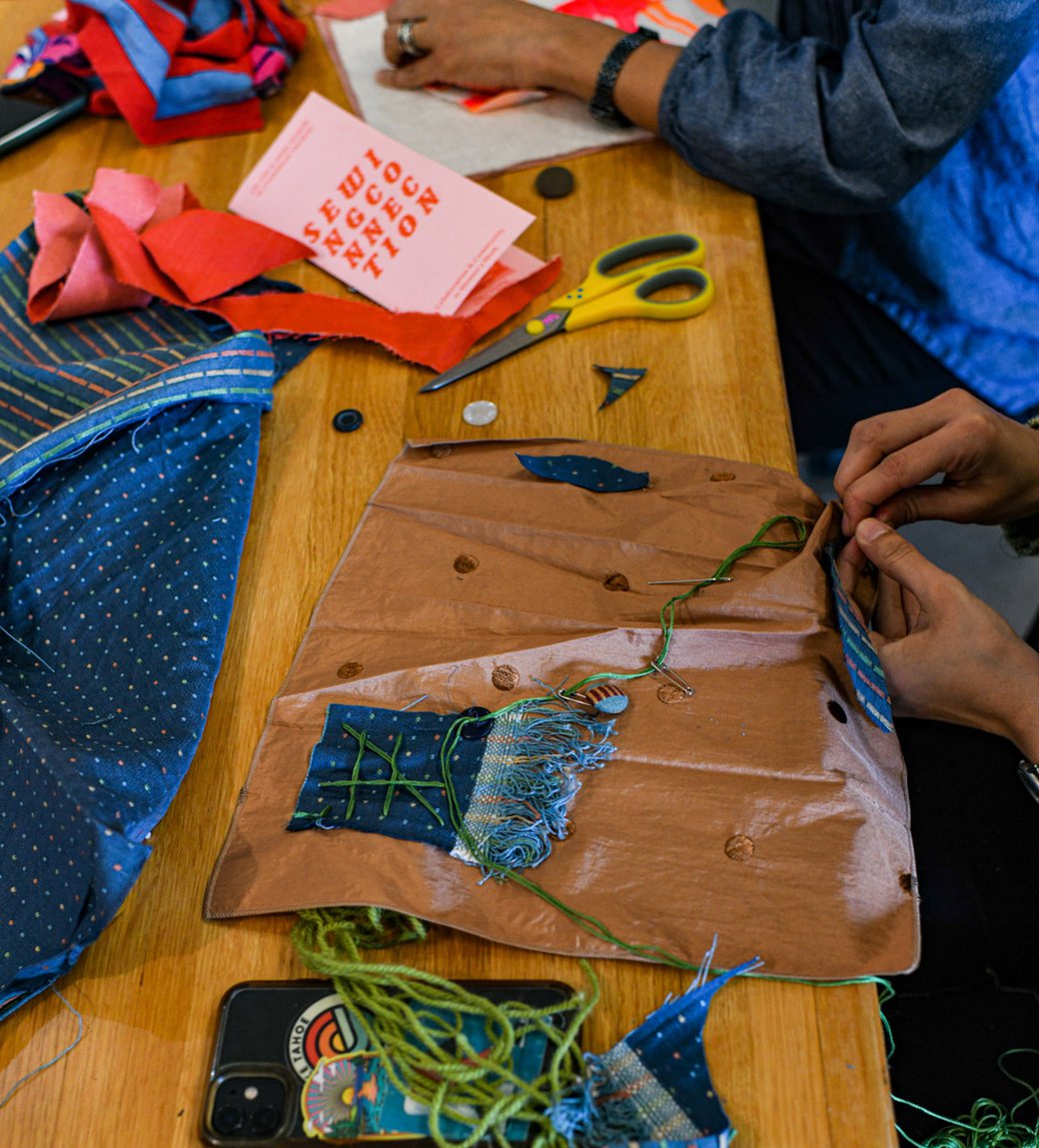 When Eryn Bathke (MFA Design 2021,DMBA 2022), Amira Selim (DMBA 2022), and Elainea de Vera (DMBA 2022), the current chairs of DMBA's Women in Leadership Program (WIL), saw GRL GRP on Instagram they got excited. "The design industry is so dominated by male voices," says Bathke, and an all female collective like GRL GRP really spoke to the WIL vision. WIL was looking to get people collaborating, and they wanted to build connections to the rest of the school, so Bathke reached out to her former classmates and the workshop began to take form. WIL is a women's organization within DMBA with more than 150 members, founded to help women in design and strategy accelerate careers through network building and meaningful collaboration. Selim first heard about CCA's DMBA through WIL. She says that WIL "functions as an outreach program and a bridge, connecting us with groups like AIGA." WIL hosts regular events ranging from workshops to speakers, dinner parties, and volunteer days, all aimed at connecting people and sharing ideas on how to have an impact in the community.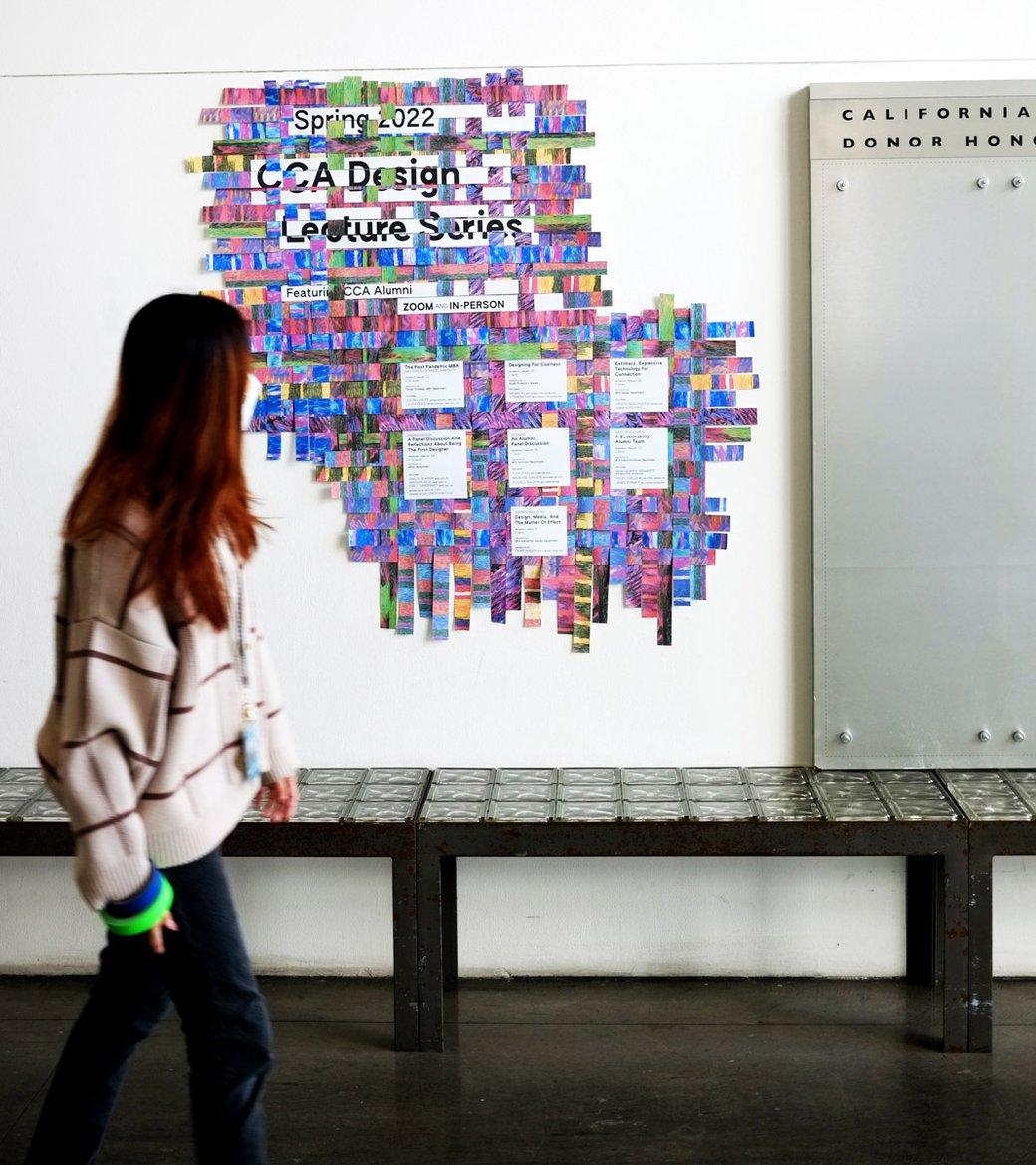 In discussing what GRL GRP could do with WIL, Looker says, "We want to make something in community." Drawing on CCA's roots in hand craft and on the traditionally female field of textile art, GRL GRP planned a radical quilting session with repurposed materials, a logical next round of work after the quilt-themed poster and branding work they created for the Design division's Spring Design Lecture Series that featured alumni voices and teams. The workshop was a beautifully messy, gracefully executed success. At high and low tables, couches and whiteboards, with refreshments, music, and an array of wild materials to choose from, participants started with a square and added layers using glue, staples, stitching and stuffing. "Sewing circles have been a space for women to gather, talk, and get support," says Cosinuke. "We are thinking of this workshop as a contemporary sewing circle."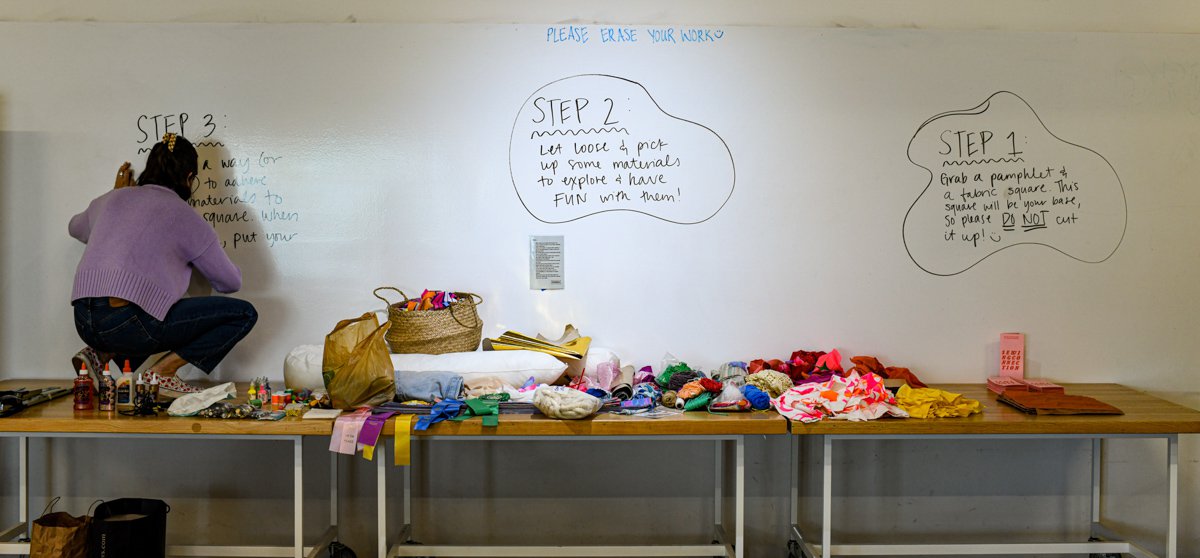 "One of the best parts of a workshop," says Ashlyn Jackson of GRL GRP, "is that, as a facilitator, you never truly know what the participants are going to create." GRL GRP ran an earlier version of this workshop at Yerba Buena Center for the Arts. "We told people to make icons," says Jackson. "There were so many surprises and we realized we had to really let go of the outcome we imagined." For this second version they kept it simple. "Today I come in wanting to be surprised. There really isn't something that could go wrong," says Jackson, echoing the open, more-is-more approach you can see in the GRL GRP aesthetic.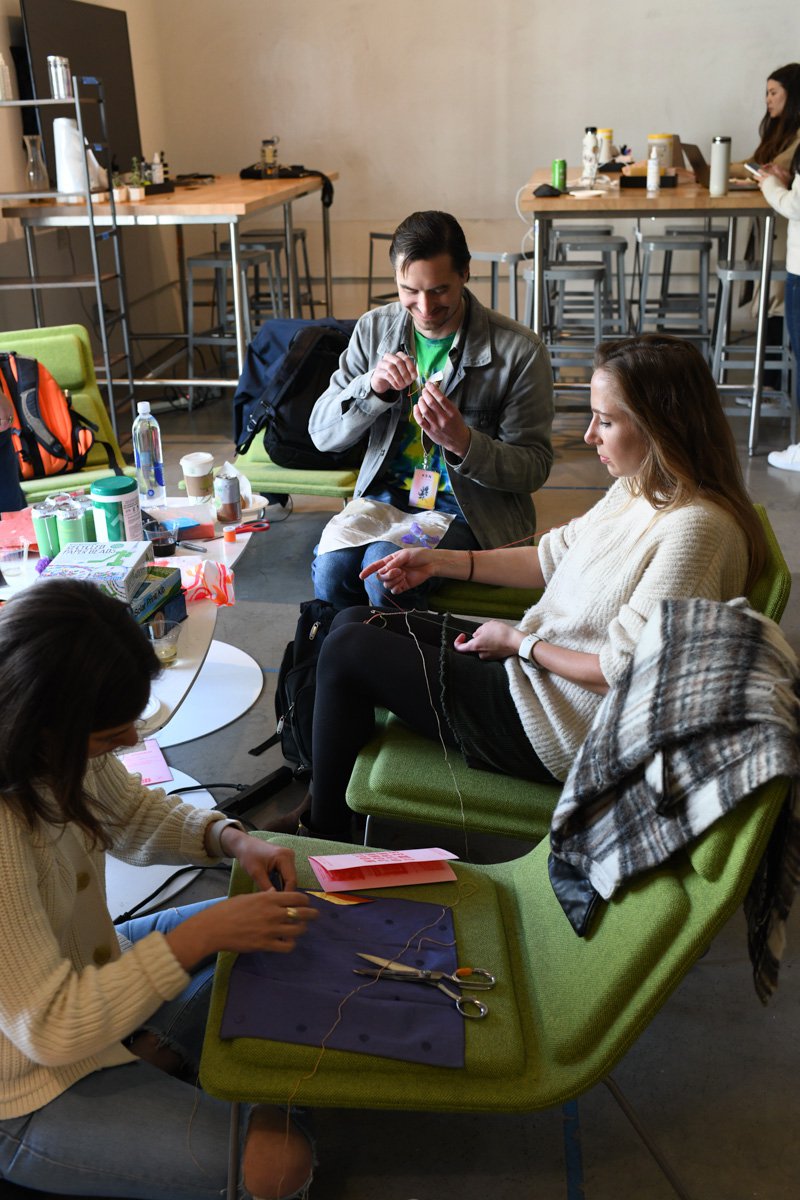 Participants ran with the freedom to experiment and quickly picked up on the value of the experience. "After a class of pressured thinking we can just let go and see where things go," says Jinney Kho (DMBA 2023). People were laughing, moving around, passing scissors. "The last time I did something like this was summer camp," says Danielle Brown (DMBA 2022). Chris Chen (DMBA 2022) notes fondly that, "Our hands are busy, our minds are free. A lot of communities have been built this way through cooking and making. It feels kind of counter to the cubicle model. This feels back to basics through making things. I grew up with influential feminine figures in my life, so this kind of activity isn't foreign." Aika Toriyama (DMBA 2022) reflects how refreshing it feels to share the space. "I missed the human touch while we were virtual," she says. The magic combination of being together, having a task but not a lot of pressure, and the visual of seeing squares accumulate; it all added up for people. "If you want to be a part of a community, show up and see what you can give," says GRL GRP's Looker.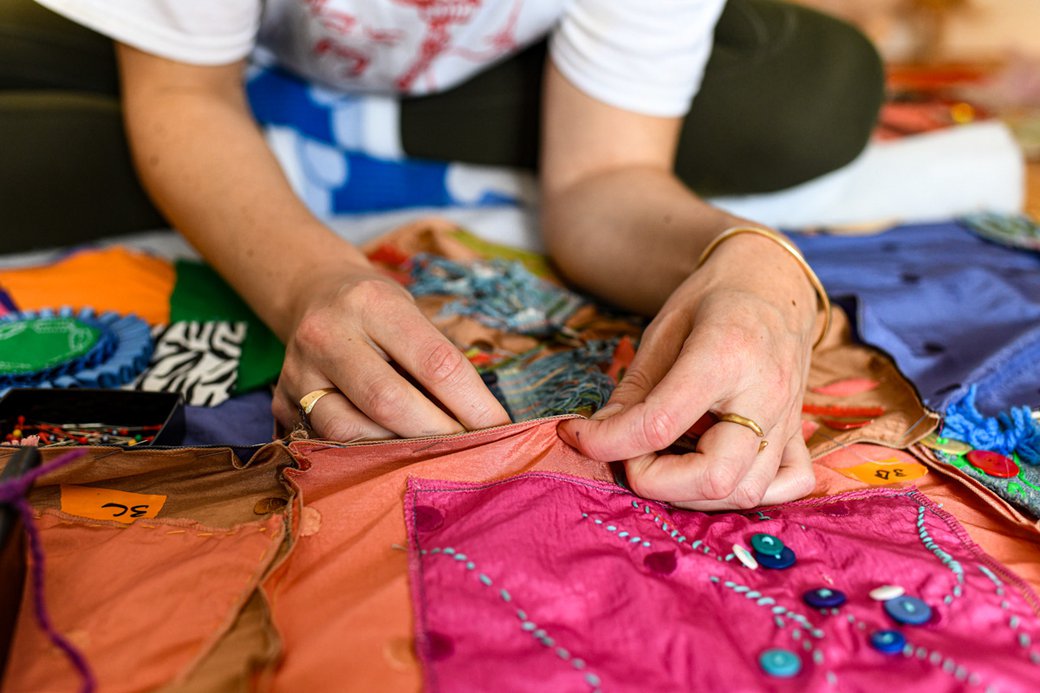 This digital zine gives you a sense of the GRL GRP style and some images of the process and the final quilt hanging in the Nave of our San Francisco campus. Part of the GRL GRP feminist agenda is to challenge the construct of single authorship, to recognize that work rarely comes from a sole individual, to celebrate the collective voice and having many hands at play in a work. In the zine the GRLs list the workshop participants as well as a robust list of artists who inspired them, including Natalie Baxter, Sheila Hicks, Rosie Lee Tompkins, Judit Just, and more. The finished quilt is an artifact and inspiration, and embodies the continuity of work made by alumnae, students, and faculty, inspired by earlier generations. Participants had the option to add their name to their square, but in the end, no one did, embracing the notion of the collective voice, and the power and pleasure, of showing up and making.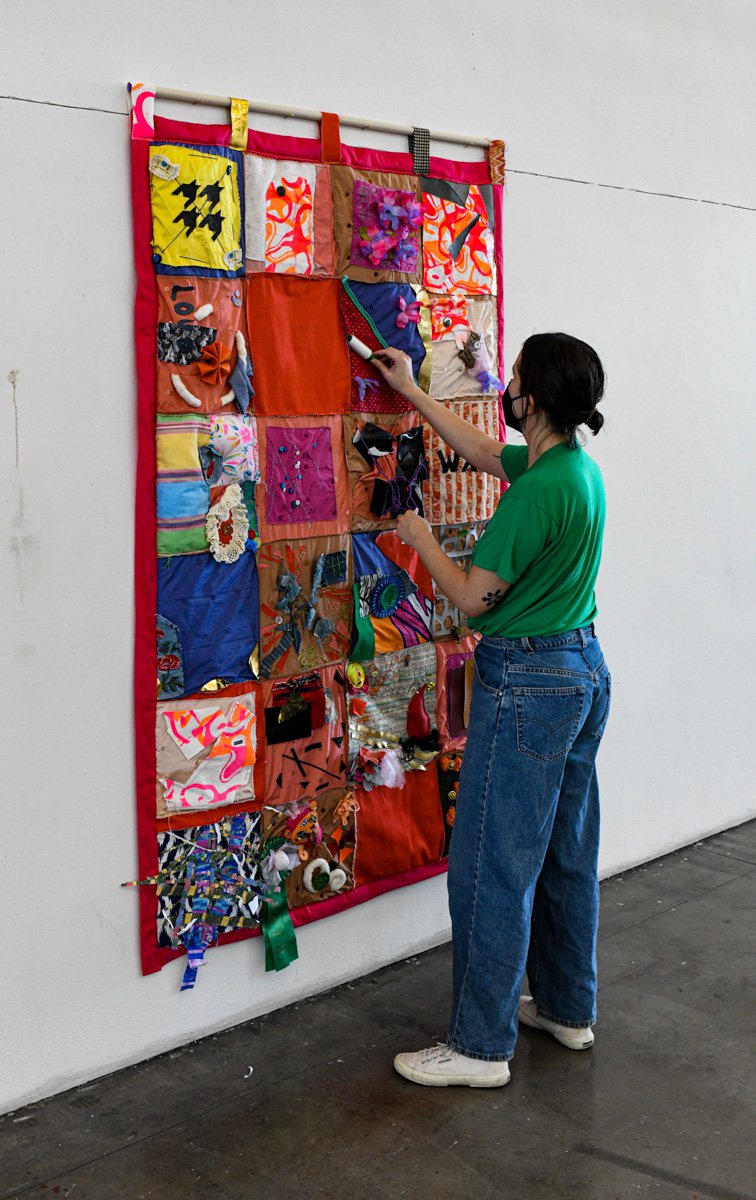 —Saraleah Fordyce
May 5, 2022