What would it be like to live like a Bauhaus student 100 years ago? This summer, 12 undergraduate and graduate students from CCA's Design Division were able to experience just that when they arrived in Dessau, Germany to begin my intensive summer study abroad class that would take them to three countries in three weeks—from Dessau to Amsterdam to Milan. The course European Design Capitals: Modernism/Postmodernism focused on the twentieth century roots of European modernism from the perspective of three countries and cultures and then considered their postmodern responses, with the goal of helping each student imagine their own contributions to the future of design with a greater awareness of the past.
Our research began with the historic buildings of the Bauhaus to understand the foundations of modern design and design education in Western Europe. Students slept in the same dormitories as the students who occupied them when the Dessau Bauhaus opened in 1926; every room was a chance to study historic artifacts of the period—windows, hardware, fixtures, and flooring.
In addition to touring the Bauhaus school buildings, we bicycled to several key architectural sites around the town including the Houses with Balcony Access (by Hannes Meyer, Bauhaus director from 1928–30) and the Bauhaus Masters houses (by the first director of the Bauhaus, Walter Gropius) to learn how the unified design of modernism impacted the town of Dessau. The Bauhaus is famous for advancing arts education and industrial production methods through experiments in form, color, and materiality. Both the Bauhaus faculty and students were encouraged to design functional products that could be easily manufactured and we saw signs of those efforts at every stop.
From Dessau, our group moved on to Amsterdam to learn about the Dutch response to the Arts and Crafts movement known as Amsterdam Style and De Stijl modernism. A day trip on bicycles to the Rietveld Schroeder house revealed how the aesthetic theories of Van Doesburg and Mondrian could be expanded into three-dimensional form. Postmodern design was evident in Amsterdam too, especially in the Droog Design collective, in ByBorre's WoTO™ textile workshop and in exhibitions such as It's Our F***ing Backyard at the Stedelijk Museum where designers from around the world proposed a wide range of sustainable future forms, technologies, and materials.
Our final city stop was Milan where we visited storied designers' studios, workshops, and design collections. The visit was timed to coincide with the Salone del Mobile, one of the most significant design gatherings in the world. In a fortunate convergence, Design MFA faculty Lauryn Menard of Oakland-based Prowl Studio was at the Salone presenting experimental furniture pieces, with textile patterns in response to environmental damage caused by California wildfires, that had been manufactured in ByBorre's Amsterdam workshop.
European Design Capitals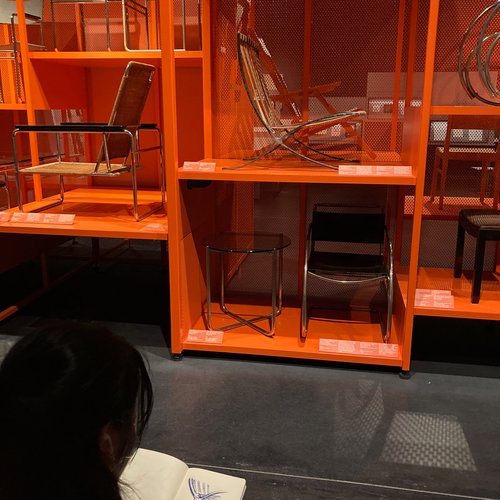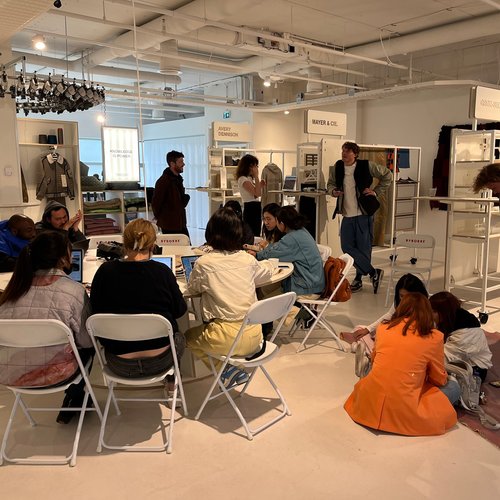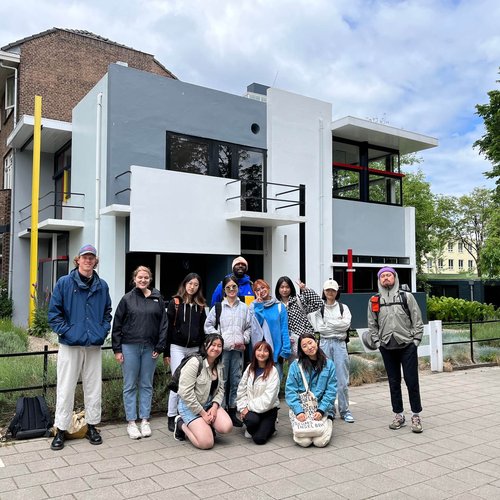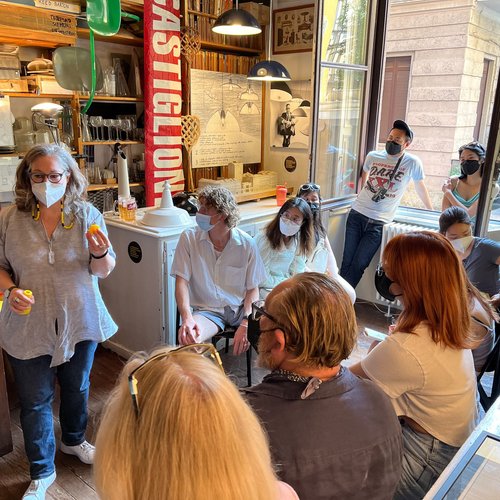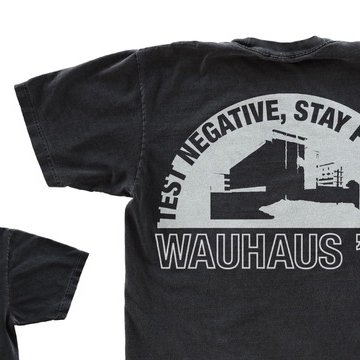 In addition to European Design Capitals, three other summer study abroad courses were offered this year. Students and faculty leaders learned firsthand how the art world promotes new work and ideas in the Venice and Berlin biennial exhibitions and in documenta 15 in Kassel, Germany; they explored the visual and sensory aesthetics of an Icelandic summer; and they discovered the impact of global trade on the built environment and culture of Spain. Each group took precautions as they traveled during changing COVID-19 guidelines and continued Russian aggression in Ukraine, but despite these concerns, all four classes finished without incident.
Global Perspectives on International Contemporary Art and Culture
Professor of History of Art and Visual Culture Ren Fiss led a group of students to Germany and Italy to take advantage of three globally significant art exhibitions —the biennials in Venice and Berlin and documenta 15 in Kassel, Germany. Each exhibition is known for showing prescient and often controversial artworks and critical responses to current cultural, environmental and political issues; this year the exhibitions emphasized artworks from the Global South.
In addition to visiting the exhibitions, Fiss organized meetings with notable curators, artists and academics. In Venice the political scientist Professor Lorenzo Bertucelli joined the group for a seminar on the historical and political context of the current war in Ukraine. In Kassel they attended the opening events of documenta 15, a rare chance to meet many of the participating creatives and artists' collectives not usually open to students or the public. Fiss organized a talk with Cuban artist Tania Bruguera and several members of her activist collective INSTAR to discuss the government oppression and silencing they have experienced. The trip provided significant opportunities to learn from working artists about their creative practices and how they have pursued and built up their multifaceted careers.
Exploring contemporary art in Germany and Italy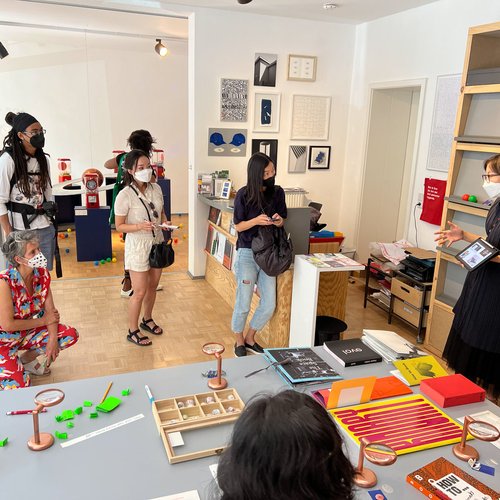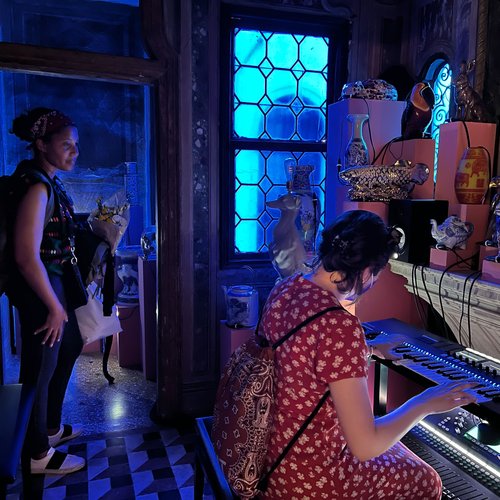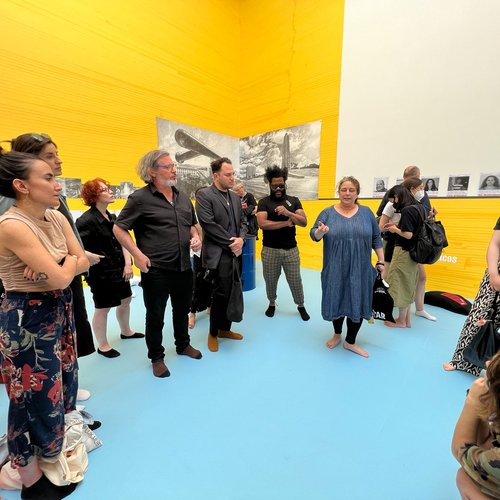 Iceland: Midnight Sun
In Iceland, Photography Chair and Professor Aspen Mays and an interdisciplinary group of CCA Fine Arts and Design students experienced the stark beauty of this sparsely populated North Atlantic island known for its geothermal activity and a landscape continually in the process of transformation. After a few days acclimating at the biennial Reykjavik Arts Festival where they visited several artists' studios, the group set out to circumnavigate the island, stopping in rural towns and geological sites along the way. Arriving in the eastern coastal town of Seydisfjordur, the group settled into the Skálanes Field Station at the edge of one of Iceland's many fjords.
In the serendipity that often happens when traveling, a group of zoology students from the University of Glasgow (shout out to Dean Helen Maria Nugent's hometown!) was in Skálanes studying nearby fox habitats. United by a deep interest in ecology and sustainability, each group shared their knowledge with the other—the biology of foxes, documentary photography skills, and even how to aesthetically pin insects for scientific study. Also present at the site was a flock of Arctic terns nesting for the summer after their long migration from Antarctica which made for comical interspecies interactions as the humans navigated the nesting grounds around the station. Final student presentations speculated on future projects inspired by their experiences and illuminated the differing methods that artists, designers, and scientists can use to learn about a specific site.
Adventures in Iceland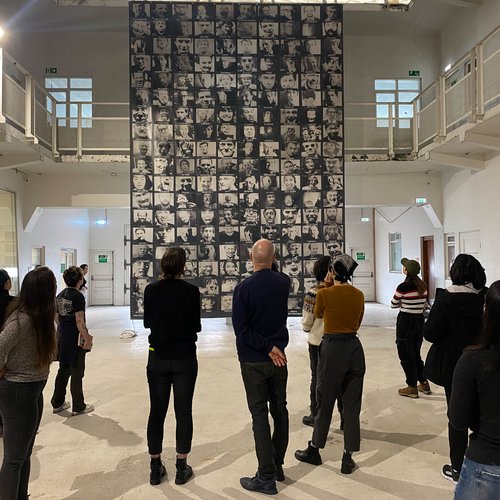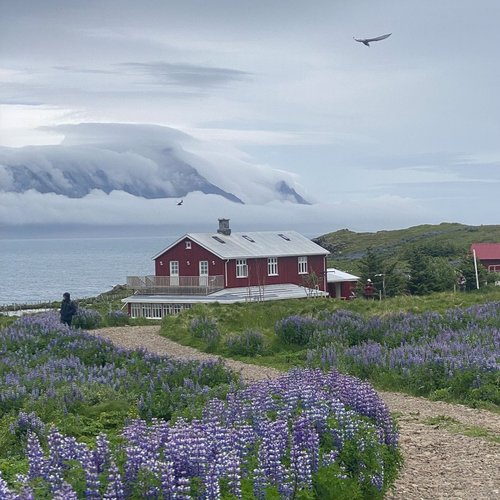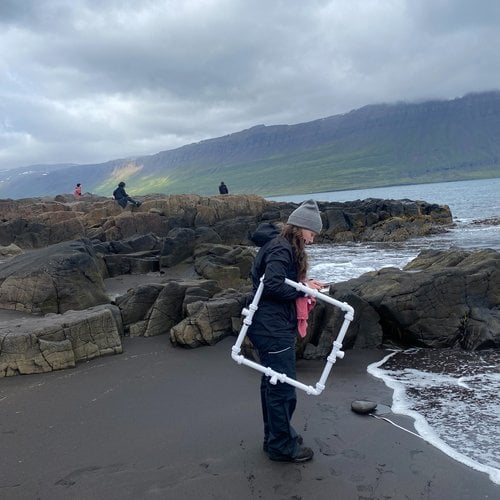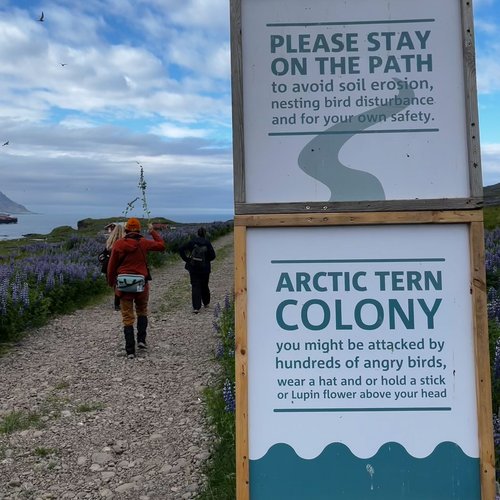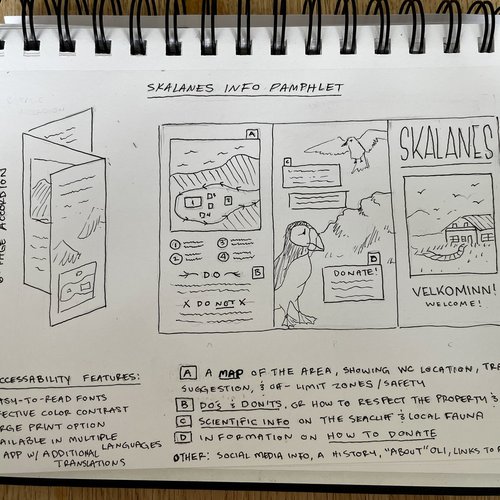 Spain: The Silk Road Studio
Interior Design Professor Cathrine Veikos led a group of graduate and undergraduate architecture students to Spain, a crossroads for first Roman, then Jewish, Christian, and Arab cultures, each leaving a lasting mark on the built environment. Based in Madrid, the group visited the neighboring cities of Toledo and Segovia, the north coast to Bilbao and San Sebastian, and the western border to Merida. They explored ancient Roman aqueducts and theaters, Islamic fortresses and city gates, Romanesque and gothic churches, as well as some of the most advanced contemporary architecture of our time. These historic towns and modern cities reflect how Spaniards have learned to live with a rich past as they continue to design and build for the future.
Students used a range of drawing techniques from Beaux Arts "analytiques" to Situationist psycho-geographical maps to document and interpret what they saw. The goal was to create a vision for the extension of the celebrated Madrid Rio Project, a work of urban infrastructure along the Manzanares River that includes public spaces, bike paths and landscapes over an underground highway. To support their study, Veikos organized meetings with students in Madrid and Toledo, and local and international architectural scholars including Dean Manuel Bianco, Mary McLeod, and Hilde Heynen. The course was supported by tuition grants from the Victor Carrasco Scholarship Fund.
Discovering history and architecture in Spain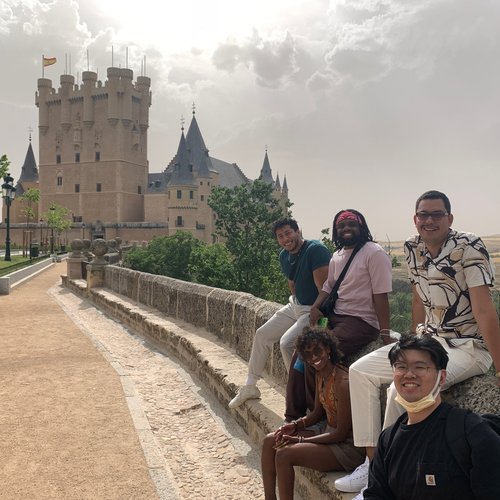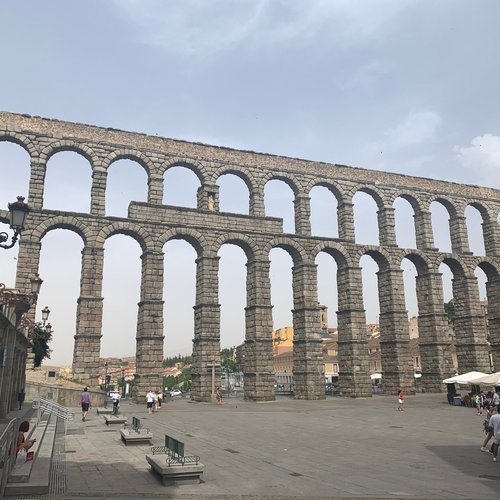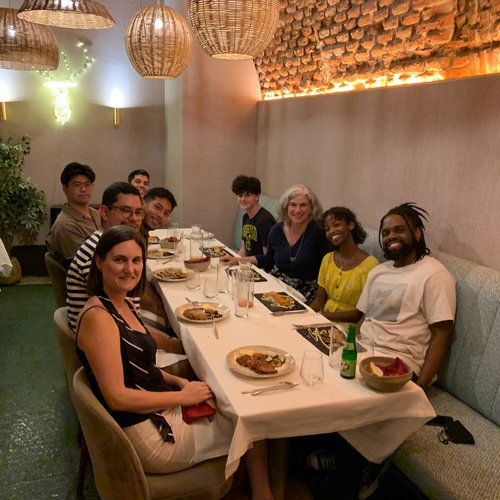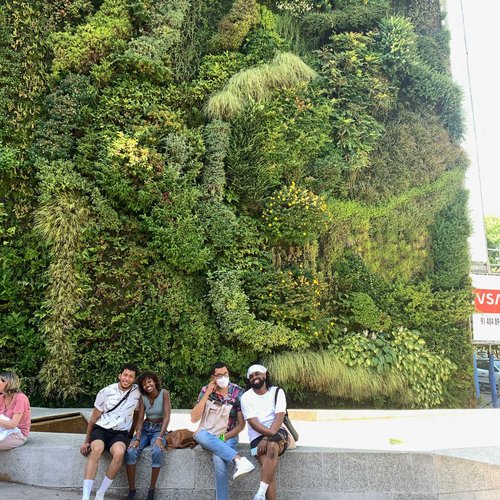 Highly diverse experiences, unified goals
Summer study courses were limited to European countries that had lifted COVID-19 restrictions for travelers and each group proceeded by following local guidelines and keeping back-up plans should anything change. But still the anticipation and joy of going back out in the world with students again was palpable. Professor Mays noted that the experience in Iceland was "a reminder of the magic of being out in the world again after such a heavy dark time." That magic can hopefully spark in each participant a powerful feeling of agency to engage with creative people across the globe who earnestly want to make a difference by taking on the challenging concerns and issues of our time.
As Professor Veikos put it, not only do our summer study abroad programs support the mission of the college, they also introduce students to the importance of experiencing in person the deep histories of place and site, as well as the creative and intellectual generosity of a global community of artists, designers, and academics who are willing to share their knowledge and creative practices with others. These moments help students to better understand how visual culture is created and shared in the largest, most influential cities to the smallest towns and communities and ideally they can now imagine how they might become a part of it too.
—Mara Holt Skov, with contributions from Summer Study Abroad faculty Ren Fiss, Aspen Mays, and Cathrine Veikos
September 1, 2022