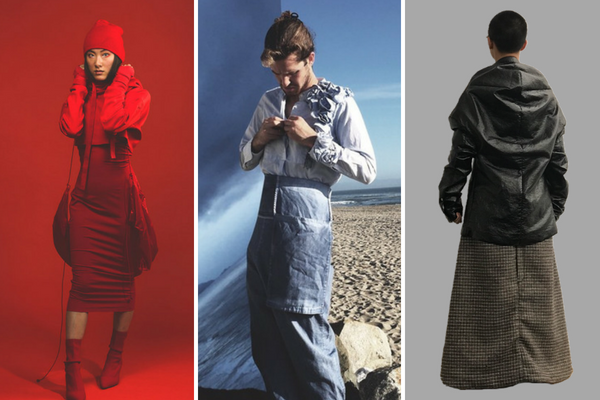 Liam Cliff, Zewei Hong, and Jennifer Wang—three recent graduates from CCA's fashion design program—presented their collections at the Fashion Future Graduate Showcase hosted by the Council of Fashion Designers (CFDA). These incredible alumni are all from the spring 2018 graduating class.
Cliff created designs inspired by the vibrant beach culture of Santa Cruz that feature graphics, detailed embroidery, and applique work. Hong's garments achieve luxury through authenticity with a focus on ethics and dignity. Wang's collection ANTIDOTE blends streetwear, activewear, and video game sensibilities to empower her wearers to overcome the "poisons" of the world.
Each presented work in this prestigious three-day showcase which featured 53 recent graduates from eight leading fashion schools in the United States. In addition to CCA, the invited colleges were Fashion Institute of Technology, Parsons School of Design, Pratt Institute, Academy of Art University, Kent State University, Rhode Island School of Design, and Savannah College of Art and Design.
CFDA, in partnership with the New York City Economic Development Corporation (NYCEDC), has organized this physical and digital showcase for the second consecutive year for top talent seeking employment and visibility in New York. This showcase was part of New York Fashion Week: Men's on July 9–10, 2018.
Liam Cliff // Website + Instagram
Jennifer Wang // Website + Instagram
Read more about the CFDA x NYCEDC 2018 Fashion Future Graduate Showcase.