If you want a glimpse into the future of creative practice, there may be no better place to find it than the Osher Foundation Academic Center (affectionately known as "the Nave"), the broad, light-drenched central atrium of California College of the Arts (CCA)'s main building in San Francisco. The open, flexible gathering space stretches 350 feet from front door to back, serving as both the primary route from point to point within the building and a hub of creative and curricular activity.
Walk through the Nave on a September day, and you may find it filled with huge, inflatable shapes constructed from translucent plastic, or outfitted with fully functional furniture created from plain, brown cardboard—both examples of warm-up projects designed to launch the school year by immersing students in the type of intense collaboration, brainstorming, and learning through doing that will fuel their work throughout their time at CCA.
Or you may discover fashion design students creating elaborate wedding dresses out of paper, to the delight of those passing through the space who would never see the process or product if it were sequestered in a traditional studio. Come back a few hours later and the dresses are gone, perhaps replaced by dozens of figure drawings scattered across the floor, their creators viewing and discussing them from the unique perspective of the level above. Later in the year, you can listen in on critiques as students from multiple programs across all disciplines present and discuss their work with their peers, faculty, and visiting artists, designers, scholars, and other professionals who come from across the city and around the world to participate in the lively conversations.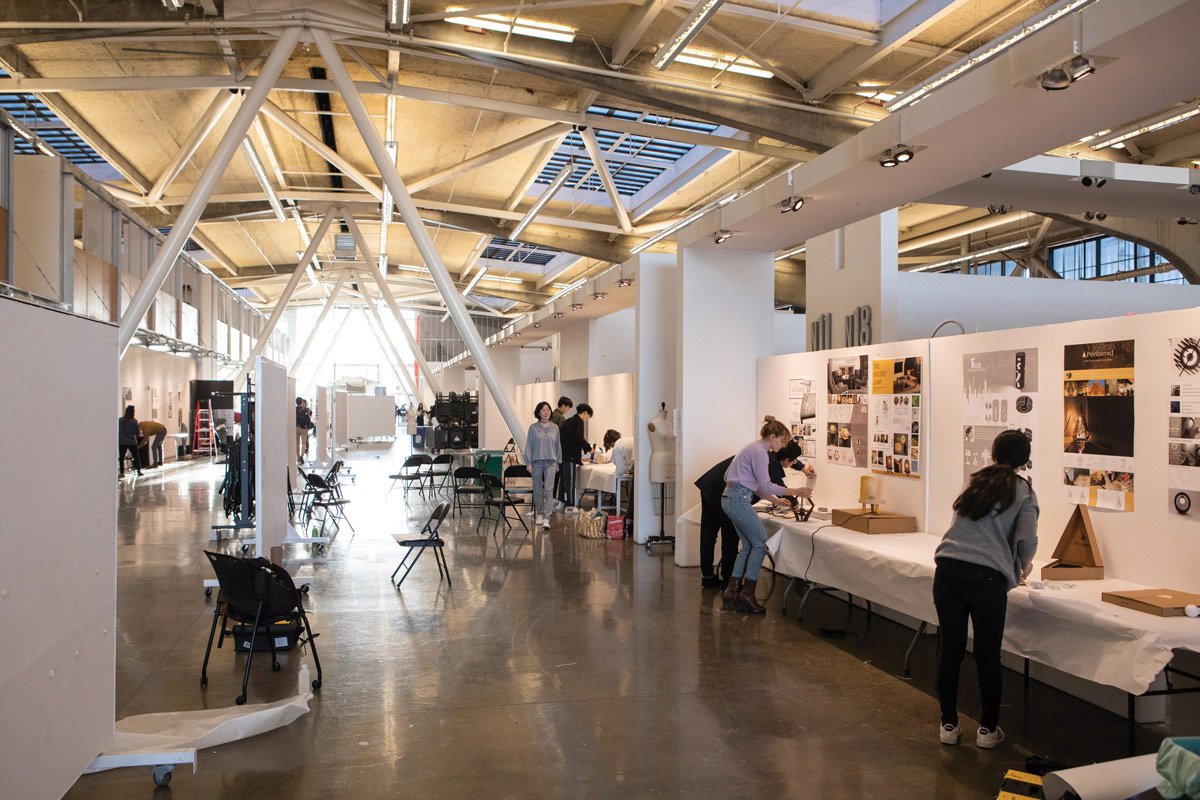 The Nave—with its flexibility and transparency, where making and learning happen in the open and all who pass by are welcome participants—is a profound example of how CCA's built environment supports and encourages an approach to education that is rooted in making and places a high value on collaboration, experimentation, risk-taking, and inclusivity.
"There are few, if any, art schools with this level of transparency," says Stephen Beal, CCA's president. "Most architecture programs, for example, are in separate buildings on university campuses. At CCA, an architecture student will walk through the Nave and get bombarded with a painting critique, an industrial design critique, a fashion critique, and a graphic design critique just to get to their studio class. It will have an impact. And perhaps it will encourage them to collaborate on a project with a fashion design student, or to consider a different approach than they would otherwise."
This is the environment CCA's ambitious campus expansion and unification in San Francisco seeks to amplify. When the new campus opens, it will mark the culmination of more than a decade of visioning, dreaming, strategizing, planning, questioning, listening, learning, collaborating, fundraising, designing, and building—all in the service of creating a space that will, Beal says, "redefine arts education for the future."
The value—some would say necessity—of this redefinition is becoming increasingly clear, as our world's thorniest problems demand solutions from radically creative people prepared to lead change, not just react to it. CCA's founding values and established pedagogy, emphasizing experiential learning, interdisciplinarity, sustainability, and connection to community, have positioned the college particularly well to lead this approach to education.
Designing to CCA's values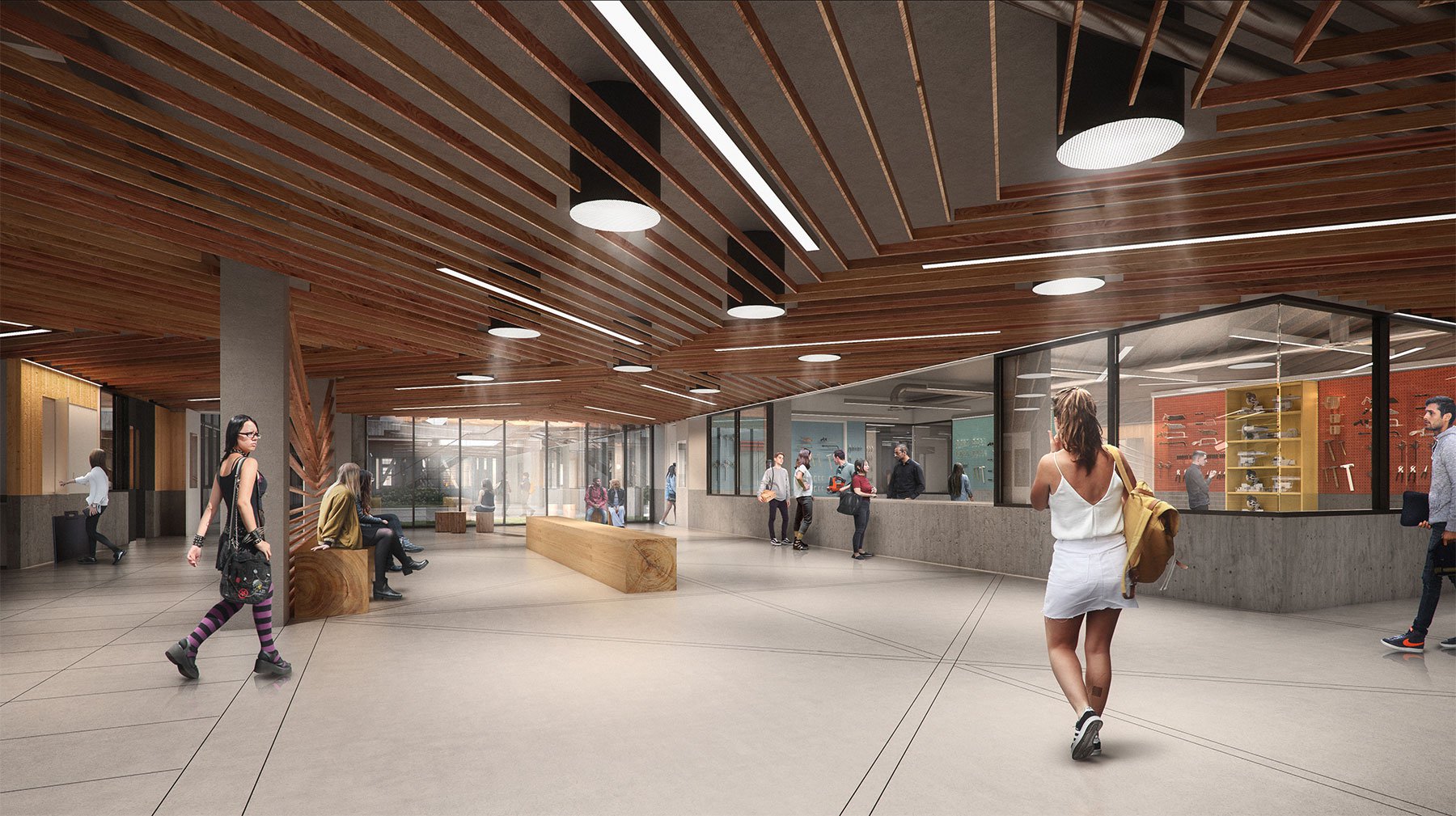 Today, as you complete your stroll through the future of creative practice as envisioned by the students of CCA and reach the back door of the Nave, you'll be met with a view of a vast concrete and asphalt yard, empty but for a few shipping containers and faded paint marks from past student projects.
The Backlot, as it's known, is quiet now. But that's about to change dramatically. The college is preparing to launch the two-year construction of Double Ground, the centerpiece of CCA's transformational expansion in San Francisco. Designed by Studio Gang, an architectural firm noted for its innovative use of materials, commitment to environmental sustainability, and deep research into the history, mission, and values of the organizations it works with, the project will transform the Backlot into a hub of making and learning, an open, interconnected laboratory for practice and ideas that is welcoming, functionally flexible, and minimizes its carbon footprint.
"The project will transform the Backlot into a hub of making and learning, an open, interconnected laboratory for practice and ideas that is welcoming, functionally flexible, and minimizes its carbon footprint."
"We're really an office that learns by experimentation, iteration, and working with material," says Studio Gang Founding Principal Jeanne Gang. Before beginning their design work, Gang and her team spent many hours listening to the ideas, concerns, and vision of those who know CCA best. Students, faculty, studio managers, alumni, and many others offered their insights, and what the team heard informed the design on both practical and human levels. Among the priorities for the CCA community, according to Studio Gang's findings, was a design that would "anticipate and support the pace of change in education," "embody creative risk and experimentation," "make green space work," and fully integrate the campus and the surrounding neighborhood.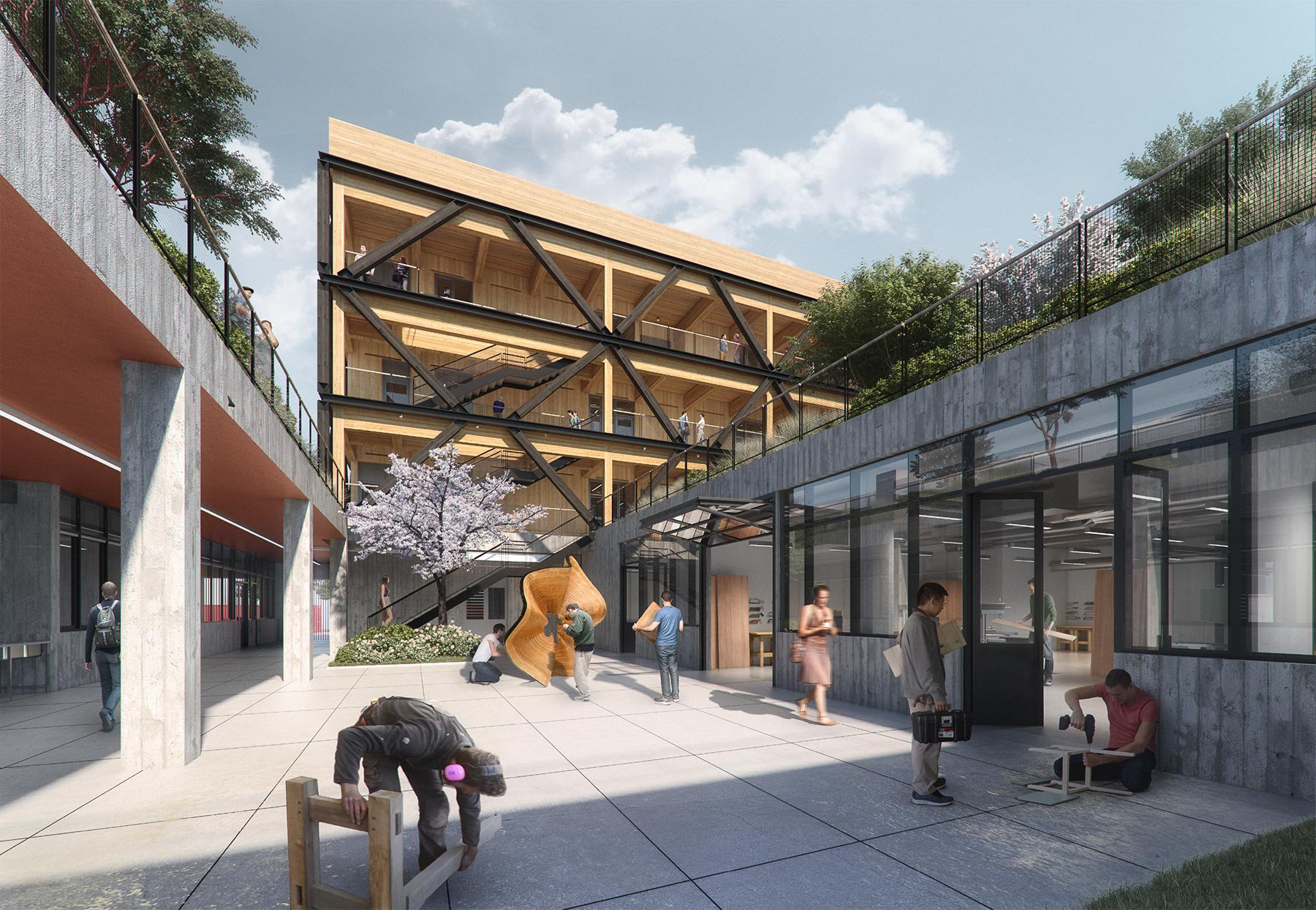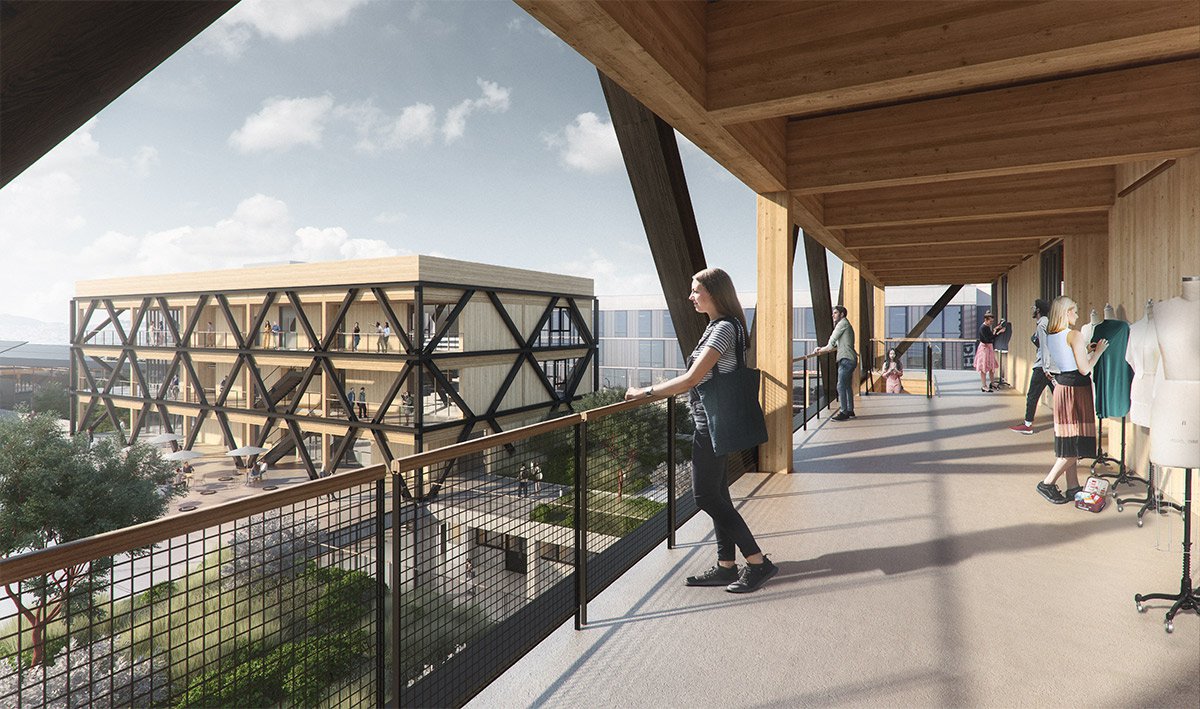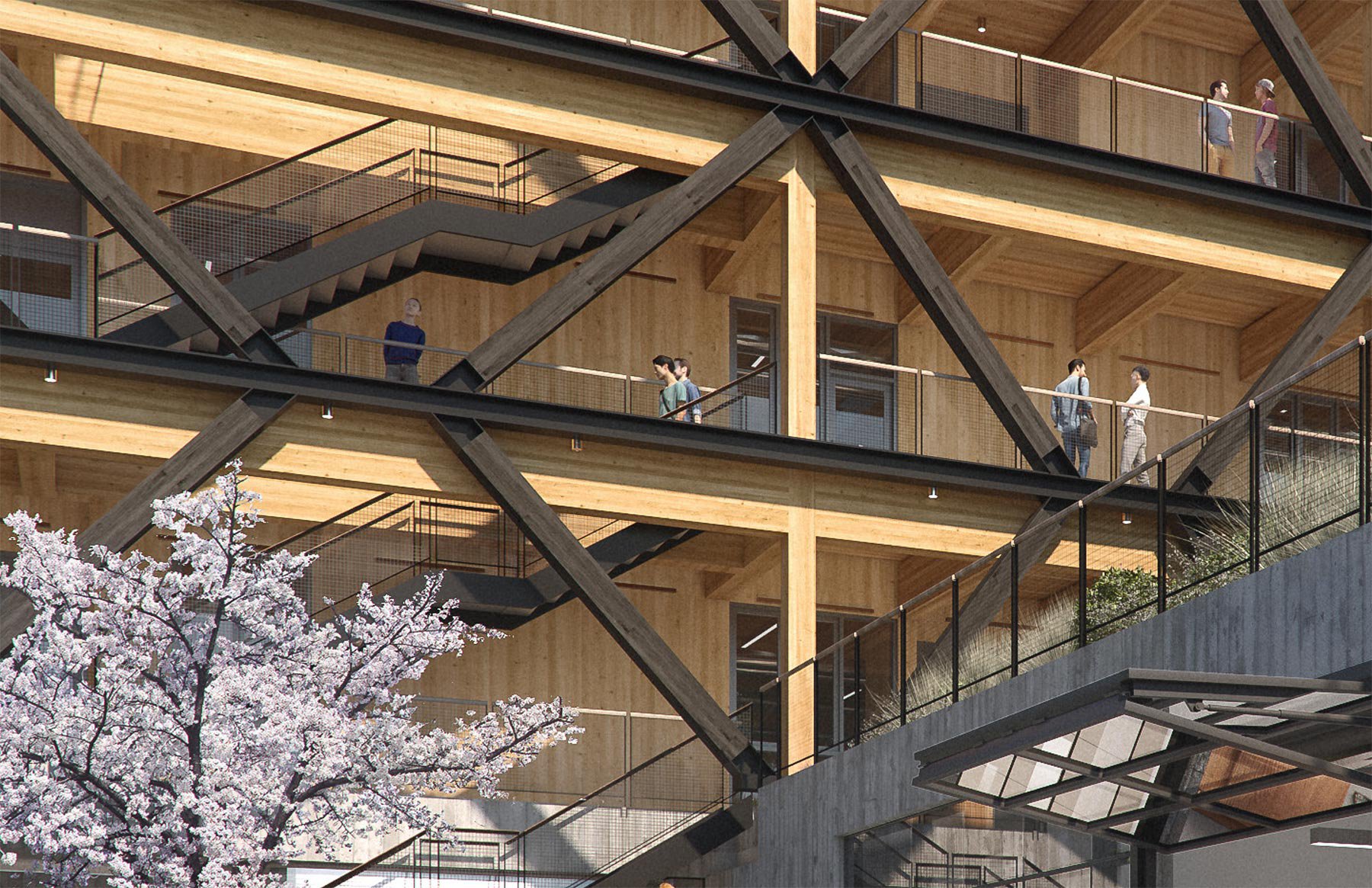 The architects also studied the ecology and history of the site. Over the past century or so, the neighborhood, which lies about a mile from the waterfront at the foot of Potrero Hill, has been a center for light industry and design. Testing during the preconstruction environmental review, however, revealed evidence of cultural activity going back much further—7,500 years or so—deepening the college's understanding of the site's history and its early inhabitants, an exciting development that faculty are now incorporating into the curriculum.
Studio Gang also found an immediate affinity with CCA's 113-year-old legacy as a college founded in the ideals of the Arts and Crafts movement—which valued the integration of practice and theory; making and thinking; art, design, and craft rooted in a commitment to the social good. "We're really interested in the qualities that materials have," said Gang in a video describing her studio's approach to the project. "So a structure, if it's concrete or if it's steel or if it's wood, each one of those materials is different. ... What I think is really interesting about the program at CCA is really embracing both traditional forms of making and new, digital forms of making, and I think that is, essentially, what 21st century artmaking is all about."
The Double Ground campus design is an architectural embodiment of the values and pedagogy that are central to CCA's mission. It will be, as Gang puts it, "creatively hackable," a fluid space that serves the needs of students and faculty today that can also easily evolve to support whatever creative practice and pedagogy require in the decades to come. The campus is designed to facilitate interactivity—students studying glassblowing and robotics, etching and 3D printing, sculpture and interaction design, or any of CCA's 34 academic programs will encounter one another, learn from one another, and potentially collaborate on entirely new approaches to their respective disciplines.
Double Ground
Double Ground is so named because it will have, essentially, two ground levels. The "lower ground," at street level, will house shops and studios requiring heavy equipment: facilities for glassblowing, ceramics, metal, sculpture, and furniture, among others. Wide doorways and a continuous floor devoid of steps or thresholds will enable heavy materials to be moved around easily (the transparency of these spaces ensures ideas move easily among them, too).
Many of these ground-floor spaces open into shared maker yards, flexible outdoor courtyards that serve as extensions of the surrounding shops while encouraging interaction and chance encounters among students working in a wide variety of disciplines and media. Ample windows reveal what's happening inside the adjoining studios, while maximizing the natural light inside. This literal and figurative transparency (an intentional continuation of the vibe in the current Nave), extends to the "upper ground," a second main level featuring an outdoor plaza and a park-like garden, with views down into the maker yards below. Dotted with plants and trees, this welcoming green space brings something of a traditional college-campus feel to the site and continues the opportunity for cross-disciplinary interactions and spontaneous meetings.
Around the perimeter, three pavilions house classrooms, galleries, lecture halls, studios, and offices. The unified campus will bring programs into proximity in a way that CCA's two-campus structure didn't allow. The Fashion Design program, for example, will be in the same pavilion as the Textiles program, enabling a level of collaboration and exchange of ideas beyond what's possible currently, with the former based in San Francisco and the latter in Oakland. The pavilions, too, extend the theme of transparency and connectivity. The classrooms, labs, and studios are accessed via external walkways, balconies that eliminate the need for internal hallways.
The benefits of this design are many: The 11-foot-deep walkways don't require climate control and shade the spaces within, reducing energy use. They offer views across the campus, enhancing a sense of connectedness and community. And the interior spaces, with little need for supports or load-bearing dividing walls, are immensely flexible, easily adaptable to the changing needs of arts education and practice over time. The pavilions will be constructed using mass timber, a building material consisting of thick layers of compressed, laminated wood (in this case, cedar) that is quickly emerging as a more climate-conscious alternative to concrete and steel.
Appropriately for a school that counts innovation and environmental sustainability among its core values, CCA's project will be among the first in San Francisco to utilize the technology, which was only added to California's building code in 2016. With more than 10% of the global carbon footprint attributable to building materials, the choice of mass timber supports CCA's goal of attaining a carbon-neutral, net-zero-waste campus. There is also a material warmth to the wood, which will be sealed but unpainted, bringing a bit of the Oakland campus's coziness to San Francisco.
A living, learning laboratory
While Double Ground is the centerpiece of CCA's campus expansion plan, several other projects are underway that are integral to the realization of a unified campus. When CCA's Board of Trustees first outlined its vision for an expanded campus more than a decade ago, it identified the development of student housing as a top priority. The assignment was daunting: build enough on-campus housing to transform CCA into a residential campus, keep the cost to students comparable to those at peer institutions across the country, and do it in one of the most challenging housing markets in the world.
With ingenuity, collaboration, support from the city, and the generosity of donors who shared the vision for a residential CCA campus, Blattner Hall opened in the fall of 2018 with 30 apartment-style units housing 200 students just two blocks from CCA's main building. In fall 2020, an additional residence hall will open at 188 Hooper Street, adjacent to the main building and Double Ground.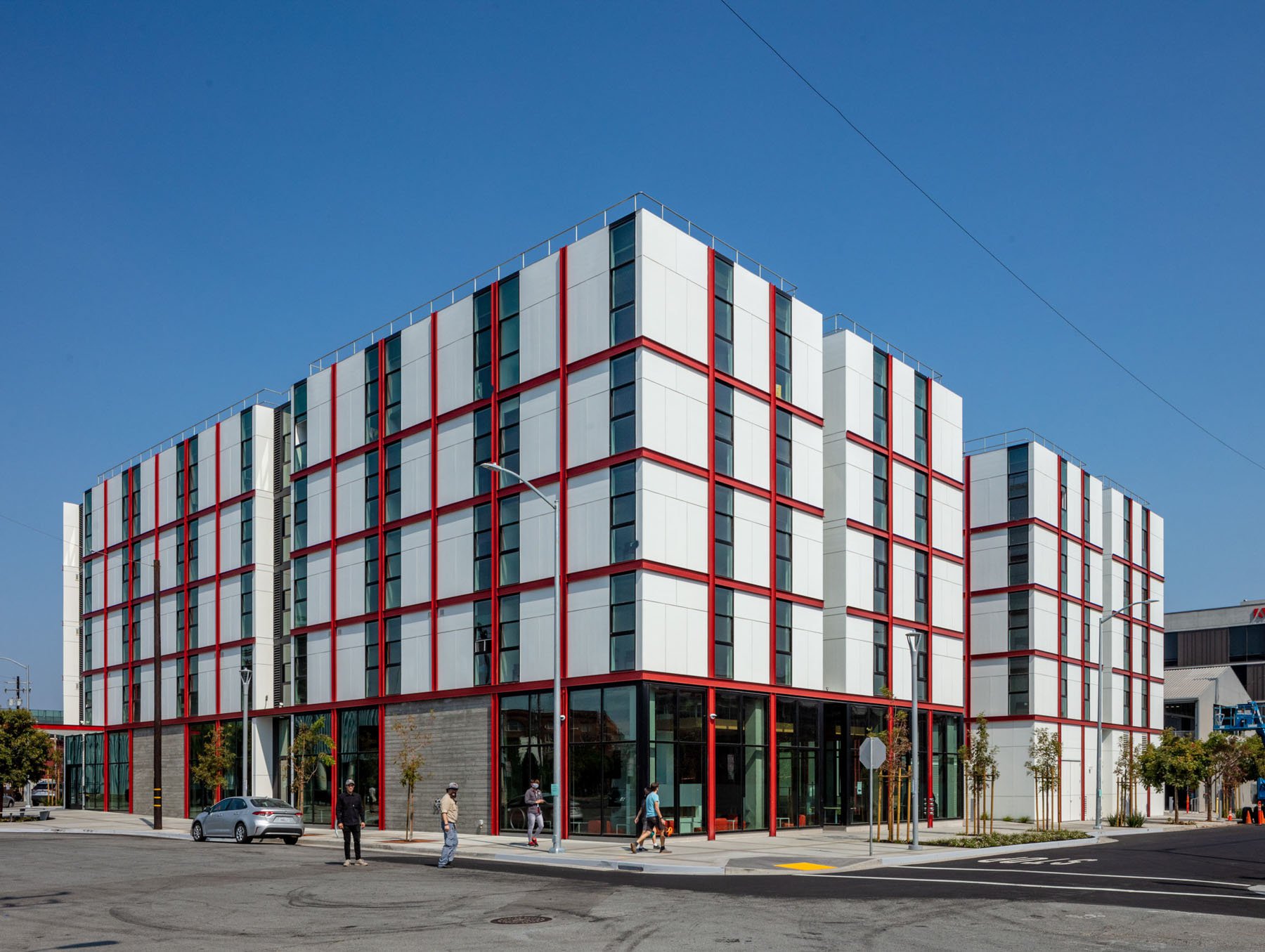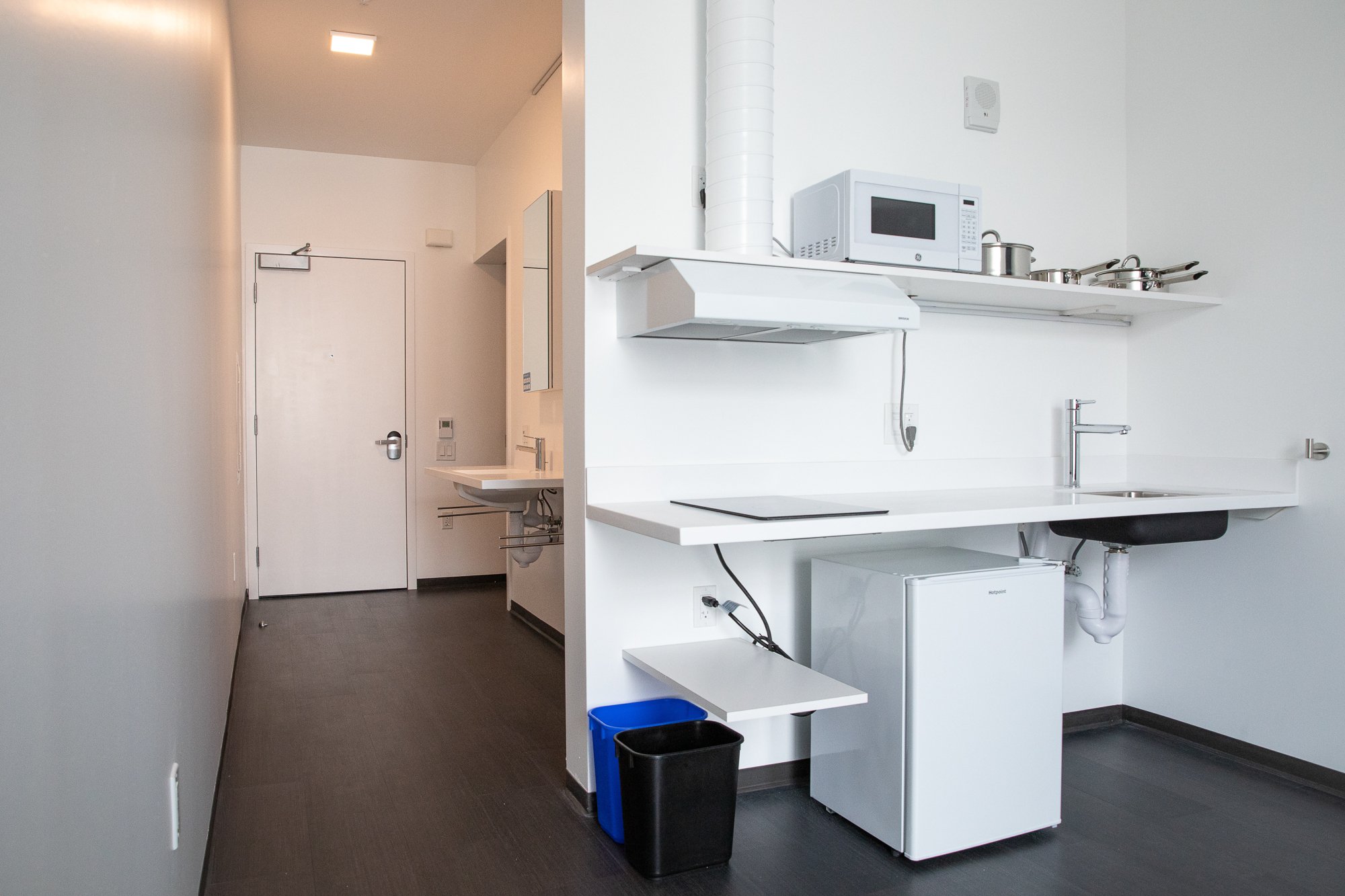 Designed by San Francisco's Stanley Saitowitz | Natoma Architects Inc., Founders Hall takes visual cues from CCA's main building, a former Greyhound bus maintenance center designed in the 1950s by Walter Netsch of Skidmore, Owings & Merrill. Echoing the existing building's signature red grid, the residence hall will enable 520 students to live where they learn, with a thoughtful mix of private and communal spaces—including an 8,000-square-foot dining hall and cafe for students, faculty, staff, and the public—that continue the intentional approach to connectivity throughout the campus. The first four floors will primarily house first- and second-year students (who are required to live on campus) in double suites, with graduate-student apartments on the fifth (top) level. When Founders Hall opens, combined with Blattner Hall and Panoramic Residences—another student housing project about a mile from campus in San Francisco's SoMa district—CCA will have 900 beds, enabling it to provide below-market-rate housing for nearly half its student body for the first time in its history.
Sharing a vision of the potential that CCA's campus expansion and unification holds, not only for the college and its students but for the very disciplines they come here to study, long-time CCA Trustee Steven Oliver predicts: "We're going to have a true community, where we're going to have 1,000 students living within 100 yards of the campus. ... It's a real glimpse of the future. They're going to see what the future's going to be like well before the rest of the world, because it's going to be created here."