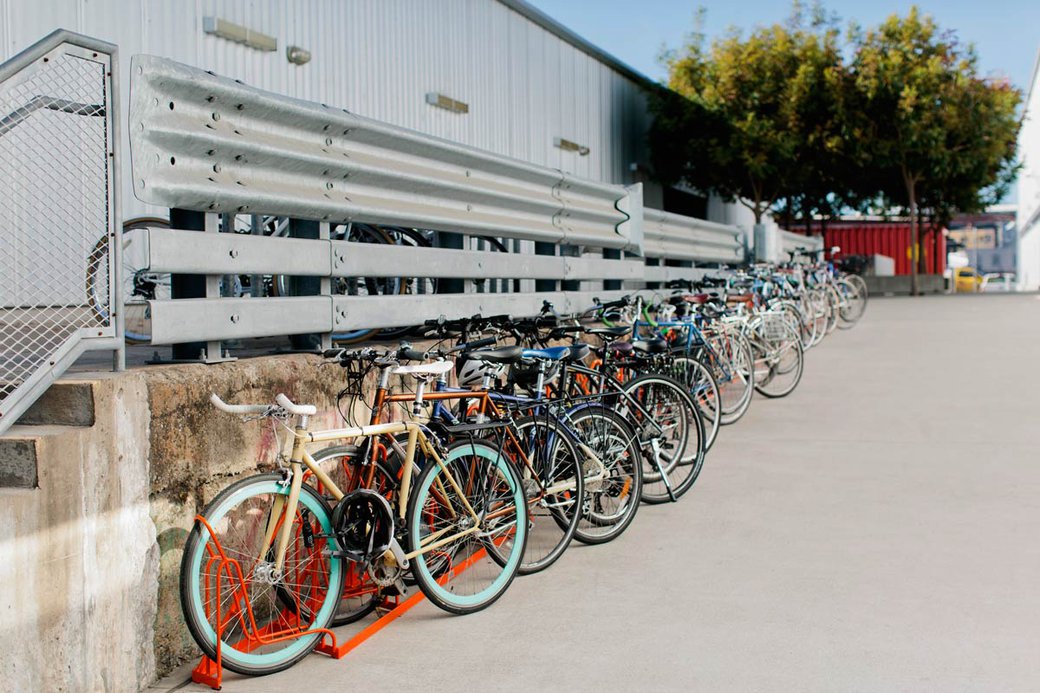 Demonstrating sustainable practices collegewide
The college's significant commitment to sustainability includes architecture that prioritizes passive and renewable approaches over mechanical systems, a curriculum that embraces and explores ecological practices, and a student body that uses bikes and buses more than cars.
Guided by the President's Sustainability Steering Group (PSSG)—which consists of faculty, students, staff, and trustees who represent the college's core principles in this area—CCA's ongoing commitment to sustainability is top priority for leadership, faculty, staff, and students.
Sustainability as a learning outcome
Our interdisciplinary approach promotes a broad, culturally driven discussion about issues of sustainability, and we offer a wide range of courses that take on the subject in a contemporary way.
In these courses taught by expert faculty, students form a deep understanding of the processes in which they, as makers, play a pivotal role in sustainability as a global, social, economic, environmental, and practice-based concern.
Sustainability is even included as part of the college's 15 undergraduate learning outcomes. We aim to equip every student graduate with the tools they need to create art and design in a way that's socially and ecologically responsible.
Real-world projects and research
CCA's Center for the Arts and Public Life Learning Labs partners with faculty for an opportunity to expand the classroom beyond four walls and into civic minded institutions across the Bay Area.
The Center arranges course partnerships with nonprofits and civic minded institutions in order to take the classroom into the world. These partnerships provide opportunities for the students as well as much needed help for nonprofits.
Resources for making and research
The following collections, spaces, and initiatives support the sustainability and instructional needs of our students and faculty.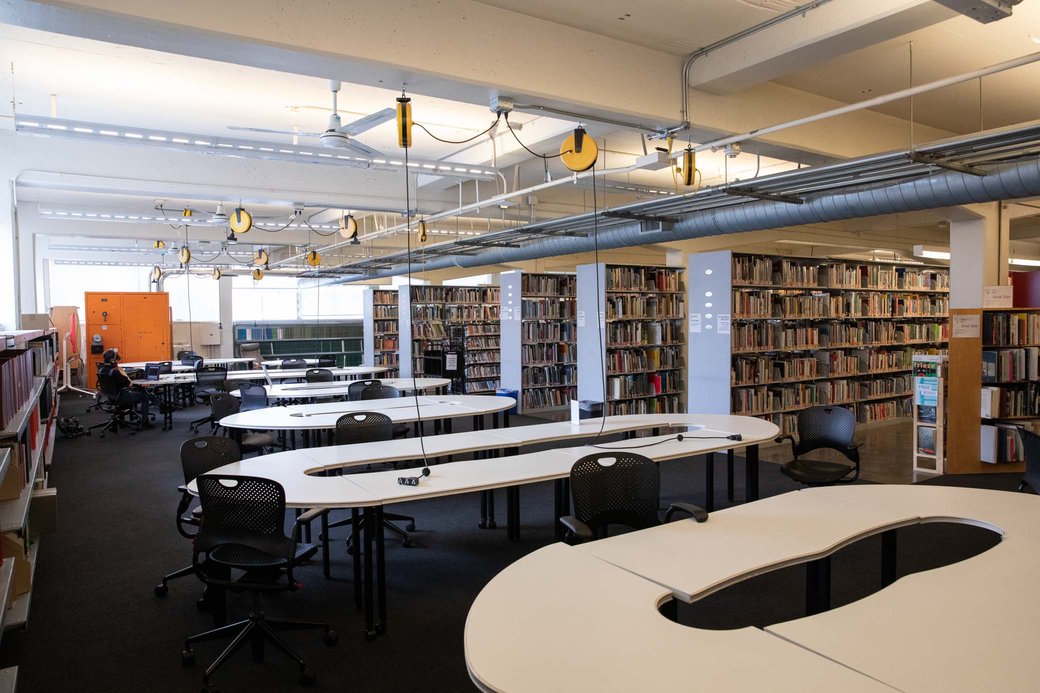 CCA Library
Sustainability, both multidisciplinary and discipline-specific, is a significant field of focus in our library collections. This commitment is seen most clearly in our print collection and in the Materials Library (view below). We have items related to ecology in art, sustainable architecture, sustainable design, and sustainable development.
Our instructional services librarian can provide support in sustainability literacy, and inter-library loan services are available to both students and faculty to support research needs that go beyond our libraries' collections.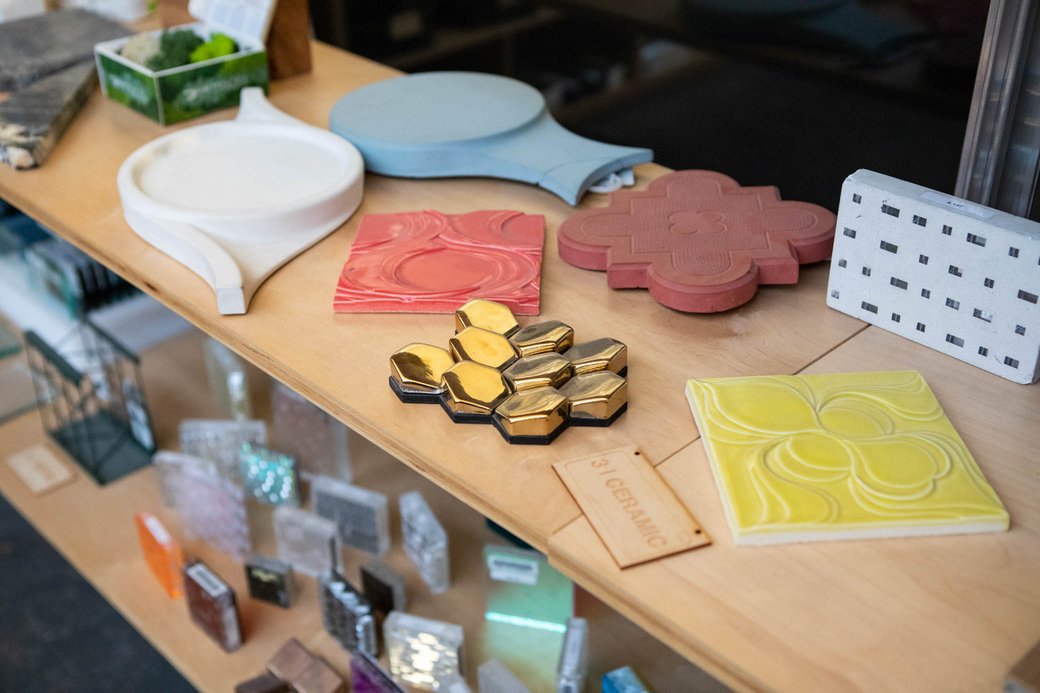 Materials Library
Our Materials Library is an investigative space with a collection of over 600 material samples chosen specifically for their sustainable, eco-friendly, technologically smart, and/or innovative properties. The collection is cataloged for searchability and remote access, and a subscription to the Material ConneXion database is also available for even broader materials research.
Environmental stewardship best practices
As a forward-thinking, design-focused institution, our policies and guidelines are developed with consideration of the life cycle implications of our choices. We choose sustainable, energy efficient, and innovative grounds management and architectural strategies whenever possible.
Require the use of nontoxic, organic, and locally sourced materials in all landscaping and grounds management
Use only native and drought-tolerant plant and tree species
Maintain three organic gardens that are integrated into the curriculum
Incorporate green space into all campus-planning initiatives and new development
Compost 100% of plant debris
A reputation for exemplary sustainability
These efforts have made CCA one of the most environmentally responsible colleges in the United States and Canada, according to The Princeton Review, which has repeatedly included us in The Princeton Review's Guide to Green Colleges.
Our campus was created from a repurposed bus maintenance facility with a daylighting, renewable energy, and material approach that predated LEED by five years; yet, it beat Title 24 requirements so significantly that it was named a Top Ten Green Building in the United States. This effort has been followed with additional college facilities that have earned LEED Platinum and other sustainability acknowledgments.
Blattner Hall student housing attained a Platinum level rating under the GreenPoint rating system in 2019. In designing the building, special attention was given to resource conservation and achieving a healthy living environment. Among its sustainable features, the roof is covered with solar panels for both renewable electricity and hot water production. Performance models predict that the building will use significantly less energy to operate compared to the national average for a college dormitory.
Here's how we continue to push the movement of environmental responsibility forward.
Carbon neutrality
CCA's Climate Action Plan (CAP) provides a strategic vision for the college to meet the goals of carbon neutrality. Through this plan, CCA embraces the spirit of Second Nature to address climate change within its boundaries and will provide its community with the tools, knowledge, and inspiration to make an impact on the broader society.
Energy efficiency
We're committed to using sustainable and energy-efficient operations, selecting high-efficiency mechanical equipment and systems including on-demand boilers, hot-water heating loops, occupancy sensors, and advanced controls technology to manage system operations.
35 Heliodyne Gobi solar thermal panels preheat water for our hydronic heating system in our main building at 1111 Eighth Street
EPEAT and Energy Star-certified devices are purchased for all computing facilities and staff workstations
We develop recommended computer bundles to students that are EPEAT qualified
Waste diversion
Waste diversion is major component of our curriculum and our operations. We partner with a local organization called KIDmob that reclaims and distributes project materials into classrooms, as well as with Recology to employ its three-bin system that promotes, educates, and enables the CCA community to recycle and compost waste.
Air quality maintenance
In addition to our transportation efforts, our janitorial service, GMG Janitorial, uses only green cleaning products and cleaning methods. Green cleaning allows us to provide a healthier work and learning space by decreasing indoor pollutants and improving air quality.
Water and soil use management
Partnering with our landscaper and members of the CCA community, we also monitor and manage water and soil resource use. We comply with municipal stormwater requirements and maintain stormwater management systems and have implemented rainwater catchments, bioswales, raised beds, sidewalk greening, xeriscaped gardens, and irrigation controls to manage water resources.
Supporting ecology-minded activity
CCA is a public transit-oriented college that encourages and accommodates the use of alternative transportation through campus design and operational support. We have limited stationary sources of emissions, and we don't own or operate a fleet of vehicles, giving us an insignificant mobile emissions footprint. Here are other ways we support these eco-conscious efforts on a daily basis.
Minimize traffic impact
Our campus is conveniently located near several public transportation options and in urban settings with easy walking and biking routes.
Encourage faculty, students, and staff to use public transportation for their commuting needs
Don't permit first-year residential students to bring vehicles to campus
Offer a pre-tax commuter expense program that allows employees to use pre-tax dollars to pay for eligible commuter expenses
Facilitate bike culture
Many students, staff, and faculty commute by bicycle, and CCA provides ample storage, repair accommodations, and educational resources. Because of our extraordinarily large amount of indoor storage and the security it offers, commuters are able to ride high-quality performance bikes to campus and more easily make sustainable transportation choices.
Maintain a bike kitchen equipped with tire pumps and tools for repairs and a frame-building jig
Provide bike share stations
Offer Urban Mobility courses in the summer evenings and weekends to teach students techniques to create bicycle frames of their own design
Support 70% of secure bicycle storage indoors, with 200 bike parking spaces integrated throughout the main building
Provide car-free student residential halls (Founders Hall and Blattner Hall) with robust secure indoor bike parking spaces, bike-repair facilities, and proximity to the bike share stations
More than a mission
Environmental responsibility is a deeply rooted branch of our campus culture that inspires equity and growth. Attend an upcoming event to see how that comes alive today at CCA.