Connecting students with top companies
CCA helps students push the boundaries of art and design through collaborations with the world's most exciting companies. With fresh perspectives and specialized skills in fine art, architecture, design, and entrepreneurship, our students address pressing needs across a broad range of industries. Real-world engagements, such as our featured project below, are often embedded within existing CCA courses and encourage research, experimentation, and innovative thinking. Ranging from one-day to semester-long collaborations, these engagements are typically co-designed by CCA and our partner so the focus is on tangible deliverables, which include a culminating project or solution.
Interested in developing a project?
Featured project: Big Data with Intel
Sponsored by Intel, the Big Data studio is a collaboration between industrial designers, interaction designers, and MFA in Design candidates. Students work together to address specific challenges from the City of San Francisco with interactive experiences that leverage Intel technology.
How might we make our streets smarter?
Students develop solutions for bike safety and neighborhood communication in the Potrero Hill neighborhood of San Francisco. Working at the intersection of industrial design and interaction design, they create innovative solutions and full-scale physical products: smart light bike lanes, driver notification sensor, helmet sensor, and web notification system for residents.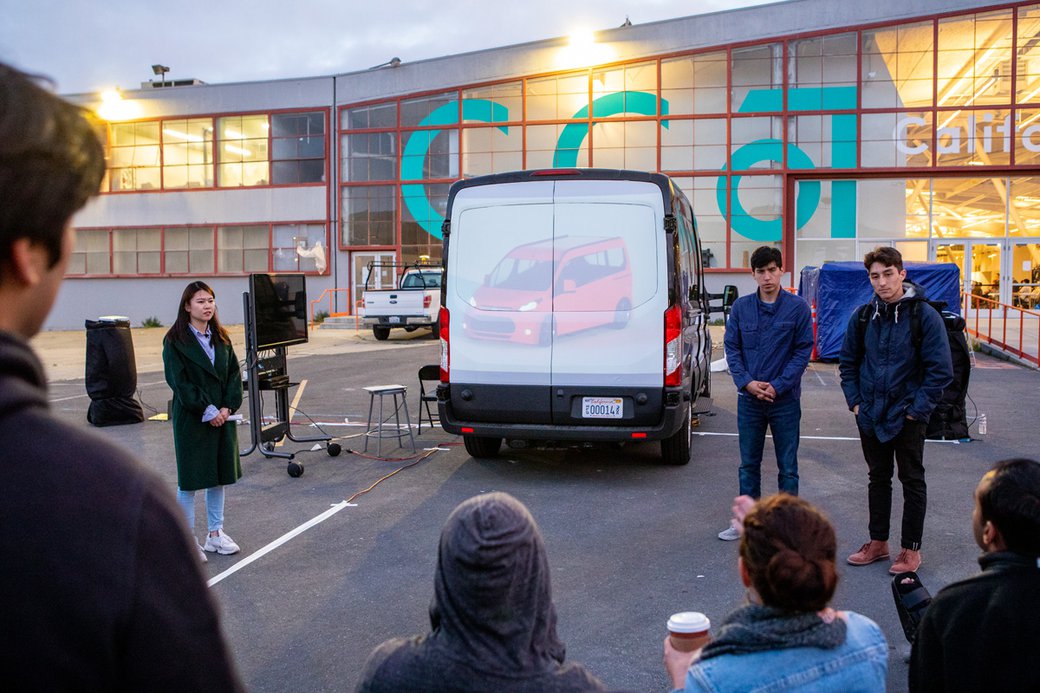 Smart collaborations fuel innovation
We partner with visionary companies, organizations, nonprofits, and municipal agencies. From robots in the home to point-of-sale interfaces for product displays, the project innovations help students gain experience across a variety of categories. Projects often pair teams of students from multiple disciplines with mentors from renowned companies, such as Adobe, Ford, and Google. Students learn to perform sophisticated research, envision systemic solutions, and completely redefine industry expectations and standards while working alongside the best in the business.
Some of our current partnerships
American Craft Council
Audi
Autodesk
Citrix
FOR-SITE Foundation
Google
Institute for the Future
Levi Strauss & Co.
Port of Oakland
VISA
Engagement types for partners
There are generally five different types of engagements our partners can co-design with CCA. Each has a specific planning period, timeframe, and expectation.
Studios
These are dynamic semester-long investigations focused on long-term visioning and solutions. CCA faculty work with our partners six to 12 months in advance to plan out content and deliverables.
Projects
Directly embedded within relevant CCA courses, projects are three to five weeks in length. CCA faculty work with our partners three to six months in advance to plan out content and deliverables, including a final project and presentation.
Workshops
These are brief yet in-depth interdisciplinary engagements focused on a single topic or issue. Drawing from students across the college, workshops ideally occur over one to three weeks during breaks in the academic calendar. CCA faculty work with our partners three to five months in advance to determine an overarching question.
Sprints
The shortest of all our engagements, sprints last one to three days and are designed to be brainstorming or prototyping sessions for ideas or products. Like our workshops, students address an overarching question that's determined by CCA faculty and our partners three to five months in advance.
Executive education
This is a tailored experience based on an individual's specific professional development goals. CCA works with you to help develop and refine the skills you need to position yourself as an innovative leader within your field or organization.
Interested in developing a project?
Explore key project categories
While not an exhaustive list, our industry engagements typically fall within four main categories:
Commerce – imagines the future of consumer retail through camera sensor, virtual furniture, and augmented reality mirrors
Home – explores potential applications for robots in the home, including cleaning, organization, and security
Technology – builds spatial interfaces that emphasize storytelling, interactive educational software, and speculative presentations on provocative topics like cybernetic replacements for human anatomy
Transportation – focuses on mobility trends, user research methodology, and systemic solutions that redefine our relationship with cars
For specific projects, please view examples below.
Technology: The Future of Belonging with Google
Sponsored by Google, Studio Forward is a year-long, topical course that challenges CCA Design students to think critically about tomorrow. The inaugural year focused on The Future of Belonging, where students employed speculative design principles to imagine the future of digital inclusion.
What does belonging mean to you?
Students have the opportunity to explore and experiment in an interdisciplinary environment in which big questions about the future of digital inclusion are asked. Through research, making, and experimentation, students present their findings and ideas in installations and collaborative learning labs.
Technology: Cloud Collaborations with Adobe
Sponsored by Adobe, the Cloud Collaborations project challenges CCA interaction design students to prototype a new user experience for other design students using Creative Cloud software. Combining design research and thinking, the project incorporates user flows based on specific user personas.
How can the experience be easier and more collaborative?
With the education system undergoing massive changes, easy-to-use software is more important than ever for students in design and creative fields. As CCA students identify and understand user needs and behaviors, they incorporate their ideas within the existing framework of Adobe Creative Cloud. Along the way, they learn from professionals in the interaction design industry and the vice president of experience design at Adobe.
Transportation: Future Mobility with Audi
Sponsored by Audi's Innovation Research office in San Francisco, Future Mobility is a two-week intensive workshop that fosters interdisciplinary collaboration. Students from the Industrial Design, Interior Design, Bachelor of Architecture, Master of Architecture, MFA in Design, and MBA in Design Strategy programs work together to envision future designs for some of the best-selling luxury automakers in the world.
How can interconnected devices help reinvent the car?
With the help of Audi Group's leading designers, students explore the potential of data applications, customization tools, robotics, and social networks to formulate a series of speculations about the future of cars. Students move from this intense period of field research into a testing and prototyping phase, creating a culminating video presentation for their final proposal.
Partner with a top-ranking college
CCA is a top-ranking art and design college, home to creative citizens, renowned faculty, and incredible analog and digital fabrication facilities. We're confident that your investment in CCA students will yield innovative perspectives and exciting solutions. Our students are well-versed in collaboration, eager to experiment, and ready to make a positive impact on society and culture.
Please get in touch to learn more about past and ongoing projects and how we can partner on the next big thing.