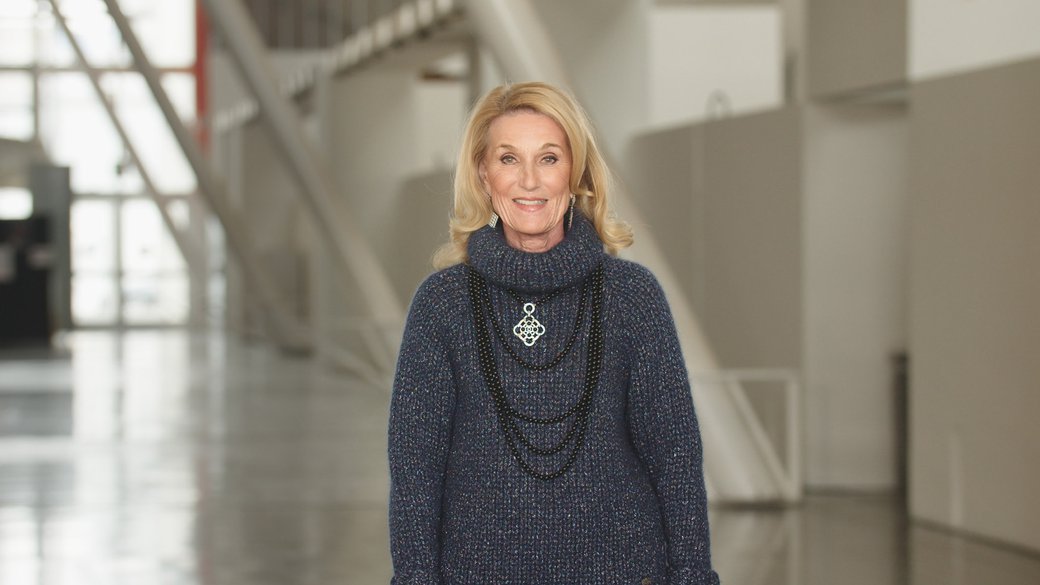 Greetings from the board chair
The CCA Board of Trustees is a group of dedicated and knowledgeable individuals who are passionate about advancing the mission of the college. It is my honor to serve as board chair and to work closely with trustees and CCA leadership to establish and realize college-wide goals. Our trustees are fully invested in the ongoing success of CCA and in pursuing the exciting opportunities ahead.
—Lorna Meyer Calas, Board Chair
Trustees
Board officers
Lorna Meyer Calas, Chair
C. Diane Christensen, Past Chair
Susan M. Cummins, Vice-Chair
Kenneth M. Novack, Vice-Chair
John S. (Jack) Wadsworth Jr., Treasurer
F. Noel Perry, Secretary
Board members
Carl Bass
Simon J. Blattner
Liam Casey
Catherine Courage
Jessica Farron
Nancy S. Forster
Stanlee Gatti
Aaron Gensler
Maria Giudice
Maria Hemphill
George F. Jewett (Architecture 1996)
Ritu Kalra
David Kirshman
Byron D. Kuth, FAIA
Joyce B. Linker
Julie Lythcott-Haims (MFA Writing 2016)
Ann Morhauser (BFA Glass 1979)
Michael Muscardini (BFA Printmaking 1972)
Suzanne Randolph (MBA Design Strategy 2010)
Abby Sadin Schnair
Nathan E. (Gene) Savin, PhD
Kimberlee (Kim) Swig
Lucille Tenazas
Judith P. Timken
Marv Tseu
Alyssa Warnock (BFA Graphic Design 2001)
Calvin B. Wheeler, MD
Carlie Wilmans
Carina Wong (MBA Design Strategy 2019)
Mary Zlot
Emeriti
Carla Emil
Henry L. Gardner
Ann M. Hatch
Rodric Lorimer
Anthony Meier
Steven H. Oliver
Henry J. Salvo
Kay Kimpton Walker
Mrs. Karl Wente
Chair
Lorna Meyer Calas
Managing Director-Private Wealth Advisor, Merrill Lynch Private Wealth Management Group
Board member since 2001
Lorna Meyer Calas is a managing director-private wealth advisor with Merrill Lynch's prestigious Private Wealth Management Group in San Francisco. She joined Merrill in 2001 to provide comprehensive wealth management services to executives, venture investors, and ultra-high-net-worth families. Calas has 45 years of experience in the financial services industry and oversees a group of seven experienced professionals with more than $3 billion under management.
Prior to joining Merrill, Calas was a managing director at Hambrecht & Quist (now JP Morgan) and Alex. Brown and Sons, currently a division of Raymond James. During her fifteen-year career at Alex. Brown, Calas worked closely with the investment banking team to help establish Alex. Brown's highly acclaimed Corporate and Executive Services Group. In conjunction with this work, Calas developed the first Cashless Stock Option Exercise Plans for Silicon Valley corporations. This business model provided a unique service to some of the most important technology companies that had recently completed initial public offerings (IPO's). These programs were directly responsible for raising billions of dollars for the wealth management division of Alex. Brown.
Forbes has recognized Calas as one of the top 250 wealth advisors in the nation and one of the top 25 women wealth advisors nationwide. Barron's also has recognized Calas for many years as one of the nation's leading financial advisors, ranking her among the top 25 advisors in California and top 10 woman advisors nationwide. Additionally, San Francisco Business Times has named Calas the number one "Woman Wealth Advisor" in the Bay Area and honored her as one of the "Most Influential Women in Bay Area Business."
Lorna Meyer Calas is dedicated to philanthropic work in both the arts and higher education. She has served on the Board of Trustees of the Fine Arts Museums of San Francisco for over 20 years and is currently the president of the Foundation of the Fine Arts Museums (DeYoung and Legion of Honor).
In addition, Calas is the co-chair of the advisory board of the newly founded Manetti-Shrem Museum at U.C. Davis. The museum program highlights the university's legacy artists, including internationally acclaimed artist Wayne Thiebaud.
Calas is co-founder and president of the San Francisco Advocacy for the National Museum of Women in the Arts (NMWA). The Advocacy is a support group for the museum serving Northern California. NMWA is located in Washington, D.C., and she serves on the museum's advisory board.
Past Chair
C. Diane Christensen
President and CEO, Manzanita Management Corporation
Board member since 2004
Diane Christensen is the president of The Christensen Fund, a San Francisco-based private foundation that focuses its support on programs at the interface between natural environments and human cultures in five different regions of the world. She served as executive director of The Christensen Fund from 1988 to 2002. Christensen currently works at Manzanita Management Corporation, a Palo Alto asset management firm. She taught African history and served as an assistant academic dean at Tufts University; later she founded and ran the Christensen Research Institute, a biological research facility in Papua New Guinea.
CCA has been a grantee of The Christensen Fund and CCA's Carmen M. Christensen Production Stage is named in honor of Christensen's mother. Christensen serves on the board of the Wildlife Conservation Society. She's a member of the Cantor Arts Center Director's Advisory Board and Stanford University's Humanities and Sciences Council, Arts Initiative (SICA) and Archaeology Council. Christensen completed her undergraduate work at Stanford University and her graduate work at Columbia University in African history.
Vice-Chair
Susan M. Cummins
Director, Rotasa Foundation
Board member since 2006
Susan Cummins is director of the Rotasa Foundation, which supports exhibitions and publications of the work of contemporary jewelry artists. She owned the Susan Cummins Gallery in Marin County for 18 years and helped found Art Jewelry Forum, a national nonprofit organization, in 1997.
In past years, Cummins was on the board of the Headlands Center for the Arts, The Grabhorn Institute, and the American Craft Council (ACC). As a board member of ACC, she helped develop two conferences, Shaping the Future of Craft and Creating a New Craft Culture. Cummins is currently the board chair of Art Jewelry Forum.
Vice-Chair
Kenneth M. Novack
Founding Partner, Schnitzer West
Board member since 2018
Ken Novack is a founding partner of Schnitzer West, one of the West Coast's leading real estate development firms. Concurrently with founding Schnitzer West, he served as chairman of Schnitzer Steel Industries and Liberty Shipping Group, as well as chairman and CEO of Schnitzer Investment Corp. and Lasco Shipping Co. Novack was also a partner in the law firm Ball, Janik & Novack.
Novack serves on the boards of Bridge Housing, Eisenhower Medical Center, and Festival Napa Valley. He is vice-chair of the board of California Pacific Medical Center and a lifetime trustee at Lewis and Clark College. Novack received a bachelor's degree from Claremont McKenna College and a JD from the University of Southern California.
Treasurer
John S. (Jack) Wadsworth Jr.
Advisory Director, Morgan Stanley, and Honorary Chairman, Morgan Stanley, Asia
Board member since 2011
Jack Wadsworth spent the first decades of his career with Morgan Stanley and was based in the United States, Japan, and Hong Kong. During his years with the company, he organized its first leveraged buyout fund and served as a member of the investment committee. He also initiated its high-tech IPO business with the Apple IPO. Wadsworth is founder and chairman of Manitou Ventures and Ceyuan Ventures; former director of Pixar Animation Studios and Shinsei Bank; advisory director of Morgan Stanley; and honorary chairman of Morgan Stanley, Asia.
Wadsworth and his wife, Susy, donate generously to numerous museums and educational institutions, many of which are dedicated to cultural exchange with Asia. He is CIO of the W.L.S. Spencer Foundation, which funds educational and creative cultural activities all over the world. Wadsworth is trustee emeritus of the Solomon R. Guggenheim Museum Foundation, the Asia Society, and Williams College. Wadsworth holds a bachelor's degree from Williams College and an MBA from the University of Chicago.
Secretary
F. Noel Perry
Founder and Managing Director, Baccharis Capital Inc.
Board member since 2005
Noel Perry is the founder and managing director of Baccharis Capital Inc., a private venture capital firm in Menlo Park. He's a founding director and former vice-chair of Conservation International and the founder of Next 10, a nonpartisan organization working at the intersection of the economy and the environment to educate and empower Californians.
Perry is the founder of 100 Families Oakland, a neighborhood social-change art project that ran programs in partnership with CCA's Center for Art and Public Life. He also developed the California Initiative at CCA, a three-year program aimed at confronting the major challenges facing Californians over the next 20 years. He served as chair of the CCA Board of Trustees from 2009 to 2013 and is also an artist.
Carl Bass
Former President and CEO, Autodesk
Board member since 2015
Carl Bass is a leader in 3D design, engineering, and entertainment software. He was president and CEO of Autodesk from 2006 to 2017. Bass co-founded Ithaca Software, which was acquired by Autodesk in 1993.
Bass serves on the boards of directors of Autodesk, Quirky, and E2open; on the board of trustees of the Smithsonian's Cooper-Hewitt National Design Museum; and on the advisory boards of Cornell Computing and Information Science, UC Berkeley School of Information, and UC Berkeley College of Engineering. He earned his bachelor's degree in mathematics from Cornell University. Bass is a maker and spends his spare time building everything from chairs and tables to boats to, most recently, an electric go-kart.
Simon J. Blattner
Managing Partner, SF Bay LTD
Board member since 1994
Simon Blattner is a managing partner at SF Bay LTD and the owner and publisher of Eastside Editions, a fine arts print studio and publisher, which he established in 2000. Eastside Editions specializes in etchings printed on both handmade and mouldmade paper. He was a visiting scholar at the American Academy in Rome, where he researched the history of paper. While in Rome, he taught papermaking at Temple University. Blattner apprenticed in handmade papermaking at Magnolia Editions in Oakland from 1985 to 1990. He dedicates much of his time to his Eastside Editions studios, where he's published several handmade books now in the rare-book collections of Stanford University, St. Mary's College, and several major private book collections. Blattner made the paper used for these small editions. For 25 years, Blattner was CEO of Rittenhouse Paper Company prior to its sale to Nashua Corporation, where he continued as a consultant until 2006.
In 1999, Blattner received the Northwestern Alumni Association Award of Merit. He's a director emeritus of Sonoma Valley Museum of Art and sits on the advisory boards of Hand Papermaking and La Luz. Additionally, he's a member of the Society for the Encouragement of Contemporary Art (SECA). Blattner earned his bachelor of arts in political science from Northwestern University. He lives in Sonoma, California, with his wife, Kimberly.
Liam Casey
Founder and CEO, PCH International
Board member since 2015
Liam Casey is the founder and CEO of PCH, a private company that designs custom manufacturing solutions for the world's best brands, from startups to Fortune 500s. He's widely recognized as a thought leader in hardware, supply chain management, and startups. His entrepreneurial flair and talent for spotting new opportunities has revolutionized international commerce and disrupted traditional supply chain models, contributing to the success of many of the world's largest technology brands. PCH is headquartered in Casey's native Cork, Ireland, with operational headquarters in Shenzhen, China, and San Francisco, where PCH has its Innovation Hub and its hardware accelerator, Highway1. He divides his time among the three cities.
In 2007, Casey was honored with Ernst & Young LLP's Entrepreneur of the Year–Ireland award. He was named by Metropolis Magazine as one of six top "game changers" in the world. He's a member of Ireland's National Competitiveness Council, the Action Plan for Jobs Implementation and Monitoring Group, and the Joint Industry/Government Task Force on Big Data. Casey is also Enterprise Ireland's international startup ambassador to China.
Catherine Courage
Vice President of Ads and Commerce User Experience, Google
Board member since 2014
Catherine Courage is vice president of ads and commerce user experience at Google. Previously, she was vice president of customer experience at DocuSign and led customer service teams at Citrix and Salesforce.com, where she was the founding member of the experience team. Courage co-authored the book Understanding Your Users and is an active writer and speaker on design. Her work has been featured in Harvard Business Review, the Wall Street Journal, Fast Company, and TEDxKyoto. In 2011, she was selected by the Silicon Valley Business Journal as one of Silicon Valley's "40 Under 40" and listed as one of "Silicon Valley's 100 Most Influential Women" in 2013. Also in 2013, Courage made the Forbes list of "Top 10 Rising Stars at the World's Most Innovative Companies" and was featured separately in the magazine as a "NextGen Mover."
Courage is an advisor to two entrepreneurial groups, Citrix Startup Accelerator and C100. She served on the board of trustees of the Leukemia and Lymphoma Society. She earned her master's degree in applied sciences, specializing in human factors, from University of Toronto. When she isn't working, you'll find her swimming, biking, and running in preparation for her next triathlon.
Jessica Farron
Independent Consultant, Marketing and Communications
Board member since 2021
Jessica Farron is a marketing advisor focusing on early and mid-stage consumer brands. Prior to advising, she was the vice president of global marketing at Banana Republic overseeing all elements of marketing, strategy and creative with a particular emphasis on digital. Earlier in her career, she held senior digital marketing leadership roles at Piperlime (a division of Gap, Inc.), Williams-Sonoma, and The North Face. She holds a BS in finance from Boston University.
Farron is an active supporter of education-focused organizations, serving as board secretary at the Bay Area Discovery Museum and a board member at SLS Preschool. She lives in San Francisco with her husband, Matt, and two children.
Nancy S. Forster
Retired Consultant, Forster & Associates Consulting, LLC, and Strategic Planning, Technology Research, Systems, Marketing, and Large, IBM
Board member since 2002
Nancy Forster is currently an active community service volunteer. She began her career in technology, with 14 years at IBM, first as a systems engineer, then in marketing as one of the first seven women in a sales force of 5,000. Later, Forster became a strategic-planning specialist for the introduction of technology into large corporations. She led her own consultancy, Forster & Associates Consulting, LLC, providing strategic planning, technology planning, and research for a variety of major corporations. That led to conducting research for four years at the MIT Sloan School of Business in strategic planning methodologies.
Forster serves as an advisory council member for Stanford University's Art Initiative and is treasurer of the Bald Eagle Association in Park City, Utah. Forster served as board vice-chair of the Family Service Agency of San Mateo County; trustee for the Coyote Point Museum and Santa Lucia Conservancy; fundraiser for Stanford School of Education; capital campaign chair for Crystal Springs School; and executive board member for the Modern Art Council. She has held multiple community board positions in the areas of education, art, social services, and the environment. A member of the Hoover Institution, Conservation Council for the Getty Museum, Director Circle Committee at the San Francisco Museum of Modern Art, and Peninsula Opera Space Trust, Forster is also an avid runner and skier, whose other interests include travel, photography, mentoring youth, contemporary art, Asian antiquities, Roman glass, and conservation. She earned her BA cum laude from Cornell University.. Forster has lived in New York, New Jersey, Los Angeles, and Boston, and currently resides in Hillsborough, Carmel, and Park City with her husband, R. Patrick.
Stanlee Gatti
Founder and Designer, Stanlee R. Gatti Designs
Board member since 2016
Stanlee Gatti is the founder of and creative force behind Stanlee R. Gatti Designs, one of the most innovative and widely respected event design firms in the country. He's a leading talent among the few American designers who approach events as a visual art form. Gatti's conceptual work, attention to detail, attentiveness to user experience, and masterful use of a range of art and design tools and techniques have made him a luminary in the Bay Area arts and culture scene.
He's not only a creative talent of rare ability but also a true community leader who has helped raise millions of dollars for worthy causes. He serves as co-chair of the Fog Design + Art Fair and the San Francisco Museum of Modern Art Gala and on the advisory boards of the Chez Panisse Foundation and Young Audiences of Northern California. Gatti served as president of the San Francisco Arts Commission and founded the San Francisco Fund for Public Sculpture.
Aaron Gensler
Architect, Designer, Educator, and Artist
Board member since 2021
Aaron Gensler is a licensed architect, award-winning designer, educator, and artist working throughout California. She co-formed GenslerClipp, an architecture, design, and research practice based in Southern California. Prior to GenslerClipp, she held design positions at a variety of firms around the world—from Los Angeles to Rwanda. She teaches and is the assistant chair of architecture at Woodbury University.
Gensler earned a bachelor of arts from Middlebury College in Vermont, where she received several accolades from the Middlebury College Museum of Art, Chellis House, and the Kennedy Center American College Theatre Festival for her work. She holds a master of architecture from Cornell University, where she was honored with the Alpha Rho Chi Medal for her leadership and service and, more recently, completed an Eidlitz Travel Fellowship awarded through Cornell University's College of Art, Architecture, and Planning.
Maria Giudice
Founder and CEO, Hot Studio
Board member since 2014
Maria Giudice describes herself as an "innovator, artist, protagonist, and positive provocateur." She was vice president of experience design at Autodesk from 2015 to 2018 and, before that, Facebook's director of product design. She's been a CCA faculty member in Design Strategy and Graduate Design since 2006. Giudice founded the experience design firm Hot Studio in 1997. The firm eventually grew to include 100 employees with offices in San Francisco and New York and an impressive list of Fortune 500 clients. In March 2013, it was acquired by Facebook. Before Hot Studio, Giudice spent time working under the iconic graphic designer Richard Saul Wurman, who coined the term "information architecture."
Giudice earned her bachelor's degree from Cooper Union, where she took courses in painting, calligraphy, and graphic design. She's the co-author and designer of several books about design, including Rise of the DEO, which discusses the ascendant concept of the "design executive officer."
Maria Sullivan Hemphill
Art Advisor, Zlot Buell + Associates
Board member since 2019
Maria Hemphill is an art advisor at Zlot Buell + Associates, an art advisory firm based in San Francisco. She has worked at major arts organizations such as the Los Angeles County Museum of Art (LACMA), the John Berggruen Gallery, and Bonhams. She received her bachelor's degree in art history from the University of California, Los Angeles.
Hemphill is an active supporter of the arts, serving as a founding member of CCA's affinity group, the Makers Roundtable, and as event chair at the San Francisco Ballet, San Francisco Symphony, and SFMOMA Contemporaries. In addition to her support of the arts, she has served in leadership roles at the Schools of the Sacred Heart Alumni Association, Junior League of San Francisco, and UCSF Partners in Care. Hemphill also served as president of the Junior Committee to the Women's Board of California Pacific Medical Center.
George F. Jewett (Architecture 1996)
Owner and Principal, Jewett Design
Board member since 1997
George Jewett founded Jewett Design in 2006 to focus on new residences and large-scale remodel design. Prior to Jewett Design, he was a vice president at Brayton+Hughes Design Studio, where he worked for 10 years. His work has received awards from the American Institute of Architects and Interiors magazine. He has been published in Western Interiors and Design, San Francisco Chronicle Magazine, Residential Architect, Interiors, West Coast Rooms, and Lofts: New Designs for Urban Living.
Jewett serves as president of the George F. Jewett Foundation. He formerly served on the Architecture & Design Review Board in Hillsborough; the board of trustees of the University of Puget Sound; and the board of a drug-intervention program for high school students and another family foundation. He enjoys racing vintage cars, sailing, and photography. Jewett earned his bachelor of arts in business from the University of Puget Sound and a bachelor of architecture from CCA.
Ritu Kalra
Treasury Director & Special Advisor to the Executive Vice President, Harvard University
Board member since 2020
Ritu is the Treasury Director and Special Advisor to the Executive Vice President of Harvard University. Previously, she was a Managing Director at Goldman Sachs, where she ran the Western Region Public Sector and Infrastructure as well as Higher Education and Nonprofit finance practices within the Investment Banking Division. In the finance sector for over twenty years, Ritu took a brief detour in between her first and second decade in banking to work as a business reporter at the Hartford Courant.
Ritu has provided strategic advising to educational organizations, nonprofits, and state and local governments through her work at Goldman Sachs. Ritu earned a BS in Economics from the Wharton School of the University of Pennsylvania in 1996 and an MA in Journalism from New York University in 2004.
David Kirshman
Former Senior Vice President of Finance and Administration, California College of the Arts
Board member 1984–1999, 2017–Present
David Kirshman has a long history working at CCA. He served as senior vice president for finance and administration and chief financial officer at the college for 14 years before retiring in 2013. He also served as a trustee at CCA from 1985 to 1999, chairing the Business Committee of the board. Most recently, Kirshman served as interim CFO at the college in 2017. During his career at CCA, in partnership with the Finance-Audit and Investment committees of the board, the college's endowment grew by 400% (from $6 million to $30 million).
He spearheaded the effort to strategically acquire and improve nine buildings and parcels in Oakland and San Francisco, which would facilitate CCA's expansion. Kirshman also worked closely with trustees to ensure the board's fiduciary decisions aligned with the mission and sustainability of the college. Before his time at CCA, Kirshman was vice president of finance at Avirnex Communications Group; instructor in the Haas School of Business at University of California; and partner at Ernst & Young LLP, where he worked for nearly 25 years.
Kirshman serves on the board of trustees of Head-Royce School in Oakland. He received his bachelor of science in economics from the Wharton School at the University of Pennsylvania and JD from the University of Michigan. Kirshman is married to Deborah Kirshman, has two children, and, in his leisure time, enjoys hiking, art, and traveling.
Byron D. Kuth, FAIA
Managing Principal, Kuth/Ranieri Architects LLP
Board member since 2004
Byron Kuth is the co-founder and managing principal of Kuth/Ranieri Architects, a San Francisco firm specializing in residential, mixed use, and commercial projects. The firm has received numerous awards, including I.D. magazine's Design Distinction Award–Environments in 1999, 2000, and 2001 and the Architectural League of New York Young Architects Forum's Emerging Voices award in 2002.
Kuth serves as vice president of the board of the LEF Foundation for Art in the Environment. He's a fellow of the American Institute of Architects San Francisco. Kuth has been a faculty member at CCA and was visiting faculty at the Harvard Graduate School of Design in 1999.
Joyce B. Linker
Former Senior Vice President, Private Wealth Management, Robert Baird & Co.
Board member since 2011
Joyce Linker retired in 2019 from her position as senior vice president of wealth management with Robert Baird & Co., serving the investment needs of high net-worth individuals and family groups, business entities, and nonprofit organizations. She began her advising career at Montgomery Securities in San Francisco working with private clients and nonprofit organizations.
In 2020, Linker was elected chair of the board of the Contemporary Jewish Museum, where she has served as a trustee since 1987. She is a member of the Investment Committee of the Jewish Community Endowment Fund and the SFMOMA Photography Accessions Committee. Linker was the first woman to serve as president of the JCCSF. She is a former trustee of the Fromm Institute For Lifelong Learning at the University of San Francisco. Linker has a bachelor's degree from the University of Michigan, a master's degree from Stanford University, and an MBA from Golden Gate University. She has a particular interest in arts education and actively collects photography.
Julie Lythcott-Haims (MFA Writing 2016)
Educator, Author, and Public speaker
Board member since 2021
Julie Lythcott-Haims's work encompasses writing, speaking, teaching, mentoring, and activism. She is the New York Times–bestselling author of How to Raise an Adult, which gave rise to a popular TED Talk. Her second book is the critically acclaimed and award-winning prose poetry memoir Real American, which illustrates her experiences as a Black and biracial person in white spaces. Her third book, Your Turn: How to Be an Adult, has been called a "groundbreakingly frank" guide to adulthood.
Lythcott-Haims holds degrees from Stanford University, Harvard Law School, and California College of the Arts. She currently serves on the boards of Common Sense Media, Black Women's Health Imperative, and Narrative Magazine. She serves on the advisory boards of LeanIn.Org, Parents magazine, and Baldwin for the Arts. She lives in the San Francisco Bay Area with her partner of over thirty years, their itinerant young adults, and her mother.
Ann Morhauser (BFA Glass 1979)
Founder and Principal, Annieglass
Board member since 2003
Ann Morhauser is the founder of Annieglass, a highly successful line of glass tableware sold at the finest luxury stores and resorts in the nation. Handcrafting her products in Northern California since 1983, Morhauser developed her company throughout the years to become one of the largest and most successful American glass studios. By combining skills as a designer, artisan, and businesswoman, she's been able to build a highly regarded brand as well as a successful company. Morhauser's work is in the collections of such noted museums as the Smithsonian American Art Museum and the Luce Foundation Center for American Art in Washington, D.C.; the Gallery of Modern Art in Glasgow, Scotland; and the Corning Museum of Glass in Corning, New York.
Morhauser is an advisor to CCA's MBA in Design Strategy program, the Gallery of Modern Art and Design, and the Corning Glass Museum. She's an active fundraiser for hunger, children's health, and art education. Morhauser mentors young women in business and supports scholarships at CCA and local high schools.
Michael Muscardini (BFA Printmaking 1972)
Owner, Muscardini Cellars
Board member since 2023
Michael Muscardini is the owner of Muscardini Cellars, an award-winning winery in Kenwood, California. He is also the managing member for Muscardini LLC, where he and his partner operate a real estate development company. He was the co-owner of Creative Spaces, a successful general contracting firm based in the Bay Area, for 27 years until it was sold in 2004.
Muscardini graduated from CCA in 1972 with a BFA in Printmaking. Since that time, he has played an active role in the CCA community. He not only held a position as a lecturer at the college in the 1980s but also served as the president of the Alumni Council from 1991 to 1994. He has been involved in numerous campaigns over the past 20 years including chairing CCA's Half Century Club. He continues to contribute to the school's Muscardini Family Scholarship Fund.
Muscardini has served on numerous boards including the Berkeley Architectural Heritage Association where he was the president from 1990 to 1992, the Sonoma Valley Vintners and Growers Association where he was president from 2009 to 2012, Sonoma Valley Museum of Art, and La Luz Center.
Michael Muscardini has two children and four grandchildren, and lives in Sonoma with his wife Kate Eilertsen, executive director for di Rosa Center for Contemporary Art. He holds dual U.S.-Italian citizenship and loves to travel and explore art. He enjoys creating opportunities for people to be successful.
Suzanne Randolph (MBA Design Strategy 2010)
Founder & President, Suzanne Randolph Fine Art
Board member since 2021
Suzanne Randolph has been an entrepreneur for more than 30 years, beginning with the creation of her fine art advisory firm, Suzanne Randolph Fine Arts. She has worked within both the private and public sectors: developing art collections for corporations and commissioning public works of art that contribute to the engagement of urban communities. Her expansive knowledge of the visual arts community has enabled her to work with artists of national and international recognition at all stages of their careers. Randolph was a member of the first cohort of CCA's DMBA program, which was launched in 2008. With the knowledge gained from the critical perspective of design thinking, she created The ALIX Experience to bring together women who travel solo for business and leisure through events and international tours.
Randolph also serves on the board and chairs the Governance and Nominating Committee of the Alliance for Young Artists and Writers, which recognizes the exceptional creative talent of high school students across the U.S. through the Scholastic Art and Writing Awards.
Abby Sadin Schnair
Architectural Photographer
Board member since 2021
Abby Sadin Schnair is an architectural photographer with over 40 years of experience. Her photography has been published in Architect Magazine, Architectural Digest, and Architectural Record. She has exhibited her work at various galleries and museums. After receiving her BFA from the Rhode Island School of Design (RISD), Sadin Schnair co-founded the first women-owned professional architectural photography studio in Chicago. For 16 years she photographed architecture and interiors for a national and international clientele. In 1994, Sadin Schnair relocated to San Francisco, where she consulted for the design community in digital imaging. She transitioned from her consulting practice in 2005 to focus full-time on her own fine art photography and community involvement in the arts.
Sadin Schnair was appointed to the San Francisco Arts Commission in 2013, and she continues to serve the commission, including as a member of the Visual Arts and Civic Design Review committees. Sadin Schnair has served on the board of the American Conservatory Theater (A.C.T.) since 2006 and is past chair of the A.C.T. MFA Conservatory board; she recently stepped down and was elected to the Emeritus Board. She and her husband are sponsors of the nonprofit urban planning policy organization SPUR. Past nonprofit leadership includes serving on the boards of Drew School in San Francisco, Mary Meyer School and LaSalle Language Academy in Chicago, and Parent's Coalition of Bay Area High Schools. She is married to Gene Schnair, an architect, and they have two grown children involved in the arts, a musician and a poet/educator. Sadin Schnair's son and daughter-in-law are alumni of graduate programs at CCA.
Nathan E. (Gene) Savin, PhD
Emeritus Professor of Economics, University of Iowa
Board member since 2009
Gene Savin has a PhD in economics from UC Berkeley and is a professor emeritus at the Tippie College of Business at the University of Iowa. He's a fellow of both the American Statistical Association and the Econometric Society, which is an international society for the advancement of economic theory in its relation to statistics and mathematics.
Savin and his wife, Susan, are directors of the Reuben and Muriel Savin Foundation. The foundation supports arts organizations in the Bay Area and Iowa, such as CCA, the Oakland Museum of California, the Richmond Art Center, the East Bay Center for the Performing Arts, and ArtsChange. The Savins live in Iowa City with their two cats.
Kimberlee (Kim) Swig
Mother, Volunteer, & Advocate for Education
Board member since 2019
After an early career in Sales and Marketing at Fairmont Hotels in New Orleans and San Francisco, Kimberlee (Kim) Swig has devoted her time and energy to raising her three daughters. Her passion led her to volunteer and work in education, where she focuses her efforts on creating opportunities for low income and first generation students. In recent years, Swig has been active in leadership positions at her daughters' schools. She serves on the Parents' Boards at the University of San Diego and Wake Forest University, and served on the Parents' Board at Tulane University from 2010 to 2014.
Swig is a member of the advisory council at the Make-A-Wish Foundation, the local committee of the National Capital Campaign of Tulane University, and the San Francisco advocacy group for the National Museum of Women in the Arts. She is a community leader in the Bay Area, having served on the Board of Trustees and in several leadership positions at the Menlo School and as a board member at the San Francisco Forty Niners Foundation. Swig chaired galas at the Make-A-Wish Foundation in 2004 and 2019. She received her bachelor's degree from Loyola University in New Orleans.
Lucille Tenazas
Henry Wolf Professor of Communication Design, Parsons School of Design
Board member since 2021
The founding chair of the MFA Design program at CCA, Lucille Tenazas is currently the Henry Wolf Professor of Communication Design at Parsons School of Design, where she served as associate dean of the School of Art, Media, and Technology from 2013 to 2020. Originally from Manila, the Philippines, Tenazas has taught and practiced in the United States since 1979. Tenazas' design work is at the intersection of typography and linguistics, with design that reflects complex and poetic means of visual expression.
Tenazas is a trustee of the American Craft Council and was the national president of the American Institute of Graphic Arts (AIGA) from 1996–1998, the first appointment outside of New York in the organization's then 80-year history. She was awarded the AIGA Medal in 2013 for her lifetime contribution to design practice and outstanding leadership in design education. She received the National Design Award in Communication Design from the Cooper-Hewitt National Design Museum. Her work has been featured in many national and international publications and exhibitions, including a one-person exhibition at the San Francisco Museum of Modern Art and surveys at the Cooper-Hewitt National Design Museum, Los Angeles County Museum of Art, and the Centre Pompidou in Paris. In commemoration of her contributions to design, then Mayor Willie Brown declared May 15, 1996 as Lucille Tenazas Day in San Francisco. An authority in the evolving state of design education, Tenazas has conducted workshops in institutions throughout the United States, Asia, and Europe.
Judith P. Timken
Philanthropist
Board member 1989
Judy Timken has been an important contributor to CCA for over two decades. If her name sounds familiar, that's because it graces the lecture hall on CCA's San Francisco campus, where hundreds of lectures and classes are held each year. As a board member since 1989, she's seen the college grow and change tremendously and has been involved in some of its most important developments, including the purchase and renovation of the San Francisco campus.
Under Timken's leadership as board chair from 1998 to 2002, the college established the CCA Wattis Institute for Contemporary Arts and the Center for Art and Public Life; conducted a presidential search; and launched new graduate programs in design, visual criticism, and writing. She's currently a member of San Francisco City College Auxiliary, an emeritus trustee of UC Press Foundation, and a former docent at the Oakland Museum of California. A graduate of Colby College, Timken has made many contributions to her alma mater, including serving as an overseer for many years.
Marv Tseu
Vice Chairman and Lead Independent Director, Poly
Board member since 2021
Marv Tseu has had a long career as an executive across the technology, media, and telecommunications landscapes. A graduate of Stanford University, he began his career at AT&T and spent many years at Plantronics. As an operating executive, he was a key member of the company's management team, taking the Plantronics private in 1988 and public again in 1994. He was appointed as chairman of the board in 1999 and served in that capacity until 2018 when he assumed the vice chairman role, coincident with the $2 billion acquisition of Polycom. In 2008, Tseu established his own consulting practice, Waypoint Strategy.
Tseu serves on the Fine Arts Museum Foundation Board of Trustees. He and his wife, Mary Mocas (MFA Fine Arts 2016), have been patrons of the San Jose Museum of Art for over 20 years. They also support the Institute of Contemporary Art San José and the National Museum of Women in the Arts in Washington, DC. Tseu is a graduate of Stanford University.
Alyssa Warnock (BFA Graphic Design 2001)
Graphic Designer and Principal, Alyssa Warnock Design Studio
Board member since 2021
CCA alum Alyssa Warnock (BFA, Graphic Design 2000) is an award-winning graphic designer and principal of Alyssa Warnock Design Studio based in San Francisco. Warnock has designed visual identities, packaging, and books for clients in the hospitality, restaurant, and consumer packaged goods industries. Prior to attending CCA, Warnock received a BA in art history from the University of Southern California and started her design career at Butterfield & Butterfield, working in their advertising and art department. After graduating from CCA, she worked at marchFIRST for clients such as Apple, Pixar, Netflix, and 3Com before starting her own design studio.
Calvin B. Wheeler, MD
Institutional Director of Undergraduate & Graduate Medical Education for TPMG, Kaiser Permanente Medical Center
Board member since 2001
Calvin Wheeler is the institutional director of Undergraduate & Graduate Medical Education for TPMG at Kaiser Permanente Medical Center. Prior to this appointment, he was physician-in-chief in the Department of Neurology of Kaiser Permanente Medical Center in Fremont, California, where he served as regional sub chief of pediatric neurology and director of the Hayward EEG Lab. Wheeler has been with Kaiser Permanente since 1984, when he was hired as a staff pediatrician and neurologist at its Hayward facility. He's also a member of the American Academy of Pediatrics and American Academy of Neurology.
Wheeler is active in the Bay Area's medical community, currently working as a clinical instructor at the University of California, San Francisco, in the Department of Pediatrics. Additionally, he serves on the board of directors of the Epilepsy League of the East Bay and the Agency for Infant Development. Wheeler's also a founding member and past president of the Kaiser African American Professionals Association (KAAPA). Born and raised in Arkadelphia, Arkansas, Wheeler received his bachelor's degree from the University of Michigan College of Pharmacy and his MD from the University of California, Irvine. He completed his residency in pediatrics at Boston City Hospital and Children's Hospital of Los Angeles. He and his wife, Sarajane, own CaSaj Gallery near Jack London Square in downtown Oakland.
Carlie Wilmans
Executive Director, Phyllis C. Wattis Foundation
Board member since 2006
Carlie Wilmans is the founder of the 500 Capp Street Foundation and executive director of the Phyllis C. Wattis Foundation, which for decades has provided generous support to Bay Area arts organizations, including the CCA Wattis Institute for Contemporary Arts.
Wilmans is active in local philanthropic and cultural organizations, including the San Francisco Museum of Modern Art, where she's served on the board since 2006. She's also trustee emeritus of the American Conservatory Theater. Wilmans studied art history at Sonoma State University and pre-Columbian art at the graduate level at the University of Texas, Austin. She has deep roots in the California art scene, with ancestors who played a role in the arts dating back to the Gold Rush.
Carina Wong (MBA Design Strategy 2019)
Former Senior Advisor for Innovation, Bill & Melinda Gates Foundation
Board member since 2021
Carina Wong has worked in education policy and workforce development for over three decades at the national, state, and local levels. Most recently, she spent 14 years as a senior advisor for innovation and deputy director at the Bill & Melinda Gates Foundation. She led multiple teams and high-impact strategies focused on improving teaching and learning in K12 public schools. She is passionate about the arts and feeding children local and organic foods. She led the Chez Panisse Foundation, started by chef and author Alice Waters, where she launched the School Lunch Initiative and managed The Edible Schoolyard Project. She is a former trustee of the Oakland Museum of California and was on the school boards of the Lighthouse Community Schools and Yu Ming Charter School. She has a bachelor of science in foreign service from Georgetown University, a master in education policy and administration from Stanford University, and a master of business administration in design from California College of the Arts. She has taught abroad and is a former U.S. Peace Corps volunteer and the mother of three school-age children.
Mary L. Zlot
Principal, Zlot Buell & Associates
Board member since 2003
Mary Zlot is a San Francisco-based art advisor and principal at Zlot Buell & Associates, which she co-founded with Sabrina Buell in 2012. Previously, she founded Mary Zlot and Associates, which worked closely with the San Francisco Museum of Modern Art in the development of the museum's collection. Her corporate clients have included Charles Schwab & Co., Kohlberg Kravis Roberts & Co., Williams-Sonoma, Orrick, Herrington & Sutcliffe, and the Cowboys Stadium. Before founding her own firm, Zlot developed an art consulting division for the architecture and design firm Environmental Planning and Research. She's curated modern and contemporary art collections for many prominent private collectors and corporations located in the Bay Area and around the world.
In addition to her work as an art advisor, Zlot serves on the education committee of the San Francisco Museum of Modern Art (SFMOMA), collector's committee of the National Gallery of Art, and national council of the Aspen Art Museum. She's a trustee emeritus of the California Academy of Sciences and a member of SFMOMA's Director's Circle, ArtTable, and the International Association of Professional Art Advisors.