Regardless of circumstance
We offer resources to undocumented students, including DACA, DREAM Act, and AB 540 students. Your privacy is protected by law, and as an applicant and student of CCA, your immigration status will remain confidential, as will your grades, records, and medical information—regardless of who you come in contact with on campus.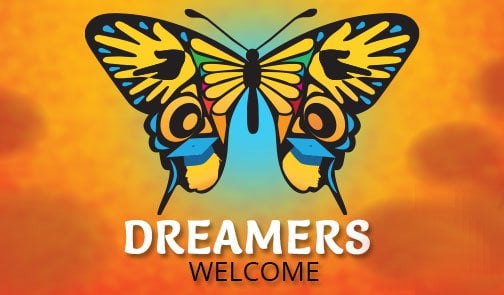 Connect to campus allies
CCA's Student Affairs office and community members throughout the college are here to support all students, including those who may be impacted by any changes to the DACA program. To connect with campus support allies, look for offices that display the "dreamers" butterfly logo.
The following CCA staff members are also prepared to communicate with undocumented students who have questions about student employment, financial aid, or immigration attorney referrals.
Citizenship doesn't affect admissions decisions
For official reporting, CCA categorizes students as either "domestic" or "international." Undocumented students are categorized as international students; however, you will need to complete the admissions application requirements of a domestic student.
Use the following information to answer application questions.
Applying as an undocumented student
Citizenship status
If you're applying using the Common Application, choose "Other" for citizenship status, and then choose "I do not hold a currently valid U.S. nonimmigrant Visa" from the "Currently held United States visa" section. If you're using the CCA Online Application, choose "DREAMers" for citizenship status.
Social Security Number
If you have a valid Social Security Number (SSN) or Individual Taxpayer Identification Number (ITIN), use that number on your admissions and financial aid applications. If you don't have either a valid SSN or ITIN, leave this item blank.
Country of citizenship
As an undocumented immigrant student, you have the option to choose "No Selection." This option is considered a valid response, and we recommend this choice to undocumented student applicants, including those with DACA status. By choosing "No Selection," you'll avoid additional questions about permanent residency and visa status that are not applicable to you.
Personal statement
The personal statement or any additional comment sections are optional. You may provide supplemental context (i.e., to help reviewers better understand your circumstance and resources), but such information won't be used outside the application process.
Parent citizenship information
Upon submission of your application, you'll be asked questions about your parents' citizenship status. You don't have to answer these questions. However, if you wish to answer them, do so truthfully.
Fee waivers
Eligibility for a fee waiver is based on the following questions:
Citizenship status if you choose "No selection"
California residency if you attended a California high school for three or more years and will graduate or have graduated from a California high school
Your family's income and the number of people supported by that income
Fund your education with a Cal Grant
We suggest all undocumented students complete the California Dream Act Application for financial aid instead of a FAFSA; a certified GPA is also necessary for Cal Grant consideration.
How to apply for financial aid:
Complete the California Dream Act Application
Complete a certified GPA to be considered for a Cal Grant
If you or your school submits your certified GPA using your DACA SSN, be sure to include your DACA SSN on question number eight of your California Dream Act application
The redesigned FAFSA is expected to launch in December 2023 for the 2024-2025 academic year — a delay from the typical October 1 release date.