The images of houses you see in the glossy pages of magazines and FOMO-inducing pics on Instagram might leave the impression that the design field is exclusively focused on providing luxurious spaces for privileged clients. But architectural design can be a tool to improve the well-being of all communities. "Architecture and interior design can imagine and create alternative futures," says Amy Campos, chair of the interior design program at California College of the Arts (CCA).
Seeking to improve the ways we live, work, and interact with one another through architectural design has a long history. Famous examples include model villages and utopian housing complexes in the nineteenth century and ideal cities dreamed up by Frank Lloyd Wright and Le Corbusier in the twentieth. These projects were born out of attempts to grapple with some of the negative effects of the Industrial Revolution, such as overcrowded cities, unhealthy housing, and poor working conditions.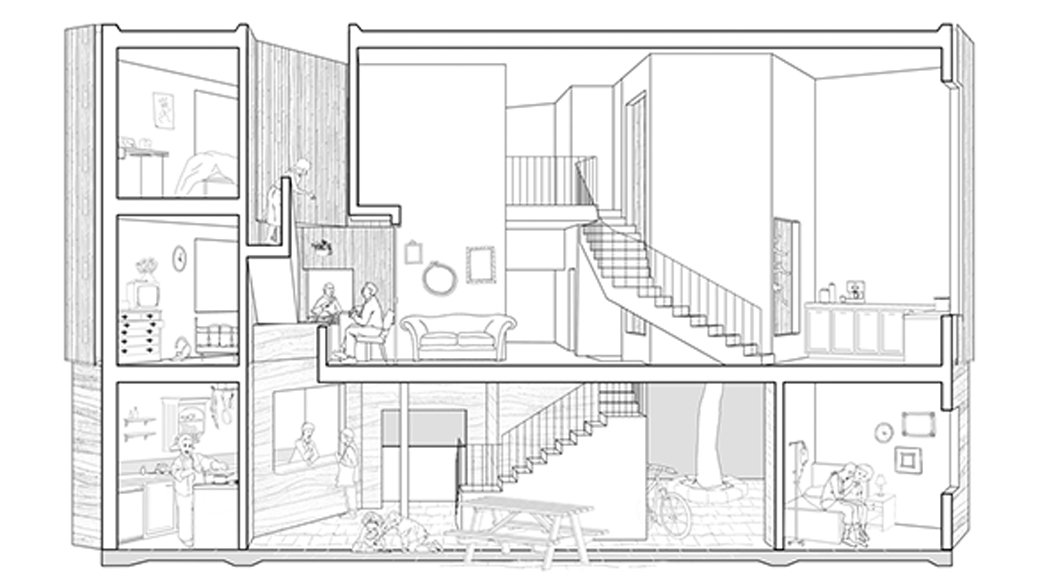 Today, many architects are exploring how architectural design can respond to the major challenges of our times, including social and economic inequality. They recognize that inequities based on wealth, race, gender, and physical ability are reinforced by patterns of land use and ownership, the organization of our cities and suburbs, and the design of our dwellings and their interiors.
Examples of projects that improve social equity through architectural design include cohousing with shared common spaces, schools in low-income neighborhoods that incorporate healthcare services, barrier-free facilities for veterans with disabilities, neighborhoods where vacant ground-floor retail spaces are repurposed for community services, and solar energy cooperatives.
"As designers, we need to be agents of change," says Antje Steinmuller, chair of the undergraduate program in architecture at CCA. "Architects and interior designers can play a part in shaping both the spaces and the policies of the built environment. We can leverage our skills toward environmental, political, and social justice."
Inclusive architectural design addresses social inequities
"Architecture, at its root, shapes lives. It has real social repercussions, so it must be inclusive, " says Brian Price, chair of the graduate program in architecture at CCA.
Architectural design that treats all users equally while acknowledging their differences, often called equitable architecture, is a growing field of socially responsible architectural practice.
Equitable architecture is proactively inclusive of all people—of different socioeconomic statuses, physical abilities, genders, family types, sexual orientations and gender expressions, races, and ethnicities—and acknowledges the ways architecture and interior design have not served their needs in the past. It focuses on creating affordable and fair housing, healthy and safe communities, and welcoming and accessible public spaces.
Designing for equity also means putting people first. "Equitable architecture begins with learning about the people we are designing for," says Campos. "As designers, we always start with understanding communities as they are. It informs everything we do."
Architectural design can promote environmental and social justice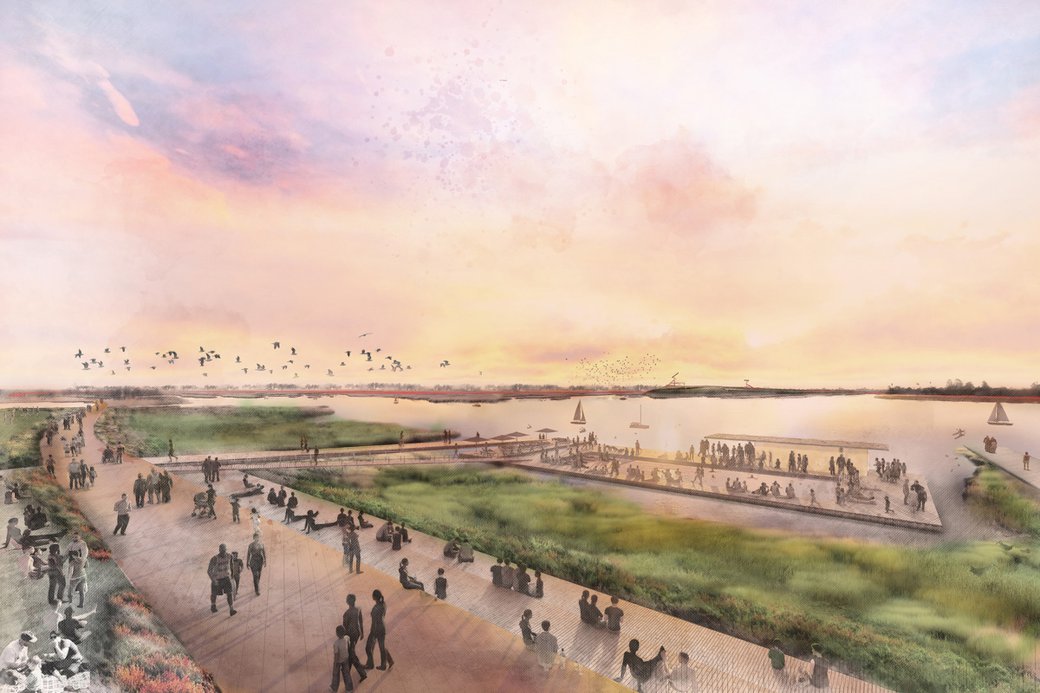 "When architects think about equitable design, we first think about unequal access to land and housing among historically disenfranchised communities and disadvantaged populations," says Steinmuller.
Steinmuller codirects the Urban Works Agency research lab at CCA, which is directly engaged with initiatives that tackle inequities in the built environment. Through research, exhibitions, publications, symposia, studio courses, and design projects, it aims to reorient architectural design toward environmental and social justice and economic resilience.
Exclusionary practices, from redlining to single-family zoning, and the commodification of land have had lasting effects on patterns of property ownership and residential settlement in the U.S. In the American South, for example, minority populations tend to live in areas historically prone to flooding.
"Marginalized communities are often concentrated in areas most threatened by rising sea levels and other negative pressures from climate change and environmental degradation," says Steinmuller. She cites the example of New Orleans' Lower Ninth Ward, a low-lying neighborhood with insufficient levee protection that was destroyed by Hurricane Katrina. At the time of the hurricane, its population was 98% African American; today, more than 15 years later, the area has yet to fully recover and the families who lived there remain dispersed.
The work of CCA's Urban Works Agency shows how architectural design can address these interrelated issues of environmental and social justice. For example, the agency has examined how inclusive approaches to property ownership, such as community land trusts, can support both social equity and ecological sustainability. It has also proposed new forms of urbanism to redistribute resources more equitably across California's agricultural Central Valley in response to the planned construction of high-speed rail.
Collective ownership and management of resources is another strategy for improving social equity. This was a centerpiece of a project for the San Leandro Bay shoreline, called Estuary Commons, that the Urban Works Agency submitted for the Resilient by Design Bay Area Challenge. In partnership with other design professionals and students, as well as local community groups, the agency proposed innovative design solutions to both rising sea levels and rising home prices in this underserved Bay Area community. The project included tunneling a major freeway and building floating neighborhoods on pontoons as ways to protect communities from flooding, restore native habitats, stitch together a patchwork urban fabric, and provide a network of parks.
Rethinking our definition of home can impact social equity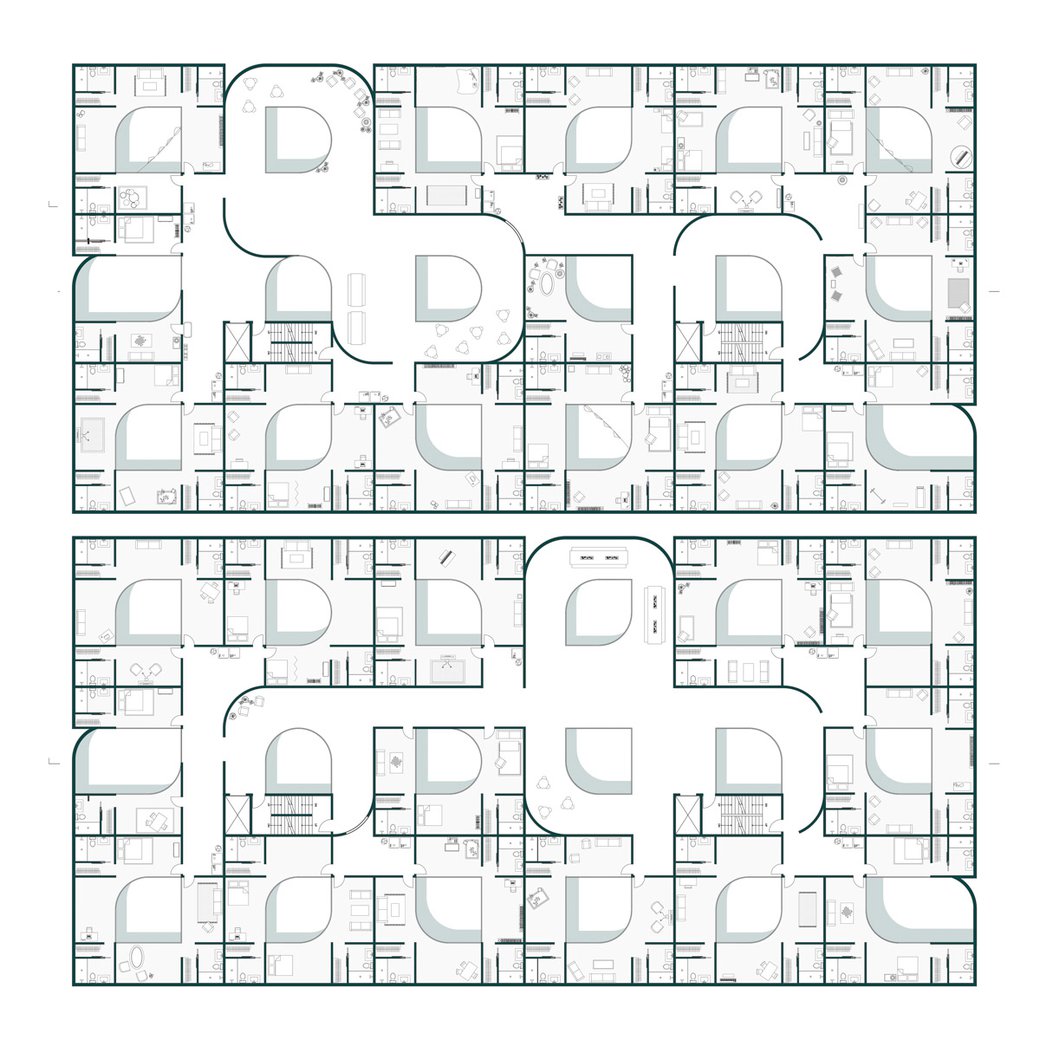 Housing forms the majority of our built environment, so redesigning where people live is a powerful way to improve the well-being of individuals and communities. "We need to use architectural design to develop more equitable approaches to living together," says Price.
We are currently navigating a mismatch between available housing and the ways we actually live, which is one cause of the current housing crisis in California and elsewhere. Housing in our cities and suburbs has been designed around the traditional nuclear family—a stay-at-home mom, a dad who works outside the home, and multiple children—but that family unit is no longer the only, or even the predominant, model in the U.S.
According to estimates from the most recent U.S. census, in fact, fewer than 18% of American households consist of married parents with children. Instead, we live in multigenerational households, single-parent families, and with one or more unrelated roommates—and a whopping 28% of us live alone. Increasingly, homes are becoming offices. During the COVID-19 pandemic, homes also became classrooms.
"The overwhelming majority of housing in the U.S. takes the form of single-family houses on private land," says Price. "But not only is that not sustainable in terms of resource use, it doesn't provide for diverse kinds of households." Price offers the example of San Francisco: most of its existing housing was designed with the nuclear family in mind, but today 70% of city residents live in other types of households.
This disconnect between architecture and society creates opportunities for architects and interior designers to reimagine cities and housing. Discovering what "home" really means to different people can lead to more equitable housing solutions.
"The research of many of the architecture and interior design faculty at CCA focuses on how people live together in communities, and how that is changing," says Price. "We are rethinking human relationships and the conventions of the urban and suburban built environments."
Diverse housing typologies attract more diverse residents
Instead of continuing to design cookie-cutter single-family houses, increasingly architects are investigating new models of residential architecture that respond to the ways we live in the 21st century. By serving residents of various socioeconomic statuses, cultures, and household types, diverse types of housing can ensure the vitality of a city.
"Housing that is adaptable for multigenerational households can attract African American, Asian American, and Latino families, who are more likely to live with extended family, for example, and rethinking how work spaces exist in a domestic setting can retain artists and other creatives who might otherwise be forced out of a city," says Steinmuller.
At CCA, architecture and interior design students investigate how innovative housing typologies can serve different types of residents. They begin by doing a deep dive into the needs and desires of a socially or economically marginalized community. Students research groups such as senior citizens, new immigrants, gig workers and others with precarious employment, or single-parent families to learn about the challenges they face in accessing fair housing. Only after coming to understand these communities do students begin to develop architectural designs that can improve social equity by being both more affordable and more responsive to contemporary needs.
One recent student project at CCA was a residence for a household comprising four unrelated senior citizens and the teenagers they each were fostering. The housing unit was designed to bring together residents both "vertically" – each family unit of one adult and one teen – and "horizontally"—connecting the adults together and the teens together.
By focusing on a collective domestic household and an alternative family unit, this project is a powerful model for rethinking how residential architectural design can improve social equity.
Shared spaces provide a path toward equitable architecture
How to provide quality affordable housing is a pressing issue, especially in California where the median home price is expected to rise to $834,400 in 2022. Micro-housing, in which architects fit all of the usual elements of the American single-family house into a smaller footprint, is one strategy. Building ADUs, or accessory dwelling units, in the yards of existing single-family homes is another approach. At CCA, Price says, they see greater opportunities and benefits in thinking beyond those models. "Instead of replicating the traditional house in a smaller form," he says, "we are thinking about alternatives to these conventions, especially the possibilities of sharing spaces."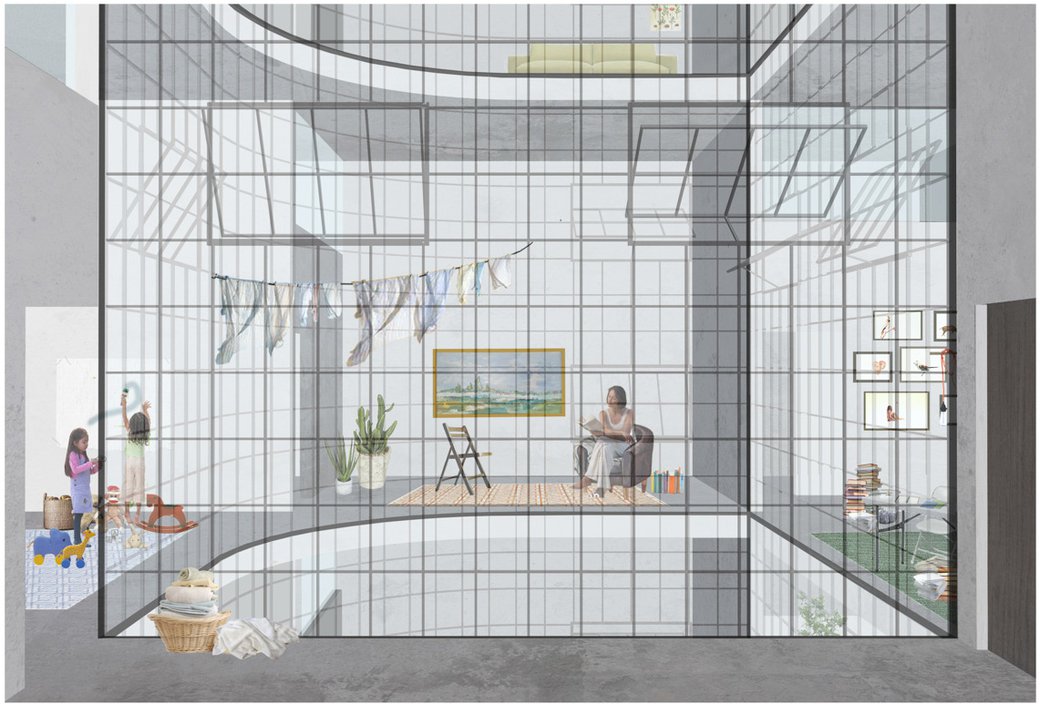 Many traditional housing types, from pueblos in the American Southwest to Chinese courtyard houses, were designed around collective spaces. More recently, cohousing, developed in 1970s Denmark, drew on these models and others in an attempt to create cooperative communities through shared amenities and outdoor spaces. "Restructuring housing can restructure social interactions and create community," says Campos.
In this vein, CCA architecture students in a recent studio course began to think about the room types that could be distributed across multiple households in order to make housing more affordable. They borrowed ideas from the sharing economy and applied them to the design of housing. They wondered, "How often do we really use certain spaces?"
"The hypothesis we asked our students to test," says Steinmuller, "is whether designing dwellings with collective spaces can make housing more affordable as well as more fair."
Students investigated ways that sharing spaces could reduce the cost of the family dwelling. For instance, one project designed for a group of immigrant women who were launching food-truck businesses is organized around a large, communal commercial kitchen. These women could not each afford that kind of specialized space, which is designed not only to support their fledgling businesses but also to serve as a place for sociability. The students' hypothesis is that the shared kitchen, a place for the women to gather with their children while also making food for their businesses, can help build a community that is resilient both socially and economically.
Universal design is an element of equitable architecture
Another strategy for achieving social equity through interior and architectural design is to follow the principles of universal design. The philosophy behind universal design is that creating spaces and products that are inclusive and accessible to everyone results in design that is better for all users. Universal design is equitable, flexible, and intuitive and accommodates all types of bodies and abilities.
A compelling example of universal design is the project Stalled!, which addresses the need for safe, sustainable, and inclusive public restrooms. One proposal, by architect Joel Sanders, is to abolish binary, single-sex restrooms in favor of a multiuser model. While designed to provide equitable access to restrooms for gender nonconforming people, a multiuser restroom also meets the needs of a wider segment of the population. For example, a father would be able to take his young daughters to the restroom, or an adult daughter could accompany her elderly father who may need assistance.
"Universal design can also include furniture systems that transform to accommodate different needs and support diverse ways of moving through the world," says Campos.
Universal design is woven into the entire interior design curriculum at CCA, through workshops, lectures, projects, and courses. Students take a studio class focused on universal design in their senior year. A recent project for that course, a behavioral health clinic for children and youth ages 2 to 18, resulted in the design of custom, flexible furniture that could be used by everyone in that age range. It could accommodate the different sizes, abilities, and ways of being in space for both toddlers and teens: users could sit on the furniture, or climb on top of it, or crawl under it. "It can serve different needs at different times of day and for different users," says Campos.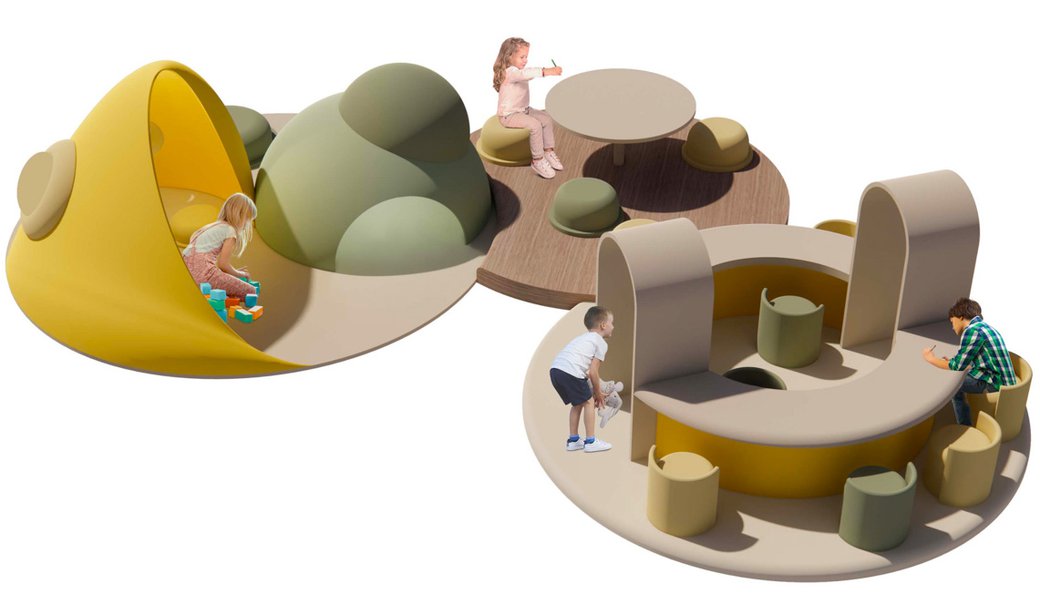 Using architectural design to advance social justice
Today's architecture and interior design students are determined to put their education to use in the service of social justice causes. They are rethinking how the built environment, from the macro scale of regional planning to the micro scale of furniture design, can be shaped to have a positive impact on all of us, including historically marginalized communities.
"At CCA, we believe that designing the built environment is a critical cultural practice that can and should serve the common good," says Price. "Our students go on to use the skills they gain here to achieve environmental, social, and political goals."
Steinmuller agrees. "A degree in architecture or interior design is ideal preparation for taking action in the world."