Autodesk grant provides unique design research opportunities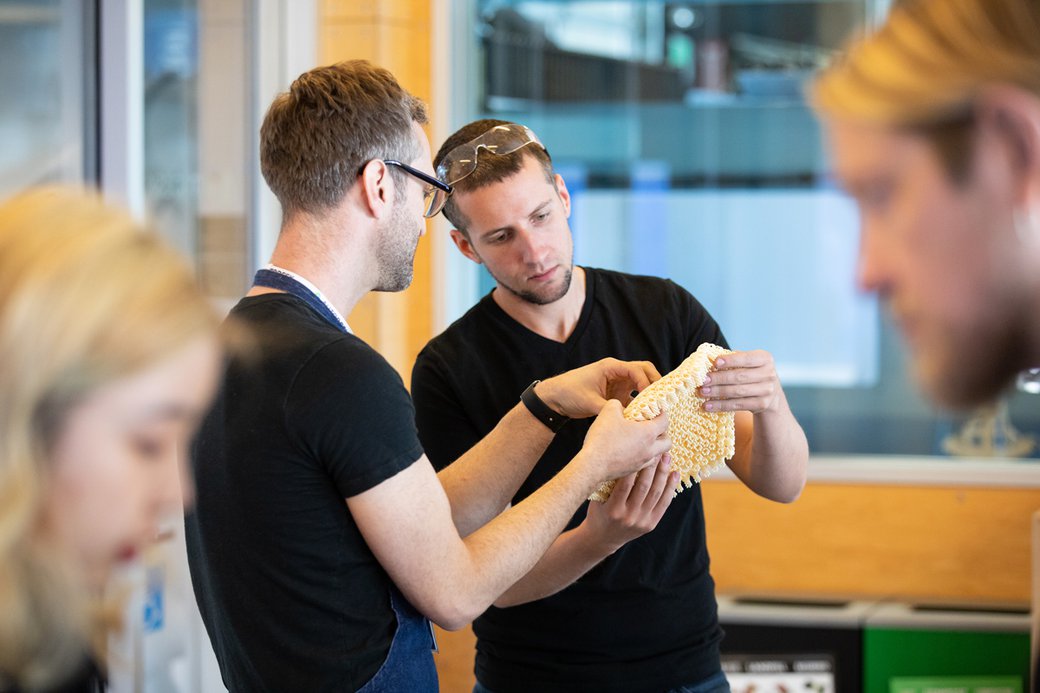 Learning the emerging tools of manufacturing
Students in spring's Materiality and Space 4 course, led by assistant professor Negar Kalantar, participated in an innovative design laboratory that put them at the forefront of advanced manufacturing exploration, including subtractive and additive technologies. (Additive manufacturing uses technologies that build 3D objects by adding layer after layer of material.)
Called tranSTUDIO, the lab was supported by a $25,000 Autodesk Technology Center Grant awarded to Kalantar and made possible with support of Autodesk Technology Centers, a facility located along San Francisco's Embarcadero that provides support and equipment to study configurable microfactories, the future of manufacturing.
The tranSTUDIO, a studio in development since 2014, explores adaptability in architecture and transformable space in ways that enable students to gain a greater understanding of the complex issues that comprise their future professional evolution. tranSTUDIO embraces two pedagogies: Pedagogy of Motion and Pedagogy of Computational Craft. The tranSTUDIO immersed students in an interdisciplinary environment where they had access to emerging digital tools for exploring adaptable architecture and design. Working at the intersection of myriad disciplines—including manufacturing, material engineering, and mechanical engineering—students embarked on a transformative and tangible experience that introduced them to new career paths and the professionals already on them.
"Participating in the Autodesk Residency Program has been an excellent experience for my students to engage with new technologies and explore future potentials as young designers," Kalantar says. "The vision for this unique [studio] was to provide students some framework to their design decision-making processes by developing their knowledge and skills about manufacturing processes and providing access to the community of technologists."
"Participating in the Autodesk Residency Program has been an excellent experience for my students to engage with new technologies and explore future potentials as young designers."
Assistant Professor of Interior Design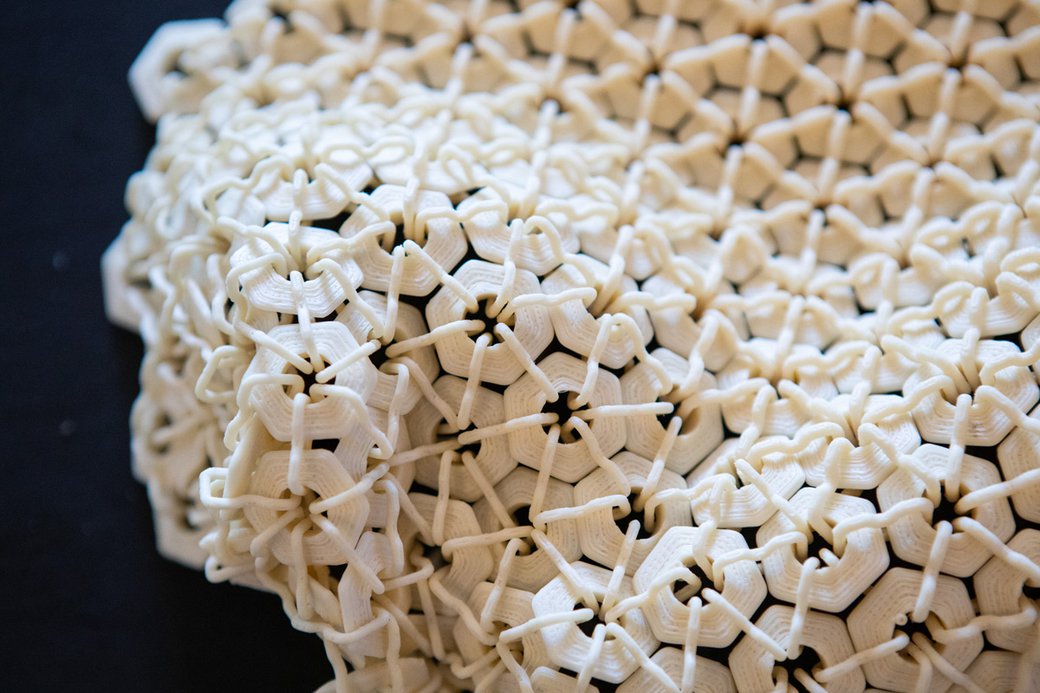 From ideation to fabrication
During the tranSTUDIO lab, third-year students from CCA's Interior Design program attended classes at Autodesk Technology Centers and got hands-on with state-of-the-art tools. With the generous support of Autodesk employees and shop staff, the students trained in the use of rapid prototyping, laser-cutting, and waterjet and took two transformable design projects from ideation to iteration to fabrication.
Project one: Create a flexible and rigid 3D-printed textile
The first project lasted five weeks of the semester-long course. Students were tasked with designing a 3D-printed textile that was at once flexible and stable. The goal was to look for new patterns to make something rigid into something movable through additive manufacturing processes.
Project two: Fabricate a dynamic shading system
In the second, eight-week project, students worked in teams of three to design and fabricate a dynamic shading system for an interior space. Each team had to use a stainless steel material and a water jet cutter as a means of fabricating their architectural mediators, which were required to provide dynamic control of air, light, and sight. Using the large-scale tools and resources available at Autodesk Technology Centers, students applied the knowledge gained from their first projects to develop their full-scale prototypes.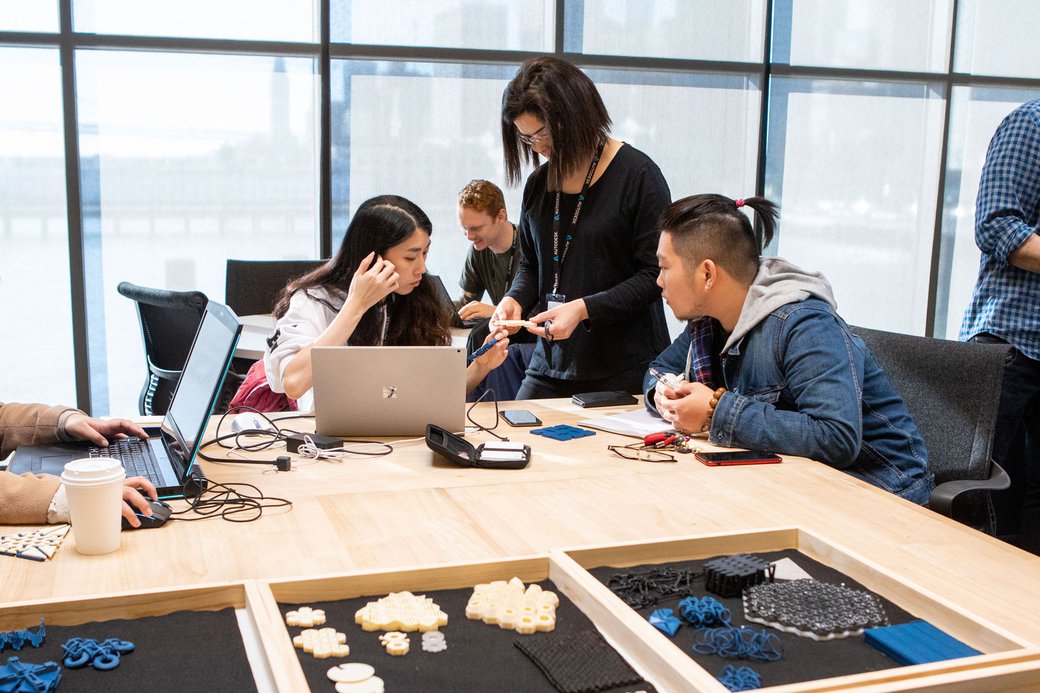 The future of design
More than 20 flexible textile prototypes from the students' first projects, as well as one of the dynamic shading systems from their second, are on display at the San Francisco Autodesk Technology Center.
"Additive manufacturing illuminates the future of design," Kalantar says. "These explorations have applications in several domains: medical, architectural, automotive, sport, and fashion industries."
The manufacturing technology and processes that CCA students explored and experimented with in this course are the same technologies that could enhance and extend the innovative practices within related industries for decades.
"Additive manufacturing can inspire and support an original voice for designers and engineers seeking to create unique designs and quality products in ways never before possible," she says. "Additive manufacturing also allows designers to precisely create 'unmakeable' shapes, structures, and geometries that previously were considered impossible. As a result, designers are increasingly taking advantage of the unprecedented development of additive manufacturing in ways that conventional manufacturing techniques are unable to accommodate."