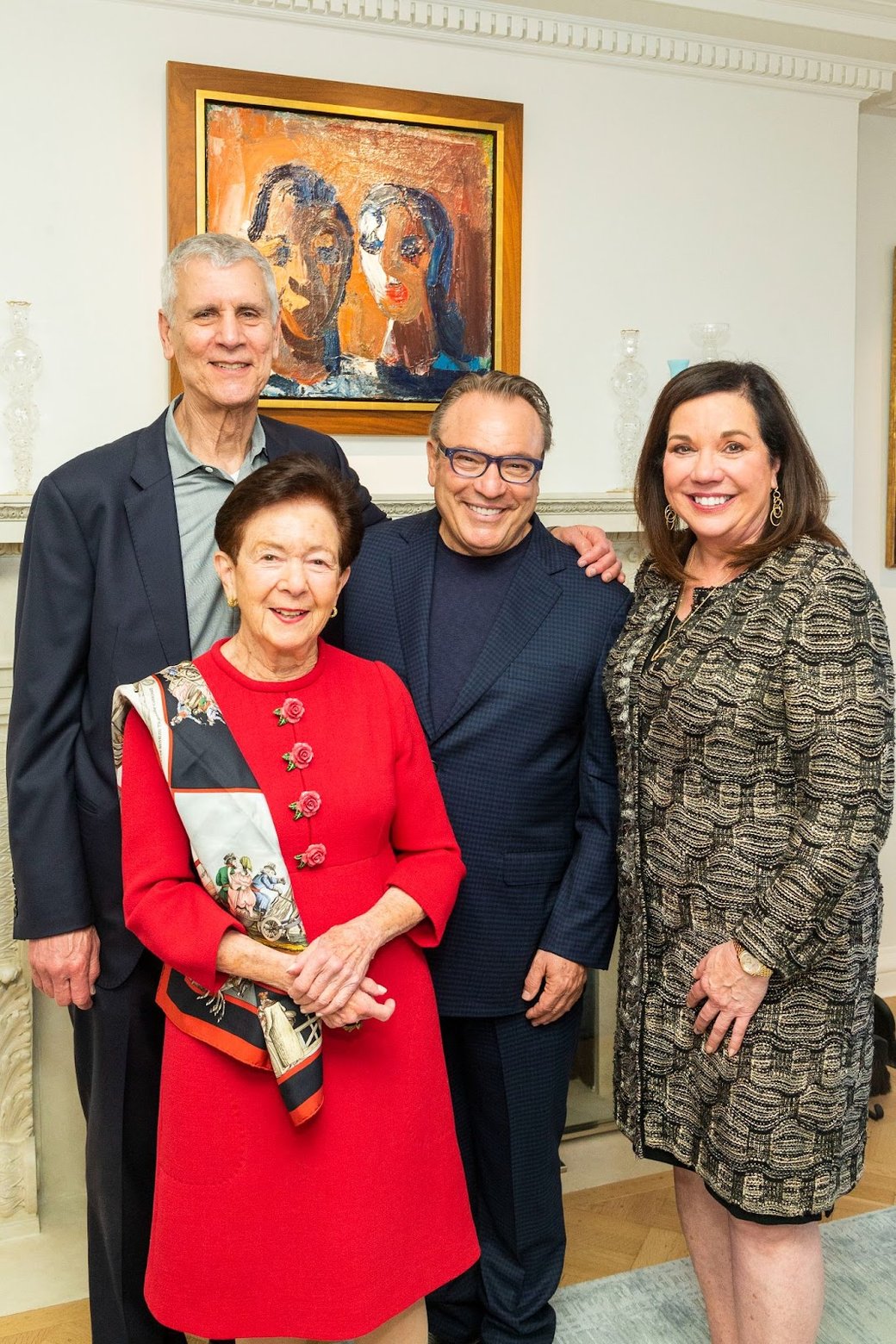 San Francisco, CA—May 20, 2022—California College of the Arts (CCA) celebrated beloved arts champion, civic leader, and community advocate Roselyne C. "Cissie" Swig as the 2022 honoree at its annual gala, which took place Thursday, May 19. The event grossed over $1.5 million for student scholarships.
Helmed by co-chairs and CCA trustees Stanlee Gatti and Kimberlee Swig, the evening highlighted Swig's long and generous commitment to CCA and institutions across the Bay Area. Remarks by CCA President Stephen Beal underscored Swig's impact locally, nationally, and around the world.
"Cissie has been an advocate of the arts for decades, and her tireless efforts to support art and artists has had an outsized impact on our community," said Stephen Beal. "There are few San Franciscans more dedicated to investing in and realizing a better future for the Bay Area than Cissie."
Keynote remarks were delivered by Chuck Collins, president emeritus of YMCA San Francisco, who spoke about his warm friendship with Swig and their decades of partnership working on initiatives to improve neighborhoods in San Francisco. Swig, who attended the event by Zoom, then expressed her gratitude to the crowd and shared eloquent remarks about her lifelong commitment to supporting artists.
A video featuring friends, colleagues, and family members of Swig offered heartfelt messages in tribute to the honoree. A moving speech from CCA scholarship recipient Thalia Martinez Bobadilla (BFA Illustration 2024) showcased the importance of supporting young artists in the Bay Area, followed by the lively auction of a Wayne Thiebaud watercolor monotype and an energetic, real-time donation "raise the paddle" event hosted by Emmy Award–winning radio and television personality Liam Mayclem.
Leaders of major San Francisco arts institutions who attended include Neal Benezra (Director, SFMOMA), Jennifer Biederbeck (Director, Sotheby's San Francisco), Frish Brandt (Director, Fraenkel Gallery), Thomas Campbell (Director, Fine Arts Museums of San Francisco), Catharine Clark (Catharine Clark Gallery), Lisa Dolby Chadwick (Dolby Chadwick Gallery), Todd Hosfelt (Hosfelt Gallery), Chris Perez (Founder, Ratio 3), Kelly Purcell (Director, Paul Thiebaud Gallery), Lawrence Rinder (Director Emeritus, BAMPFA), and Valerie Wade (Director, Crown Point Press).
Among the many notable designers, architects, artists, and writers in attendance were Michael Brennan, Jim Campbell, Daniele De luliis, George Jewett, Julie Lythcott-Haims, Mary Mocas, Rena Rosenwasser, Davina Semo, Sandy Walker, and Alyssa Warnock.
Major cultural and society figures of the San Francisco Bay Area included president and chief executive officer of the SF Giants Larry Baer, founder of Hiball Energy Todd Berardi, Lorna Meyer Calas and Dennis Calas, Jack Calhoun and Trent Norris, Chuck Collins, Patricia Dinner, John and Ellen Drew, Stanlee Gatti, Mimi Haas, Michael Krasny, Paul Pelosi, Alec and Serena Perkins, Cathy Podell, Clint and Janet Reilly, Kimberlee Swig, Susan Swig, Kay Kimpton Walker and Sandy Walker, and Diane Wilsey.
Event details: CCA's 2022 gala was co-chaired by CCA Trustees Stanlee Gatti and Kimberlee Swig. The evening featured decor by Stanlee R. Gatti Designs and included a cocktail hour with libations by San Francisco based cocktail bar Rye, and wine provided by River Myst Haven (RMH), Fortunato; a seated dinner by McCalls Catering & Events; and keynote remarks by Chuck Collins, president emeritus of YMCA San Francisco. The event was hosted by Emmy Award winning radio & TV personality Liam Mayclem.
Attendees mingled amid an exhibition curated by CCA alumna Katie Hood Morgan (MA Curatorial Practice 2010) that showcased work from alumni inspired by Swig's collection. Artists exhibited: Shaghayegh Cyrous (MFA Fine Arts 2017), Sarah Hotchkiss (MFA Painting & Drawing 2011), M. Louise Stanley (BFA Painting 1967, MFA Painting 1969), and Sarah Thibault (MFA Painting & Drawing 2011).
Past CCA gala honorees include Sir Jony Ive (2021), Lorna Meyer Calas (2020), Wayne Thiebaud (2019), Kay Kimpton Walker (2018), David Kelley (2017), Stanlee Gatti (2016) and M. Arthur Gensler, Jr. (2014).
About CCA's Scholarship Program
Two of every three CCA students receive scholarship support of some kind. The college firmly believes that an excellent art and design education is only made possible with the inclusion of diverse persons and perspectives on campus and that financial barriers should never prevent any talented, committed student from enrolling at CCA.
To achieve this goal, CCA dedicates significant institutional resources to need-based aid, with the scholarship fund being its highest fundraising priority.
About Roselyne C. Swig
Roselyne C. Swig is founder and president of ComCon International and founder of Roselyne C. Swig Artsource (1978-94). She was appointed Director of the U.S. Department of State Art in Embassies Program by President William J. Clinton (1994-97) and has devoted decades to philanthropic and community service efforts at the local, national, and global level, with focus on women's empowerment, social welfare, fine art, political advocacy, and education.
Cissie founded the advocacy group Partners Ending Domestic Abuse in 1992 and is founder and member of the Bayview Alliance, established in 2011. Her extensive board memberships include: Vital Voices Global Partnership, Jewish Vocational Service, Advisory Board of Taube Philanthropies, KQED, NPR Foundation, Mills College (emeritus), Shalom Hartman Institute (lifetime trustee), San Francisco Art Institute (past president and trustee emeritus), Berkeley Art Museum and Pacific Film Archive (past president), San Francisco Museum of Modern Art, The Contemporary Jewish Museum (past chair), AIPAC (national vice president emeritus), American Jewish Joint Distribution Committee, Jewish Community Relations Council, Jewish Community Federation of San Francisco (Peninsula, Marin, and Sonoma Counties; past president; and emeritus), San Francisco Arts Commission (past president), National Gallery of Art (past co-chair of the Collectors Committee), United Religions Initiative President's Council, and San Francisco Haifa Sister City Committee.
About California College of the Arts
Founded in 1907, California College of the Arts (CCA) educates students to shape culture and society through the practice and critical study of art, architecture, design, and writing. Benefitting from its San Francisco Bay Area location, the college prepares students for lifelong creative work by cultivating innovation, community engagement, and social and environmental responsibility.
CCA offers a rich curriculum of 22 undergraduate and 11 graduate programs in art, design, architecture, and writing taught by a faculty of expert practitioners. Attracting promising students from across the nation and around the world, CCA is among the 25 most diverse colleges in the U.S. Last year, U.S. News & World Report ranked CCA as one of the top 10 graduate schools for fine arts in the country.
Graduates are highly sought after by companies such as Pixar/Disney, Apple, Intel, Facebook, Gensler, Google, IDEO, Autodesk, Mattel, and Nike, and many have launched their own successful businesses. Alumni and faculty are often recognized with the highest honors in their fields, including Academy Awards, AIGA Medals, Fulbright Scholarships, Guggenheim Fellowships, MacArthur Fellowships, National Medal of Arts, and the Rome Prize, among others.
CCA is creating a new, expanded college campus at its current site in San Francisco, spearheaded by the architectural firm Studio Gang. The new campus design will be a model of sustainable construction and practice; will unite the college's programs in art, crafts, design, architecture, and writing in one location to create new adjacencies and interactions; and will provide more student housing than ever before.
Media contact