When CCA's new Double Ground campus expansion opens in San Francisco in 2024, students will be learning and making on land where people have done so for thousands of years. Traces of human activity on the site from millennia ago were discovered during the planning process for the new campus, creating a remarkable opportunity for the CCA community to acknowledge, reflect upon, and learn about the full continuum of life on this land.
The tests were conducted in consultation with an Ohlone descendant recognized by the California Native American Heritage Commission, as required by the process outlined by the city, county, and planning department of San Francisco. During this process, cylindrical samples of earth strata, called borings, were extracted from the site. Analysis of these borings led to the exciting discovery of organic materials that signified human activity reaching back some 7,500 years.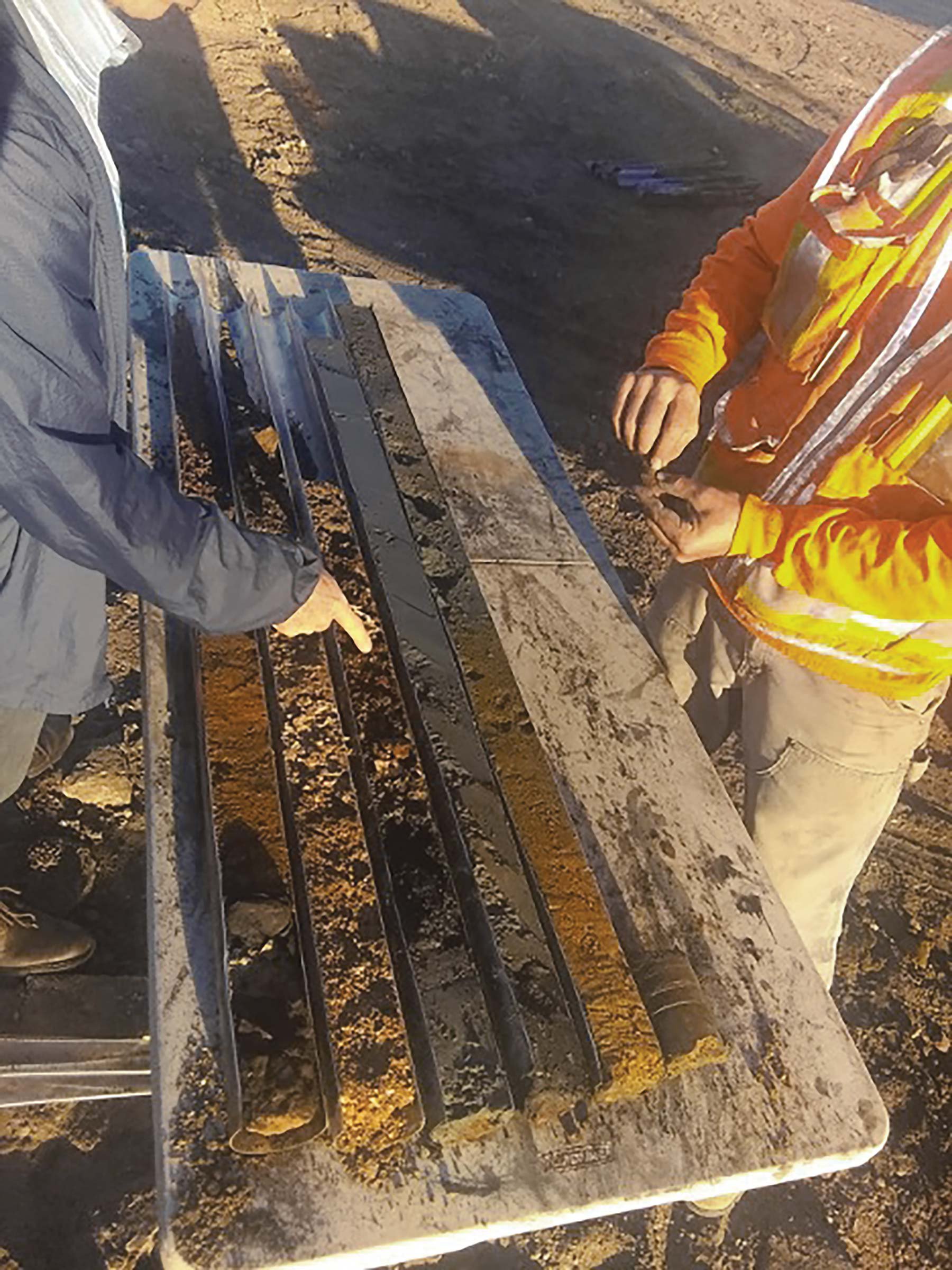 Specifically, shell fragments from Ostrea lurida, or the Olympia oyster, were found in a 6- to 10-inch layer about 40 feet below the surface. Previous studies have determined this species of oyster was harvested and consumed by coastal California and Pacific Northwest Indigenous peoples at least 8,200 years ago, and probably even earlier. In addition, scientists found traces of estuary plant roots, wild cucumber nutshell, mussel shell, fish vertebrae, and tiny mammalian bone fragments, many of which appear to be burnt. They also found evidence of chert, a silica-rich rock type that, when struck with another rock or a piece of antler or bone, will fracture or break in a characteristic pattern, creating a rock fragment called a flake or shatter. Chert and flake are signs of tool making.
While no human remains or artifacts were found, the tests show that this land was a site of human activity—a site of making, even—long before CCA students lived and worked here. Out of respect for these Indigenous ancestors and their descendants, CCA has chosen to refer to it as a cultural site, rather than the more commonly used but misleading terms "shellmound" or "midden." The Double Ground building process involves building up, rather than digging down, minimizing disruption to the deeply buried cultural site.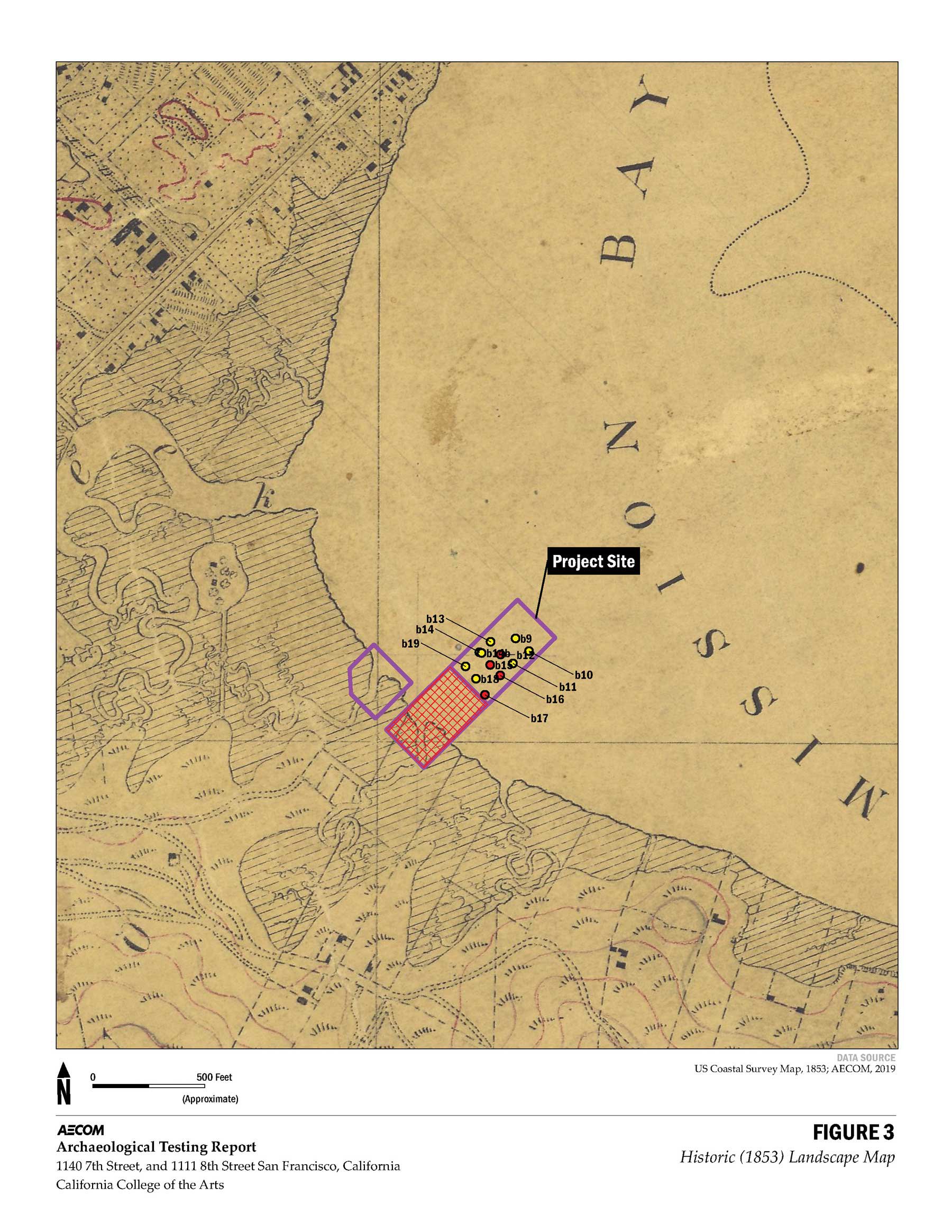 Archaeological testing and land acknowledgment—publicly recognizing and respecting the region's first inhabitants—are active and sensitive issues in the Bay Area. While land acknowledgment has become fairly common in Canada, New Zealand, and Australia, it is less widespread in this country. CCA faculty and administrators are working to integrate the idea of land acknowledgment into the school's culture. The college is engaging with these archaeological findings in numerous ways, in consultation with Indigenous representatives, to develop expressions and actions of acknowledgment toward the Ohlone peoples and all traditional first stewards of the Bay Area whose cultures and histories have been impacted by ongoing legacies of colonization.
The discovery of the cultural site offers an exciting opportunity to embrace this knowledge by including it in interpretive materials on the new campus as well as using it to inform the curriculum as the CCA community learns about, acknowledges, and makes new space for all past, present, and future generations on this land.
Faculty and students at CCA are actively engaging with colonization and its impact on culture and society, working to reveal and release its hold on art and design history and contemporary practices alike. One such effort is the CCA Decolonial School, a curricular, grant-funded, three-year initiative. It partners across the college's four academic divisions to develop pedagogy and discourse around understanding how colonization has affected art and design and how we can create a new conversation and propose a non-oppressive future. The spring 2020 semester, for example, includes around 30 courses with a decolonial paradigm, during which students activate underrepresented and underexplored cultures and ideas.
This story was updated on April 4, 2023 to reflect the new date of the Double Ground campus expansion project completion.