Agile. Lean. Design thinking. You've heard these buzzwords, but what do they really mean? "They are all just different labels for a human-centered approach to solving business problems," says Justin Lokitz, interim chair of the MBA in Design Strategy at California College of the Arts (CCA).
This mindset—borrowed from the design world—has transformed how businesses innovate. Inclusive, collaborative, and iterative, human-centered design is being put into practice across industries, from technology to healthcare to fashion. In fact, some of today's most iconic companies—Airbnb, Apple, IBM, Microsoft, Nike, PepsiCo, Samsung, Toyota, Uber—are using this method to develop or reinvent business models, processes, and products. And they are looking to hire MBAs with a deep understanding of human-centered approaches to problem-solving to join their teams.
But what exactly is a human-centered approach to solving business problems? And how can you gain these design-thinking skills that are rapidly changing how we do business?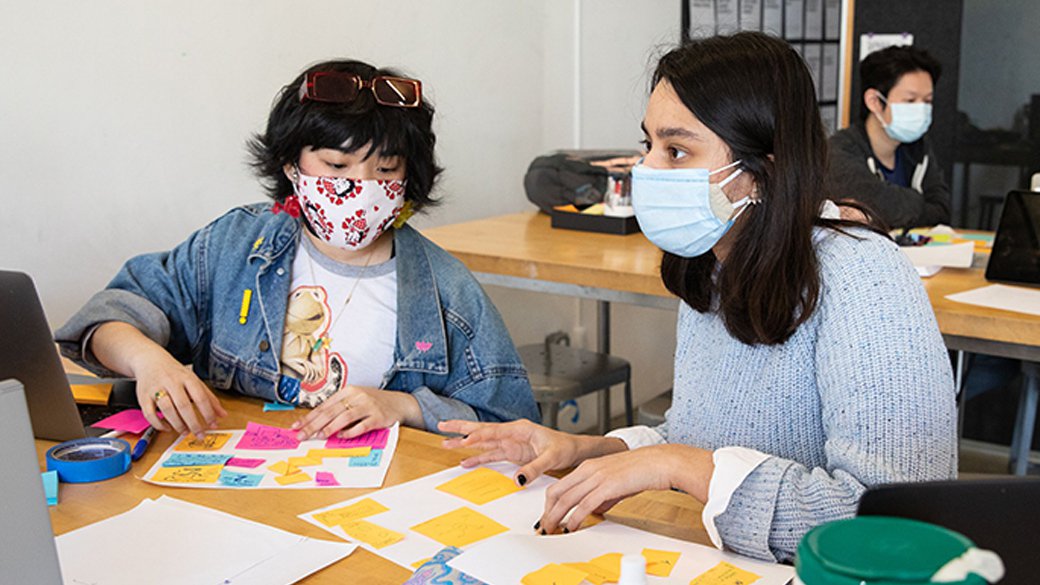 Empathy, co-creation, and iteration: The 3 elements of a human-centered approach to problem-solving
No matter what name it goes by, the human-centered approach to business innovation can be boiled down to three main components: empathy, co-creation, and iteration.
Listening to all stakeholders and understanding their wants and needs—practicing empathy—is the starting point of a human-centered approach to solving business problems. In essence, it's putting people first. An education centered in design strategy instills research methods that reveal how people think and live. Cultivating this on-the-ground understanding of customers and potential customers prevents companies from imposing their own biases and preconceptions and leads to ideas for products and services that people want—and will buy.
Co-creation is another crucial element of the human-centered approach to problem-solving. "Involving groups with diverse points of view in the problem-solving process is the best way to create value," says Lokitz. "We sometimes envision a solitary designer, probably with cool eyeglasses, coming up with solutions out of thin air, but the real way to innovate is to assemble teams of individuals with different skills and life experiences, of multiple ethnicities, races, and genders." Lokitz points out that the studio model of a design school like CCA, versus the classroom model of traditional MBA programs, fosters this kind of collaboration: team members build upon one another's ideas, finding solutions that no single one of them could land on by themselves. And when these teams also bring in potential users as co-creators, it leads to a steep rise in business creativity.
Developing ideas through iteration is the third aspect of a human-centered approach to business problem-solving. This means designing and testing, then redesigning and re-testing, and then redesigning and re-testing again, possibly for the entire lifespan of the product or business. Designers have long understood that embracing failure is central to the creative process—you can learn a lot when something doesn't work as expected. "I tell my students, 'It's never one and done,'" says Lokitz. "You need to have the mindset that everything is a prototype. Even after you go to market with a product, you need to continually improve it in order to increase value over time."
MBAs trained in human-centered design transform business models
Business consulting is a popular career path for MBAs with this skill set of empathy, co-creation, and iteration. Companies large and small, as well as nonprofit organizations and government agencies, are increasingly looking to consultants to help them transform their workplace cultures to embrace a human-centered approach.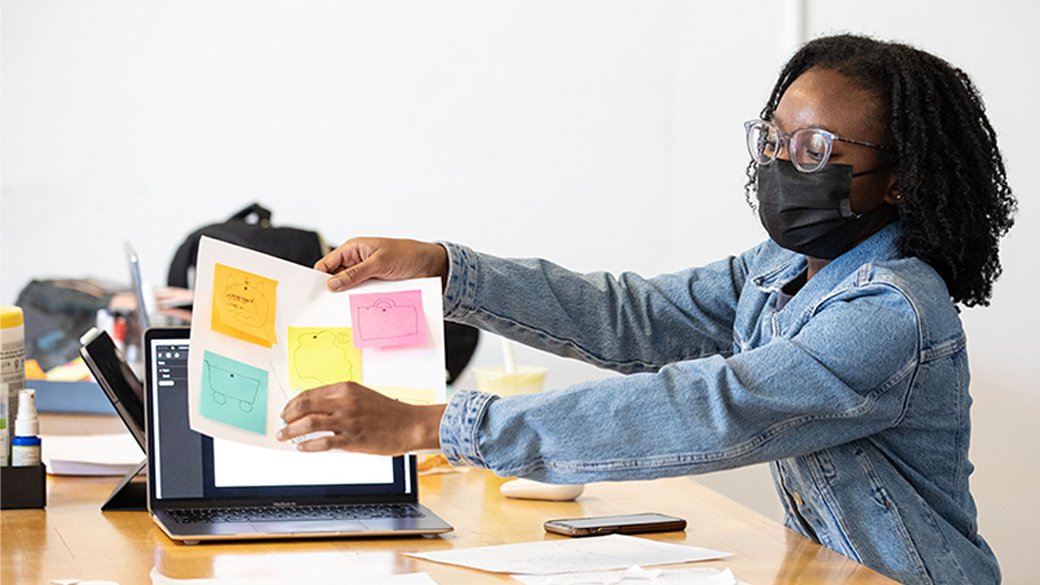 This is the route Lokitz followed after earning his MBA degree from CCA. He joined an international consulting firm and worked with large, legacy companies that had lost touch with their customer base over time. He was able to import the ethos of CCA's Design MBA into existing companies that had become used to making decisions based on "executive whimsy," as Lokitz puts it, rather than real-world research. "Bringing a human-centered approach into these companies meant getting them to talk to actual users and potential users, not just experts," he says. "They learned that listening to real people rather than pitching to them was the best way to evolve their brands."
Lokitz put to use the empathetic skills he learned at CCA when consulting for a German automotive company that was seeking to connect with younger drivers. In addition to doing secondary research—looking at demographic studies and market trends—he did deep primary research. "At CCA, I learned to go beyond customer surveys to listen to actual people, on the street and in their homes," he says. CCA MBAs also learn to evaluate the questions they ask after each encounter, and then refine them through an iterative process. "Using this approach to primary research, we were able to answer the car company's question, "Who are our next users and what do they need or want?'"
A human-centered approach leads to innovative products and services
Many graduates of MBA programs with robust curricula in design thinking become entrepreneurs. In fact, schools themselves often become incubators as student teams develop ideas for innovative products and services that respond to what people want and need.
One example is the successful nut milk company JOI (Just One Ingredient), which came out of CCA's Design MBA capstone Venture Studio. The team of Tony Jimenez, Dave Korstad, and Izzy Shu set out to solve the problem, "How can we meet the current desire to go beyond animal-based milk in an affordable and sustainable way?"
The team had researched market trends and found that many people were interested in exploring non-dairy milk options. But these products were often prohibitively expensive and sold in large containers that resulted in waste in the form of unused milk, excessive packaging, and a large transportation carbon footprint. So they came up with the idea of designing a home appliance for people to make their own almond milk at home, sustainably and at a lower price. But this is where empathy and iteration came into play. While doing primary user research in people's homes, they found that potential customers did not want another appliance taking up space on their kitchen countertops. The team went back to the drawing board.
The trio abandoned the idea for an appliance and came up with another solution: a concentrated base, kind of like a nut butter, that people could mix with water in an appliance they already owned—a blender—to make almond milk. The packaging for the concentrate would be minimal compared to the milk sold in large, heavy cartons and jugs in supermarkets. The environmental cost of shipping would decrease. And users could make just the amount they needed, leading to less food waste. "Through empathy— listening to consumers—co-creating as a team, and iterating, they solved the problem, albeit in a completely different way than they first anticipated," says Lokitz. "That's the essence of human-centered design."
After graduation, the team attracted venture capital and was able to launch the product. JOI now sells bases for almond, cashew, and oat milks, as well as hazelnut creamer, in reusable glass jars and compostable pouches directly to consumers through their website. "It's a real success story," says Lokitz.
Another innovative product launched out of a recent CCA Venture Studio using a human-centered approach is the app Native Chats. Inspired by the international, multilingual student body at CCA, a diverse team of Design MBA students created a chat engine that allows seamless communication between people who speak different languages by using real-time translation on the back end. "Co-creation by an international team really spurred the development of Native Chats," says Lokitz. Launched in 2020, the AI-powered app is now translating chats among users speaking more than 100 languages, bringing people and businesses together across language barriers.
Sustainability must be a part of a human-centered approach to design
One criticism you sometimes hear about the human-centered approach is that it is, well, too centered on humans. But CCA alum Jo Marini, founder of the venture and social impact foundry Mother Superior, says that what she learned in CCA's Design Strategy MBA program is that "human-centered" must be broadly defined.
"I understand that it is my responsibility to design products and processes through the lenses of all stakeholders, from people to animals to the planet," she says. "We need to be aware of how our choices impact the entire system."
At Mother Superior, Marini supports founders who want to create sustainable businesses and make a social impact. She is currently working with a woman-owned cradle-to-cradle business that creates consumer hardware for cannabis and another venture that is using biotechnology to formulate sustainable skincare products.
Marini now teaches the Sustainability Studio in the Design MBA program as adjunct faculty. "The human-centered approach is the lens through which all problems are approached at CCA, but sustainability is the umbrella," she says.
In the Sustainability Studio, the concept is broadly conceived to include social and economic equity in addition to environmental sustainability. Students examine the social and environmental impacts of material choices, supply chains, and organizational effectiveness across all stakeholders, including the planet, through the human-centered lens. Even the course syllabus is subject to human-centered design—it's a living document, meant to be iterated throughout the semester through a collaborative process between Marini and her students.
A human-centered approach is woven throughout CCA's Design MBA program
Today you'll find courses on design thinking or human-centered approaches to innovation in many MBA programs. But CCA's Design MBA is the only independent MBA program in an art and design school and the first with a focus on design strategy. "Here the design thinking courses aren't just satellites," says Lokitz. "The human-centered approach is woven into every aspect of the program."
CCA's MBA in Design Strategy is a two-year, low residency MBA program that puts human needs at the center of decision-making. Students gain extensive experience in applying a human-centered approach to a range of business problems even before they earn their MBA degrees. Empathy, co-creation, and iteration are practiced in every CCA Design MBA class, from Managerial Economics to Market Insights to Business Models and Stakeholders. The program culminates in the capstone Venture Studio in the final semester, where diverse student teams engage in empathetic research and listening and iterate until they develop a plan for a financially viable, scalable, and sustainable business model or product.
"CCA's Design MBA is not bogged down with the investigation of outdated historical business models, but nor is it too 'blue sky,'" says Marini. "You learn design skills that empower you to use business creativity to solve any challenge." And MBA degrees that emphasize design skills, tools, and mindsets are especially valuable in times like ours, when change, uncertainty, complexity, and ambiguity rule the day.
Marini points out that many of her fellow CCA MBAs have gone on to work in big tech companies, where their training in a human-centered approach is highly valued. "It's important to have someone with a design thinking background in the room when decisions are being made," says Marini. "Raising questions from a human-centered mindset can move companies toward more empathetic, more sustainable decision-making. It can make them more thoughtful about the implications of their decisions."
Earning an MBA that stresses a human-centered approach gives you a foundation to build profitable and human-centered businesses. "At CCA, we teach that the goal is not just to create a better product," says Lokitz. "Using a human-centered approach, we always keep the 'triple bottom line' front of mind—people, planet, and profit."
And CCA doesn't just teach design thinking: it practices what it preaches. The program itself is constantly reinventing itself using a human-centered approach. Founded in 2008, the Design MBA was intentionally structured to change with the times, and it is continually being re-created through an iterative process based on empathetic listening and co-creation. The result is that CCA's Design MBA is always on the cutting edge of innovation in business education.