During her concert at San Francisco's Chase Center, singer-songwriter Billie Eilish along with thousands of fans, were all focused on CCA Fine Arts graduate student Ingrid Henderson's thesis project—an orange button-down shirt with a collaged image embroidered on the back. Eilish took a rare break from performing to read fan posters in the audience. The words "BILLIE TAKE MY SHIRT IT'S FOR MY ART THESIS," written on one poster, caught the performer's eye. She gestured to security to retrieve the item as the crowd roared with excitement. Yet, only a few days earlier, hundreds of thousands of people already knew about the shirt and were rooting for it to make its way to Eilish, thanks to several viral TikTok videos made by Henderson.
In the month leading up to the concert, Henderson clocked in 237 hours working on the shirt in her personal space in the Dopatch MFA Studio. Through critiques and conversations with CCA faculty like Josh Faught, Kim Anno, and Linda Geary, and hands-on help from her family and classmates like Aster Topolski, Blanche Li, and Pratyush Swarup, she was able to further shape the goal of the project and go in a new direction.
The MFA candidate talked to us about how she came to the idea behind her thesis project, how it went viral on TikTok, getting her project in the hands of Billie Eilish, and how her classmates and instructors at CCA supported her every step of the way.
What is your thesis project about?
My thesis is called Unraveled Moments, Framing a World Out of Balance. It started with this shirt that I made for my cousin. It's related to a trip we took together: She took the picture. I made this collage. She picked out the shirt and sent it to me. So it's this conversation between us. Then my plan was to pass the shirt along to different people to see what happens. Then Billie Eilish happened.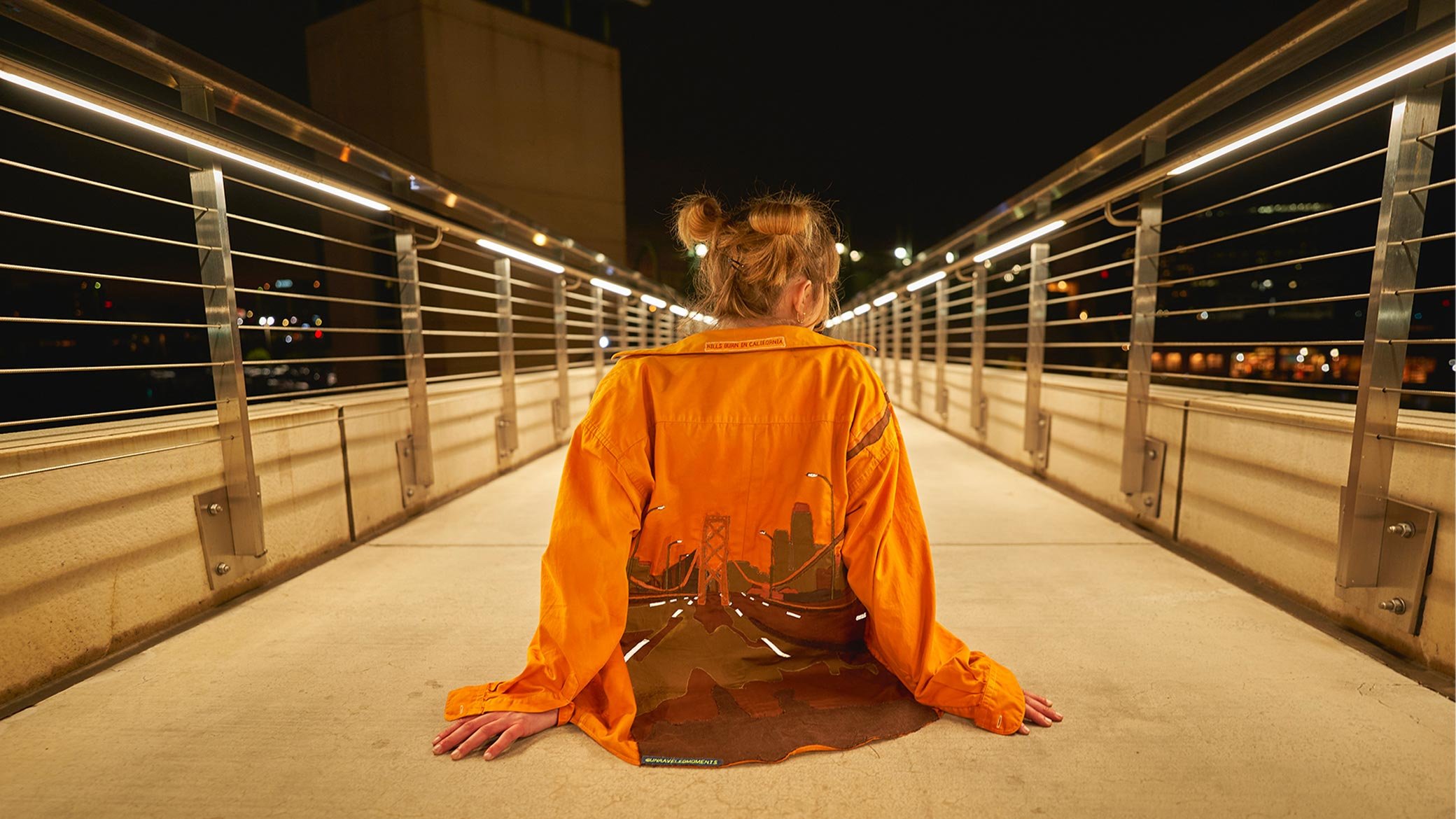 I already had this plan to go see her in concert. My friend sent me a TikTok of someone at the UPenn show who threw a shirt on stage. Billie picked it up and everyone was screaming. My friend said, "It'll be super cute if you made something for her." It was nine o'clock at night and I was supposed to be doing something else, but I just became obsessed with this idea. What if I made a shirt for her and was able to throw it on stage and be able to have a kind of conversation with an artist I really love?
The day of the show, it was me and a whole bunch of middle and high schoolers there and they were all so obsessed with Billie, talking about how she could do no wrong, how she was perfect. That was sort of interesting to me. I was talking to Josh Faught, one of my professors, after the show and telling him about how fascinating I found this obsession. They're having a religious experience of being at the show and meanwhile I'm just trying to decide how I'm going to give her the shirt.
These kids were so enamored by Billie Eilish and felt this really strong connection to her, like they knew her. She touched a mic stand, and with her touch, it gained this reverence, and the girls suddenly wanted it, even though in reality they would probably have no use for it.
This relates to my shirt as an object because I feel like as soon as something is deemed "art" it is untouchable, and I wanted to challenge that idea. So by putting the collage on clothing and asking that people actually wear it; it makes the usage of the garment become part of the piece. That's the "unraveled" part of the title—that the clothing will change through the life that it lives with the person who receives it.
Tell us about how it blew up on TikTok?
In one critique early on, someone suggested I make a video and put it on TikTok. Linda Geary, one of my professors, was super excited, too, and said, "You need to go viral. This is going to be great." One of my childhood best friends, Kyle Hayden, came to the studio one night and filmed me and made the first video that blew up, which was the one where I'm making stuff and it says, "POV: You're an artist making a shirt for Billie Eilish." It's a really beautiful video. And I was expecting it to maybe only get a few thousand views.
The concert was on a Tuesday, and I posted the video on the Friday before. On Saturday morning, my sister ran into my room and told me it had 18,000 views which really surprised me. Then it just kept going up and I just thought, "What is happening?" [The video currently has 719.8K views to date.] By the time I got to the show, it had over 100,000 views! Anyway, I got to the show at 4:30 am and I was wearing the shirt over my outfit. All these people stopped me to tell me they saw the TikTok video. It was funny to have this brief interaction with people from the Internet.
How did Billie Eilish see your sign at the concert and what happened after that?
There was a moment where she said,"Let me see everyone's signs!" I went with my friend Blanche [Li] so she could take a video except she missed that part. But because it was on TikTok, all these people contacted me after and I got probably 15 people sending me videos, so I have videos from all these different perspectives.
In the videos, people are telling Billie to "Look to the left" or "Look to the right." So they were shouting at her to look at my sign because they had seen my TikTok and knew about the project and wanted to be involved. She sees it and says, "What? Oh, 'Take the shirt for my thesis.' Interesting. Give it to me." I think there's a very short amount of time that she has to talk so she kept talking and the security guard put it on stage. But she never ended up picking it up or looking at it.
I was feeling kind of sad about that. I never had this interaction completed. But at the end when she's saying goodbye to everyone, I held up my sign again and she read the sign again and I could see her processing. Then she looks at me like, "I got you. We have it." When I got back to school people were amazed that I had gotten it to her.
It's also a little hard to continue from that because it was literally the first thing I did for this project. Now it's like, you got the first one to Billie Eilish. Who's getting the next one? I want to be careful with what I do with the project, because at the heart of it, it's about connection and these very real feelings and anxieties. I don't want to be pigeonholed into who's the next big famous person I can give it to. It wasn't about the fact she was famous. I think it's interesting that it was her. But it was because there's this connection that I found between our work.
How does it feel to have thousands of people invested in your thesis online?
I think it's really interesting to have people following along. It kind of showed me how hard it is going to be to try to be an artist. Because so much of it is self-promotion. I think something that's positive from it is that it makes me feel anxious about having to make things—anxious in a good way. I have a hard time getting myself to do things. I need to keep up with the algorithm, so I got to keep doing my work and post about it. It makes me think about it in a different way. When my video blew up, I knew why it blew up. I understood the algorithm well enough.
My videos that have gone the most viral have had something to do with Billie Eilish. Those aren't specifically about my work. They're about my work in relation to Billie. If I did more stuff related to Billie, more people would probably be watching. But I don't think it'll be to that extent and that's fine. I think it was good to see that it's possible to actually use social media in a way that gets your stuff out there.
What do you want people to know about your work?
It's an extension of myself. I make work as a way to figure out what's going on in my head and I often learn so much from each thing I make, I obsess over the tiniest details, but once it's done, I'm never very precious with it. That's not because I don't value it, but instead I feel like a lot of the time and value comes from the conversations I have around it.
That's why my transition into clothing is so exciting because it's so much more approachable. When it's an article of clothing that has this story and hard work connected to it, it feels so good to have people genuinely interested in talking about and participating in it. As an artist, I feel like I have succeeded when a piece has drawn people and compels them to talk about it. This project is a culmination of things I have been thinking about for a long time.
More memorable than concert merch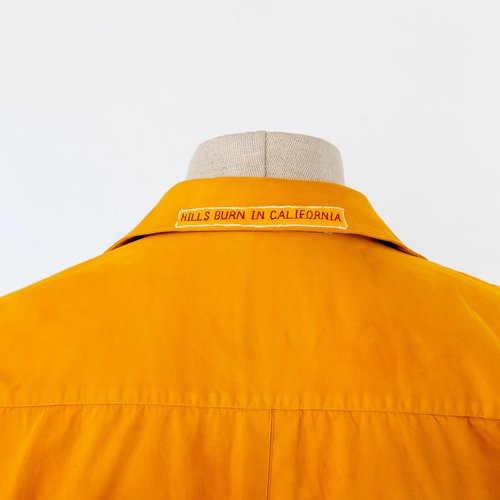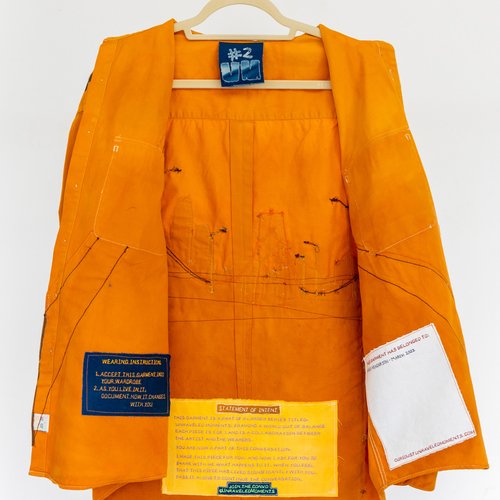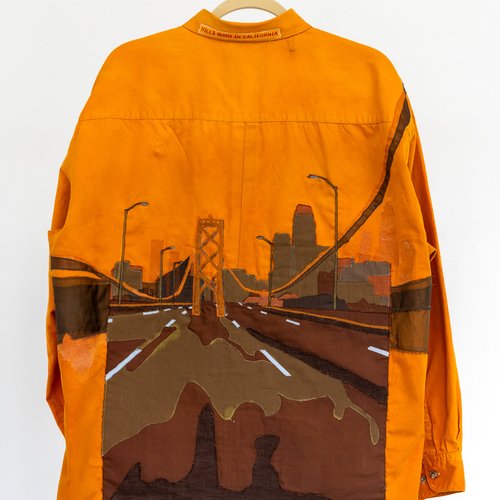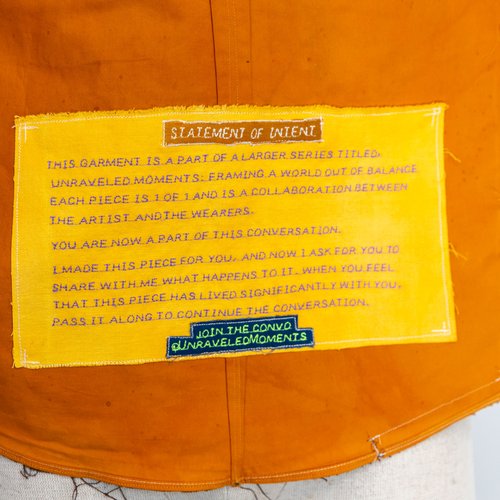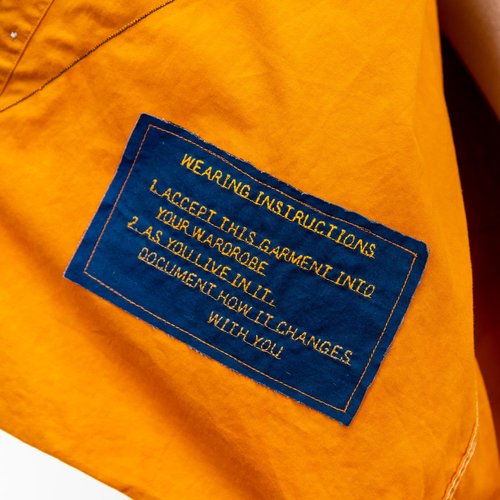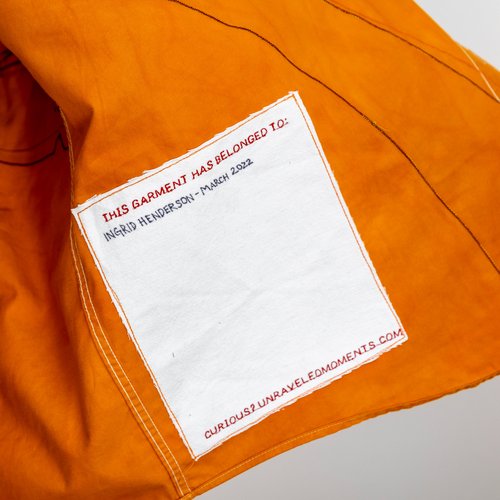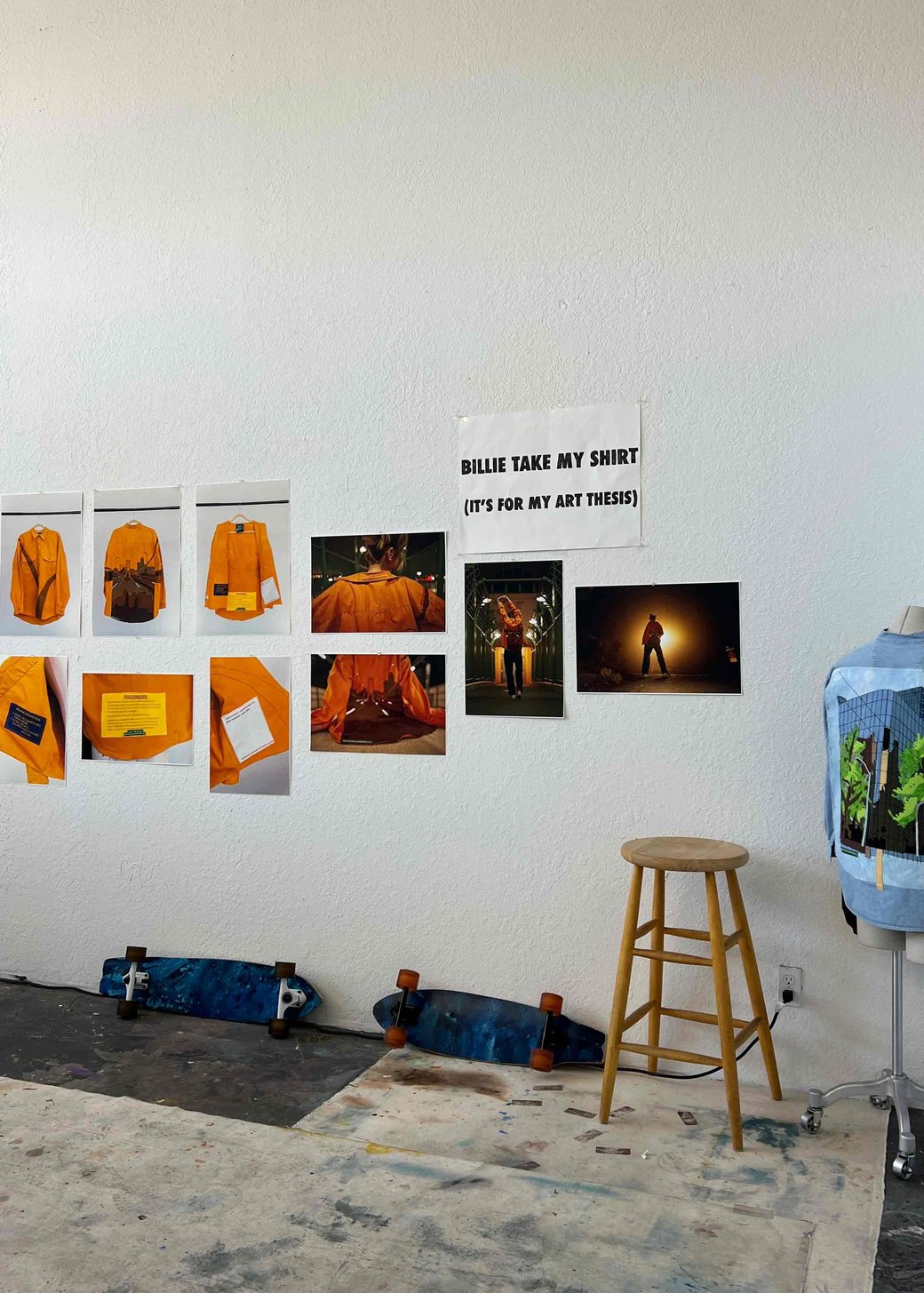 What is one thing you've learned at CCA that helps your practice?
This is probably going to change over the next year, but I have been learning how to reach out to people who might have resources or who can help me connect to others working with ideas that connect to my own work. As I have a fine arts background, all of my sewing skills are self-taught from YouTube videos, taking things apart, and some tips and tricks from my grandma.
Kim Anno put me in contact with Lynda Grose, who is in the fashion department at CCA, and she was really excited to hear about my project so she started putting me in contact with people who she thought might be interested in my project and the aspects of sustainability that are central to it.
I think using the resources at school to meet other people who can help me learn more about the worlds that I am trying to enter—art and potentially fashion—is really important. After I graduated from undergrad, I realized how much I had taken for granted when it came to the resources that being a part of a school gave me, so I am trying to take full advantage of that in my short time left of grad school.
What do you want to do after CCA?
I kinda went to grad school to prolong having to answer this question. But mainly I want to actually become a working artist. I have always been interested in teaching so I will probably look into that, too.
I would love to try to move more into working with clothing, although I also don't know how I would scale this project up as so much of it is about the labor that goes into it, and about how my materials are sustainable and come from reused or small cuts of fabric. I am so painfully aware of the fact that everything we make will be on this earth for a long time.
Going back to the ideas behind my work, I want to make things that are wearable and have a function. This makes me feel better about my work, as I am taking things that are second hand, that already exist, and changing them into art, while also giving my art a function.
I want to be an artist! So I'm going to give that a go and see what happens.
This interview has been edited for length and clarity.
Published on October 20, 2022