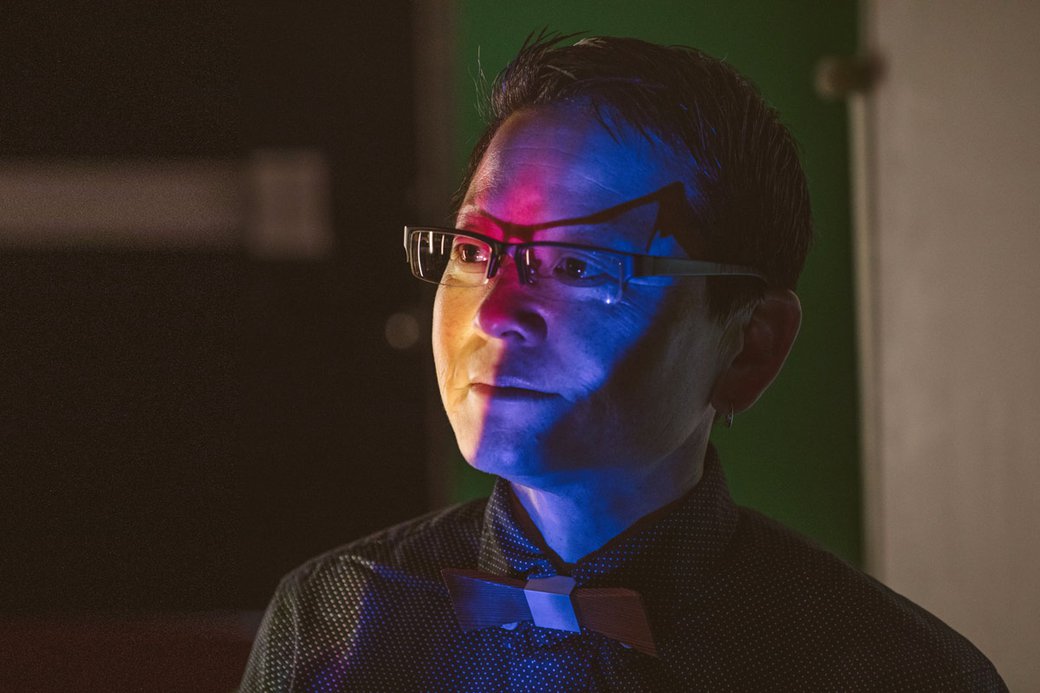 From environmental design to interdisciplinary art
TT Takemoto began their new role as dean of Humanities and Sciences at CCA in August of 2018. They oversee the division's five programs and its collegewide curriculum. Takemoto has been teaching at CCA since 2003 and most recently served as chair of the Appointments, Promotions, and Tenure Committee (APT). In their practice, they examine the rich subjects of queer identity, race, grief, and memory. Their research has explored the hidden dimensions of same-sex intimacy and queer sexuality for Japanese Americans incarcerated by the U.S. government during World War II.
Takemoto's newest work involves a material that excites them—film strips, especially 16mm. They spent time during their recent sabbatical taking an experimental film class at City College of San Francisco, an experience that propelled their newest work. Takemoto has been learning to use emulsion and Scotch tape to lift and transfer photographic images from stray movie reels of 35mm film strips onto 16mm strips, creating enigmatic distortions, ragged edges, and the sense of a change in the space-time continuum. They were recognized for their film Wayward Emulsions (2018) at the 25th Slamdance Film Festival, where they won the Grand Jury Prize in the Experimental Shorts category. We sat down to talk with them about their path into art, the faculty who inspire them, and the value of CCA's approach to an arts education.
When did you know that you first wanted to be an artist, and what experiences helped shape the path you took?
I grew up in a predominantly white, conservative town, a lab town with a lot of science-focused people. My family was one of a very small handful of Asian American families. So while I thought I didn't have an Asian American experience growing up, I somehow did know I was supposed to study science when I went to college. All through high school I was following [an art] path, which in retrospect I realized was a kind of subversive Asian American experience.
My fondest memories are working in the wood shop with my dad in the garage. He was always fixing things. I enjoyed using my hands to fix things, and we'd problem solve together on projects. He used to take me to Home Depot and we'd walk around with walkie talkies. I grew up with two brothers, but they didn't express any kind of interest in those kinds of hands-on things.
"I was really eager to join a program that was interested in all of visual culture beyond the narrow confines that we traditionally or conventionally think of as art history."
But as it turned out, you didn't end up pursuing a career in science. What happened?
I went to Berkeley and was studying science and also taking the breadth requirements. And that was when I took some of my first art classes and also a performing arts class. I was in a sculpture class, and I thought, "Wow, I'm going to change my major to art!"
I went home on Thanksgiving, and I told my family I was going to change my major to art. And there was this look of disapproval. No yelling, just the look of disapproval. So I said, "Oh, or not." When I went back to school and talked to my professor, and he said, "You know, if your parents don't like art, they might like architecture. He told me that if I were to stay at Berkeley and study architecture, I'd actually get to study a lot of art." So I went back on Christmas break and asked my family, "So, how do you feel about architecture?" My dad said, "Architecture? Study whatever you want."
So I started pursuing architecture, but the entire time I took as many art classes as I could. By my junior year, I did an individualized major in the College of Environmental Design, which is the architecture school, which allowed me to take more art classes. But by then I was wise enough to just not tell my parents, because I was still graduating from the same college.
The individualized major was interdisciplinary and was called Visual Studies, a name that seemed open-ended and ambiguous. That's when I really started studying painting and took my first performance art class, which was an activity-based performance class that couldn't be called performance because it was taught through architecture, so they called it Temporal Structures.
And that path ended up working out for you?
It did. I continued on that path, earning my Ph.D. in Visual and Cultural Studies at the University of Rochester, one of the early Ph.D. programs with an interdisciplinary title. And that same thinking was one of the reasons I was attracted to come teach here at CCA. I was really eager to join a program that was interested in all of visual culture beyond the narrow confines that we traditionally or conventionally think of as art history. So the year I came was also the year the name of the program changed from Art History to Visual Studies. I was definitely part of that moment.
Let's talk about what that means, that interdisciplinary approach and that interdisciplinary valuing. What does that bring the artist, and what does that bring the student?
I think an interdisciplinary education gives students a broader toolbox. I think one of the functions of a liberal arts education is that you learn various modes of critical thinking and visual literacy. You also learn how to become a responsible and ethical participant in the world. When you're coming out of high school, you may have a passion for a specific discipline that you're really good at. It's great to come to an art school and to meet other colleagues and peers deeply engaged in all sorts of other areas. From the very start, you're being exposed to a whole spectrum of methods and people with different passions. One of the main takeaways is that you don't need to leave being an expert in everything; rather, you leave knowing that you can actually learn what you need to learn to fulfill your visions in the future.
I think an interdisciplinary education helps us become lifelong learners because we gain the humility to know that we will never be a complete and total expert in any given thing. We learn that if our toolbox is larger, we can continue to learn throughout our life. It just makes our practices more robust.
You have a long history here. You've been teaching CCA undergraduates and graduate students since 2003 and you've held an array of leadership positions during that time. From your perspective, how would you describe the community at CCA?
The CCA community is creative, resourceful, scrappy, enthusiastic, activist, visionary, humorous, and committed to equality and equal justice. And there's the brilliance of the faculty. They're doing such incredible work. Here's a shout-out to a selection of them: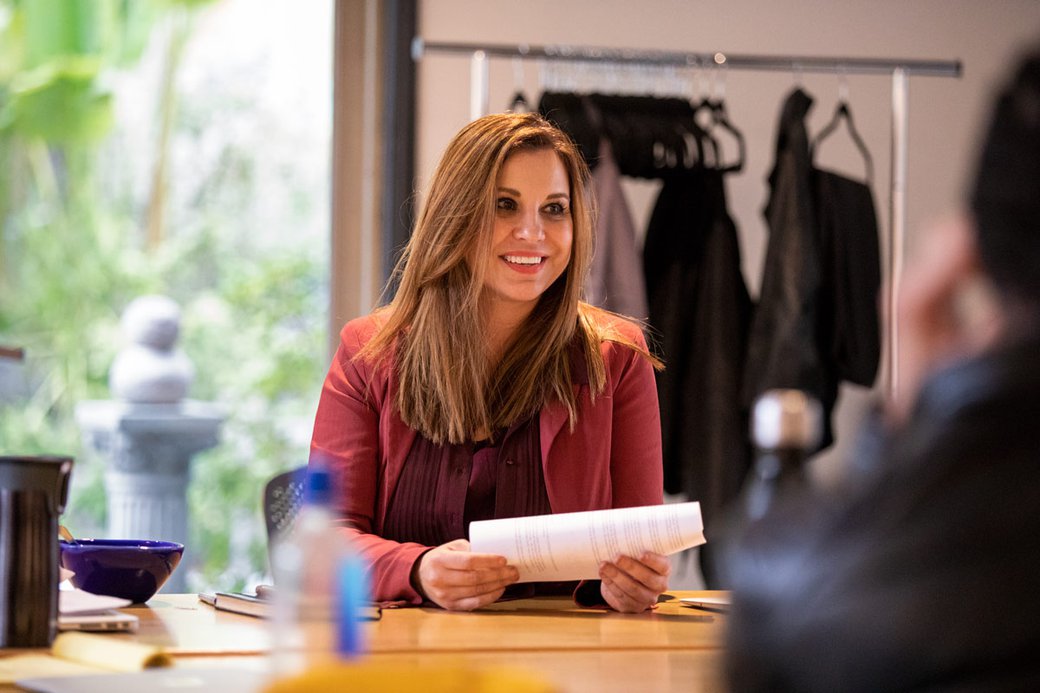 Jasmin Darznik teaches in the MFA in Writing and Writing and Literature programs. She's the Iranian-born author of The Good Daughter: A Memoir of My Mother's Hidden Life and Song of a Captive Bird, named as one of the best novels of 2018 by Newsweek, Reader's Digest, Ms, andVogue. Song of a Captive Bird is about a feminist poet from Iran named Forugh Farrokhzad who was really active in the 1950s and 1960s. Her work was heavily censored for many years because she was super bold, incredibly outspoken, super feminist, and really embracing of her sexuality and her politics. She's an icon in Iran. I've listened to the audio version of the book twice.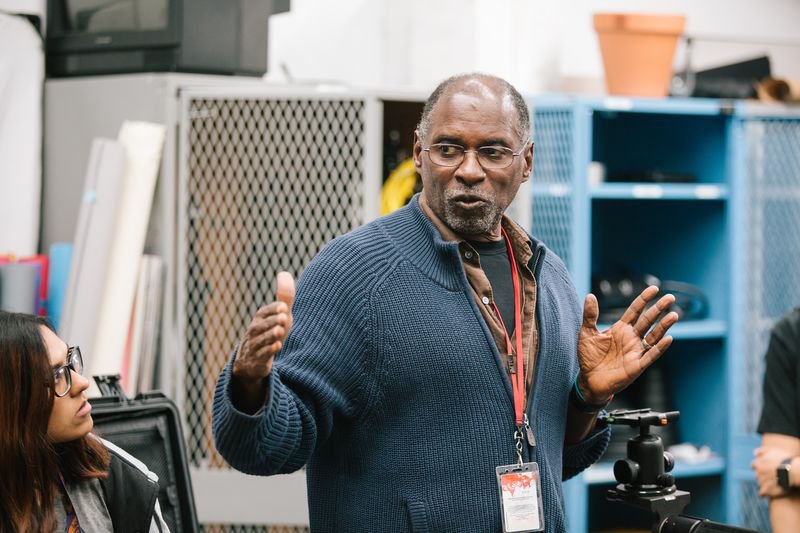 Chris Johnson is the chair of the Photography program. He's the creator of the Question Bridge: Black Males, which follows up on a one-hour video work he developed in 1996 called Question Bridge, which looks at class issues within the black community. Question Bridge: Black Males was produced with a team including Hank Willis Thomas, Kamal Sinclair, and Bayeté Ross Smith. It's been shown lots of places and was inducted into the permanent collection of the Smithsonian National Museum of African American History and Culture in 2016. It's a really significant project where they interviewed African-American men and is presented as a multi-channel video installation where the men can ask questions of each other and then also provide answers. So you see people speaking to each other, but also to the space. It's intergenerational, it's community-based, and it's an oral history project.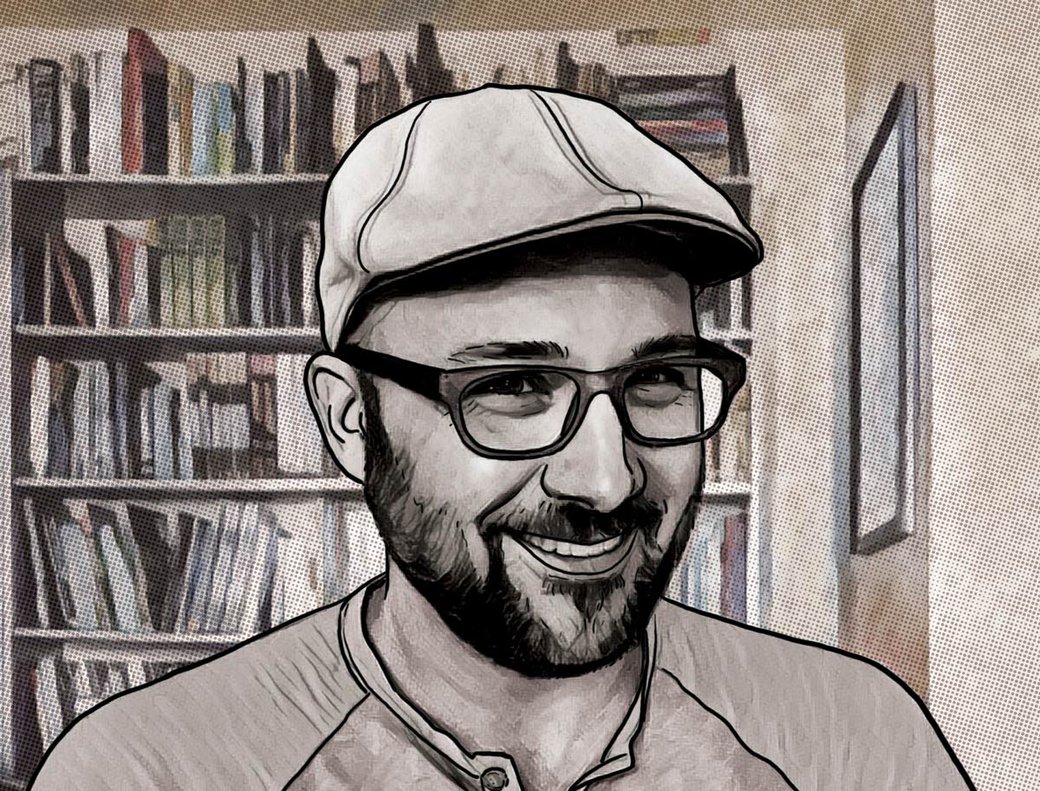 Matt Silady is the chair of the MFA in Comics program and also teaches in the MFA in Writing and BA in Writing and Literature programs. Among other things, he partnered with the open education platform Kadenze to create a Comics MOOC, a free, online comics course now reaching thousands of students from 81 countries around the world.
Justin Hall is an assistant professor of comics and the co-creator of the comic book series True Travel Tales, Hard to Swallow, and Glamazonia. He's also the editor of the award-winning comic collection No Straight Lines: Four Decades of Queer Comics. He curated a museum show of the same name at the San Francisco Cartoon Art Museum, the first museum show in the world celebrating LGBTQ cartooning.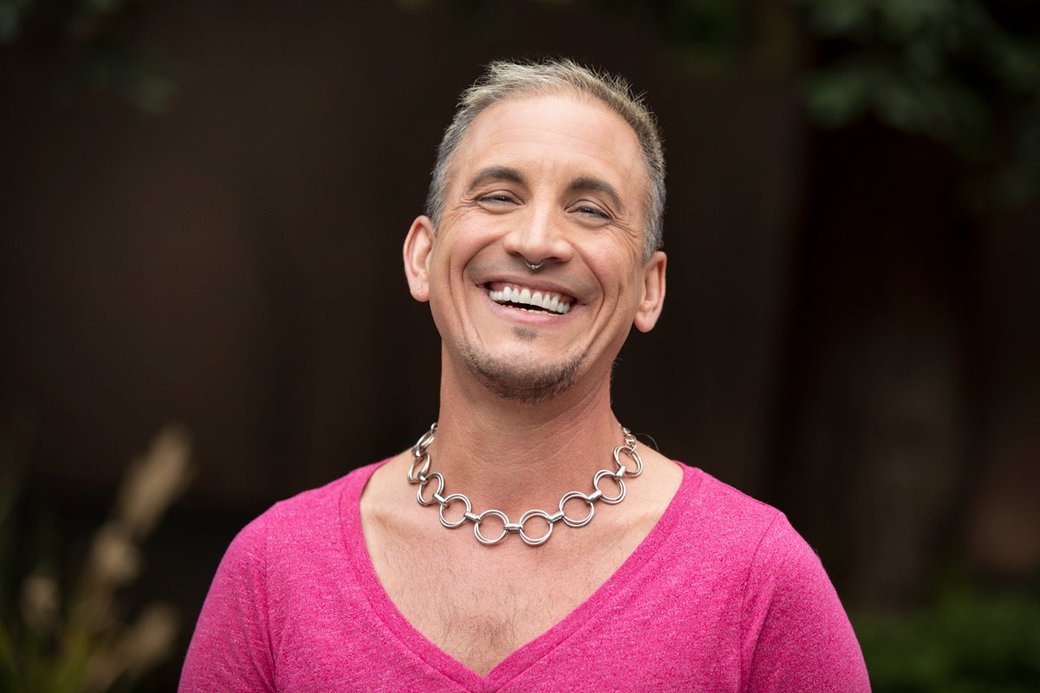 Julian Carter is the chair of the Critical Studies program and teaches in the Visual and Critical Studies program. Check out his work The Heart of Whiteness: Normal Sexuality and Race in America, 1880–1940 and his ongoing work, The Transgenderational Touch Project.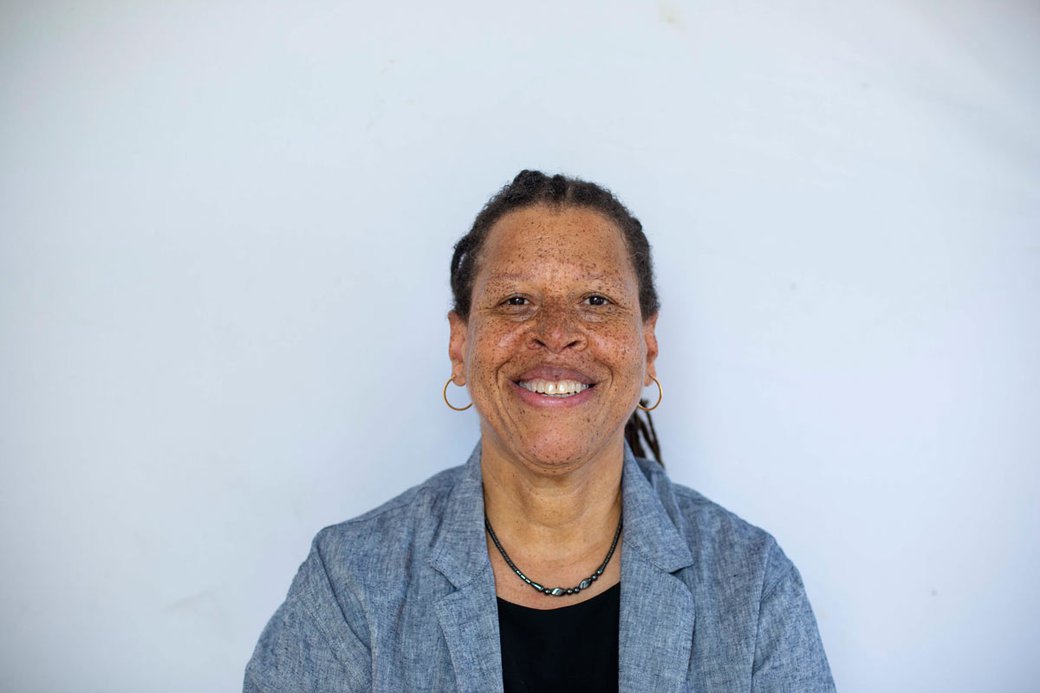 Jacqueline Francis is the chair of the Visual and Critical Studies program and also teaches in the Sculpture program. She wrote Making Race: Modernism and "Racial Art" in America and co-edited Romare Bearden: American Modernist. She's now working on a book about African-American artists who took part in federally funded art programs in the 1930s and whose work helped shaped the emerging art market in the United States in the 1940s.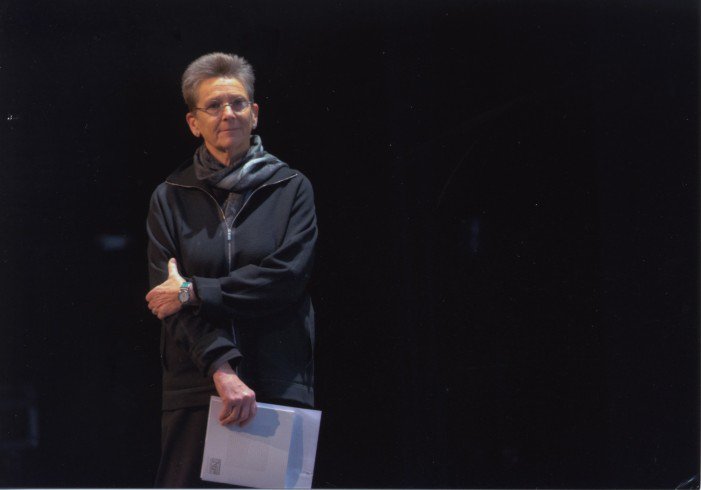 Tirza Latimer is the interim chair of the Visual Studies program and an associate professor in the Visual and Critical Studies program. She co-wrote Seeing Gertrude Stein: Five Stories with the art historian Wanda Corn, which won a Stonewall Book Award from the American Library Association in the nonfiction category. Her latest book, Eccentric Modernisms: Making Differences in the History of American Art, won a Wyeth Foundation for American Art Publication Grant.
Speaking of creating art, what's the best artistic advice you've ever been given?
Brainstorm. Follow your intuition. Art doesn't have to "look smart." Trust that what you've learned can emerge in your work in sensory and nondidactic ways.
And one more. What's your top recommendation for something unusual to do in the Bay Area?
Go to Audium! It's a small theater at Bush and Franklin that broadcasts "sound sculptures" from 169 speakers. You sit in complete darkness on Friday or Saturday nights and the sound whooshes through you. It's almost all found sound—kids playing in a park, the sounds of the ocean, or the train. It's totally amazing. And lots of rules, like you have to show up on time. But it's one of my absolute favorites.
Learn more about CCA's humanities and sciences programs and attend an event.