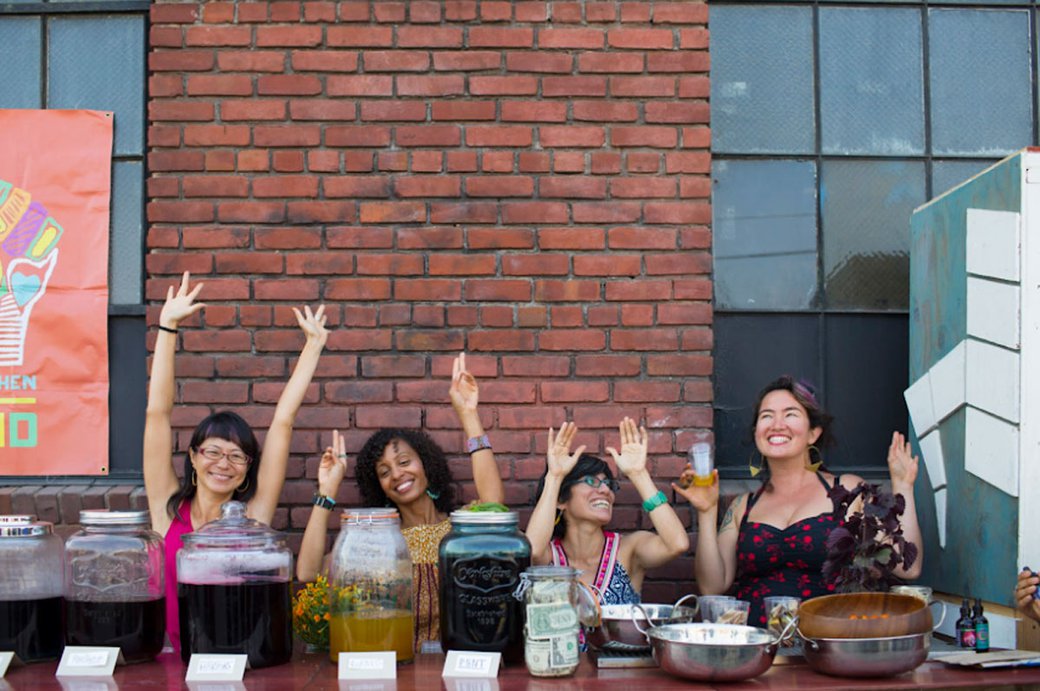 Artist and educator Sita Kuratomi Bhaumik's path to co-founding the People's Kitchen Collective in Oakland almost didn't happen. Born and raised in Los Angeles to Japanese-Colombian and Indian parents, Bhaumik earned a BA in Studio Art from Scripps College and then began thinking about what might come next. An MFA seemed logical.
But her initial application to CCA got lost in the mail, and were it not for a personal invitation from former CCA Social Practice Chair Ted Purves, Bhaumik may well have taken a different path. Purves (who passed away in 2017) suggested she apply for CCA's MFA program, and he proved to be hugely influential after she did just that, giving her the encouragement and space to pursue what would become her focus: social practice art.
"Ted created a space where he was really excited for everyone to experiment as much as possible," she says. Through that process of learning by doing, Bhaumik took her next leap, deciding to pursue a dual degree that combined an MFA in Fine Arts with an MA in Visual and Critical Studies.
That decision, she says, proved to be a springboard. The interdisciplinary combination of creative practices got her thinking about "how art and community intersect and connect and are really dependent on each other." She was primed for what would come next: co-founding the People's Kitchen Collective.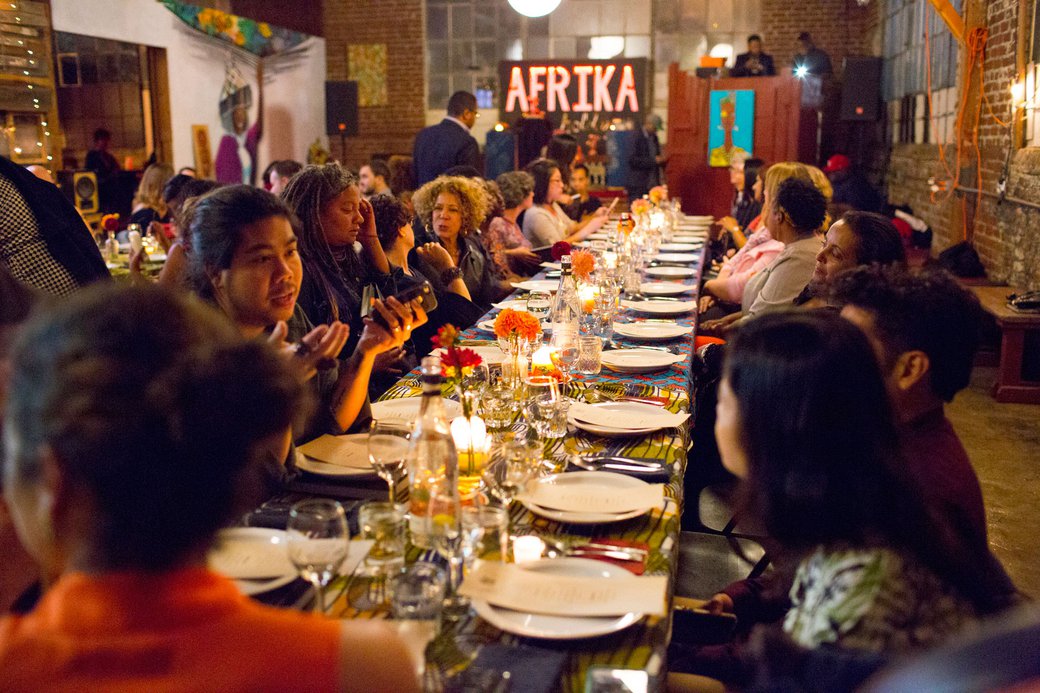 The People's Kitchen Collective (PKC) is a food-centric political education project and cooperative business based in Oakland. Bhaumik and her co-founders, Jocelyn Jackson and Saqib Keval, built PKC as a means to spur dynamic political education through art, activism, and food.
The seeds of what would become the People's Kitchen Collective were first planted in 2007 by Keval. He was working in fine dining to pay the bills while pursuing activism—in the form of community-based organizing, social justice, and civil rights work—to address social inequities and division, and he realized these two seemingly disparate strands of his life could be linked. As he later told Bon Appetit, he recognized his work in the fine dining world was fueling further exclusion. He wanted to create an alternative, a place where food brought people together rather than driving them apart.
Enter: an Indiegogo crowdfunding campaign for what would eventually become People's Kitchen Collective. The effort exceeded expectations. Using their supporters' generous donations, the initiative got to work bringing together artists and activists for their first community meal in West Oakland.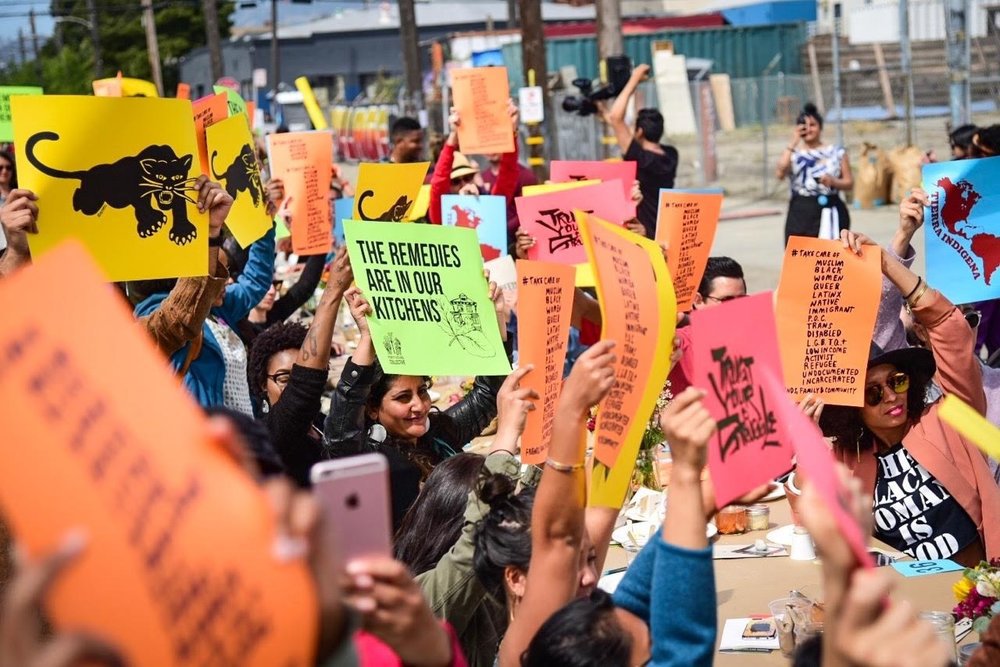 In its earliest days, PKC continued this act of gathering a community to break bread together. It offered donation-based monthly meals built around recipes that told the story of a political movement. It was grassroots learning and engagement through eating and storytelling. Diners came and paid what they could with all proceeds going directly to the political project behind each menu's story. All kinds of people came—families, teachers, couples, the displaced. Nothing was publicized; it was all through word of mouth.
Bhaumik and Jackson joined forces with Keval a few years later, and together they took the project to a new level, turning it into a collective that could reach far more people and bring together poets, musicians, artists, community organizers, cooks, and people of different neighborhoods and generations.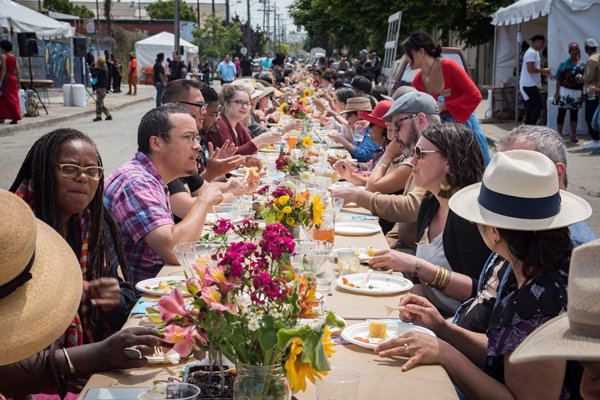 The team continues to take inspiration from past social and political movements, such as offering large-scale community meals through a PKC Free Breakfast Program, inspired by the Black Panther free breakfast program launched in California in the late 1960s. The culminating meal of PKC's 2018 four-meal series fed 500 guests at a single long table that spanned an entire West Oakland city block; dishes served were reimagined interpretations on the former Black Panther meals. All told, PKC has served thousands of free breakfasts in West Oakland in collaboration with local artists, poets, musicians, farmers, and youth groups.
Today, the People's Kitchen Collective has evolved into a creative practice that reflects the diverse histories and backgrounds of Bhaumik, Jackson, and Keval. It now offers a yearlong meal series with the inspiring mission to take food "from the farm to the kitchen to the table to the streets."
"In a gentrifying city...it's a struggle for anyone, much less artists, to claim space."
Visiting Lecturer (MFA Fine Arts, MA Visual and Critical Studies 2012)
For Bhaumik, her work with the PKC ties back to her artistic work and underscores its relevance in the world. Through her creative practice and her role teaching a CCA Diversity Studies course called A Taste of Resistance, she explores the many ways artists can reclaim space (just like diners reclaiming space through the collective).
"Particularly in a gentrifying city where it's a struggle for anyone, much less artists, to claim space," she says. "Everyone gets challenged about whether art is superfluous, and while it's absolutely a privilege, it's also urgent and critical, tied to our mental and physical survival."
Bhaumik has exhibited her work and collaborated in the U.S., Holland, Ireland, Hong Kong, and Mexico. Her work has appeared at the Yerba Buena Center for the Arts' Bay Area Now 8 showcase, Asian Art Museum of San Francisco, San Jose Museum of Art, Oakland Museum of California, Southern Exposure, Galería de la Raza, 826 Valencia, Stanford University, Smithsonian Asian Pacific American Center, and the Future Food House in Rotterdam. She has a new book coming out from Kaya Press and continues to teach at CCA and exhibit. Explore more of Bhaumik's work on her website: sitabhaumik.com