Rolling Stone published its list of best Pixar characters in 2016. Joy, the happiness heroine of Inside Out, was the top pick. Sweet yet determined waste-collecting robot WALL•E, Dory, the blue tang fish with an absurdly short memory, and imperious food critic Anton Ego from Ratatouille were next in line. Joy is #1 because she represents, according to the magazine, "a classic Pixar switcheroo: taking a character that's cute and fun and then letting her lead the audience to a deeper understanding of what it means to be human."
Compelling stories stem from the complexity of human behavior: spontaneous, calculated, sorrowful, hard-won. CCA's Animation Program asks students to consider how motivation influences action. How do characters advance along story arcs? How do they grapple with identity and voice? These questions were at the heart of the [email protected]: Summer Story Intensive, a collaborative program with Pixar Animation Studios that focused on new voices in animation.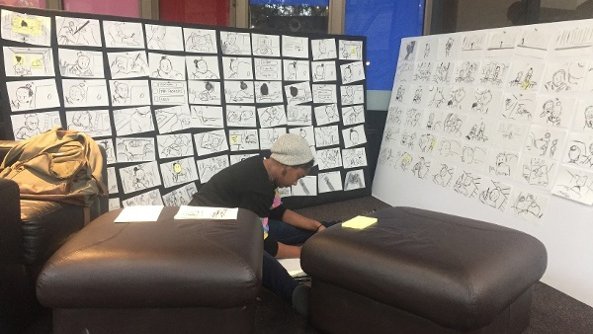 Supporting new voices in animation
Led by Annie Award-winning artist Sam Hood, 18 students (all pursuing an animation degree) spent three weeks developing characters, sketching, illustrating, and creating storyboards. Sam, who has worked with leading studios like Wildbrain, OnAnimation, Laika House, and Blue Sky Studios, taught the group techniques for mining personal memories and shaping strong story spines with clear beats. Sam is also one of many Pixar-CCA connections, CCA faculty who currently work (or have worked) for the animation studio. This fall, Sam is teaching Advanced Visual Storytelling and a junior project production course.
A firm believer in the power of analog (informal drawing and freehand doodling), Sam's pre-production exercises were influenced by the six years he spent as a story artist for Pixar, where he contributed to Toy Story That Time Forgot (Christmas special), Inside Out, Dory, Cars 3, and Coco (Nov. 2017 release). Sam's work might even have contributed to characters on your "Best of Pixar" list.
Program structure and perks
Six of the 18 program participants were selected during CCA's animation degree Junior Review, an assessment of students' abilities, potential, and technical progress. The other 12, all non-CCA students, were chosen by Sam Hood and Elyse Klaidman, Pixar's Director of Exhibitions, Archive, and Educational Partnerships, based on their unique perspectives and exceptional drawing skills.
This year's group worked their way through a series of collaborative and individual exercises to create a complete story—with strong characters, crisis, resolution, and theme—via 2D illustrations. The culmination of the program was a visit to Pixar, where students were invited to pitch their final projects. Seven students rose to the occasion and impressed recruiters with their artistic talent and gift for poignant storytelling.
Pixar's generous sponsorship not only included all program costs but also additional perks that made the experience truly special:
Access to CCA's state-of-the-art animation labs and drawing rooms
Art supplies for classrooms and students
Free on-campus housing for students from other California colleges
Breakfasts, lunches, and a welcome dinner
Evening lecture series featuring eight Pixar guest speakers
Exclusive tours of Pixar and The Walt Disney Family Museum
Lecture Series Line-up
Featuring eight Pixar employees, the evening lecture series gave students a chance to hear from working professionals in the animation industry. From production design to film editing, the speakers discussed the aesthetic experiences and technical skills that helped shape their careers.
Kathy Ringgold, Film Editor
Kathy described the editorial team at Pixar as "the keepers of the film." When she's not working on amazing movies like Monster's Inc., Finding Nemo, Ratatouille, and Up, she plays sax in a local rock band.
Beth Sasseen, Senior Recruiter and University Relations Programs Manager & Allison Parker, Senior Recruiter for Film Production
Beth and Allison joined forces to share what Pixar looks for when hiring new animators, story artists, graphic artists, and interns.
Bill Cone, Production Designer
Bill's talk focused on finding meaning in the physical world through careful observation and art studies. He shared his experiences developing environments for Toy Story, A Bug's Life, Toy Story 2, Cars, and Cars 3.
Aaron Hartline, Animator
An artist who's been at it for 20 years, Aaron has yet to run out of fresh ideas. His "Turn On Your Light Switch" presentation unveiled a few tips of the trade. Fun fact: His first animated creations were monsters in the video game Rampage.
Steve Pilcher, Production Designer and Illustrator
A self-taught artist, Steve talked about the importance of visual development through production design. His credits? The Academy Award-winning films WALL•E, Brave, and Finding Dory.
Sylvia Wong, Lead Layout, Camera & Staging Technical Director
Sylvia focused her presentation on how to best tell visual stories through careful camera and staging decisions. She recently transitioned these skills from the big screen (Finding Nemo, Cars, and Monster's University) to the layout of a Disney theme park ride.
Leila Chesloff, Technical Director (consumer products) & Pixar University Project Manager
The journey from idea to screen is not always an easy one. Leila illustrated the challenges, drawing from her experiences training technical artists on Inside Out and The Good Dinosaur.
Portfolio piece and Pixar pitch
The end goal of the [email protected] program was a short, polished portfolio-ready story. Students practiced visualizing emotion, analyzed their favorite film characters, and improvised story spines in small groups to reach that aha moment when everything—features, wants/needs, obstacles, stakes, themes—finally comes together.
The culmination of the program was a visit to Pixar Animation Studios in Emeryville, a short distance from CCA's Oakland campus. All of the students attended and seven had the opportunity to pitch their stories to a Pixar educational recruiting team. Their characters' voices, combined with dramatic pacing and personal insights, brought some panel members to tears. If editors are the keepers of the film, then animators are the keepers of emotional truth.