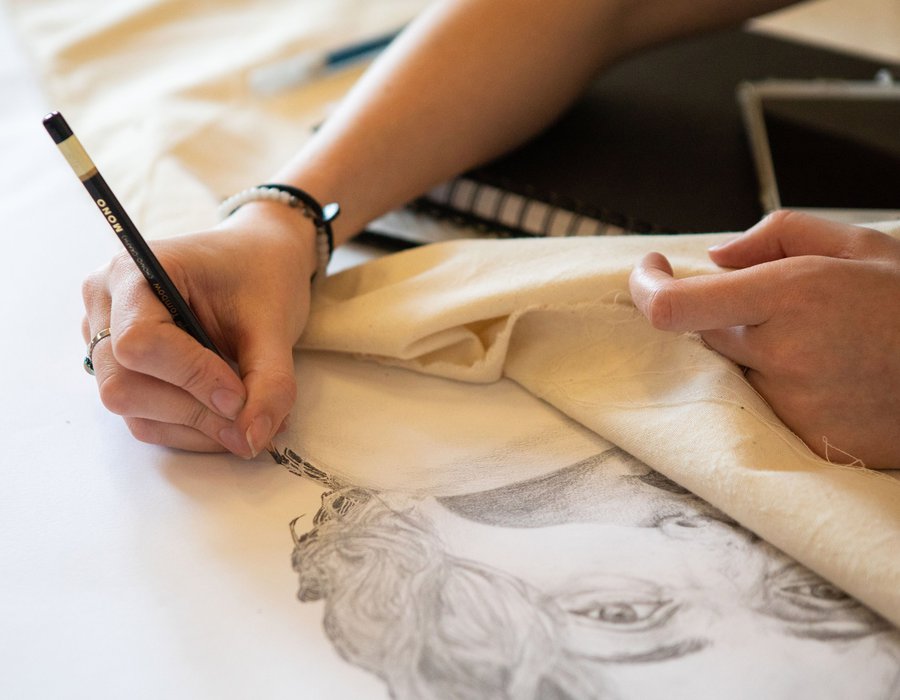 Transcend the boundaries of the medium and engage with critical issues through an imaginative and expansive fine arts practice.
Take your work in unexpected directions
We provide aspiring fine artists with a supportive community and rigorous culture of critique. Students develop their technical and conceptual skills in drawing and painting studios while sharing and debating ideas with faculty, peers, and visiting artists. With a broad notion of what fine arts can be in the world, and the opportunity to make all kinds of art objects, our students prepare for MFA programs as well as lifelong careers as practicing artists.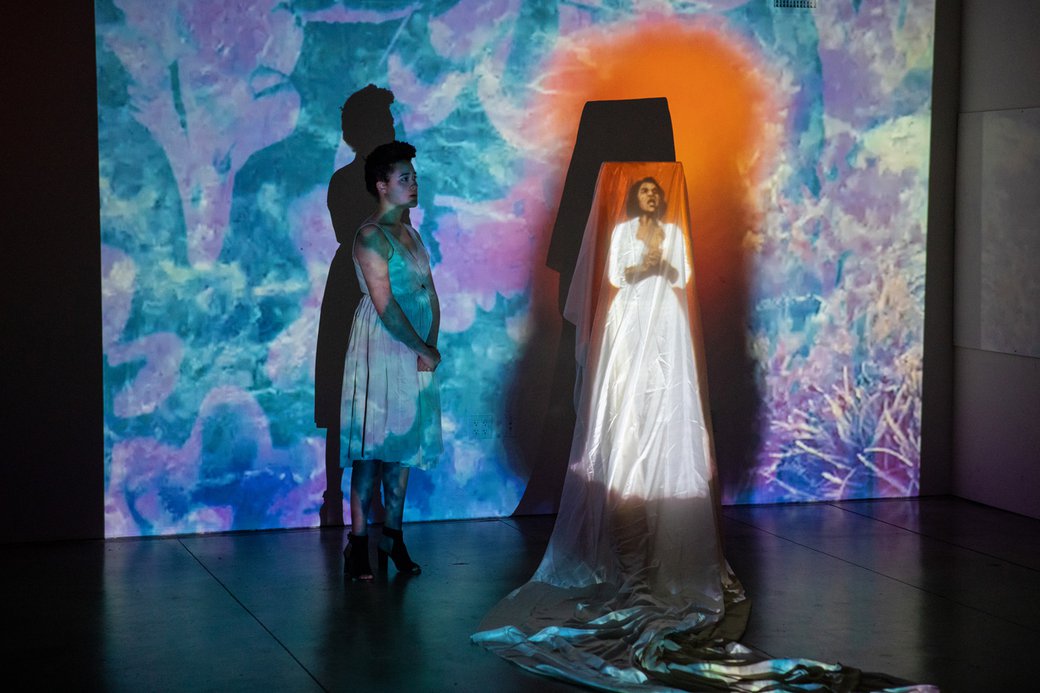 Inspiration for taking bold leaps
We're one of the best painting and drawing programs in the country for artists who enjoy working across disciplines, including photography, sculpture, film and video, textiles, and performance. From oils on canvas to sculptural environments, we provide the materials and resources you need to make compelling arguments through objects and exhibitions. Our dedicated painting studios and drawing studios, which are large multipurpose rooms, encourage interdisciplinary approaches to fine art. Students synthesize ideas and materials, collaborating with peers and exploring conceptually rigorous work.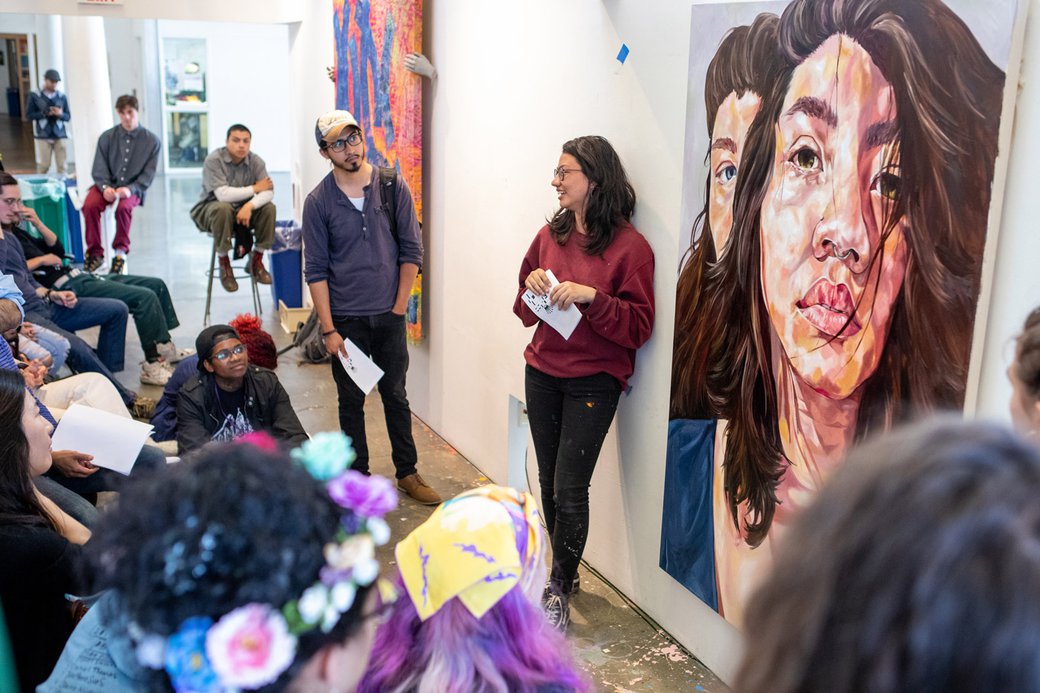 Space for self-generated projects
During their junior year, students have their own small studio space for defining their voice and developing ideas. Seniors, who focus on how artworks from all their upper-level studios interrelate, have larger spaces for completing their thesis projects. The community comes together in the main painting and drawing studios for tutorials, artist talks by faculty, and various student-led events, such as Figure Drawing Night. With a supportive culture and dedicated spaces for reflection throughout their studies at CCA, students learn to develop and maintain a thriving practice.
Vision and tools for contemporary practice
As students work toward a cohesive body of work, they develop and hone the following core skills:
Think critically to synthesize ideas and materials
Conduct research to expand material vocabulary
Formulate creative questions or solutions in dialogue with historical and/or contemporary contexts
Identify the appropriate artistic form
Leverage visual literacy skills to deepen context of work within the larger cultural practice of fine art
Develop technical skills consistent with entry-level professionals
Actively engage with pressing cultural, political, and social issues
Demonstrate leadership through community projects
Document and present work for public contexts and application purposes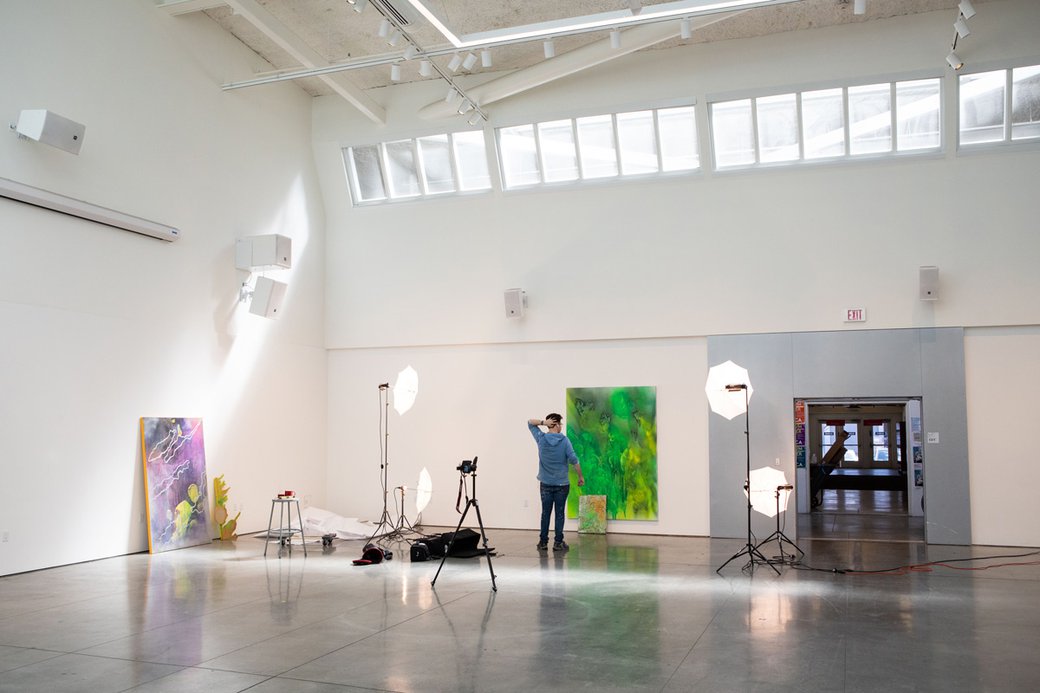 Beyond the studio and into the world
The fine arts programs at CCA host a diverse group of visiting artists each year. You'll be exposed to new trends and practices in contemporary arts, which helps you confidently engage with the ideas you're most passionate about. Most of our drawing and painting studios take students to Bay Area museums, galleries, and nonprofit spaces, many of which are within walking distance of our San Francisco campus. These opportunities encourage you to think critically about your contributions to the field and help you make meaningful connections to arts professionals in the world at large.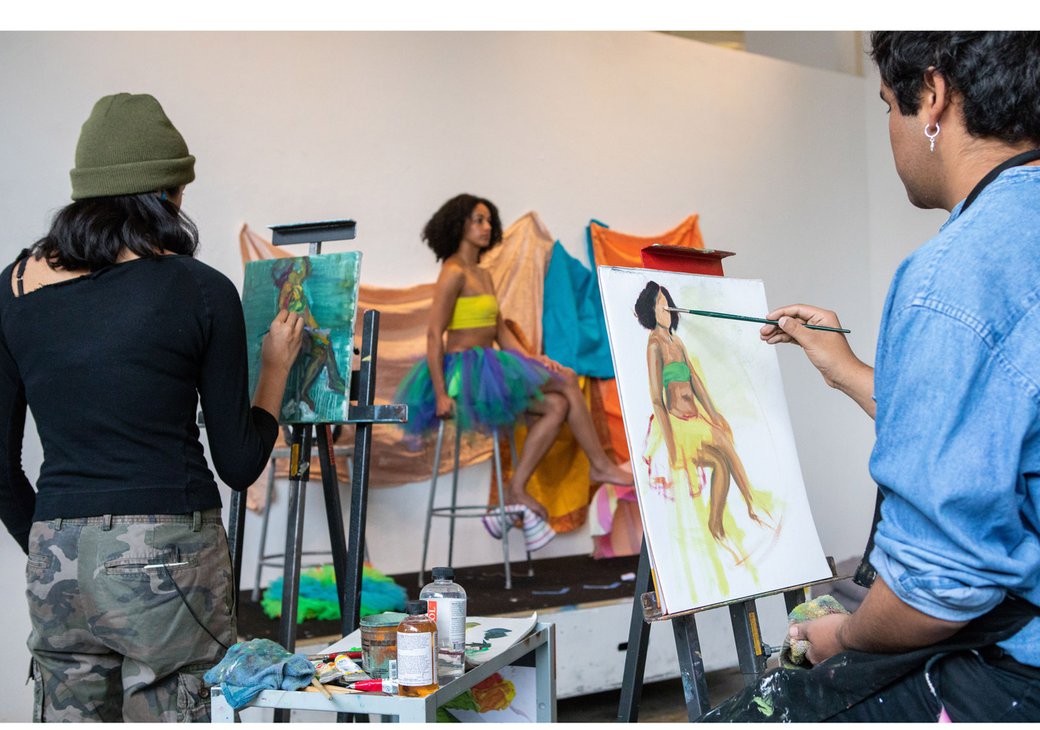 Electives that empower you to explore
Students interact with different kinds of artists and draw inspiration from the diverse range of fine arts and design practices at CCA. We encourage you to pursue many electives and push beyond your comfort zone in classes outside of our program. You can make films, manipulate textiles, sculpt, illustrate, take photographs, and experiment with letterpress and screenprinting. The more materials and resources you gather, the more robust and fulfilling your studio experience can be at CCA. While our main motivation for creating a flexible curriculum is to help you hone an independent creative practice, we also want you to feel empowered to break the rules.
Materials and resources
Easels
Halogen lights and options for staging
Rolling painting walls
Extensive props
Painting racks for storage
Large tables and palette tables
Studio space for juniors
Special collections at CCA libraries
Private studio space for senior thesis work
Our fine arts faculty exhibit and publish widely. They mentor students through material and conceptual experiments, drawing from their experiences in mixed media, video art, abstract painting, photography, printmaking, and more.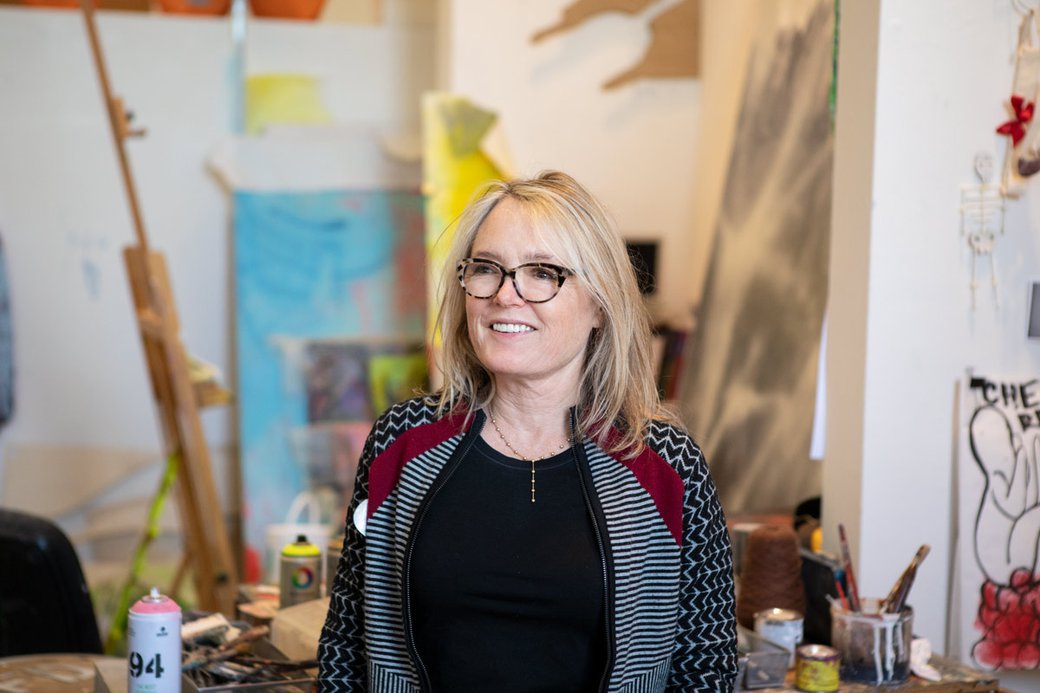 Chair Linda Geary's work ranges from book-sized to monumental and is inspired by material processes and reinvention. She's been featured in exhibitions at Yerba Buena Center for the Arts, Mills College, Kadist Foundation, Oakland Museum of California, and Berkeley Art Museum and Pacific Film Archive. Writing about Linda's work is included in Artforum, Huffington Post, Art Practical, San Francisco Chronicle, and elsewhere. In 2013, Geary co-organized Painting Expanded, a one-day symposium at CCA that included presentations and panel discussions with internationally recognized artists from around the U.S. View part one and part two of the symposium to learn about ten artists' diverse approaches to painting.
Shape an exciting and diverse studio practice
Our program has an exploratory curriculum structure that includes—and goes beyond—the traditions of painting and drawing. For example, students can work across disciplines through our sequence of open studio electives, expanding in scale and discovering new materials. From tactile research and conceptual development to critique and presentation, students get hands-on experience with every aspect of art production. View sample courses.
Investigate ideas through every dimension
Before diving into their chosen major, every undergraduate participates in the First Year Experience. Students explore a wide range of materials and tools over the course of two semesters. Faculty from different disciplines guide studio projects, group critiques, and theoretical discussions, setting students up for success throughout their major coursework.
Students graduate from the Painting and Drawing program with the critical thinking, leadership, and visual literacy skills to forge their own distinct paths. With experience in a variety of mediums and methods, alumni cover a lot of ground in their independent practices, including illustration, curation, and glasswork, to name just a few avenues. Alumni are also prepared to take an entrepreneurial approach to their careers. They understand how to work with gallerists, navigate the nuances of the art market, and deliver on production and exhibition schedules. Most importantly, alumni continue to evolve their artistic voices, finding unique ways to incorporate their lives and interests into groundbreaking work.
Potential career paths
Professional artist
Arts educator
Business owner in the creative field
Cultural innovator
Artist's studio assistant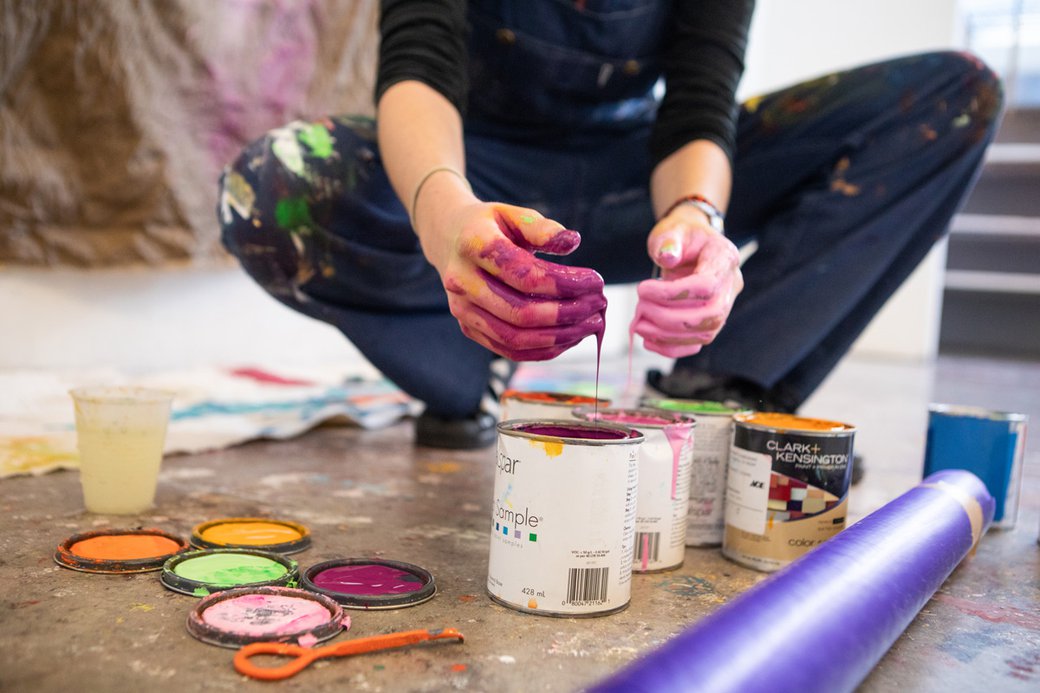 Our students are open-minded, creative, and critical. They thrive with a healthy balance of faculty mentorship and private, undivided time and space for creating, whether they think of their practice in terms of brush and canvas or something more expansive. Our goal is to provide you with the critical, conceptual, and technical skills you need to flourish as an artist.