The exhibition plaYplaYplaY opened with CCA graduate artist Liz Hafey (Visual and Critical Studies/Fine Art) blowing up whoopee cushions and then slowly stepping on them, one at a time, as she walked across the sidewalk outside of the CCA PLAySPACE Gallery. It sounded like someone was passing a lot of gas. Viewers of the performance looked at each other with the same expression: Should I laugh at this? One giggle here, another giggle there.
For the curators of the show, the answer is yes: We should laugh, play, and have fun. Organized by CCA graduate students Marco Bene, Zoë Latzer, Meghan Smith, and Klein Voorhees, these budding curators ask visitors of the exhibition to consider what play means from an artistic and intellectual standpoint, as well as simply what play means to the viewer. Give yourself permission to laugh with an artist stepping on some inflated whoopee cushions.
The exhibition, on view through March 11, 2022, makes use of the entirety of the three-room PLAySPACE Gallery, and includes works by CCA artists, Bay Area artists, and, in a special partnership, works on loan from the Kadist collection. Each piece was selected because it connected to the idea of play. So what does play mean for these student curators?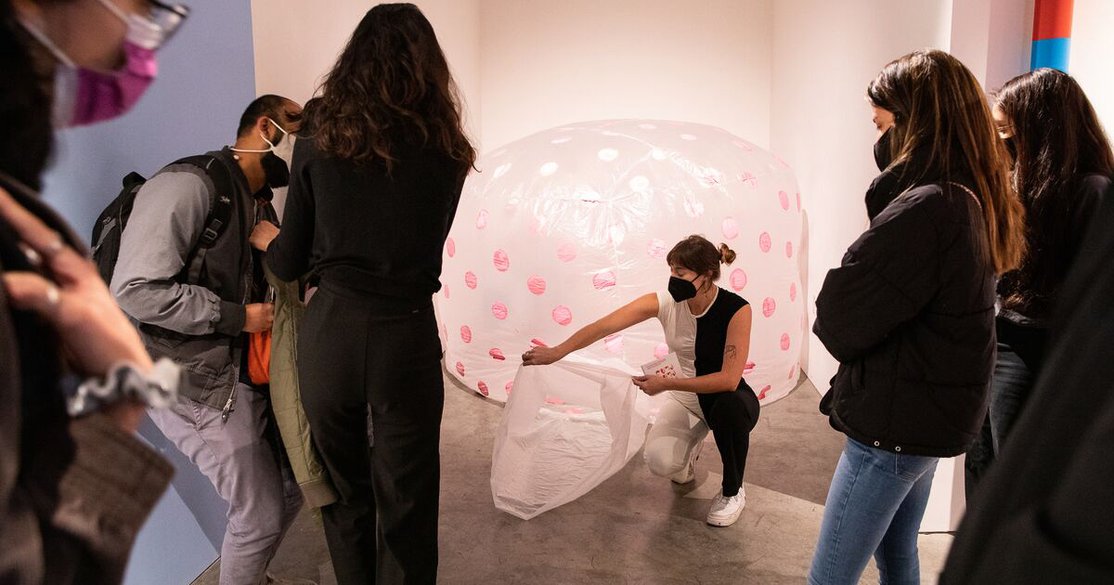 For Marco Bene (Curatorial Practice), anything can be play, but it also comes from within. He says, "We are all constantly playing, whether in interviews, on my bicycle ride home, and so on. However, I think artists relate to play in a deeper way—through intuition. Both intuition and play seem to be intrinsically linked."
Play can also be a tool for artists to explore difficult, complex subjects. Zoë Latzer (Curatorial Practice) explains, "Play can be powerful in revealing systemic injustices, subverting gender expectations, and confronting the absurdity of our political and ecological realities."
"Play can mean building a non-verbal language and playing with expectations. And many of the artists in this show do that; they experiment."
One of the first works on view that captures the idea of play as a way to reveal and explore complex topics is the work Tapitapultas (2012) by artists Donna Conlon and Jonathan Harker. In this video work, the artists zoom in on thousands of bottle caps, catapulted by disposable spoons. It is both playful and yet a "[commentary] on mass consumerism and pollution by way of the game [the artists] invented," according to the Kadist collection, who loaned this work for the exhibition.
The body can also be a site of play. Included in the exhibition is work by the CCA undergraduate artist Androgony King (Photography). Some of the artist's photographs and self-portraits play with gender expression, and others take a unique view of the human hand and foot. Klein Voorhees (MFA Writing) says, "Play can mean building a non-verbal language and playing with expectations. And many of the artists in this show do that; they experiment."
While some works comment on themes like the environment and reflections on gender, some are just fun for fun's sake. "Many works here deal with important issues, but in a playful way. Some works, such as those by Liz Hafey, Sofie Ramos, or Petra Cortright simply make me laugh," says Marco Bene.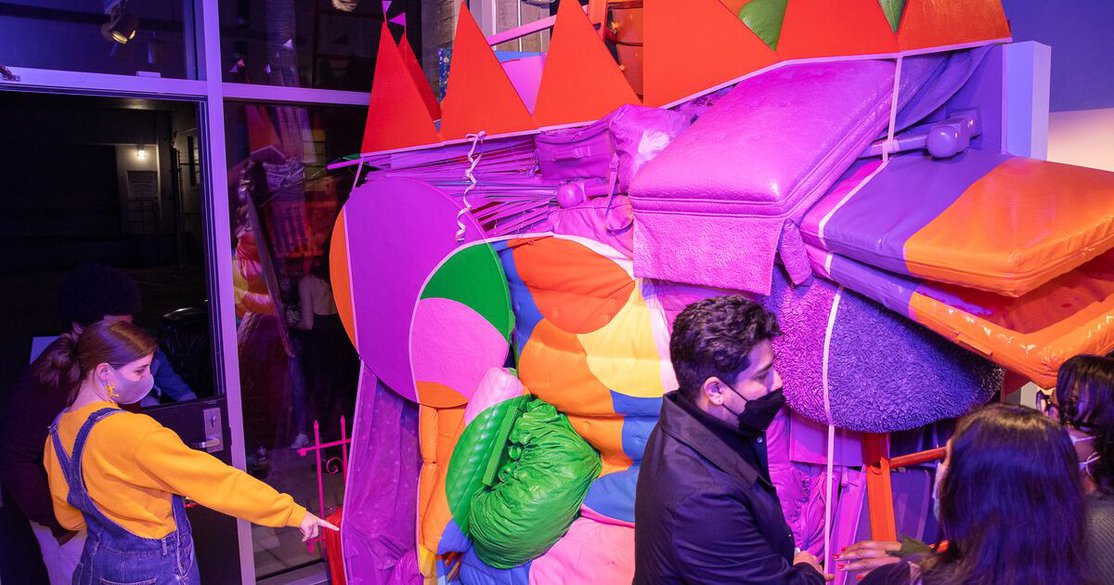 With works of varying size, Sofie Ramos's site-specific piece, fortress (2022), takes up nearly one whole gallery, and then some. The San Francisco-based artist, who creates work in bright, whimsical colors, often fills out a given space, expanding it to fit or even spill over. In her work for plaYplaYplaY, Ramos tightly packed chairs, mattresses, ottomans, suitcases, and a number of other home objects into a purple-hued tower topped with small flags.
Exemplifying the experimental (and playful nature) of the exhibition, Ramos took advantage of the gallery space's location at the ground floor of an apartment complex. During one tenant's move out, Ramos noticed a forgotten lamp that, for her, needed a new life in an art installation. When asked, the tenants gladly gave the lamp to Ramos. She plugged it in and added it to the tightly packed installation so that it lit up from the outside.
Installing plaYplaYplaY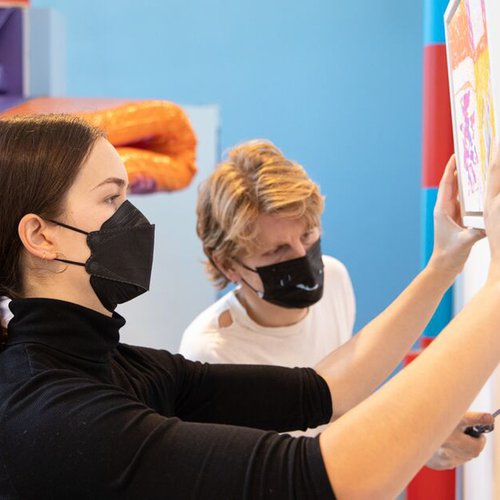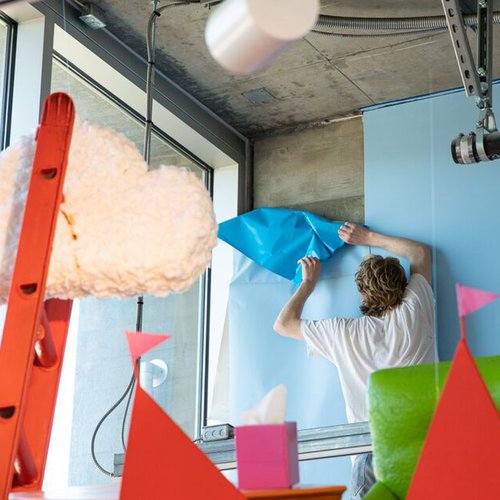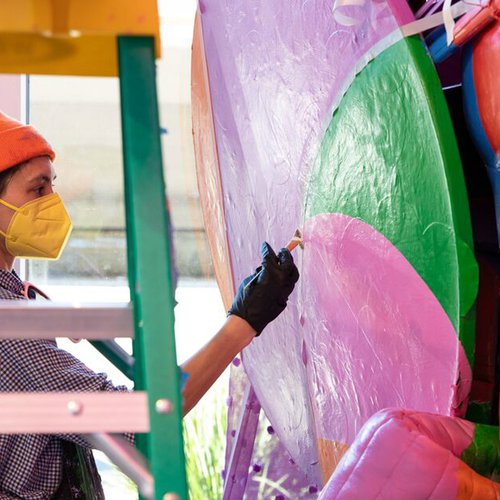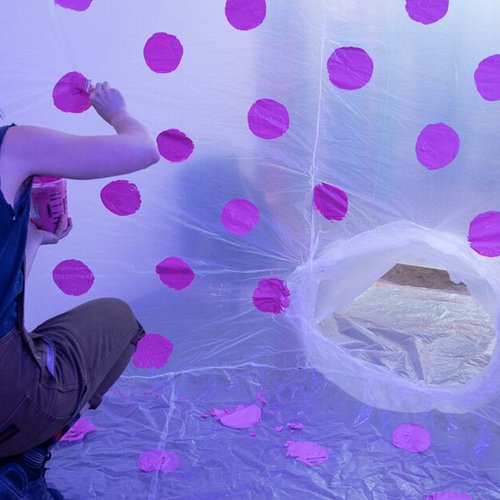 Indeed, putting together the exhibition was an act of experimentation and learning by doing for the student curators. "We had an original idea and preliminary layout, and once we got into the space it evolved," says Meghan Smith (Graduate Visual and Critical Studies/Curatorial Practice). "Sofie Ramos, for example, added more to her piece as she went, and then we noticed the purple in her work connected to the couch in Nick Lamkin's risograph prints. So we wanted those works to dialogue with each other in the space."
The exhibition also allows CCA graduate students from across disciplines to work on something together and gain practical experience staging an exhibition. Students from any graduate program at CCA can apply to the PLAySPACE directorship, which provides a stipend and budget to curate the PLAySPACE Gallery. Klein Voorhees, who is in the MFA writing program, says, "This opportunity to put on an exhibition in the PLAySPACE gallery allowed us to make connections with our community and across the campus, which is something we don't get to do every day."