Immersive experiences inspire an ethical movement
Exploring production practices in fashion design
In April 2019, CCA's Design Lecture Series hosted Ayesha Barenblat, the founder of Remake, and Kindley Walsh Lawlor, former vice president of Global Sustainability at Gap Inc., for a screening of Remake's latest film, Made in Mexico. Following the screening, we held a panel discussion on the future of humane production practices in fashion design.
Remake is a Bay Area-based nonprofit organization that looks deeply into the fashion supply chain. It takes students and activists to production sites in Cambodia, Sri Lanka, and, most recently, Mexico to meet face to face with the women who produce clothing. On these trips, students see, hear, and record how the demands of the industry shape the lives of the garment makers. Remake's ultimate goal is to change the way we make, buy, and wear clothing.
CCA Fashion Design Chair Lynda Grose saw Remake's short film Made in Cambodia and recognized a natural fit for our Fashion Design program.
"As a small school," Grose said, "we are able to go from idea to implementation very quickly."
After watching Made in Cambodia, Grose invited Barenblat to speak at CCA, and in anticipation of the next film (or journey, as Barenblat likes to call them), entitled Made in Sri Lanka, students at CCA spent the summer between sophomore and junior year working on a proposal that included process books and research on Sri Lankan culture and supply chains.
"As a small school, we are able to go from idea to implementation very quickly."
CCA Fashion Design Chair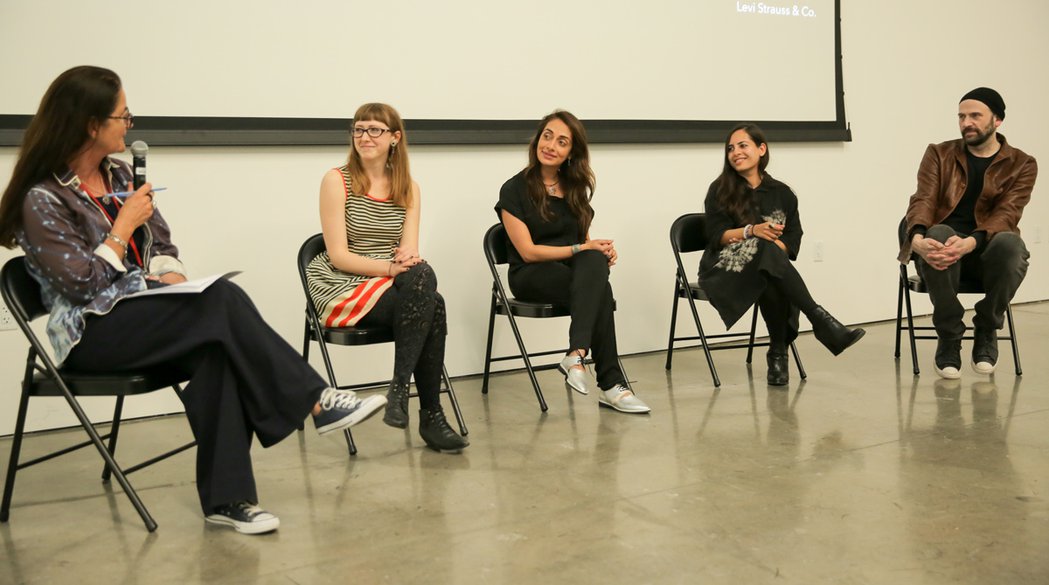 Changing the way designers think
Remake selected two CCA students, Mallory McDaniel and Misha Abbas, to participate in the film and screened Made in Sri Lanka at the college in spring 2018, and a new group of students began to consider their proposals for Made in Mexico. McDaniel and Abbas shared their experience with this class of rising juniors, and the Fashion Design program refined the process of application.
CCA students Sajida Silva and Yesenia Villaseñor were selected to be part of the Made in Mexico journey and also spoke at the most recent screening. This cycle of research, visit, record, and share is at the heart of how Remake helps influence the way designers think.
Grose opened the Made in Mexico panel discussion by talking about the troubling impact of fast fashion and the responsibility all of us have to address it. She spoke of the tragic and avoidable Rana Plaza factory collapse in 2013, where more than 1,100 factory workers were killed and more than 2,500 were maimed when an unsafe building crumbled under the weight of factory machinery.
"All of our collective skills are needed to address injustice in the fashion industry," Grose said. "Economics, profits, efficiency—these are the values that drive this kind of building, this kind of labor, and even drive the reduced aesthetics of what we design and make. But fashion is so much more than this."
"When we [Remake] think about sustainability, we are putting women front and center."
Founder and CEO of Remake
Sustainability and women's rights intersect
When Barenblat took the floor, she helped the audience make connections between sustainable fashion and women's rights by painting a constellation of fast fashion, exorbitant water use, landfills, and repetitive low-wage labor.
"When we [Remake] think about sustainability, we are putting women front and center," Barenblat said.
She described fashion as an industry where predominantly women design, produce, and buy the products; but top executives, factory owners, and union bosses are almost exclusively men. Remake posits that we aren't hearing the voices and stories of women, and that those stories reveal important effects of global production. Speaking to her time spent in Mexico, Silva told the crowd, "When you meet the women that are making your clothes, it changes everything. Now there is a face and hands that made that."
For their own privacy and protection, the women who are the subjects of the films use their first names only. The Remake team meets with them for meals, visits them in their homes, meets their children, and gets a sense of their day-to-day lives. One woman named Oliva described her situation as one in which "we isolate ourselves in what is happening to us." Through the film, the audience comes to understand how the women are in a cycle of exploitation, harassment, fear of job loss, sexual abuse, and violence. Most are working to make a better life for their children—to give them choices for their future—but they rarely see those children because of the long hours they have to work.
"If you are poor and needy, you are material available to exploit."
Made in Mexico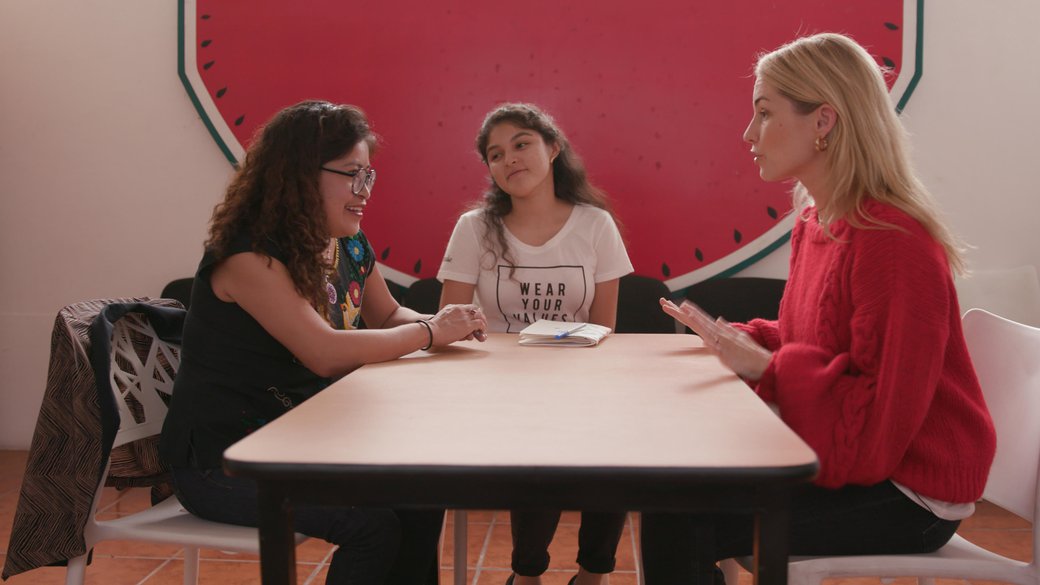 "As workers, we can't help each other financially, because we are all in the same position. But we can help with solidarity," a woman named Reina explains in Made in Mexico. She started working in a clandestine factory when she was 14 years old.
"If you are poor and needy, you are material available to exploit," Reina says in the film.
She took a course to learn about human rights, the rights of children, and workplace rights; now, she dedicates her time to teaching other women.
"Fashion is very good. I like it. But what about the brands?" Reina says. "They talk about ethics, have codes of conduct. And they speak very beautifully and care about their image. But they are not interested in the lives of the workers or the conditions of production."
As Silva described, "A lot of the narratives we hear, they tell you the women allow themselves to be treated so poorly, but that's just not true. We've been fed this single story of submissive women throughout history, but meeting these women was empowering. They organize themselves. They are actively fighting against the system that tries to hold them down."
"They organize themselves. They are actively fighting against the system that tries to hold them down."
CCA Fashion Design student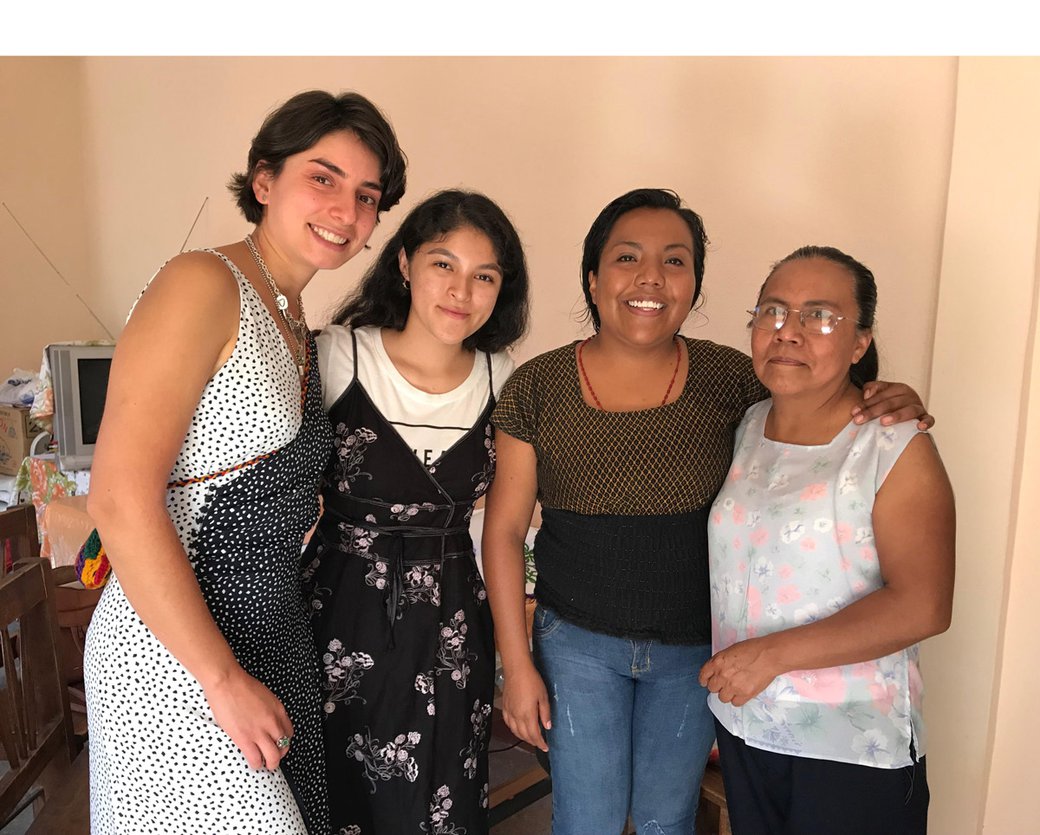 Companies and consumers can both make changes
After the screening of Made in Mexico, CCA Fashion Design program alumna and faculty member Annie Gullingsrud led a panel discussion with Silva, Villaseñor, and Barenblat. They expanded on ideas in the film and took audience questions. Gullingsrud is the founder of Design for AllKind, as well as a former fellow at the Cradle to Cradle Products Innovation Institute. She told the crowd, "You [and I] bring the values and principles developed here through our careers. … What can we do to support [the] respect and empowerment of women in the fashion industry?"
Silva spoke to the audience as consumers. Inform yourself, be curious, she said. Ask where your shirt is from, what the materials are, who made it. And if you're investigating this, "don't just take the official lines from the companies. Listen to the women [production laborers] who are speaking out about it," Silva urged. Everyone agreed that they want to see companies incorporate this thinking into production in the future, finding people in the community to lead and to audit production. Barenblat spoke directly to women entering fashion: "Be more discerning. Get a seat at the table. Advocate for fair wages." She reminded the audience that it takes time to influence this industry, but we make decisions everyday about what we buy and whom we choose to work with.
This was reinforced by the final speaker of the evening, Kindley Walsh Lawlor, who spent more than two decades at Gap Inc. in various roles, including as vice president of Global Sustainability, where she helped launch P.A.C.E., a program to empower and provide advancement opportunities to women in production labor. Walsh Lawlor also served on Better Work and the National Standard for Sustainable Agriculture. She described a career of going directly to sources, looking closely, and pushing for change. She urged everyone to think about the difference we can make, even when we're just starting out. The opportunity to do this kind of investigation, to ask questions, and work for change, makes Remake a deeply valuable opportunity for CCA students.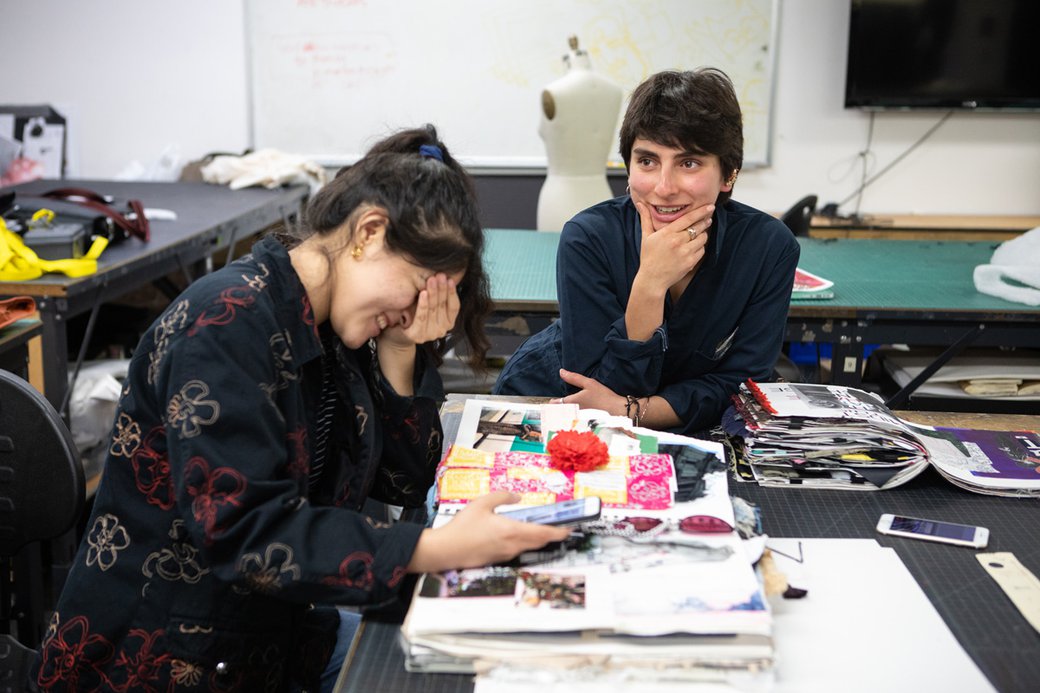 Remake ambassadors in the studio
Remake and Made in Mexico have been deeply influential to Silva and Villaseñor's work and time at CCA. Villaseñor described how important they have found sharing the experience and how many teachers have invited them to speak about the project in other classes.
"It's one thing to see the interest of students momentarily sparked," said adjunct professor Ghazaleh Khalifeh, "and another when that interest turns into a deeper curiosity that empowers them to step outside of what they already know, to become informed about global realities within and beyond the industry they strive to be a part of as pioneers for positive change."
Everything in Silva and Villaseñor's approach has been impacted by their experience. From the number of seams they use to the lifespan of the garment they design.
"When we talk about ethical making or sustainable fashion, we tend to focus on the materiality—less waste, less hazardous dye steps—but this trip really helped us go beyond that," Silva said. "We're not designing trendy clothing. We're not saying, 'What's super in style now so we can nail this market?' It's more like, 'How can we create a garment that can live in somebody's closet for 45 years? How can we create something that doesn't just have physical durability, but has emotional durability?' We are thinking about shifting the way that we make garments and the way we purchase them. Because all of this is affecting the women that we met. ... The best thing we can do is keep talking. We can get lost, frustrated with systems, overwhelmed by assignments and life. I try to keep going back to it. This is why I'm doing what I'm doing."
Designing a garment swap app
The notion of storytelling wed to ethical design systems informed Silva and Villaseñor's final project for their spring semester design course.
"It's not the same thing, seeing [the women] in a video or a photograph. Meeting them in person, actually speaking to them, they are so grateful to have someone listen to their story. We have an opportunity to make things that influence other people," Villaseñor said. "We kept returning to the same questions: 'Why do we keep designing new clothes? Why are we making more? What if we tried to create some kind of system where we just use the garments that we already have?'"
"We have an opportunity to make things that influence other people."
CCA Fashion Design student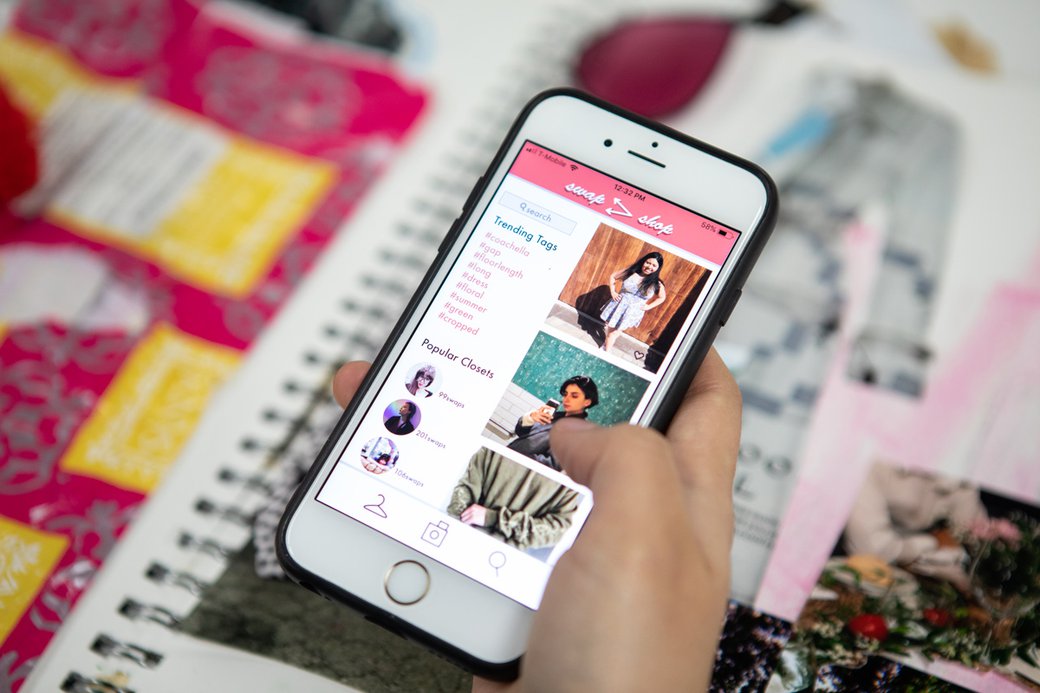 After many iterations, the pair created an Instagram-style garment swapping app called Shared Closets. On the app, a user creates a profile for a garment, then uploads a photo with details about its materials and care. If they're ready to initiate a swap, they choose one garment, while another customer chooses one garment. Then the two make a swap. The app enables shipping label printing, and users negotiate how long they'll keep the swapped items before making a return.
"It's a way to diversify your closet without having to buy something new," Silva said. "Everyone wants to experiment with their style and to have new things in their closet. Living in a fast fashion world, you can feel so guilty for wanting that. How can we keep that excitement of fashion and exploring style and not have the horrible side effects of production?"
Next steps for the app include creating user rating systems to build trust and reputation and developing a way to document the dynamic life of the garments as they pass through more hands. The project integrates the understanding that a garment has a long history from design to production, through its use and care and, too often, its early end in a landfill. Questioning that cycle is at the center of their thinking.
Integral to the CCA curriculum
Many students come to CCA for courses that focus on sustainable design, said Fashion Design Chair Lynda Grose. Woven into every major, and now deepened and scaffolded by the new Ecological Practices minor, the college is defining an arc of practice shaped by these values.
"We're an educational institution and as such we can't promote any particular ideology, because then we wouldn't be educating, we'd be indoctrinating," Grose said. "Students have to discover their own positions on genetically modified cotton, materials sourcing, profit/loss models, and labor. It's our job to introduce the concerns, to share resources, to teach students to find and analyze their own. We help students navigate and reason through all the complexities of the term sustainability and help them learn to ask hard questions."
There are many ways fashion designers can begin to consider the impact of what they make and whom they work with, from using basic sustainability certification rating systems such as Blue Label Certification and The Higg Index, to learning from the compelling work of Remake.
"We are thrilled to see the impact of Remake's work in our students," Grose said. "It encourages them to continue thinking and working critically."
As the new rising juniors prepare their proposals, we wish them luck and can't wait to see the stories, projects, and proposals for change that all of our students will bring in the coming school year.