Where some see trash, the cross-disciplinary team at the Rubber Impact Project sees opportunity for art, education, and profound change in how materials perceived as waste are handled.
Inner tube rubber usually goes straight to landfill, but the Rubber Impact Project, an initiative supported by CCA, seeks to disrupt that flow and focus attention on inner tubes as a material resource. Recent estimates show San Francisco discards enough bicycle tubes every year to wrap the Golden Gate bridge 33 times.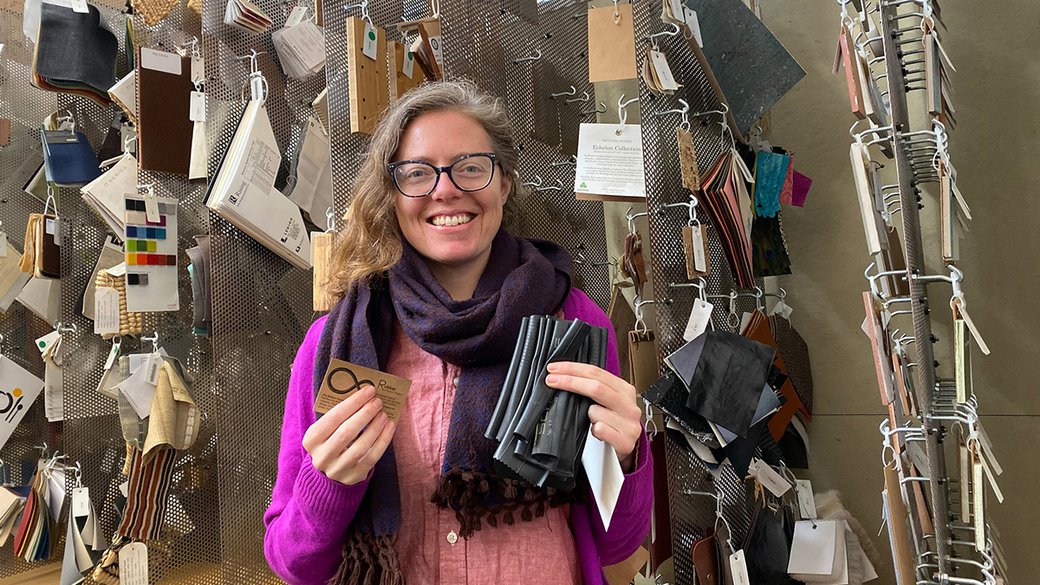 To combat this dead-end material flow, the Rubber Impact Project team partnered with local bike shops to redirect the material to new places and to create strategies for reuse of the material throughout the city, such as tree ties for the San Francisco-based nonprofit Friends of the Urban Forest. A permanent installation designed to be both functional and informational, titled Take A Tube, Leave A Tube, was set up earlier this year near the bike racks where cyclists in the CCA community can leave tubes and others can take them for material reuse. The goal of this "material exchange station" is to educate the CCA community about inner tubes and spread awareness for conserving global resources and reducing air and water pollution and CO2 emissions. To support this installation, the team supplied the CCA Materials Library with samples, and, as a result, it became the first materials library to include a self-sourced, used raw material.
The team has also crafted retired inner tubes into shoe laces, and even made them into straps for cloth face masks. The material was sent to primary schools in San Francisco and provided to local gardeners as ties for young trees and plants. The goal is to encourage and enable material handlers to facilitate and prioritize direct rubber reuse over grinding, melting, or going to a landfill.
"Beyond design, the tubes can become a standard material resource for the home, like duct tape or wire."
Rubber Impact Project
"Beyond design, the tubes can become a standard material resource for the home, like duct tape or wire," says Mandana MacPherson, a CCA Industrial Design instructor who established recycled rubber tubes as a design resource in the mid-1980s through her company Used Rubber USA; she's taught classes and workshops with the material at CCA in the Fashion, Interaction Design, Interdisciplinary Studies, and Pre-College programs. "Waste inner tubes in their original form are essentially considered as a new raw material. It is an industrial skin, much like a snake skin or cowhide, each with their own particular properties."
For their sustainability initiative, which leveraged design, art, education, communication, and material research, the Rubber Impact Project received a $25,000 IMPACT Award, presented by the Center for Impact at CCA to individuals or teams dedicated to cultivating social and/or environmental responsibility. Recipients are also provided a network of resources to help complete those projects.
"The grant allows us to create a framework, implement research experimentation, and shift the direction we were going," MacPherson says of the team, which includes former CCA faculty member Gigi Obrecht (BFA Graphic Design 1991), industrial design teaching assistants Ellen Field (BFA Industrial Design 2019) and Niko Sabah, and alum James Seckelman (BFA Individualized Studies 2019).
The Rubber Impact Project team has also created educational modules focused on the circular economy and the upcycling of waste materials. Currently, the modules are being used by the San Francisco Unified School District during its yearlong Earth Day Every Day challenge, a competition in which local schools participate in sustainability-related activities and receive points.
This team's award-winning work reflects a broader commitment to sustainability at CCA, where environmentalism is at the core of our art and design curriculum and students participate in global, social, economic, and environmental practicums. These initiatives, as well as CCA's building designs, have earned the college a reputation as one of the most environmentally responsible colleges in the United States and Canada.
"As we mark the 50th anniversary of the first Earth Day, it is crucial to recognize that our material resources on this planet are not limitless and wasting them creates negative environmental, social, and economic impacts."
Rubber Impact Project
"As we mark the 50th anniversary of the first Earth Day, it is crucial to recognize that our material resources on this planet are not limitless and wasting them creates negative environmental, social, and economic impacts," MacPherson said of the project's relevance to the important environmental milestone. "There are opportunities to make systemic change all around us. We just need to look at our products and materials with new eyes and a shift in our mindset."