Two winning teams seek solutions through art and design
California College of the Arts is proud to announce Buoyant Ecologies and the Rubber Impact Awareness & Action Project as the two winning teams of the college's annual $25,000 IMPACT Award, presented by the Center for Impact at CCA. This year's theme—Invention and Innovation in Creative Re-use, Upcycling, and/or Sustainable Materials—sought solutions in the fields of art and design from the CCA community that address climate change by developing and inventing environmentally friendly materials and/or transforming consumer behavior.
"The IMPACT Award recognizes the legacy of ingenuity and vision that emanates from thinkers and makers in the CCA community."
Director of the Center for Impact
"The IMPACT Award recognizes the legacy of ingenuity and vision that emanates from thinkers and makers in the CCA community, " says JD Beltran, director of the Center for Impact. "The $25,000 grants serve as seed money to incubate projects that hold the promise of long-term impact in addressing critical social and environmental problems affecting our planet and society."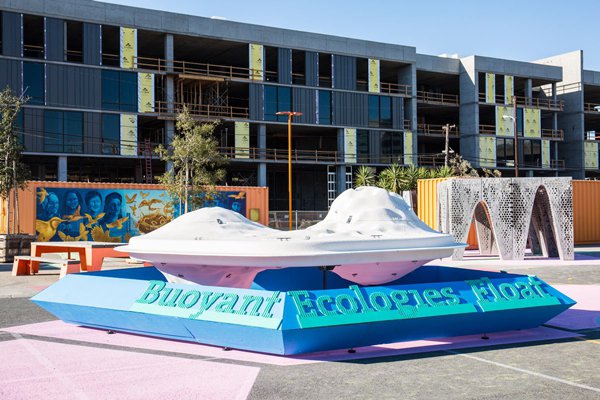 A robust, multi­disciplinary research initiative
Buoyant Ecologies synthesizes architectural design, marine ecology, and digital fabrication to develop resilient waterfront structures that simultaneously enhance biodiversity and mitigate coastal erosion. Across San Francisco Bay in the brackish waters of the Presidio's Crissy Marsh, the team will develop and test new 3D-printed coral prototypes using calcium carbonate—a renewable material that can be produced by capturing carbon dioxide from the atmosphere—while working in collaboration with Fabien Cousteau (the grandson of iconic marine conservationist Jacques Cousteau).
Developed as an alternative to fiberglass (FRP), a successful version of this substrate could serve to address widespread global coral reef erosion and ultimately restore ecosystems in coastal areas worldwide. Building on five years of research, the team's also collaborating with the National Park Service and the Port of Oakland to deploy a floating scientific laboratory in the waters off Oakland's Middle Harbor Shoreline Park to monitor how invertebrates, such as oysters, colonize the contoured geometry of underwater surfaces and explore how fostering these resulting habitats through design innovation can provide breakwaters for our rising seas.
"This project began as pure speculation—the notion that floating buildings could provide ecological benefit—and has grown into a robust, multidisciplinary research initiative."
"This project began as a pure speculation—the notion that floating buildings could provide ecological benefit — and has grown into a robust, multi­disciplinary research initiative," writes the Buoyant Ecologies team in the winning proposal. "Our prototypes have proven to be very successful in cultivating diverse habitats of marine invertebrates; so much so, that our ecologist partners refer to them as 'wave-­attenuating sponges.' The hypothesis is that these dense masses of marine animals can actually absorb wave action, which, when scaled up and replicated, could help mitigate coastal erosion, which is one of the most immediate impacts of climate change and sea level rise on coastal communities."
An outgrowth of the CCA Architectural Ecologies Lab, the winning Buoyant Ecologies team consists of Architecture associate professors Margaret Ikeda and Adam Marcus; Architecture adjunct professors Evan Jones and Alex Schofield; and Architecture students Vishnu Balunsat, Sean Cunningham, Joshua Eufinger, Viviani Isnata, Mithila Jagtap, Cassady Kenney, Cristian Laurent, Peter Pham, and Maria Ulloa.
Additional team members include John Oliver and Kamille Hammerstrom at Benthic Lab, Moss Landing Marine Laboratories; University of California, Davis assistant professor Beth Ferguson; Autodesk Technology Center San Francisco; Kreysler & Associates; National Park Service; Port of Oakland; Presidio Trust; and Tri­-Coastal Marine Inc.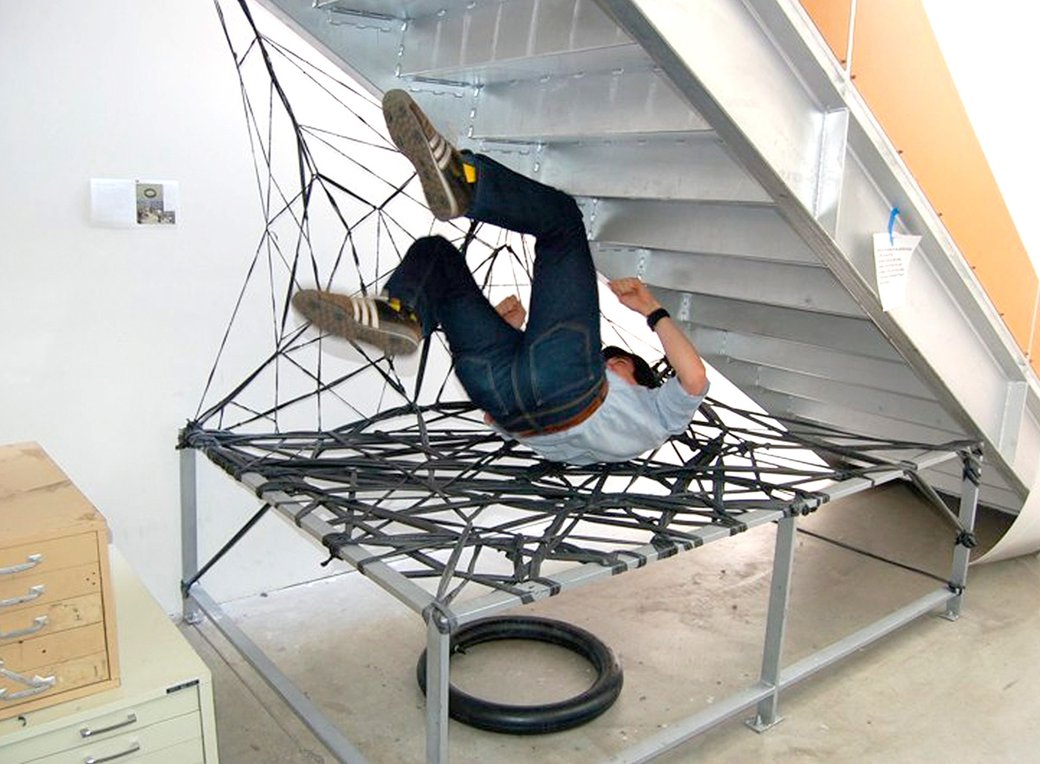 Driving public knowledge and political change
The Rubber Impact Awareness & Action Project focuses on the lifecycle of transportation rubber in order to create public awareness and political pressure for increased sustainability.
Building upon three decades of research and development by rubber upcycling pioneer Mandana MacPherson, the Rubber Impact team will organize Bay Area bike shops into stewards for the collection and distribution of used inner tubes, redirecting rubber from the waste stream to useful alternatives. To educate the public and increase awareness of the environmental impact of rubber production, the team will partner with local schools to create curricula and hands-on maker modules that utilize discarded rubber tubing material for creative, innovative re-use. A comprehensive textbook and series of pamphlets that trace the little-known history of rubber re-use also will be distributed to regional bookstores, museum shops, bike boutiques, and educational institutions.
"Seventy-five percent of the world's natural rubber is used in the transportation industry in tires and tubes for bicycles, motorcycles, cars, trucks, tractors, semis, airplanes, etc. Yet the public has little knowledge about how this material is made and its extensive impacts."
"Plastic is currently receiving lots of attention for its impacts, but transportation rubber, another petroleum-based material, often combined with natural rubber, is still in the shadows," writes the Rubber Impact team in the winning proposal. "Seventy-five percent of the world's natural rubber is used in the transportation industry in tires and tubes for bicycles, motorcycles, cars, trucks, tractors, semis, airplanes, etc. Yet the public has little knowledge about how this material is made and its extensive impacts."
The winning Rubber Impact Awareness & Action Project team is composed of Industrial Design and Special Programs instructor Mandana MacPherson, Gigi Obrecht (Graphic Design 1991), Ellen Field (Industrial Design 2019), and James Seckelman (Individualized Studies 2019).
With the potential for long-term impact
The IMPACT Award is a collegewide competition that awards the top two individuals or teams with $25,000 each and a network of resources to complete an innovative project cultivating social and/or environmental responsibility.
CCA prepares its graduates to be the next generation of socially responsible cultural leaders. The school functions as an incubator for artists, designers, and scholars, who learn from internationally renowned faculty and a rich landscape of community and technology partners working at the intersection of creativity and social innovation. Given our unique setting in the San Francisco Bay Area—the hub of global innovation—the CCA academic experience is like no other, inspiring students to research, create, and innovate with the potential to shape the world around them.
The annual IMPACT Award leverages the passion, creativity, and ingenuity of artists and designers in the areas of sustainability and social impact. Each year, the IMPACT Award focuses on a specific concept addressing a pressing social or environmental challenge. The award also provides a network of resources and partnerships to outstanding CCA-based individuals or teams to enable them to complete a project of lasting environmental or social impact over the course of one year.
The 2019 IMPACT Award is generously supported by Thurlow Washam, the Center for Cultural Innovation, and the Center for Impact's IMPACT Fund.
All students, faculty, alumni, and staff in all media are invited to submit proposals (teams must include at least one team member who is a CCA student during the current academic year).
Highlights of the 2019 IMPACT Awards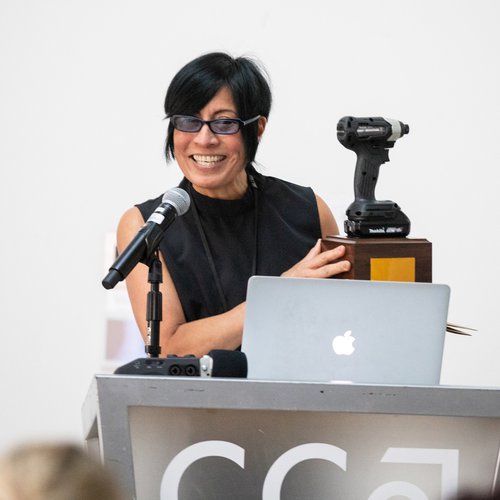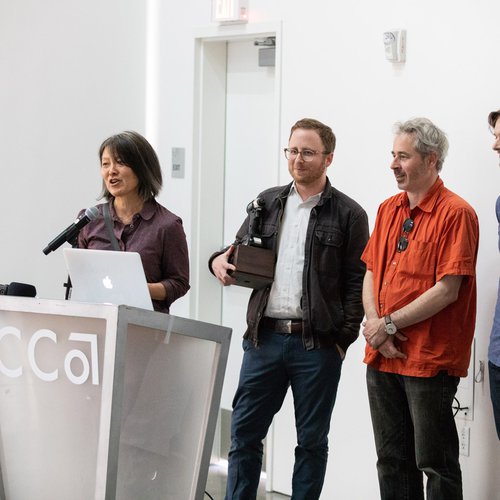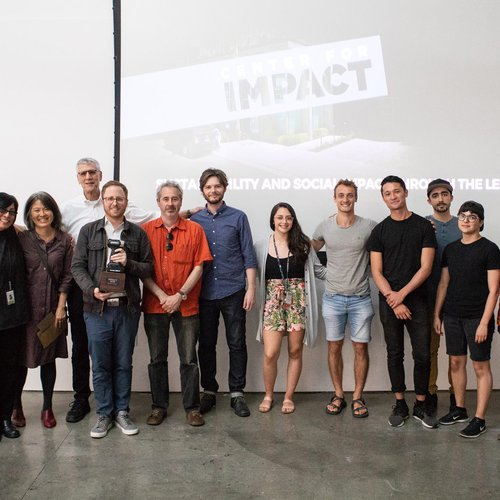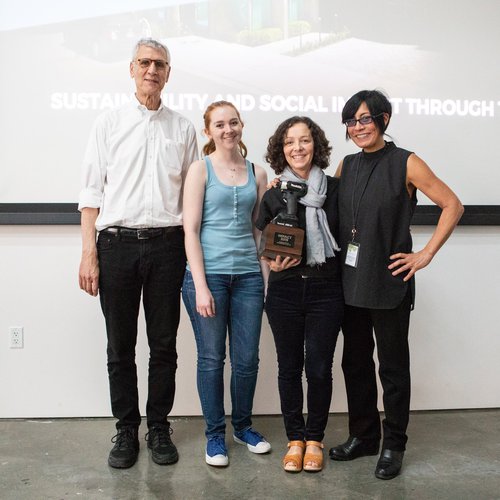 Meet the 2019 IMPACT Award panelists
Kristen DiStefano is the associate director of Atelier Ten, an international, award-winning firm working to reshape the way buildings interact with their environment and the people who use them. Founded in 1990 as a progressive London-based group hailing from the worlds of architecture and engineering, the firm has given life to all kinds of buildings internationally, from Glasgow to Sydney. Atelier Ten wants to challenge and advance thinking on sustainable design in every corner of the globe.
George Henry Hines is the founder and CEO of GHH Innovations, an award-winning product design, engineering, and manufacturing company based in the San Francisco Bay Area that specializes in product development, from concept through mass production, including industrial design, engineering, prototyping, industrialization, manufacturing, device validation, and regulatory approvals. GHH applies design expertise for a variety of clients, across numerous design disciplines, to create innovative solutions.
Deborah Munk has served as the director of the Artist in Residence Program (AIR) at Recology San Francisco since 2007. She also manages the Environmental Learning Center, where the company provides educational tours about resource conservation to over 4,000 children and adults annually. In collaboration with Metro, the regional government for Portland, Oregon; crackedpots, Inc., an environmental arts organization; and Recology colleagues, Munk was instrumental in establishing the GLEAN Program in Portland and assisted in the implementation of similar AIR programs at Recology facilities in Astoria, Oregon, and Seattle. Before joining Recology as AIR Program coordinator in 2000, she was the assistant editor of Art/Women/California 1950-2000: Parallels and Intersection, published by UC Press. She's a graduate of San Francisco State University and holds a master's degree in educational technology, focusing on art and media.
Tim Smith is an associate professor in CCA's graduate Design Strategy program and also provides consulting services in sustainable development and business development to help for-profit and nonprofit organizations reinvent the way we all live and work together—so future generations have better opportunities and a healthier planet. Smith managed fashion apparel startups prior to managing the Levi Strauss & Co. Fashion Jeans division and has held senior management positions at Fortune 500 companies in the areas of business development, sustainable development, product marketing, strategic planning, and market research.
Mawuli Tugbenyoh has served in the City of San Francisco's city government since 2012, first as a legislative aide for former Supervisor Malia Cohen, and subsequently as legislative director and board liaison in two previous mayoral administrations and as a legislative aide in London Breed's District Five office.