The Society of Illustrators counted four outstanding undergraduate Illustration students among this year's recipients of their Student Scholarship Competition.
"The Society of Illustrators is the oldest nonprofit organization dedicated to the art of illustration in the United States," says Owen Smith, chair of CCA's Illustration program, "and its annual Student Scholarship Competition is widely recognized as a launching pad for top young illustrators."
Over 2,150 students from nearly 60 colleges and universities nationwide participated in this year's competition. Of the 6,721 entries, only 162 works—including four from CCA students—were selected for exhibition by a jury of professional illustrators and art directors, based on the quality of technique, concept, and skill of medium used. Additionally, CCA's Jade Howe (Illustration) was one of only 33 students awarded a scholarship, winning the $1,000 Nancy Lee Rhodes Roberts Scholarship Award for the Risograph print piece Tight Knit.
Check out the artworks from CCA students featured in the 2022 Society of Illustrators Student Scholarship Competition exhibit. And learn what inspired their work and what it means for them to be recognized by the Society of Illustrators.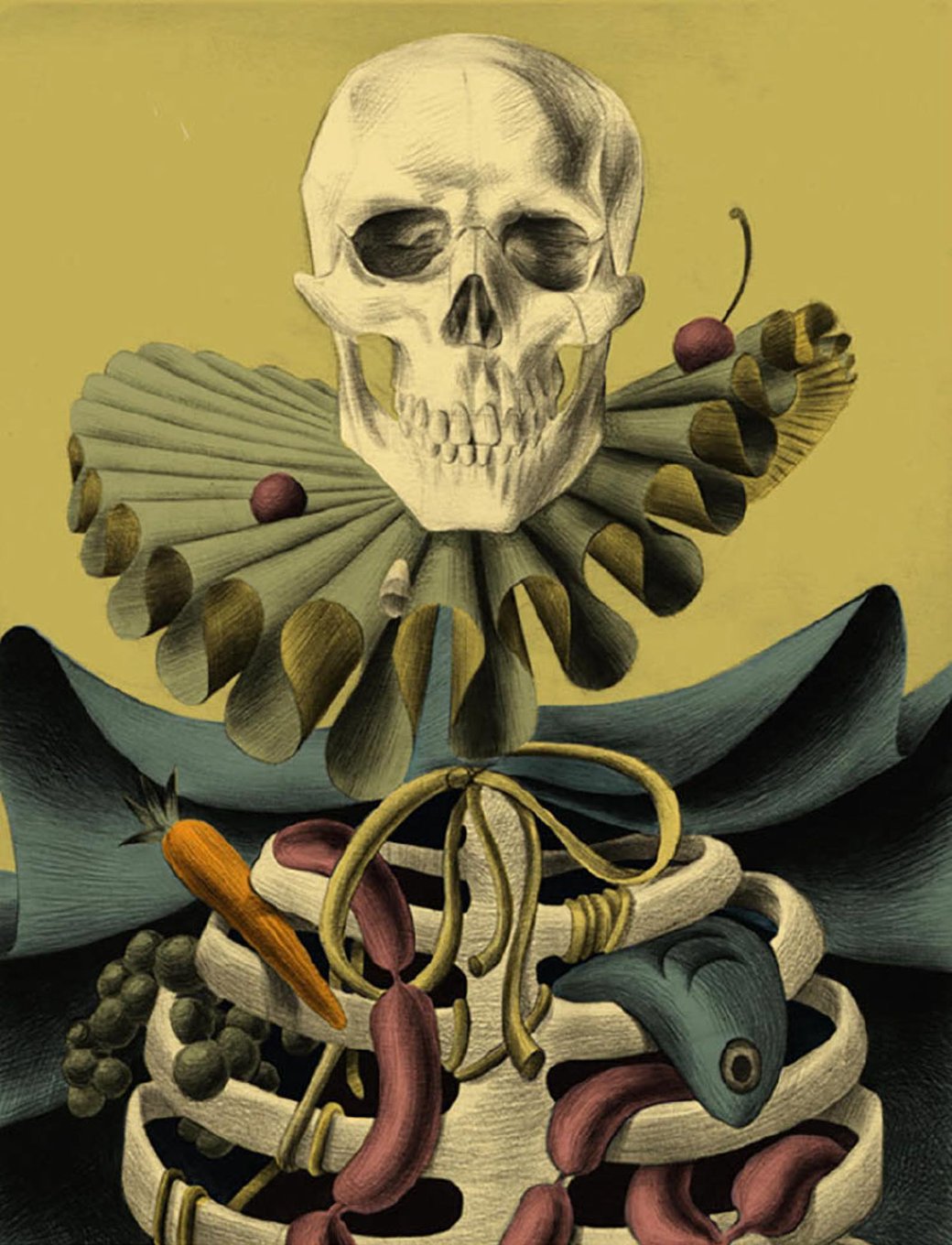 Tony Bernardo
"This past semester my piece Hungry Skeleton was selected for the Society of Illustrators 2022 Student Scholarship Competition. For me this is a huge accomplishment having spent the majority of the pandemic learning remotely and developing my practice from home. I am hopeful that this award will help spring me into the next chapter of my career as an illustrator.
The Hungry Skeleton is a playful illustration about an insatiably hungry skeleton who will never feel full, as any food he consumes just slips right out of his ribcage. This piece was created as a personification of the deadly sin gluttony, and alludes to the feelings of dissatisfaction and unfulfillment we may experience in our lives. My work is influenced by art history, anatomy and surrealism. In this piece I was specifically inspired by the vanitas genre of painting, which often pairs fruits and vegetables with depictions of skulls and bones, alluding to the transience of life and the certainty of death."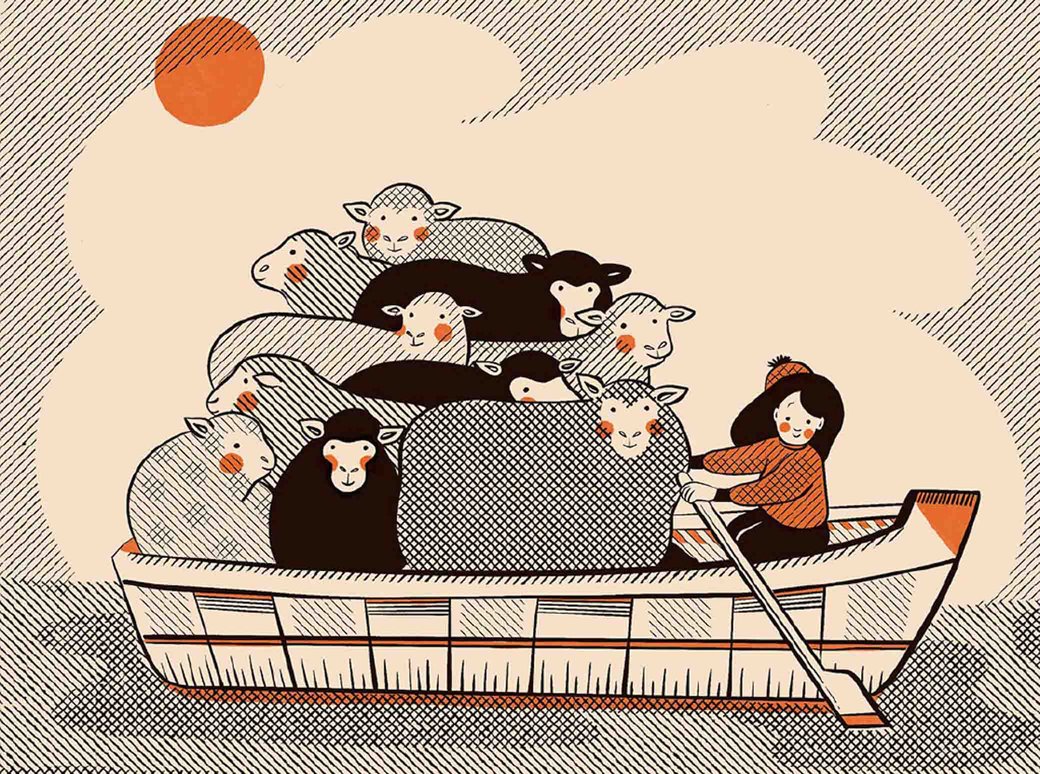 Jade Howe
"Tight Knit was created to tell a story of a little girl and her sheep. Her pasture floods and she must find a new home for her flock. I made the piece with my grandmother in mind who loved knitting. I was going through an Edward Gorey phase when I created this piece. I wanted to see how far I could go with pattern and minimal color which has now become a staple in my work.
This is one of the first illustrations I made that I truly felt reflected a piece of myself that I hadn't before. I hope I can tell more of the little girl's story one day, and winning this award has given me even more motivation to do that. This acknowledgment is helping keep me going by giving me more confidence in myself and by allowing me to fund my practice in ways I didn't think I would be capable of. I am endlessly grateful and I can't wait to show even more."
Brian Kwon
"I'm honored the Society of Illustrators has selected this piece. Although it was originally intended as a simple anatomical study of the human form in motion, I'm glad that others see in it an aesthetic and dynamic composition."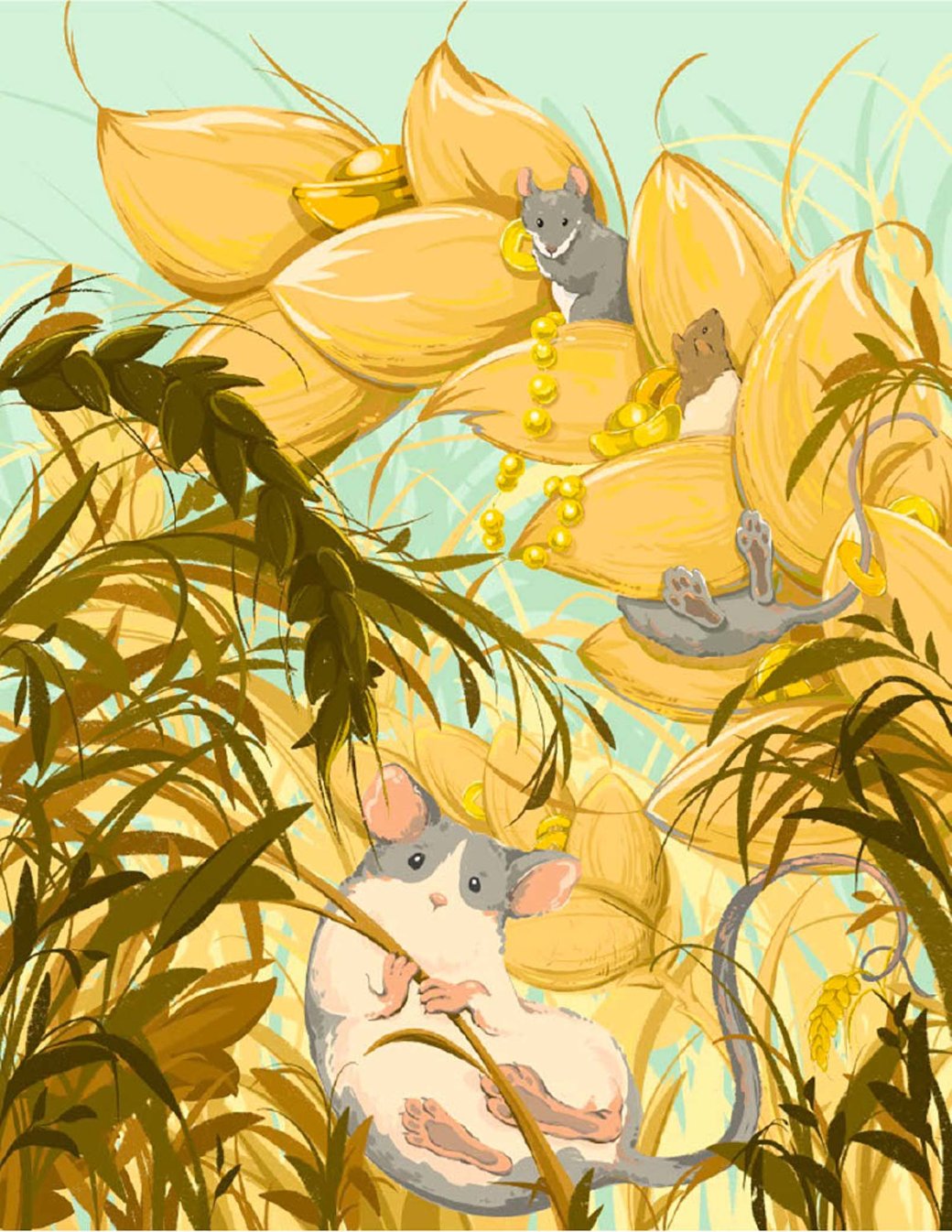 Xiangzi Xu
"Receiving the Society of Illustrators Student Scholarship during my final semester of college meant a lot to me, especially since the work I chose was the first illustration in my zodiac series, which gave me a lot of confidence.
The Chinese zodiac has been around for about 3,000 years and brings together thousands of years of culture and history. To the Chinese, the zodiac represents more than just 12 ordinary animals. The formation of the zodiac is inextricably linked to hunter-gatherer's lifestyles, and their symbolic meanings are now based on people's long-term knowledge and perception of these things. For example, the rat has a strong ability to reproduce and a habit of hoarding food, so the rat as a zodiac sign represents gathering wealth and having many children and blessings."
Published on June 14, 2022