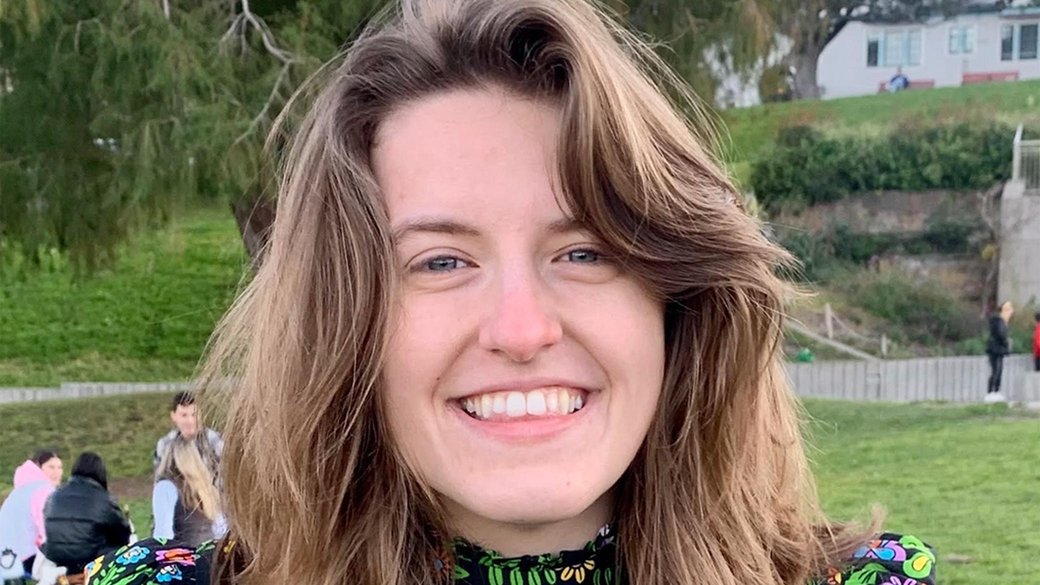 What do you make and what is the focus of your work?
I think being a child can be a really scary time in your life. So I like making things that soften some of those childhood experiences. Lately, I've been really enjoying making educational stuff for kids and making things that help kids feel seen. That's kind of what my whole thesis book is about: not being noticed. And so I really like making stuff that is comforting and soft and warm and makes people feel welcome and invited.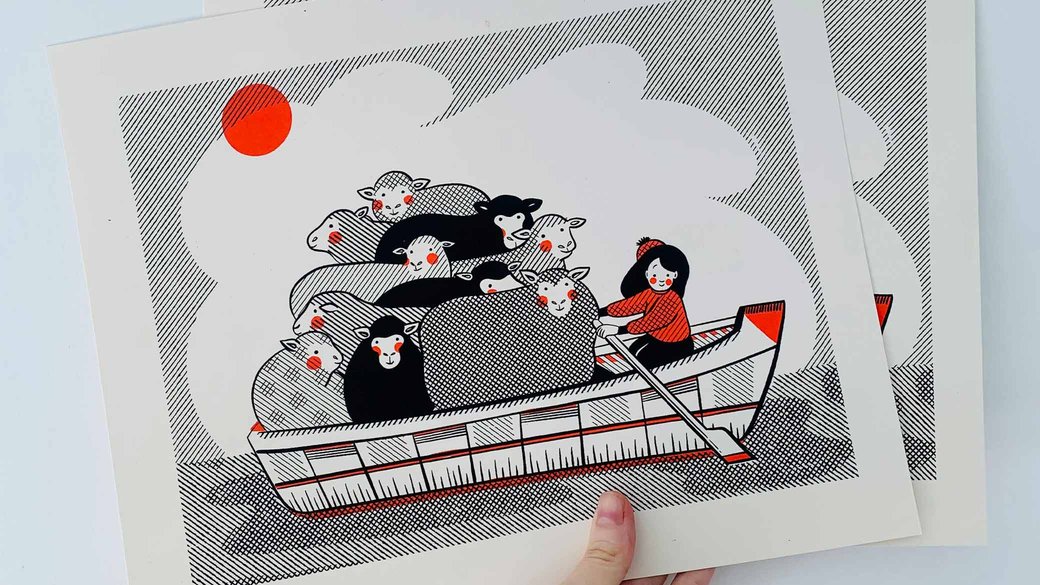 You're an award winning illustrator. What's the significance of Tight Knit and how did you earn a Society of Illustrators award with this piece?
That was crazy. It wasn't an award that I thought I could ever win. But the piece, Tight Knit, is about a little girl in a boat full of sheep. Her pasture floods, so she needs to find a new place to keep her sheep. When I was a little kid I spent a lot of time with my pets and I would have daydreams of running away on adventures with them and a herd of animals. I dedicated it to my grandmother because she really liked knitting. In the past I've been told my stuff is just "too cute." So it was very validating, like maybe I do have the right idea and I'm not just making something "too cute."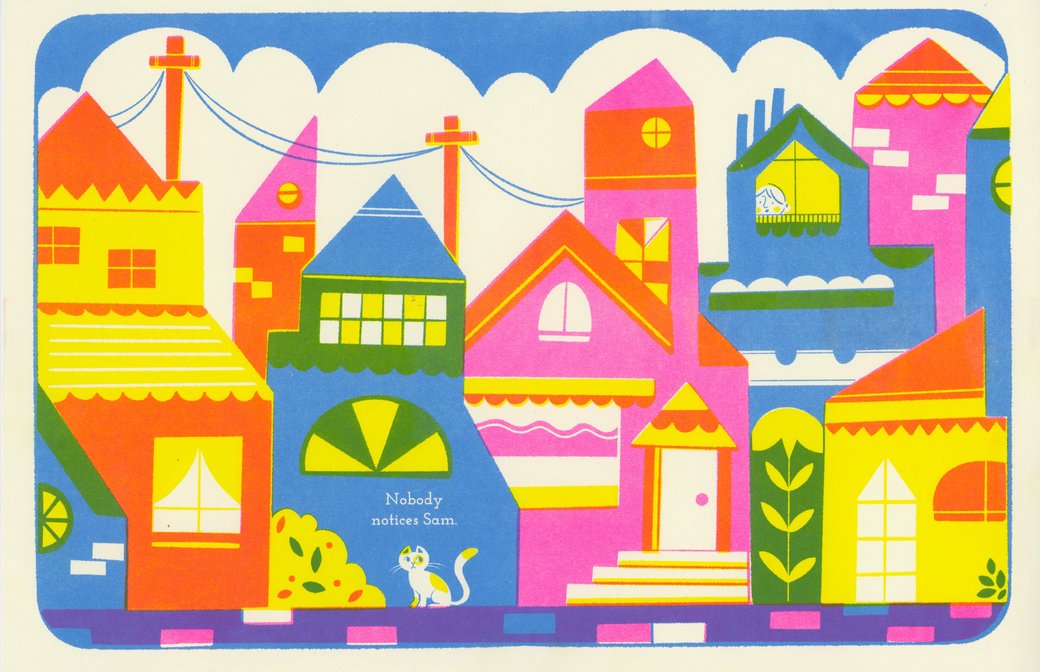 What are you currently working on? And what parts of who you are do you think you bring to your illustrations?
I've been trying to do more work with surface design and making things that are very attractive and also somewhat educational. I recently made a decorative garland that you can hang on your kid's wall. It teaches kids about the food chain. And I wanted to make it fun and kind of delightful and decorative.
For a long time I liked making a lot of artwork about elementary school biology class because I think elementary school biology class can be a weird thing: you learn about things dying, living, and changing. I love the idea of being able to make art for children; they can handle a lot of pretty heavy topics. I think that kids are a lot smarter and a lot tougher than we think they are. And I want to make work that appeals to that.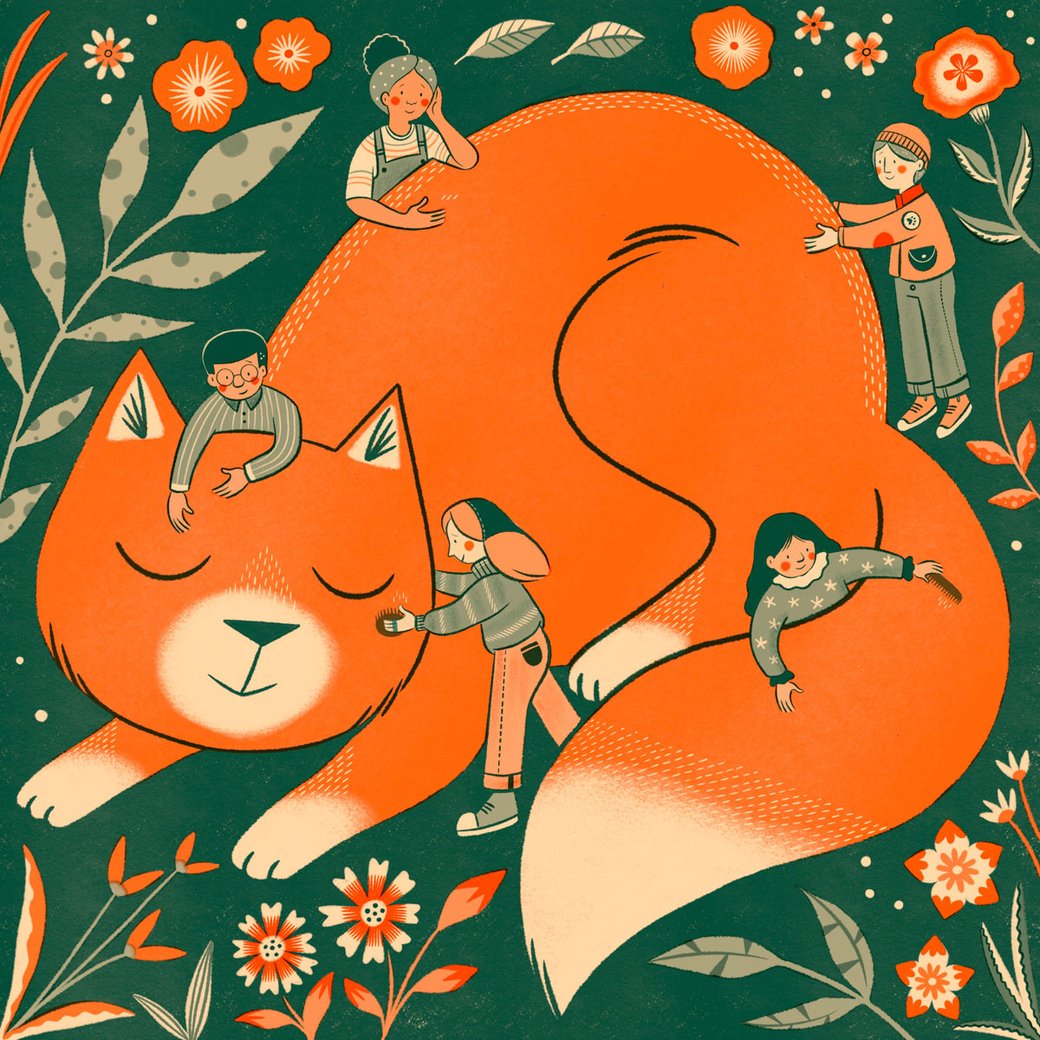 How did you decide to attend CCA?
I went to National Portfolio Day, talked to some representatives from CCA, and showed them some really strange things from my portfolio. One of these was a high school project. I had sewn a bunch of felt onto this giant canvas and it was a sewn dissected frog. So all of the guts and stuff were all hand stitched, and I made a little knife, too. I put little sewing pins in it so it looked like a frog pinned to a board. It goes back to the idea that childhood can be scary, and I want to somehow make it gentler.
CCA was one of the only places who looked at pieces like this and said, "This is really weird and interesting, and you can do more of this at our school. You might be into illustration, but we're interdisciplinary, so if you want to take a textiles class and learn how to work in fabric and 3D, you can!" I was really into the idea that I wouldn't be doing just illustration. I could branch out to all these other mediums. That was what was really exciting to me about going to CCA. It seemed like you could just be weird!
When you were in high school, did you kind of have this idea that you wanted to study art?
I never thought about art as a career until maybe my senior year of high school or my junior year of high school. I just drew and I never thought I'd do anything with it. I always thought I would work with animals. My dad and my mom–I'm very lucky–they're very supportive people.
My mom told me one day, "Jade, you love working with animals, you love different things, but it's not gonna keep your attention. You know what's been a constant in your life? Doing this art thing. And you're probably gonna do it for the rest of your life, regardless of if you do it as a career, but you could do it as a career if you want to."
My dad was a very skilled artist as a young man and his parents were not supportive of him going into the arts. So he ended up becoming an engineer and his whole thing is, "Go do it. I wish I had done it and so I want you to go and do it."
"I'm really proud of myself. I've improved a lot since freshman year. I'm making stuff that I didn't think I was capable of making."
Illustration 2023
You recently created a welcome print for incoming students. What did you discover when you first got to CCA in San Francisco?
I loved it right away. I just loved being ridiculously independent. There's just something so magical about being able to walk anywhere and find something cool to do in San Francisco. And public transit is absolutely freaking fantastic. You can go anywhere. You wanna be a part of the poetry scene? Go and be a part of the poetry scene. Are you into architecture? There's some gorgeous architecture around here. The most amazing zine fest is in San Francisco. There are these beautiful markets and there are so many different communities and clubs that have open mics. You can go to anything.
What have you learned about yourself and your abilities since you started school? How would you say you've grown?
I'm really proud of myself. I've improved a lot since freshman year. I'm making stuff that I didn't think I was capable of making. I wrote an entire children's book. I made all of the artwork for it, and I actually wrote the story behind it. I was able to curate an art show this last year. I worked on the Risograph exhibition and that was something that I wouldn't have dreamed of freshman year because I was new and I never thought I'd put myself out there like that.
A part of this is that we have the best teachers ever. I love my teachers in the illustration program—Isabel Samaras, Michael Wertz, Adam McCauley, Owen Smith—everyone is just so great and so sweet. They've helped me do things I would have never thought I was capable of.
What are your plans after graduation?
I'm applying to a lot of different internship programs. I really want to get into publishing, so I'm applying to various publishing houses. I'm gonna be moving in with three of my favorite people. We're gonna stay in the Bay Area because we all really love it here. I just wanna start getting into more of the local art communities, like the local zine fests and some of the different art markets.
I also want to establish myself here and do something cool with my work. I have some teachers that have been recommending me for some gigs. I already have a couple of clients who I work with. It's definitely scary to graduate because I'm really enjoying my time, but it's exciting. I'm excited to put myself out there and see what happens.
What words of advice do you have for incoming students as they start their next adventure at CCA?
Say yes to as many opportunities as you can, even if it's scary. Coming out of high school and growing up, I was just scared of everything. So I made myself a note: Just say yes to things. If there are opportunities to be a part of an art show, say yes. If someone asks you if you want to go visit Dolores Park with them, do it. If you wanna get out there, put yourself out there, be courageous. Let people get to know you. Allow yourself to be vulnerable. Experience as much of San Francisco as you can.
That's how you make connections, too and also develop clients. I have a friend that goes to poetry readings and now he's illustrating the cover of a new poetry anthology. And I have friends that are photographers and now they have clients because they're just out and about taking pictures.
Put yourself out there. And always ask for help if you need it.
Published on March 21, 2023