For over 15 years, Tina Takemoto has been an integral part of CCA, both as an associate professor in Visual and Critical Studies and, since 2018, as the dean of Humanities and Sciences. Through their pedagogy and creative practice they explore performance art, Asian American visual culture, queer art and theory, and theories of trauma and grief. Takemoto's current body of work explores same-sex intimacy and queer sexuality of Japanese Americans incarcerated by the U.S. government during World War II. They were recently awarded a Mike Kelley Foundation grant for a multidisciplinary project that will explore the changing landscape of Little Tokyo in collaboration with Visual Communications Media.
Takemoto's latest work was seen in the sky as part of the In Plain Sight art project during the Fourth of July weekend. This coalition of 80 artists, including Takemoto and CCA alum Hank Willis Thomas (MFA Photography, MA Visual Criticism 2003), came together to create messages in support of abolishing immigration detention centers and denouncing the U.S. culture of incarceration. With the help of skytyping fleets across the nation, these messages were typed in the sky with water vapor over detention facilities, immigration courts, borders, and historic sites. These messages come at a time when many detained immigrants are suffering from coronavirus due to inadequate supplies of essential items, such as hand soap and face masks. In the following Q+A, Takemoto discusses their involvement with In Plain Sight and how they're telling immigrant stories through their art.
This conversation was conducted via email in July and August 2020.
How did you first learn about the In Plain Sight art project and decide to get involved?
I first learned about In Plain Sight from the artist Cassils, who is one of the lead organizers of the project. Cassils and I both exhibited artwork in the Queer California: Untold Stories exhibition at the Oakland Museum of California in 2019. We also both collaborate with the same sound designer, Kadet Kuhne. I was eager to join this project's coalition of artists and activists, who are dedicated to ending immigrant detention and the U.S. culture of incarceration.
Over the Fourth of July weekend, artists skytyped messages across the nation to protest U.S. immigration policies. Your phrase "NOT FORGOTTEN" was typed over Terminal Island in California. Why did you choose this location?
Terminal Island, California, was the location of a Japanese American fishing village in the Port of Los Angeles. In February 1942, less than a week after President Franklin D. Roosevelt signed Executive Order 9066, Terminal Island residents were among the first Japanese Americans to be forcibly removed from their homes and locked up in U.S. concentration camps.
Terminal Island is also the location of the notorious U.S. federal prison, where inmates are suffering from one of the worst coronavirus outbreaks in the entire federal system. By late May, inmates were literally screaming for help as nearly 70% of the facility's population was infected, and the death toll continues to rise due to the prison's failure to take basic safety measures. My message "NOT FORGOTTEN" stands in solidarity with the prisoners who are suffering from this gross endangerment of human lives.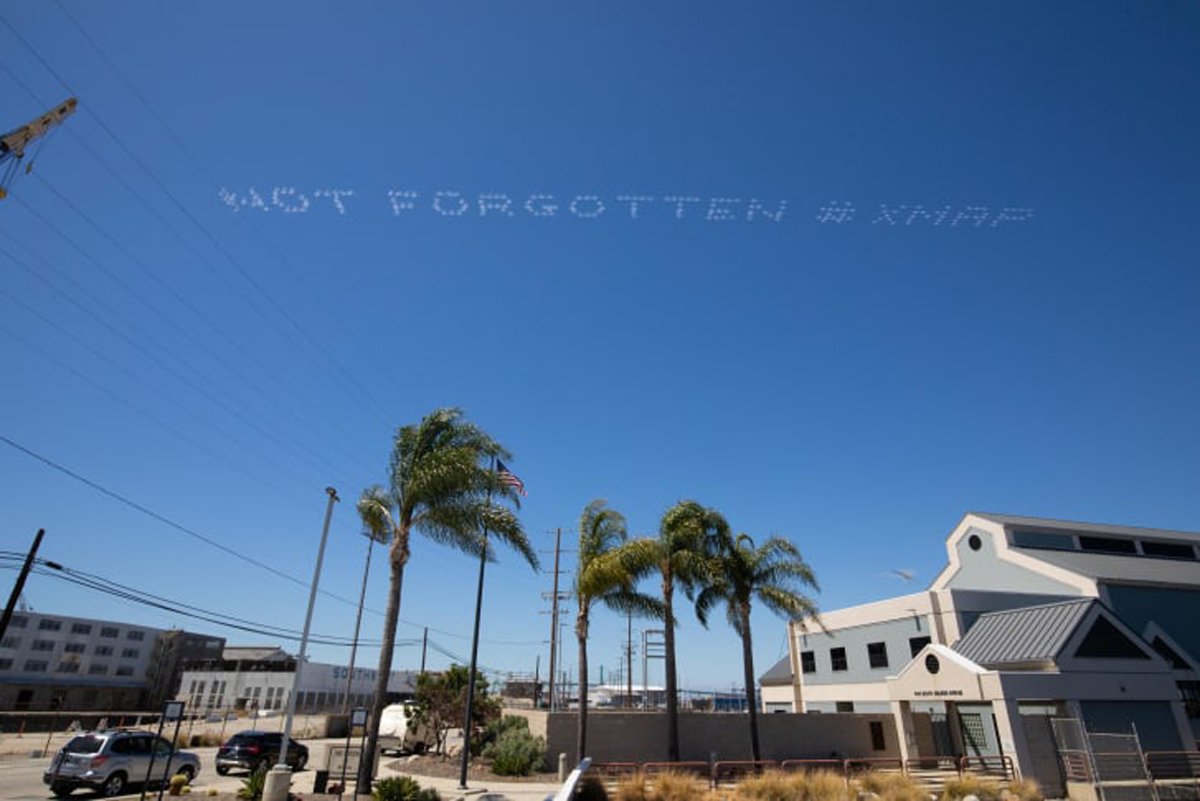 Were you able to see the skytyping message in person?
Unfortunately, due to coronavirus-related considerations, I was not able to travel to Los Angeles to see the skytyping. But I was able to participate in some Instagram Live events with Japanese American In Plain Sight artists Bruce Yonemoto, Devon Tsuno, and Karen Ishizuka and the activist group Tsuru for Solidarity.
During the July Fourth weekend, I drove down to the rodeo grounds in Salinas, California, that served as a temporary detention facility for Japanese Americans living in the Monterey Bay area during World War II. In April 1942, my father Sam Takemoto, his parents, and his six siblings were forcibly removed from their home in Watsonville. They were brought there and detained for four months before being moved to Poston concentration camp in Colorado. It was eerie to stand on the dirt of the rodeo grounds and realize how much "invisible" historical trauma it contained. I was able to snap a few photos inside the rodeo grounds before being chased out by the authorities.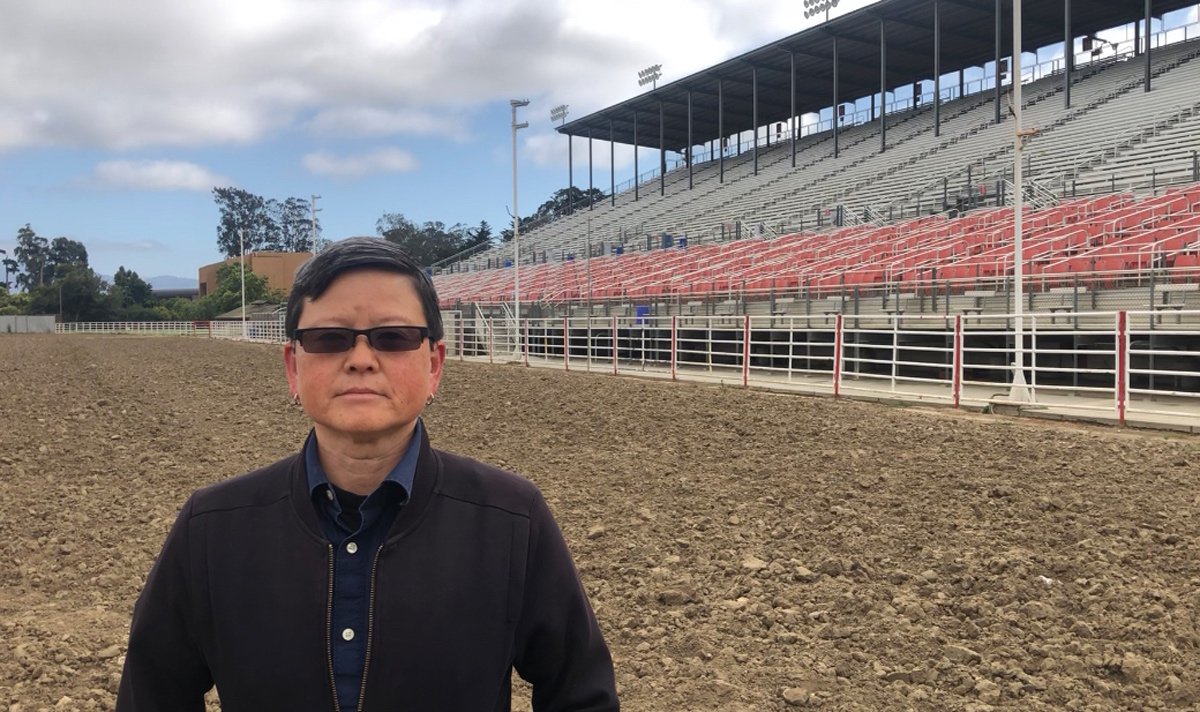 As a fourth-generation Japanese American artist, this project ties closely to your family history. You mention your father was imprisoned in Japanese American incarceration camps. How has that impacted your work in general?
Although my parents and grandparents on both sides of my family rarely spoke about their prison-camp experiences, the impact of wartime trauma has been the subject of my artwork for many years. My earlier work focused on the oblique ways my family members manifested their grief after years of silence. More recently, I have been exploring archival traces of same-sex intimacy and gender nonconformity left by imprisoned Japanese Americans.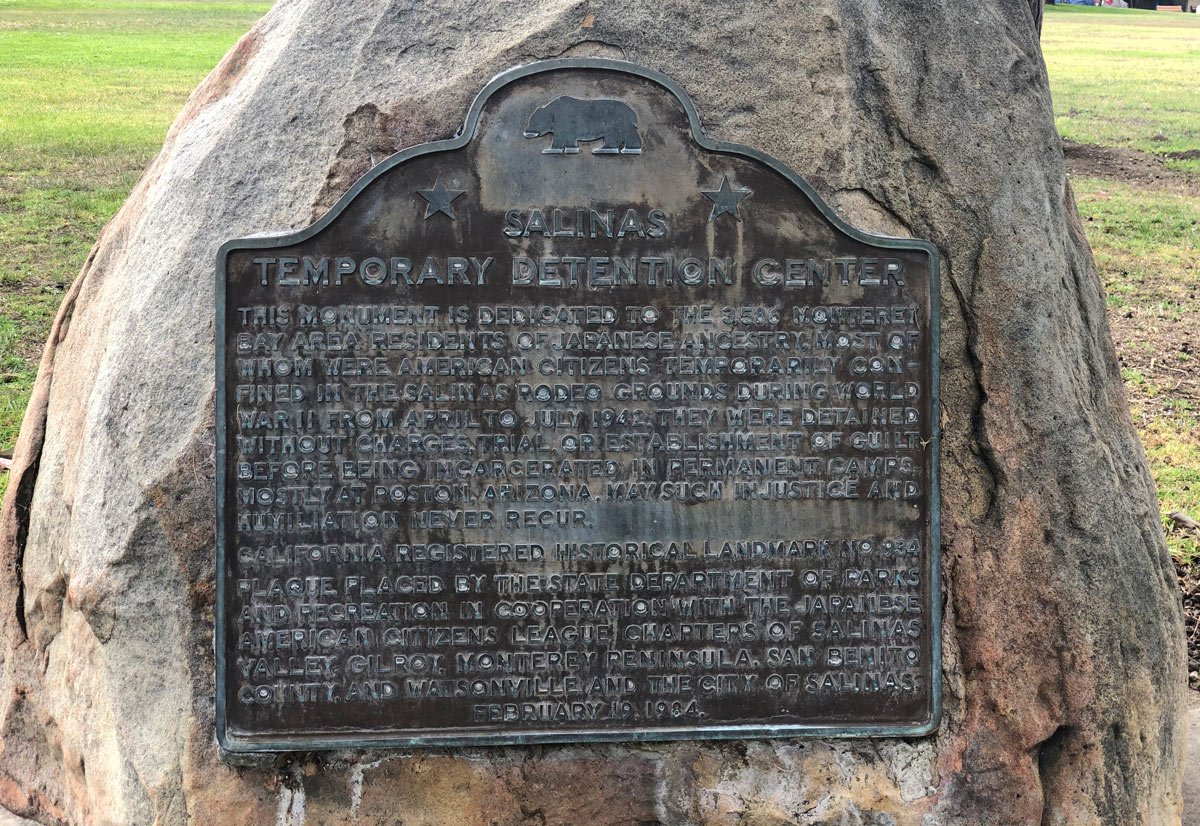 You've researched and featured gender-nonconforming immigrant Isa Shimoda in your film On the Line. What perspective do you want to bring to our understanding of wartime activities?
I'm inspired by individuals such as Isa Shimoda, who ran their own restaurant, challenged men to sword fights, and had two sets of war records, which identified them as male and female. For me, Shimoda's legacy opens up the possibility of expanding traditional narratives of wartime history that emphasize heroism, masculinity, conformity, and assimilation. Shimoda's story is a point of departure for honoring the Japanese American women who lived, loved, and worked together during the prewar era and beyond.