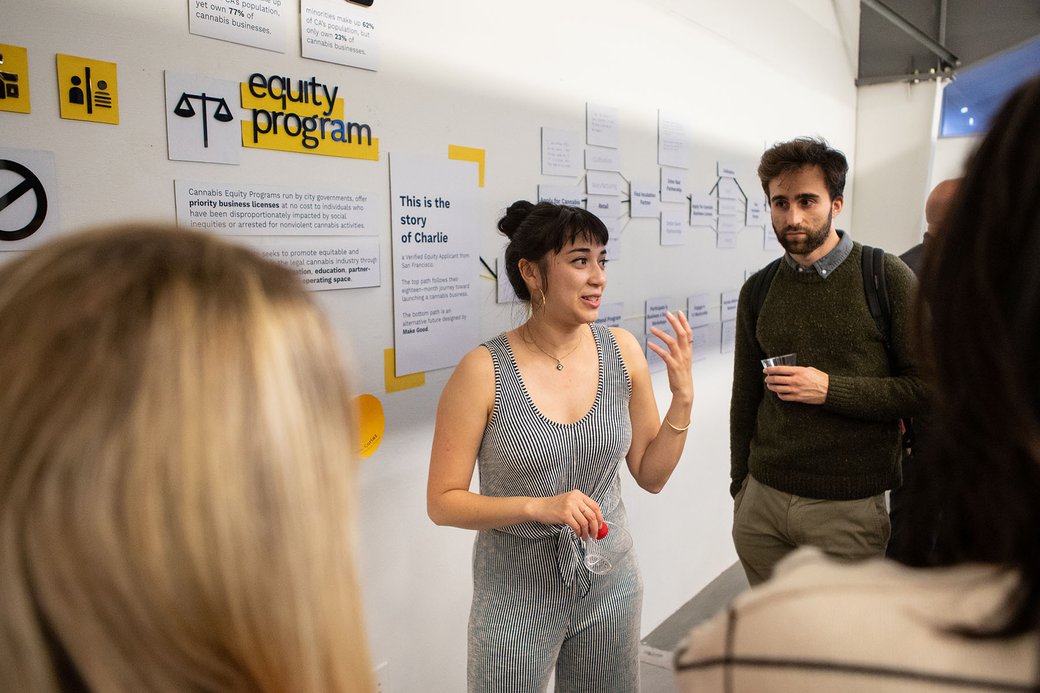 An art and design school may not be the first place you think about when considering MBA programs. But getting an MBA at an art school can open your mind—and open doors to transformational careers. By combining core business skills with the creativity and experimentation of an art and design school, MBA programs with an emphasis on design strategy produce future leaders who are uniquely equipped to tackle challenges in business, nonprofits, government, and creative entrepreneurship, at a time when how we lead these institutions is changing rapidly.
Sara Fenske Bahat, chair of the MBA in Design Strategy (DMBA) at San Francisco's California College of the Arts (CCA), explains that art school MBA programs focus on ethical and human-centered approaches to creating value. "We put people rather than profits at the center of decision-making. We believe that you can increase effectiveness and financial success by treating one another well and valuing all voices. We explore how we can behave ethically, both in our interpersonal relationships and in our relationship with our planet."
While traditional MBA programs are often grounded in case studies and traditional definitions of return, MBAs in art and design schools are forward-looking and anchored in institutions that value diverse practices. "Designers are optimistic, with an eye to improving the future for all," says CCA's Dean of Design Helen Maria Nugent.
Design thinking is central to an art school MBA degree
Design thinking has revolutionized the business world. The philosophy behind design thinking is that the tools of design can be used to solve problems and develop new ideas in realms beyond design.
An art school MBA degree will give you in-depth experience of the design process which includes user research and deep listening to develop insight, as well as iterative prototyping to explore the efficacy of potential solutions. This explorative and human-centered approach encourages tackling systems large and small as design problems, from the economy, healthcare, and education to processes within a company or even the manufacture of a single product.
"At their core, art and design schools are about innovation and thoughtful re-invention," says Nugent, "and design thinking is central to that enterprise. Students are empowered with the vision to imagine more desirable futures, as well as the creative tools to build them."
Curricula rooted in design strategy
Art school MBAs are unique in integrating courses on business fundamentals—accounting, finance, business law, economics, management, etc.—with studios and labs centered on design strategy.
CCA's two-year DMBA course of study, for example, is centered on a series of studio courses that teach MBA students how to use market insights to build products, create experiences, and launch businesses. In the Innovation studio, students focus on product design, gaining fluency in the language and practice of design. In the Experience studio, the focus is broadened from a single product to an experience; recent themes for this studio have included The Future of Retail and The Laundromat Experience. In the final, capstone studio, MBA students design a go-to-market strategy for a venture that is meaningful to them; many students go on to launch these businesses after graduation.
So why get an MBA at an art and design school?
The grounding in design strategy that is central to an art school MBA program is something that a traditional MBA just cannot deliver. It offers a transformative education that equips you with a holistic way of looking at the world.
"Business education feels different inside a school of art and design," says Fenske Bahat. "We are immersed in a culture of creative making and surrounded by people who believe in transforming our world."
MBAs steeped in design thinking enter, or re-enter, the workforce as forward-thinking leaders, knowing that creativity drives value creation. Many use their positions in the worlds of business, finance, government, or nonprofits to create meaningful change by design.
The MBA in Design Strategy at CCA
CCA's MBA in Design Strategy is ranked as one of the best design programs in the world. The degree leads to many career paths, both in the creative hotbed of the Bay Area and beyond. CCA DMBA alumni can be found at later stage start-ups like Peloton; consultancies like McKinsey & Company; design firms like IDEO; nonprofits like Pivotal Ventures; and as founders of their own businesses like the multilingual messaging app Native Chats and foldable, portable kayak company Oru Kayak.
Alum Jo Marini (DMBA 2019), founder of the venture foundry Mother Superior, sums up the CCA DMBA experience this way: "I'm a designer of systems and structures that challenge the status quo first and foremost. I see the world as a futurist: I understand things as they are, but also with optimism and curiosity for their potential."