We could someday construct our buildings using a similar chemical process that creatures use to build their shells. And a simple recipe to turn cabbage into clay could help more citizen scientists inspect the health of our waterways. Titled BacTerra: Designing across Scales and Colores del Río, these two projects were presented by CCA students and earned awards at the annual Biodesign Challenge, an interdisciplinary education program and competition where students create projects that bridge art, design, and biotechnology.
Graduate student Melissa Ortiz (MFA Design) earned the title of Outstanding Social Critique for Colores del Rio, where she created a special formula to transform red cabbage into a special type of clay to test the water pH. CCA students Conrad Scheepers (MArch Architecture), Claire Leffler (BArch Architecture 2023), and Kimia Farahnak (MAAD Advanced Architectural Design 2023), in collaboration with UC San Francisco (UCSF) graduate students Elizabeth Bond and Frederick Leon, earned the Outstanding Science Winner prize with their project BacTerra, which explored the future of biomaterials as a way to reduce carbon emissions caused by the building industry.
CCA students have made a strong showing of their work at the Biodesign Challenge, including during the 2020 program where alumni Camila Wandemberg (BFA Individualized Studies 2020) created algae filters for reusable face masks in response to the limited availability of personal protective equipment during the start of the COVID-19 pandemic. At the heart of the biodesign challenge is for students to address some of the most pressing issues of the day by bridging art and science together in unexpected yet impactful ways.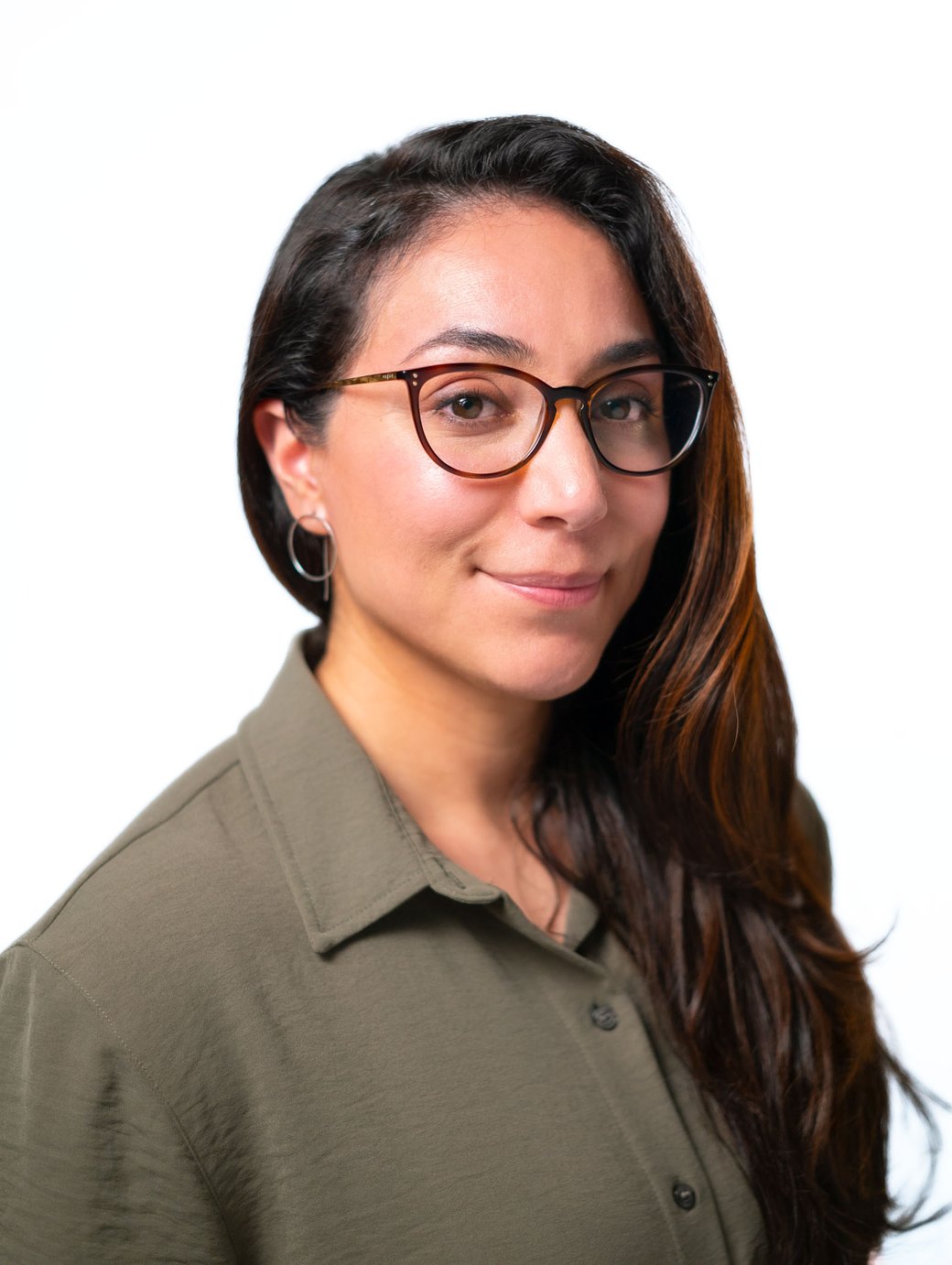 Reflecting family stories in water
California's Salinas Valley is known as a productive agricultural region with crops like lettuce, broccoli, peppers, as well as spinach, tomatoes, and strawberries grown on a large scale. However, this type of farming, or what is called monoculture, has produced a range of environmental justice issues, including pesticide contamination in waterways. Melissa Ortiz sought to empower local residents with the tools to create sustainable ways for anyone to test the health of their water in her award-winning project Colores del Río.
"My project shows how our monoculture industry can create some waterway issues, many of which are already monitored by the Monterey Bay National Marine Sanctuary," says Ortiz. "Data gathered creates policies for how much nitrogen, for instance, is allowed to enter from the regional monoculture industry. Nitrogen can create an excess of nutrients which then causes algae blooms, choking water of oxygen and reducing biodiversity."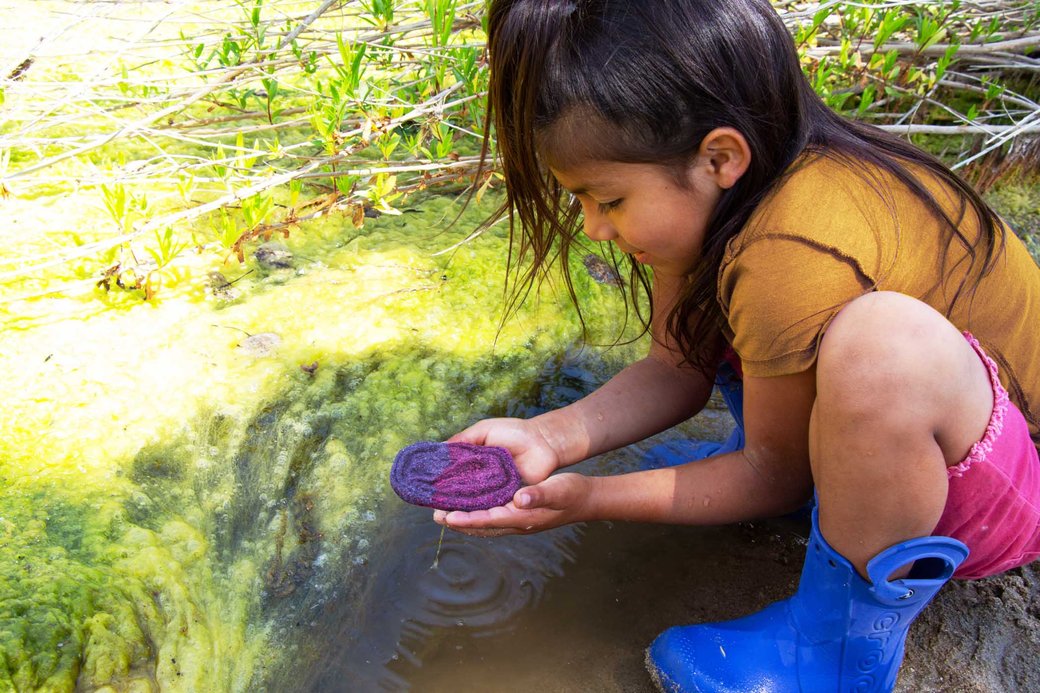 For Ortiz, a native of the Salinas Valley, the issue also touches on family history. In the 1980s, her mother worked in the fields after her family moved to the United States from Mexico. Ortiz explains that her mother developed Parkinson's disease from exposure to pesticides and suffered from the illness for several years. Many health studies have linked heavy exposure to pesticides to the onset of Parkinson's. "This is close to my heart," says Ortiz, "knowing that my mother was affected this way and we all experienced it in Salinas and many other agricultural communities."
"It's palpable within my family, my community; how policy shapes systems, shapes experiences, and trajectories for people."
(MFA Design 2024)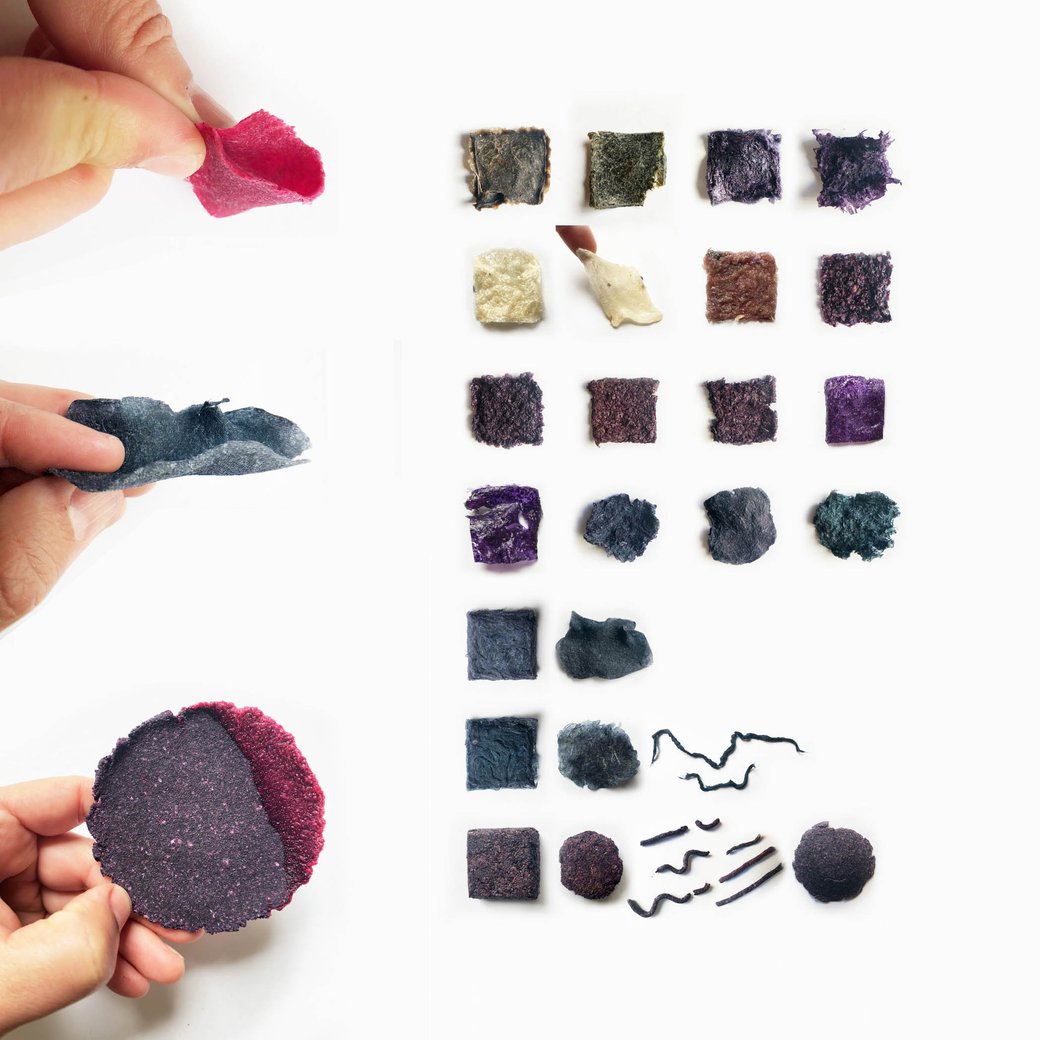 Ortiz's project reveals how systems and people are interconnected. "It's palpable within my family, my community; how policy shapes systems, shapes experiences, and trajectories for people," she says.
Her project continues in a collaboration with a local nonprofit and a high school in Salinas. And she's optimistic about how biodesign can be creatively used as a tool for environmental justice. "Be curious and enjoy the process of what you're making," she says to future students. "Open yourself up to the possibilities of what material could be."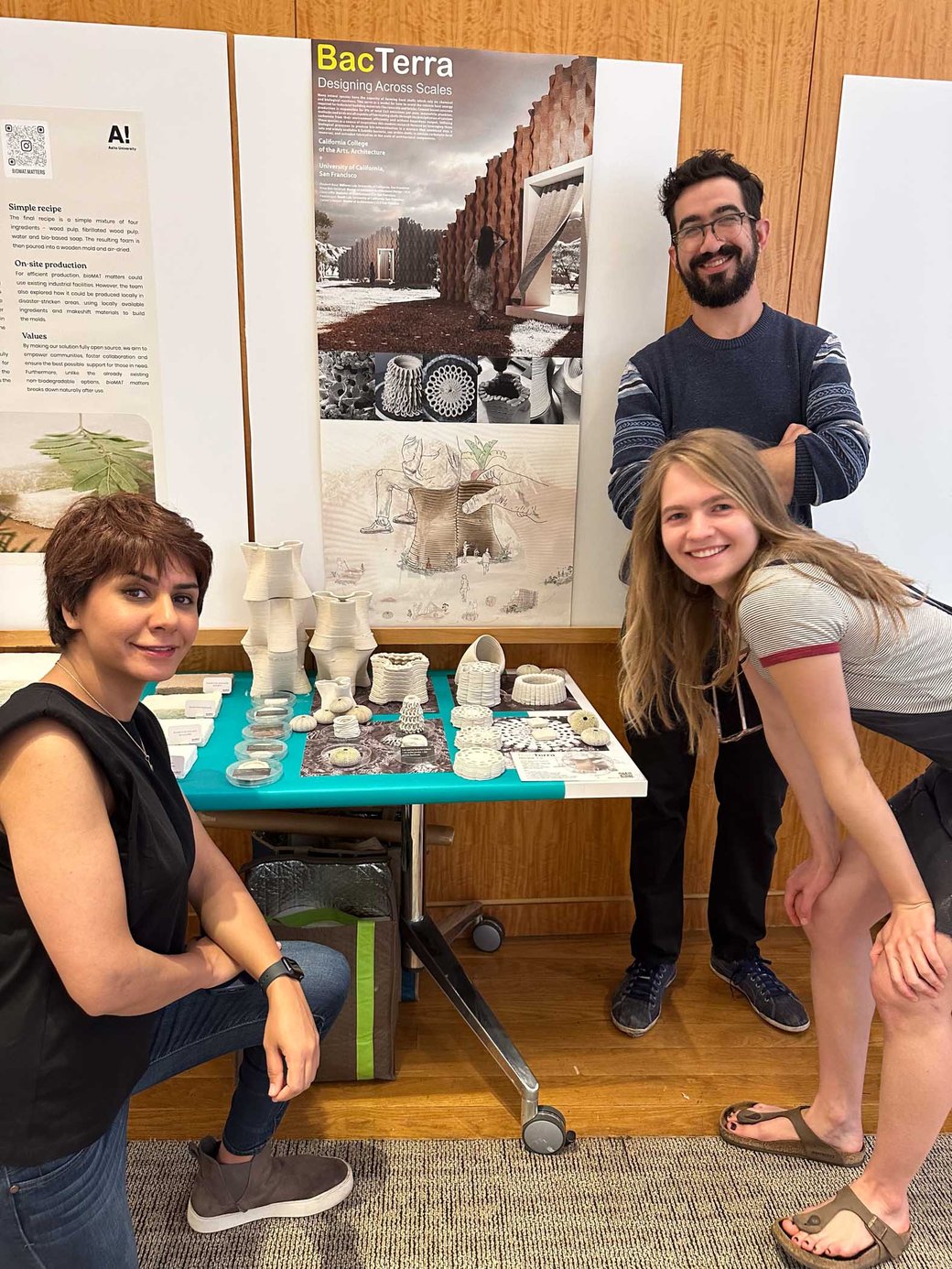 Exploring sustainable ways to build our world
Our built environment alone contributes to nearly 40% of carbon emissions, with concrete construction responsible for nearly 10% of annual CO2 emissions. But what if buildings could be constructed more sustainably? CCA students Conrad Scheepers, Claire Leffler, Kimia Farahnak, and UCSF students Elizabeth Bond and Frederick Leon, developed their award-winning project, BacTerra: Designing across Scales, to explore and apply a process found in nature to create durable materials needed for buildings.
Partnering with students and faculty from UCSF and using research from the material scientist and environmental engineer Dr. Varenyam Achal, students combined clay and the bacteria B.subtilis to precipitate calcium carbonate, a biomineralization process that creates a tough, durable material. This is a similar chemical process to how a mollusk might produce its seashell.
"For our Biodesign project, we wanted to create a material that could harden without being fired," says Claire Leffler. "When you traditionally make something out of clay and fire it you can get something like a ceramic material that lasts a long time. But it's the firing process that contributes to carbon emissions. So our final project was basically a recipe for a sustainable building material."
"It's really exciting to see how you can practice architecture outside of the traditional framework of industry," Conrad Scheepers says, noting how the Biodesign Challenge and his work on BacTerra allow for out-of-the-box thinking and opportunities to grow professionally. "It opens the doors in terms of taking the design work that you're learning in school and applying it in the real world in collaboration with other fields."
Claire Leffler adds, "We connected with so many people and reached the limits of design in interesting ways. It creates a good foundation to start a career in this field, and I'm really grateful to have participated in it."
Published on September 15, 2023