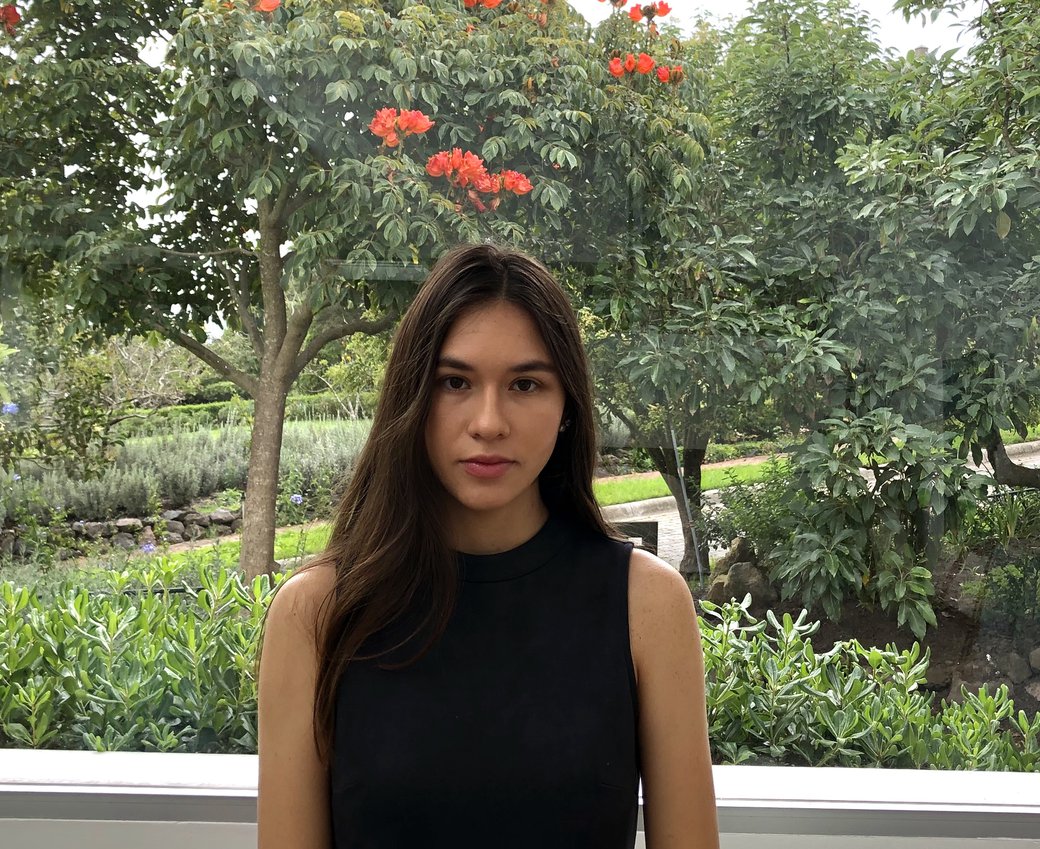 When the COVID-19 pandemic began to hit the U.S. in March, Camila Wandemberg's (BFA Individualized Studies 2020) flight back to San Francisco from her home in Ecuador was canceled. It was her final semester at CCA, and she was unexpectedly caught without any of her supplies as she worked toward graduation. Unable to leave home and struggling with how the pandemic was affecting Ecuador, Wandemberg found inspiration in an unlikely form—algae from her backyard pond.
On June 19, Wandemberg was awarded the runner-up prize at the 2020 Biodesign Challenge Summit for her innovative project creating algae filters for reusable face masks. Wandemberg conceived of the algae filters as a creative solution in response to the limited availability of personal protective equipment (PPE) in Ecuador, where she's been sheltering in place with her family since March.
The Biodesign Challenge (BDC) is a student competition that partners students with biologists, artists, and designers to envision, create, and critique emerging biotechnology. Originally scheduled to take place in New York City at the Museum of Modern Art and Parsons School of Design, this year's Biodesign Challenge was reconfigured to a virtual summit, featuring student project videos and live Q+A sessions with the judging panel, which consisted of over 50 leading entrepreneurs, curators, artists, designers, and scientists. Wandemberg's project was one of 45 submissions from teams at schools and universities across the globe.
She got involved in this year's Biodesign Challenge through a Fashion Design program course titled Investigative Studio: Biodesign (called BioFashion for short), led by professors Michael Bogan and Anthony Murray. Biologists and guest speakers from cutting-edge industries visited the students throughout the course to discuss how biodesign is used in fashion.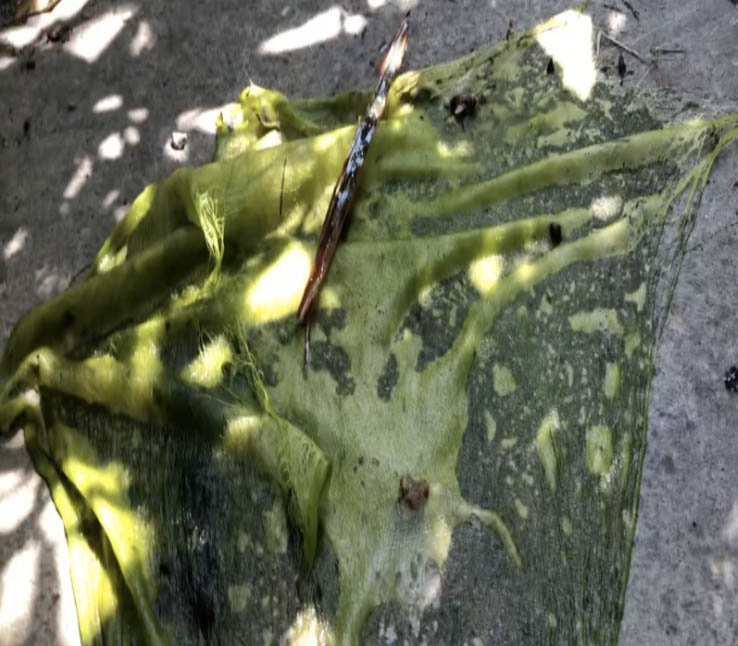 Wandemberg came up with the idea for algae filters after a number of factors outside of her control converged with the COVID-19 pandemic. She left San Francisco on March 11—packing only one bag—to deal with a visa issue that she expected to be resolved in just a few days, but by March 13, Ecuador was locked down and her flight back to San Francisco was canceled. Her personal belongings and supplies, including her original Biodesign Challenge project (modifying fabric in bacterial and fungi cultures), were left behind and unreachable in her apartment.
When she noticed the algae in her backyard pond, Wandemberg remembered a lecture Bogan had given about algae's fiber strength, so she harvested some to experiment. She first began making disposable scrubs but realized masks were urgently needed in Ecuador, so she pivoted to creating the algae filters.
As she explained in her project video, face masks and filters in Ecuador are limited and expensive, making them difficult for many in the country to afford. She said, "23.2% of our population earns less than $5.50 a day during normal working days. With the conditions right now, they earn relatively lower. Single masks are being sold by third parties for over $10 a mask, making this one of my major concerns as both an Ecuadorian and as a designer." In addition to being a low-cost alternative for Ecuadorian communities—the algae filters cost about 30 cents to make and a reusable mask costs approximately $1.70—using the algae is a more sustainable option for filters and harvesting it is a form of eco-remediation, pulling harmful nutrients created by agricultural run-off from the water.
Bogan said Wandemberg's project was selected to compete in the Biodesign Challenge by a panel of faculty in CCA's Fashion Design program based on work done in the BioFashion course, which also featured creative projects from nine other students. "She used the scientific method to test her hypotheses about algae's elasticity and fiber strength after treatment and its filtering potential," Bogan said. "These experiments convinced the jury there was something there."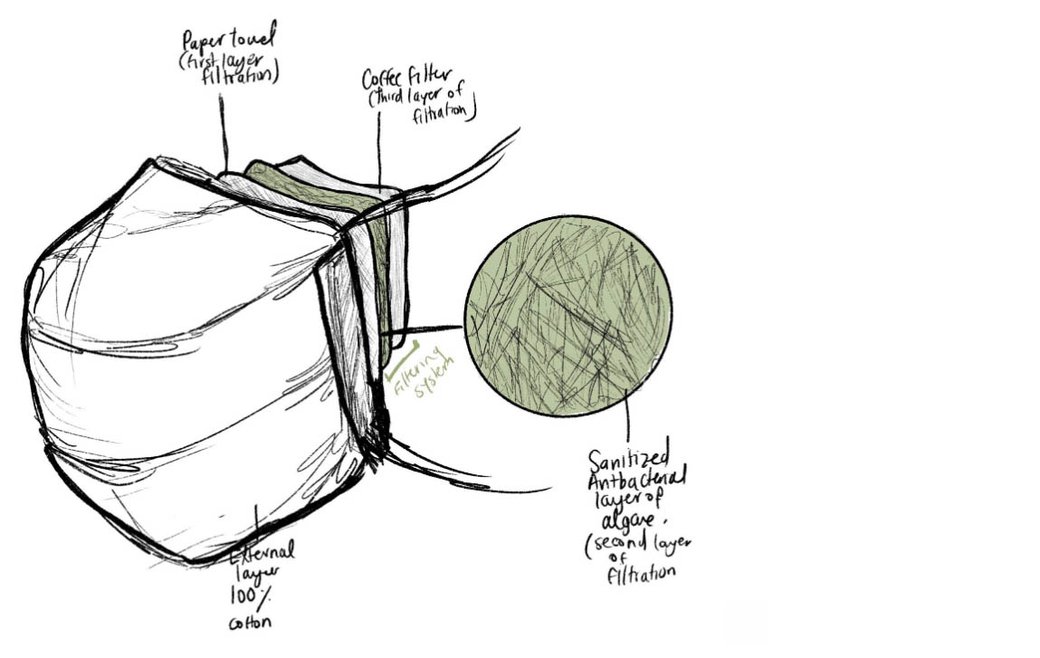 "The judges were especially impressed with the creativity and resourcefulness Camila showed during a time when access to labs and equipment was severely limited," said Veena Vijayakumar, program manager of the Biodesign Challenge. "The scientific research she conducted, the creative ways in which she carried out her at-home experiments, and her focus on her local community in Ecuador made Camila's project exceptional."
CCA Fashion Design Chair Lynda Grose, one of Wandemberg's mentors, said she is proud of Wandemberg's work and the recognition it received in the Biodesign Challenge. "Her project responded creatively to the restrictions she had to work around during the COVID-19 lockdown and the very real needs she identified in low-income communities in Ecuador. These are values we work to integrate into the teaching and learning at CCA."
"I was so excited to see how far my project had come," Wandemberg said. "It started with a small idea with lots of restrictions: I couldn't go out, I didn't have a lot of resources and materials, and, most importantly, we were in the middle of a devastating pandemic. Seeing how far it came made me realize how important it was for me to think about my community and accessibility in my country and how much people cared. It is truly an honor, and I am glad I was representing CCA."