Are you wondering how to become an illustrator? Owen Smith and Michael Wertz, who lead the undergraduate program in illustration at California College of the Arts (CCA) in San Francisco, share five things you can do now to put yourself on the path to a rewarding career in illustration.
1. Develop your own unique style and voice
"When someone asks me how to become an illustrator, I always tell them to get into the habit of carrying a sketchbook with them and drawing in it every day," says Wertz, assistant chair of CCA's BFA in illustration. Whether you draw from nature or from your imagination—or both—make drawing a daily practice. Over time, you'll develop your own individual style of artistic expression.
"Like writers, illustrators need to develop their own point of view," says Smith, chair of CCA's illustration program. "Find something you care about, whether it's personal or political, and try to express that visually."
Finding your own voice and aesthetic will not only make your portfolio stand out if you apply to art school, but it's also essential for establishing a career in illustration. "People hiring illustrators are looking for someone who can contribute more than just a pretty picture," says Smith.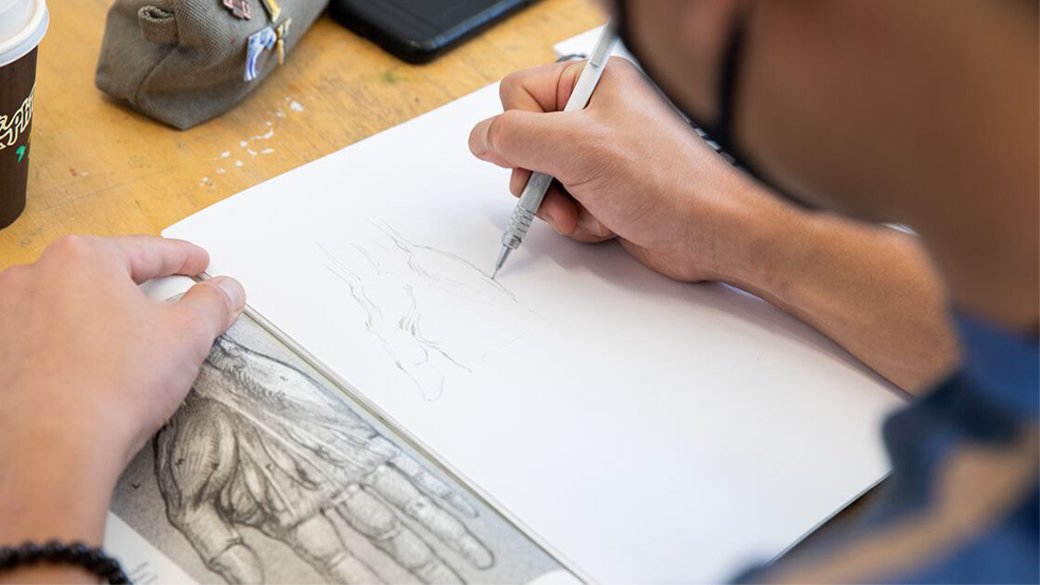 2. Take classes to hone your artistic skills
To prepare for a professional drawing career, you need to develop your skills as an artist. Smith and Wertz recommend that you take as many art classes as you can, across a range of mediums. If your high school doesn't offer many art courses, find classes at a community college or sign up for life drawing classes at a local museum.
"Community college is a great gateway to art school," says Smith. "Most have robust offerings in the fine arts—drawing, painting, sculpture—as well as fields adjacent to a contemporary illustration practice like graphic design, motion graphics, animation, comics, and fashion design."
You can also take advantage of pre-college programs at art schools. "Our summer program for high school students here at CCA is a wonderful way to improve your skills and learn more about how to become an illustrator. You'll also get a feel for what attending art school might be like," says Smith.
3. Get your drawings out in the world
Smith and Wertz recommend that you don't keep your drawings to yourself—by definition, illustration is intended for mass distribution. "Whatever communities or activities you're involved in, find a way to apply your drawing skills," says Wertz.
If you're active in a club, volunteer to make its logo and posters. If you're in a band, step up to provide the imagery for T-shirts, stickers, or flyers. If you're part of a group hitting the streets for a political protest, make the picket signs.
Other ways to get your work into the world include making a website to showcase your illustrations, posting your drawings to Instagram or TikTok, or contributing your artwork to an online forum. And since illustration is collaborative by nature, you could team up with a writer friend to produce a zine or a picture book for children.
"The important thing is to use your art to respond to something you care about and get it out in the world," says Smith. "Drawing can be a great way to channel your passions, your frustrations, your fears, and your hopes."
4. Find artists you love
To develop your own voice and style as an illustrator, explore images that surround you and identify artists that appeal to you. "If you want to be an illustrator, first become a visual junkie," Smith says.
Wertz recommends getting offline and exploring what your town or city has to offer. "Go to museums, galleries, or art centers. Find a local comic book store. Go to the public library and explore its illustration section. Go to a bookstore and look at book covers. If you find an artist or illustrator you like, find out which artists influenced them. Go down the rabbit hole."
Smith agrees. "Figure out what you love and ask yourself why you love it," he says. "Applicants to CCAs illustration program are inspired by everything from Surrealist painting to street art, tattoos to fashion design."
5. Apply to art school
The best way to launch a career in illustration is to go to art school, where you can refine your artistic abilities, gain a critical eye for your own work, and be exposed to different viewpoints. "An art school will challenge you. It will get you to explore outside your comfort zone so you can grow as an artist," says Smith.
"In CCA's illustration program, you'll not only learn professional drawing but also learn how to apply these skills to visual storytelling," says Wertz. "This is essential if you want a career in illustration."
And since contemporary illustration blends into adjacent fields, at CCA you'll have the opportunity to take classes or even minor in fine arts, graphic design, animation, comics, or game arts. Or prepare for a career as a graphic novelist or children's books illustrator with a minor in writing.
"In an art school like CCA, you'll also be part of a community, where you'll learn from faculty mentors and fellow students," says Smith. "And you'll also forge connections to your peers in programs like graphic design and writing—and they're the ones who will eventually hire you for illustration jobs!"
Published on March 24, 2022