California College of the Arts has celebrated a commencement class since the school's founding in 1907. Traditions are bound to begin in that amount of time—even in a community so set on critique, iteration, and reimagination, which might seem antithetical to tradition.
"CCA commencement is a creative institution's version of tradition," says Noki Seekao, director of Student Life and Student Affairs. "It's a collective recognition of an individual's accomplishment and marks an important milestone in their life. This is a formal moment, but our commencement ceremony still contains a sense of that DIY grittiness that's so special at CCA."
From the tam and gown's little-known origin to a particularly relevant Honorary Doctorate address that's more than two decades old, the stories from the college's commencement quirks are so CCA.
The tam and gown
Typically a tam—the velvety, beret-like cap that's more rounded than the square, flat mortar board style—is a piece of ceremonial regalia reserved for prestigious faculty or doctoral candidates. But every graduating student at CCA wears a tam at their commencement and has done so since celebrations as far back as the 1920s. Why?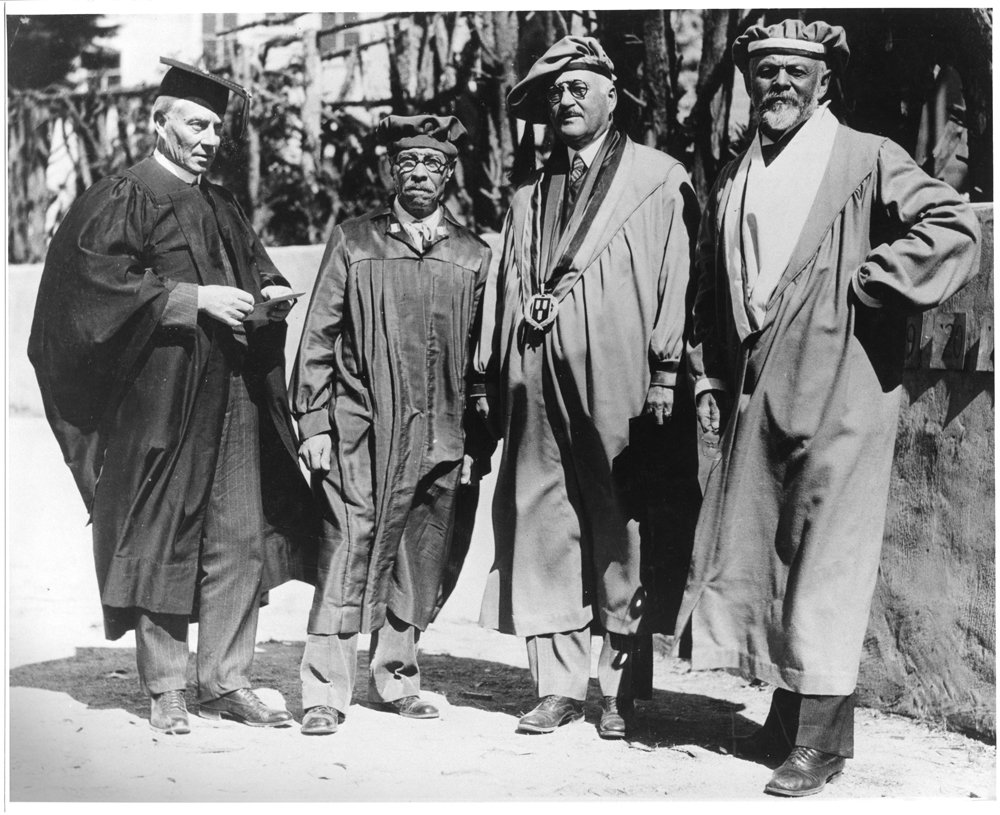 A picture from the CCA Libraries archive of the college's founder, Frederick H. Meyer, holds the answer! Handwritten on the back of the 1927 photograph is a caption that includes the line, "Caps and gowns at right designed by Meyer after those of the medieval artisans guilds."
Today, the tams are a reminder that CCA's newly minted graduates are joining more than a network of 22,000 alumni—they are now part of a centuries-strong line of artisans and makers committed to their craft.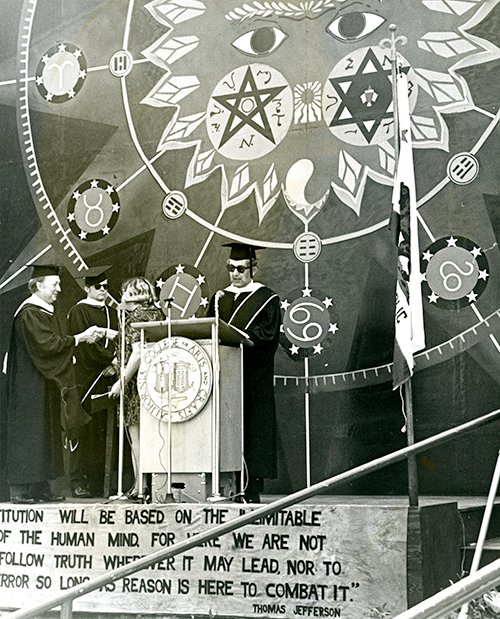 The CCA and Bay Area spirit
Throughout the years, commencement has featured local musicians, like the longstanding CCA commencement band Klezmania!, and been held at numerous Bay Area locations, including the Oakland campus in front of Martinez Hall's student painted mural, Oakland Scottish Rite Center, Paramount Theater, Nob Hill Masonic, Concourse, and the Nourse/Sydney Goldstein Theater.
Even the Class of 2021's virtual video commencement experience (with an in-person celebration for the classes of 2020 and 2021 postponed because of the COVID-19 pandemic) became an opportunity to infuse the ethos of our creative community into marking the moment.
"The virtual celebration serves as a moment of solidarity for this graduating class and the one before us," says Jamie Rose Valera (BA History of Art & Visual Culture 2021), who served as a student representative on the commencement planning advisory group.
Valera and other students on the advisory group expressed the need for something tangible to celebrate the moment, at least for the time being, at a distance—something physical to harken to the experience of their soon-completed hands-on art and design education.
"The planning process has provided a grounding with regard to what our views of tradition are," Valera says. "I remember graduation ceremonies, whether my own or my siblings', and the first hour drags on, the deans make their rounds, it's so formal. But after the pandemic happened, I realized I actually really wanted that. Even a two-hour speech! I wanted to be present with everyone and belong to the past legacy of CCA through that physical experience."
The college mailed each member of the graduating class an at-home commencement kit that includes a special colored stole and tassel. In this way, the Class of 2021 represents a new iteration on an old tradition. They will be the first class in which every student (rather than only the ceremony marshals and student speakers) will be given a stole and tassel, a fact that Seekao finds deeply symbolic.
"They are literally embodying all of commencement. They are the procession, the host, the culmination of all these different roles that in a physical way would have been parsed out," Seekao says. "This class has had to see the silver linings in things, and that theme really struck a chord and became such a symbolic way to represent the resiliency and hope of this class."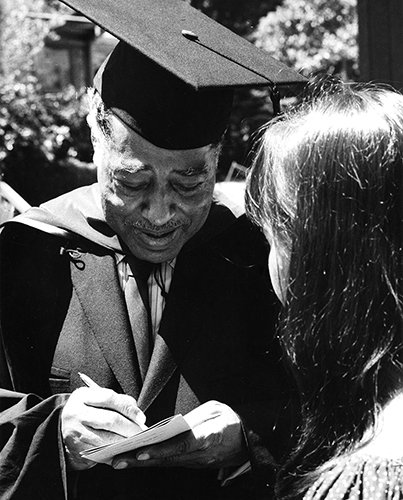 The Honorary Doctorate address
CCA has awarded more than 100 Honorary Doctorate Fine Arts degrees since 1954. The nomination process, now led by the Board of Trustees Academic Committee, is a community-wide endeavor and represents the collective ideals of students, faculty, staff, trustees, and alumni.
The recognition is bestowed upon creators who represent CCA's tradition of rigorous theory and radical practice, using their work to make a difference in the world, no matter their discipline. Past recipients have included musicians (Duke Ellington, 1966); writers (Toni Morrison, 1996); photographers (Imogen Cunningham, 1968); sculptors (Ruth Asawa, 1974); interdisciplinary artists (Louise Bourgeois, 1988); contemporary artists (Kara Walker 2009); architects (Lawrence Halprin, 1998); art critics (Holland Cotter, 2014); designers (Bill Moggridge, 2010); painters (Claes Oldenburg, 1996); and even one groundbreaking culinary artist and activist (Alice Waters, 2010).
Honorary Doctorate recipients join the commencement ceremony processional and deliver a speech with advice for young artists based on their own prolific—and sometimes controversial—experiences.
We'll leave you with the following excerpt from the 1995 Honorary Doctorate address by CCA alum and filmmaker Wayne Wang (The Joy Luck Club, Smoke):
"I really don't understand anything and I really don't know anything.

I don't understand why there's still a war going on in Bosnia. I don't understand why there's this disease going on in Zaire and people can't even touch each other anymore. I don't understand why there's AIDS. I don't understand why there's race wars. I don't understand why I'm fighting with my parents every day over little things.

I don't even understand why I still live and breathe sometimes. I don't understand why my heart works. There's so much I want to know and learn about but I don't seem to have enough time; sometimes I get lazy.

So I guess the only thing I can tell you is ... keep learning and keep trying to know as much as you can. You're going to need every little bit of it."

— Wayne Wang, Honorary Doctorate 1995