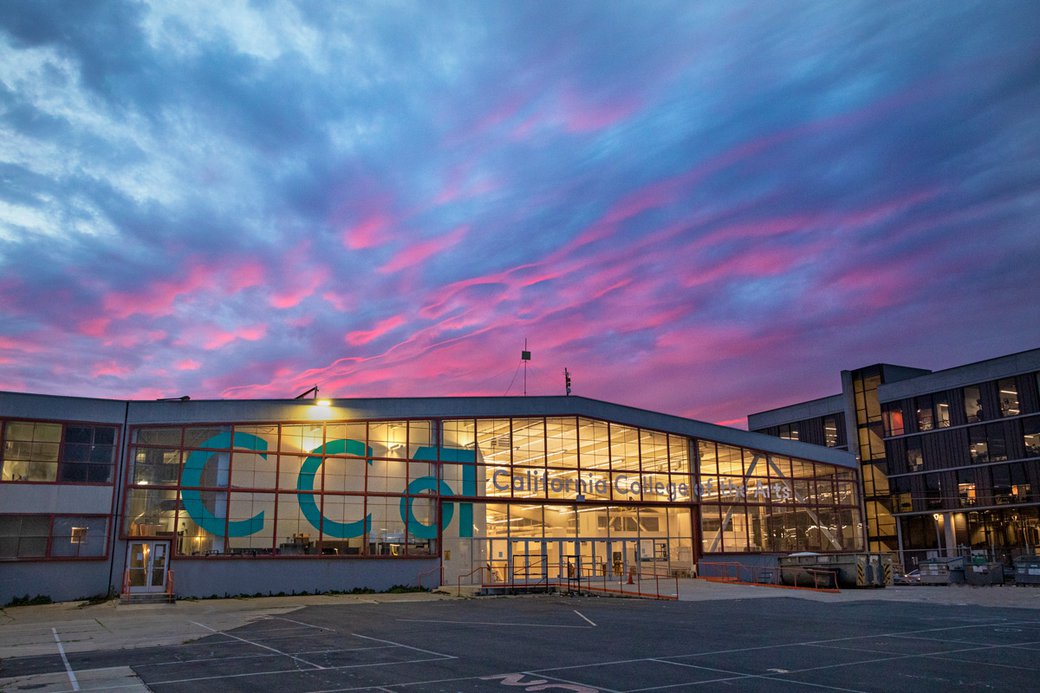 As a California College of the Arts graduate student, you'll grow your skills in a region with worldwide influence, at a college renowned for its ingenuity and originality. CCA is a one-of-a-kind place that will foster your artistic and academic excellence as you deepen your practice.
We proudly extend to you an invitation to join us in our evolving urban laboratory. You'll explore emerging domains of practice that both master and move beyond traditional notions. You'll refine your work through rigorous critical study of your discipline. You'll absorb and connect to adjacent disciplinary practices, unfolding and intersecting ideas in profound new ways.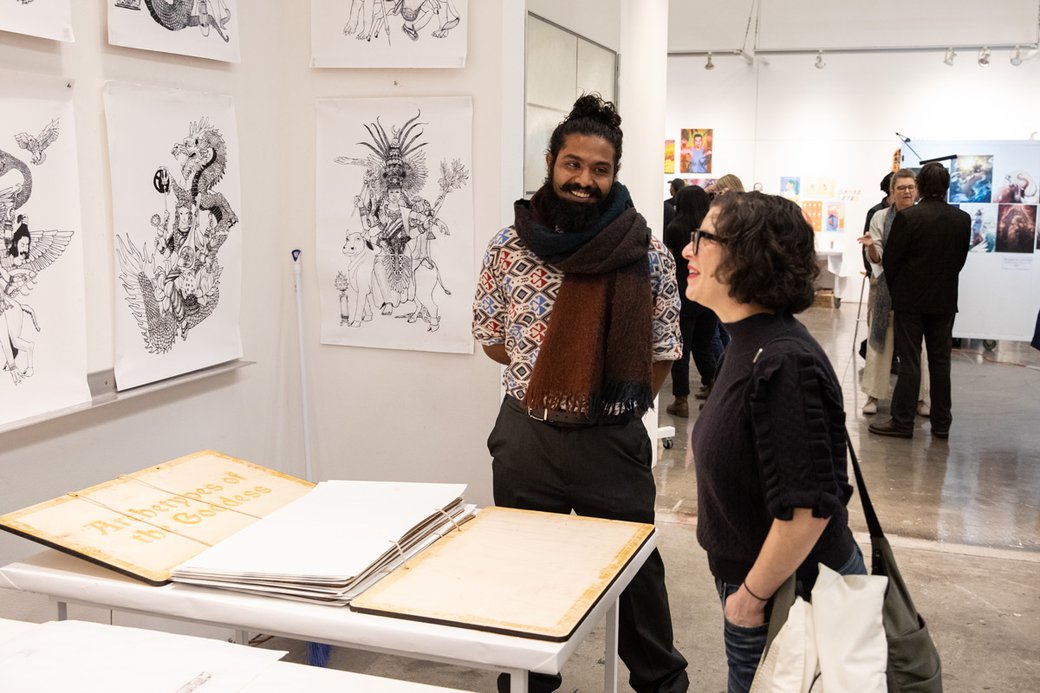 A diverse community grounded in a culture of critique
CCA is a sanctuary for risk-taking and personal expression, deeply engaged in the dynamic culture and radical thinking emblematic of the Bay Area. At every turn, our graduate students are empowered to positively impact people's lives and the world in which they live. Moreover, art college rankings position CCA as one of the best art and design schools in California, the United States, and the world. From greatest salary potential to most sustainable to overall best value, our accolades are bolstered by innovative facilities, interdisciplinary programs, and expert faculty that have made CCA a top-tier college.
Our graduate programs' distinguished faculty are internationally renowned artists, critics, curators, and scholars. Their extensive work with institutions, industries, and communities across myriad disciplines gives graduate students a wide collective pool of expertise from which to draw as they formulate and refine their own individuated practices and positions. With nearly 400 graduate students, CCA's average number of graduate students per class is 10—a fact that underlines our strong mentorship culture.
The range of ideas, people, and creative practices on campus will also give your work intelligence and depth. CCA was ranked sixth on Niche's 2020 list of the most diverse colleges in the U.S., and 49 countries are represented among our entire student body. Our Career Development team will provide access to tools, events, networking opportunities, and a CCA job board beginning as soon as you get to campus. Of recent graduate alumni, 85% reported their CCA education was relevant to their first work experience and 81% obtained work within 12 months of graduating.
Our graduates are highly sought-after by companies such as Pixar/Disney, Apple, Intel, Facebook, Gensler, Google, IDEO, Autodesk, Mattel, and Nike, and many have launched their own successful businesses. Alumni and faculty are often recognized with the highest honors in their fields, including Academy Awards, AIGA Medals, Fulbright Scholarships, Guggenheim Fellowships, MacArthur Fellowships, National Medals of Art, Rome Prizes, and more.
Most notably, our interdisciplinary community strives everyday to solve social, cultural, ecological, and economic problems. Join this inclusive and collaborative environment and pursue work that makes a difference for all.
The future is happening here
CCA is creating a new, expanded college campus at its current site in San Francisco. Spearheaded by the acclaimed architectural firm Studio Gang, the new campus design will unite our academic programs in one location by 2022. The expansion includes a new cafe, restaurant, and rooms for graduate students, which will be available this fall, and on the horizon are hybrid making spaces that will enable our interdisciplinary mission like never before.
You're about to join a college that's thriving and a community that's transforming what a socially engaged, sustainable art and design practice looks like.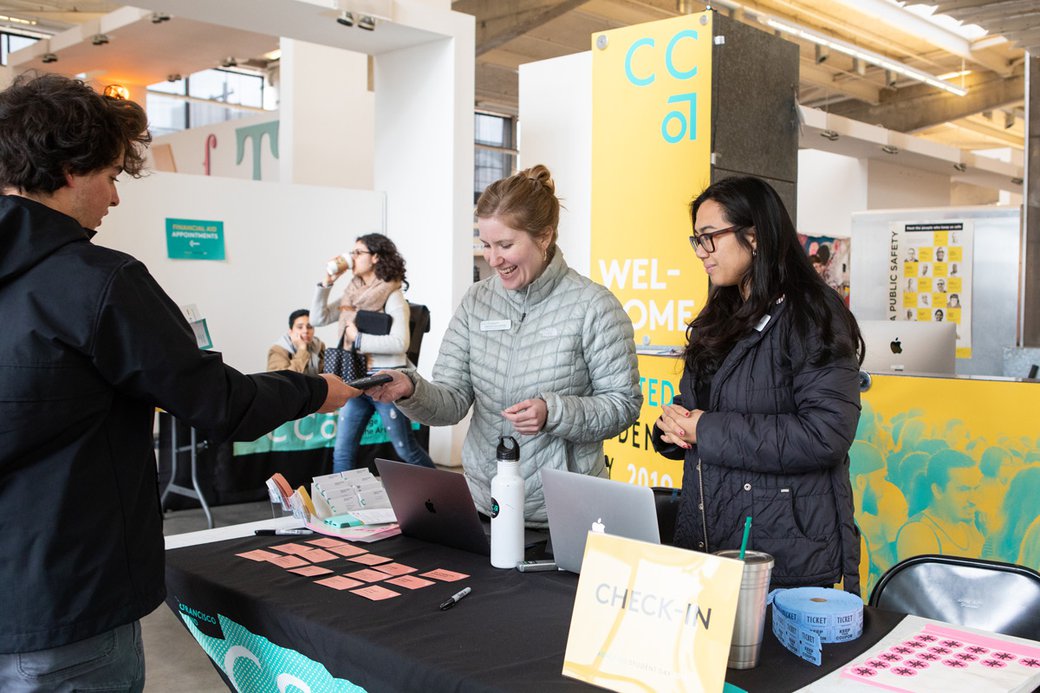 All Graduate Admitted Student events will now be hosted virtually and by program, so you can meet others in your cohort, talk to program leadership, learn more about the college, and ask questions before you decide to enroll. Invitations will be sent via email to all admitted graduate students.
Due to the current coronavirus (COVID–19) situation worldwide, we've unfortunately canceled all of our in-person 2020 Admitted Student events. However, we look forward to this virtual opportunity to honor your acceptance to CCA, despite the unique circumstances. You've worked hard and deserve to celebrate your achievement. We're sorry we can't celebrate with you in person!
Take a virtual tour of CCA
Featuring in-depth views and descriptions of both campuses, including graduate spaces, this tour is designed so you can click around and explore at your own pace.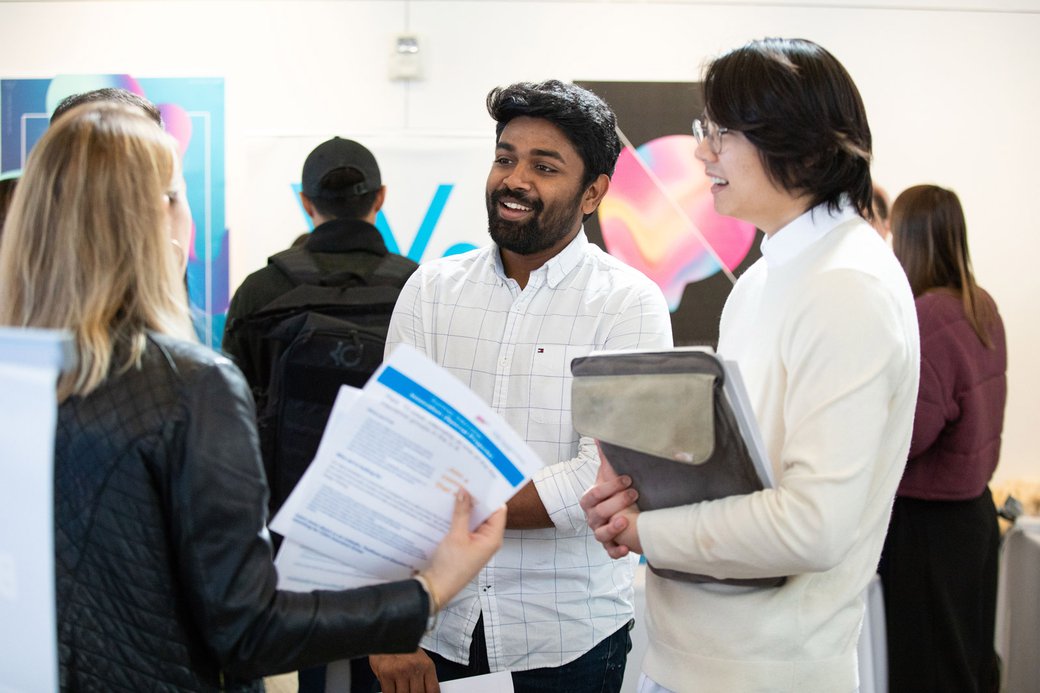 Review all your information
We're certain you belong at CCA, but we know attending graduate school is an important investment of time and financial resources. That's why we ensure you can understand all aspects of your offer—information you'll need as you make your decision to enroll at CCA.
The admissions offer you received indicates the semester you'll start attending CCA. You can also review your financial aid and explore your housing options online. If you have any questions along the way, reach out to our teams for answers.
If you already know you'd like to accept your offer and attend CCA, you can submit your enrollment deposit now and get started with the next steps.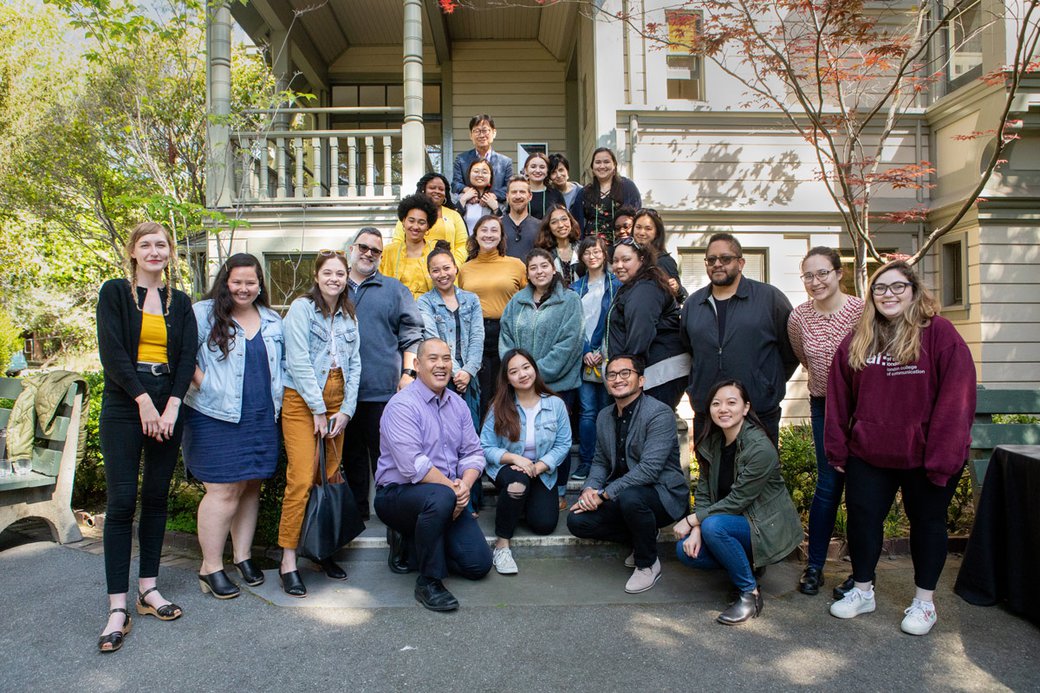 Economic diversity is integral to CCA
To view your financial aid offer online, log in to the CCA Graduate Applicant Page, click on View My Financial Aid Packages, and click on your program for the 2020–2021 aid year.
If you have any requirements to complete your financial aid application (for example, if you have been selected for verification), you can also view and upload documentation on the CCA Graduate Applicant Page by clicking on My Financial Aid Requirements.
Enjoy the convenience of living on campus
Our newest housing community at 188 Hooper Street opens fall 2020 in the center of our San Francisco campus. You'll be among the first group of incoming students eligible to live in this state-of-the-art space. The convenience of living directly across the street from the main campus is amplified by a student meal plan you can use in Founders Hall's new, wellness-focused Makers Cafe and dining hall—which is open to all and recognizes a diverse range of student needs, schedules, and diets.
Twelve-month campus housing contracts are available to incoming graduate students, which means you can stay in your fall and spring semester room assignment over the winter and summer periods as well. (This option is available to all incoming graduate students; however, it's particularly relevant for MDes Interaction Design and MFA Comics students because both programs have required coursework over the summer semester.)
Here's a look at housing accommodations available to you as a graduate student at CCA in Founders Hall or Panoramic Residences. You'll receive more information on how to apply to live in one of these communities after you submit your enrollment deposit.
Founders Hall
Be among the first to live here. Our newest campus housing at 188 Hooper Street opens in fall 2020.
On CCA's San Francisco campus, Founders Hall opens directly into a courtyard and is located across from the main building
Front desk staff, 24-hour guest check-in, and regular safety walk-throughs
Building features include a public cafe and dining hall that accepts student meal plans, a convenience store, bike space, top-floor terrace, and modern sustainable amenities
Double occupancy and single occupancy rooms
Panoramic Residences
CCA students share this 12-story building with students from the San Francisco Conservatory of Music.
Two blocks from BART and Muni metro station, one block from CCA shuttle; 1.2 miles from San Francisco campus (10-minute bike ride)
Building features include stainless steel appliances, flat screen TVs in each unit, soundproof engineering, and a bike storage/repair station
Two-person studios and four-person suites
Accept your offer by making an enrollment deposit
Your journey as a CCA graduate student starts with your intent to enroll. To do this and confirm your attendance at CCA, use the "Submit your deposit" button below to pay the $500 enrollment deposit by May 15, 2020 (MFA Comics), June 1, 2020 (all other graduate programs), or within two weeks of receiving your admission offer, whichever occurs first. You'll need to enter the student ID number provided in your offer of admission to complete the non-refundable deposit, which is used to cover registration fees and enrollment costs.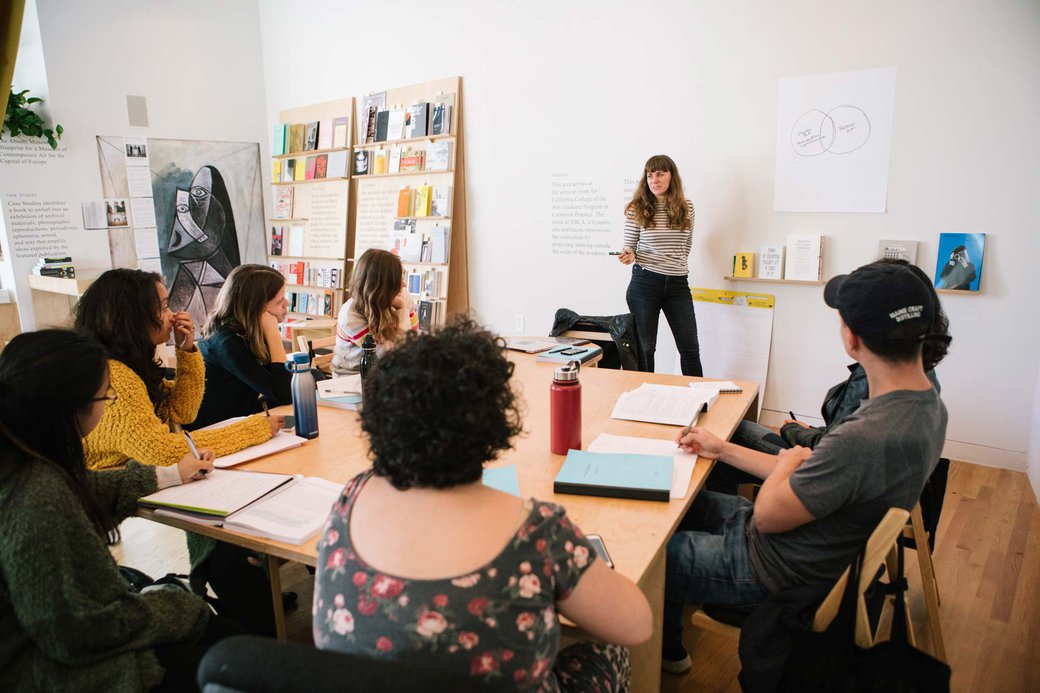 Select housing, prep your tech, and more
After you've made your enrollment deposit, it's time to follow the Enrollment Checklist, which includes obtaining your I-20 and F-1 visa (if you're an international student), applying for campus housing, reviewing technology requirements, and signing up for Student Health Insurance, among other tasks.
Be sure to plan accordingly
Mark your calendar now and make travel arrangements in advance.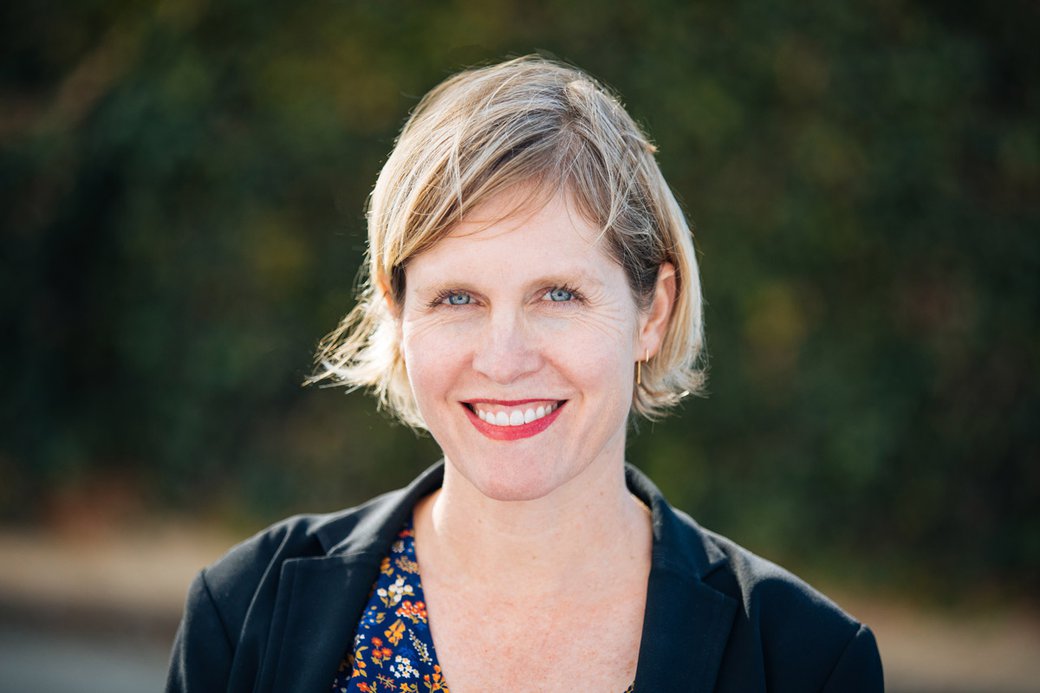 Our teams are here to help
With your acceptance to CCA, you've achieved the first step toward academic, artistic, and personal achievement. With our dedicated teams of counselors, you have someone who can answer your questions the rest of the way.
Admissions
We can talk you through your admission offer, schedule a visit to campus, and more. View our team's contact information.
Housing
For questions regarding graduate housing opportunities; residential hall security, amenities, and accessibility; or submitting your housing application, email [email protected].
Financial Aid
Reach out to us with any financial aid or payment-related questions—from how to understand your award package to how to submit a payment. You can also email [email protected], call +1 415-703-9528, or view our Financial Aid team if you need additional support.