The Angelo Donghia Foundation, a privately held nonprofit organization based in New York, announced CCA Interior Design student Antonia Widodo as one of the thirteen winners of its 2017 Student Scholarship Program in Interior Design. Launched in 2002, the Foundation awards scholarships to deserving students who are entering their senior year in a Baccalaureate Degree Program in Interior Design. This year's winners were selected from sixty-nine student projects submitted by accredited institutions. Antonia was awarded $30,000 based on her innovative portfolio concept The Harbor.
"From day one, Antonia has been a dedicated design student not afraid of working hard and pushing through difficult challenges only to come out the other side as a shining example of what it takes to be a young designer. There is no doubt in my mind that Antonia will make her mark in the world of interior design."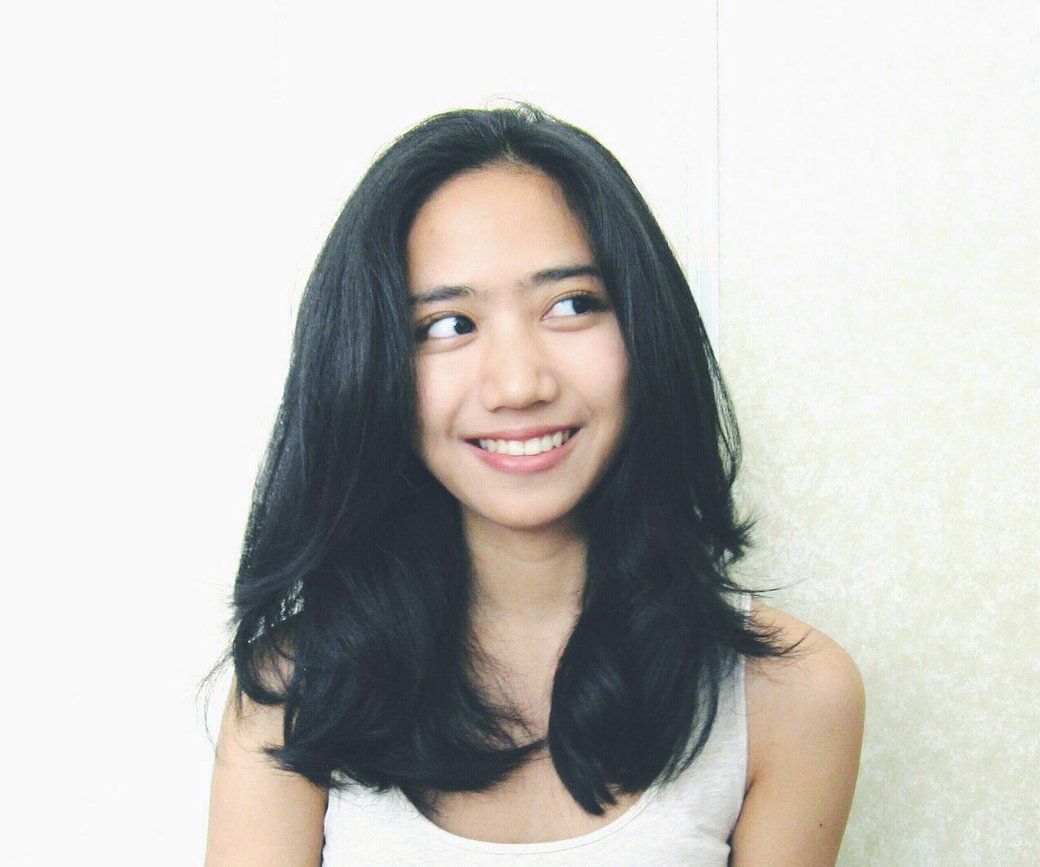 What class has influenced you most during your time at CCA?
Materiality and Space course was definitely my favorite class. It challenged my thinking of what design could be. While I understood design as something aesthetically pleasing while serving a function, I learned that design is also how we understand the cyclic process of prototyping, testing, analyzing, and refining a product. This class encouraged its students to be experimental and opened a whole new world of possibilities in architectural forms, decorative patterns, and the exploration of material properties—which I enjoyed very much.
What is one thing that makes CCA's learning environment different?
I like CCA for its collaborative studio environment, especially how art, craft, and design come together. I entered CCA as a Fine Arts student but changed my mind as soon as I saw the Architecture Division's End of Year Show. I wouldn't have been an Interior Design major if there was not an opportunity to see what other students are doing. I learned how to make a better layout from the graphic designers and how to create a cohesive product story line from the industrial designers. I believe that my exposure to all these design disciplines helped me develop more innovative, visionary projects. I have also been working at CCA Rapid Prototyping Studio for a year now and I cannot ask for a better work-study experience with the best managers and co-workers!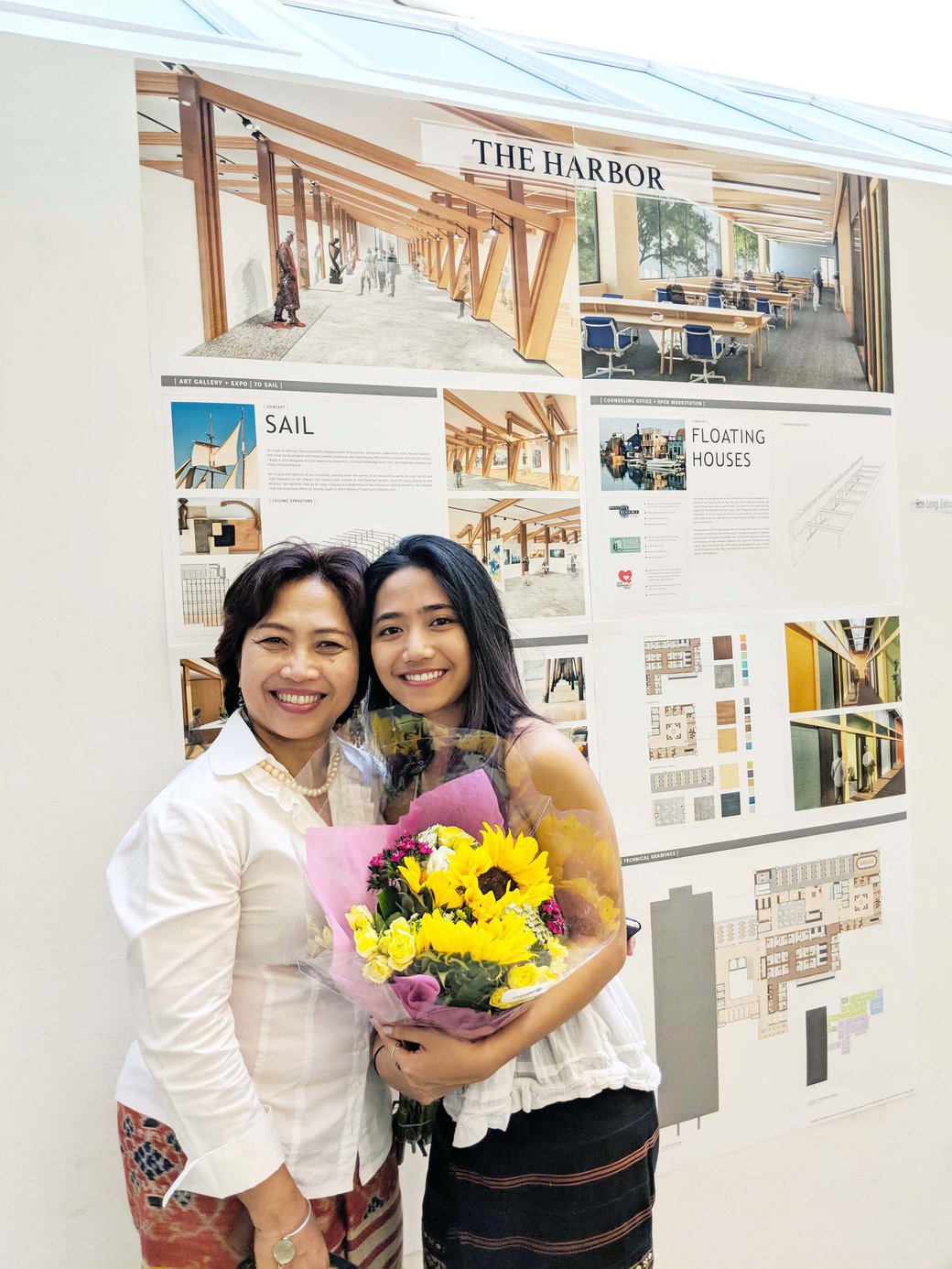 What would you tell a prospective student about CCA's Interior Design program?
CCA is the place where you learn Interior Design through the lens of Architecture. This is what made the program really unique. Don't hesitate to experiment with your design. Take inspiration from your childhood, your culture, your traveling experiences, or anything that matters to you.
How do you describe your project?
The Harbor is sponsored by Positive Resource Center, AIDS Emergency Fund, and Baker Place whose mission is to provide comprehensive benefits counseling, employment services, and residential treatment for people in the San Francisco Bay Area living with or at risk of HIV/AIDS, substance abuse, and mental health. My goal for this project is to present the client with dignity and welcome them with open arms, which is why I chose The Harbor—to give shelter to; offer refuge to—as a theme.
The two retail spaces (Under the Pier restaurant + Sail art gallery) on the ground floor are designed to accommodate workplace activity as well as carry the companies' altruistic spirit. The second floor is where clients find counseling support and employment services office. I do want to be bold with the concept by making an iconic ceiling feature throughout the space.
CCA's motto is to 'Make art that matters' and this project made me realize that I can serve the community through my practice. The Harbor also resonates with The Angelo Donghia Foundation's mission to support research on the causes of Acquired Immune Deficiency Syndrome (AIDS) and its related diseases and treatments.
How do you feel about winning Angelo Donghia Senior Scholarship?
I'm really grateful for the opportunity to represent California College of the Arts in such a prestigious competition (shout out to Cathrine Veikos who believed in me to do so!). I would not have been able to go through the process without the help of CCA faculty and my peers.
I am thankful the Angelo Donghia Foundation awarded me with this incredible scholarship! I'm really, really happy.
Antonia Widodo's winning concept The Harbor