Katia Bernstein (BFA Illustration 2022) found her creative tribe at CCA long before she became a degree-seeking student. While still in middle school, Bernstein participated in CCA's Young Artist Studio Program—a rigorous, immersive arts program for rising seventh, eighth, and ninth graders—where she focused on architecture and graphic design.
Two years later, Bernstein took part in the Summer Atelier, a summer program in which students who will be sophomores or juniors in high school choose a discipline to study intensively—such as photography, fashion design, painting and drawing, screenprinting, or jewelry design and metal arts. Bernstein chose to study the graphic novel. "It's great to see my characters tell a story," she says. For instance, she created "Jackie," a jackalope "who roams the meadows, lives in a small cabin," says Bernstein. "I like to tell stories about finding yourself and your place in the world, going on adventures, and getting people to do the same thing with you."
"CCA is a major part of my life. I want to be an illustrator, and it's helping me get there."
BFA Illustration 2022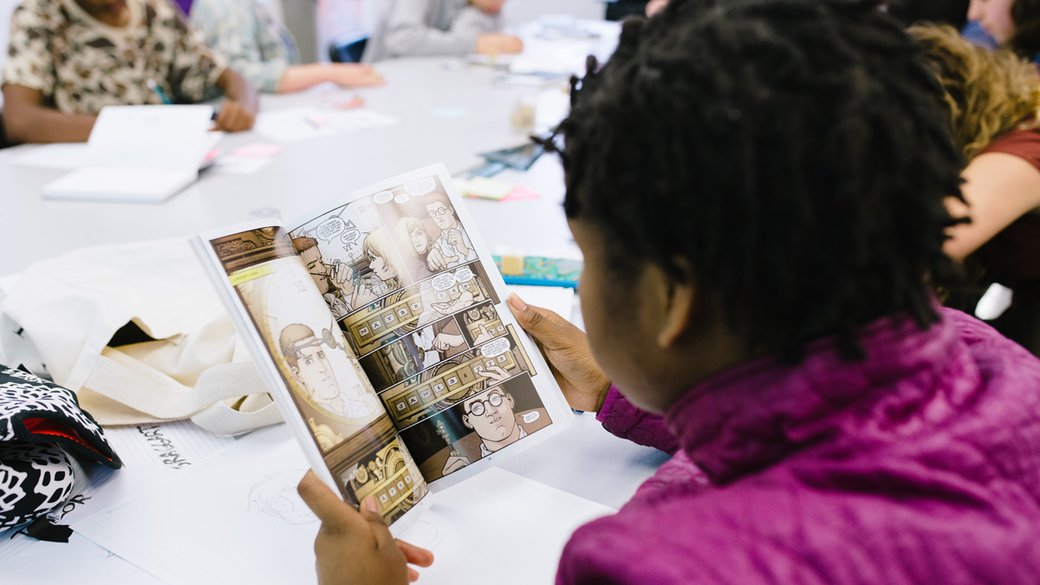 Energized by her previous summer experiences, Bernstein opted to enroll in a third summer program as she advanced through high school—and her creative journey. CCA's Pre-College program allows aspiring art students the opportunity to experience the art college environment while earning three college credits. It was here that Bernstein says she truly found her place.
"In high school, I couldn't really talk to people about art," she says. In the Pre-College program, though, she "was able to talk about my art, and their art, and why they did it. It made me really happy."
Bernstein was so invigorated by the Pre-College program that she participated twice, studying both illustration and animation. "I learned a lot about my own style," she says. "I want to be an illustrator and I want to do comics, but there are a lot of challenges to becoming an illustrator. I'm getting better at it because of the critiques from Pre-College. I've been told to work bigger, which has really helped me. I gained more confidence, although I am still trying to find my way."
Bernstein's mother, Karen, says she can't thank CCA enough. "There is a tremendous amount of support for the students, as artists, as humans," Karen says. "It's so important for kids to be around adults who care as much about art as they do. It's really hard to be an artist, and it requires an incredible commitment because it's with you 24/7. It's work like no other. Katia works like a Trojan, and I give a 10 thumbs up to CCA for helping her. It's just a great opportunity for students."
Now a full-fledged college student working on her bachelor's of fine art, Bernstein concurs. "CCA is a major part of my life. I want to be an illustrator, and it's helping me get there. The students at CCA have been giving me good ideas about ways to use my abilities," she says. "I really like using art to help people. I know that sounds cheesy, but it's true."
Registration is now open for all summer youth programs