Inspiration and structure to transform your work
The Core curriculum at CCA reflects the diverse cultural fabric of the San Francisco Bay Area and our community of artists, designers, architects, curators, art historians, and writers. Throughout your undergraduate education, you and your fellow classmates will participate in a series of foundational and experimental classes and studio courses that are intentionally designed to transform you and your creative practice.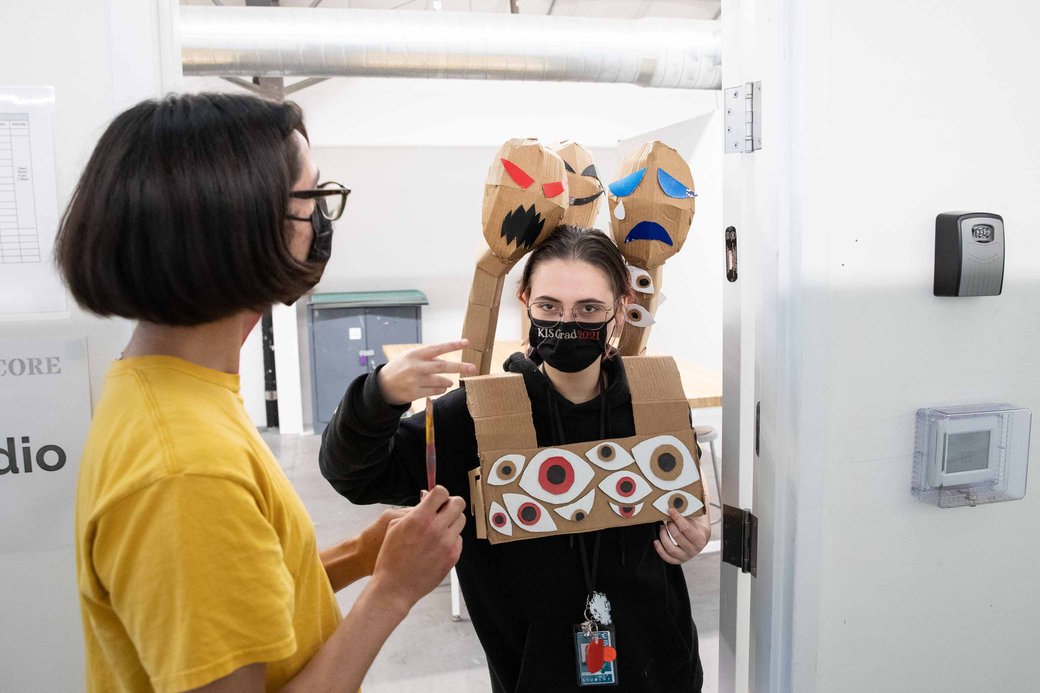 In your first year, you'll complete the First Year Experience, which immerses you in artmaking and thinking. As you are challenged and nurtured by your coursework, faculty, peers, friendships, and future networks will blossom out of shared experience, and you'll learn to use nuance and uncertainty to your advantage. You'll collect and combine theoretical knowledge with contemporary practices, critique will become second nature, and experimentation will fuel new discoveries. You'll expand not only your skills, craft, and community, but also your purpose, your understanding, and your relationship to yourself as an artist.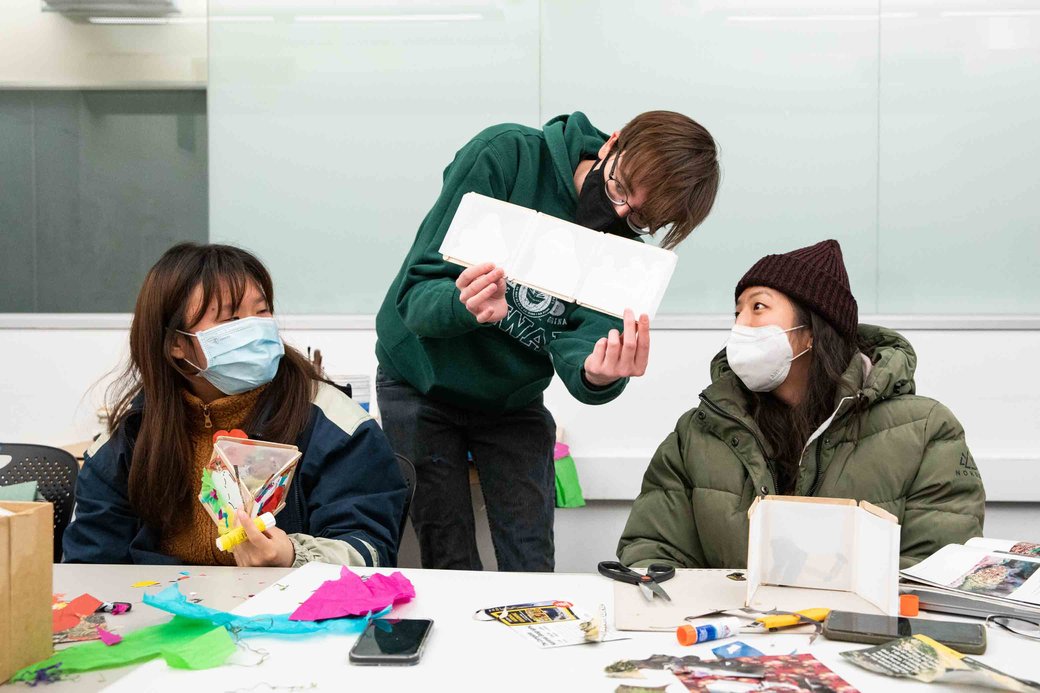 Challenge yourself creatively and intellectually
To begin your journey through our Core curriculum, you'll spend your first two semesters at CCA exploring different approaches to creative practices while building the skills necessary for success in our undergraduate programs. These semesters comprise your foundational first-year experience.
You'll learn not only how to make things, but how to think through the making of things. This is your time to discover your authentic way of working within a supportive community. Faculty are here for you every step of the way, offering one-on-one guidance and helping you define a path of study that reflects your interests.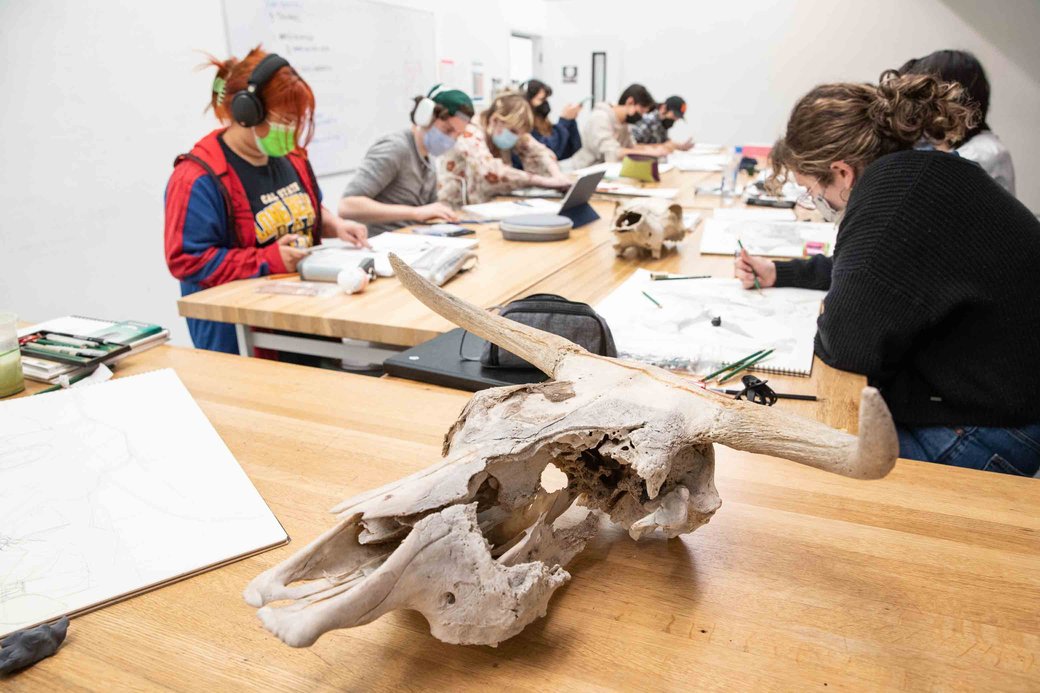 First Year Core Studio
Your first year at CCA emphasizes the exploration of ideas through every dimension: drawing, 2D, 3D, and 4D (time based and interactive). These Core Studio courses will help you develop visual literacy, work ethic, critical analysis, and communication skills alongside a growing knowledge of craftmaking capabilities.
With hands-on support and mentorship from faculty and studio managers, you'll learn to collaborate, research, and provide constructive critique. Once you begin coursework of your chosen major, you'll build upon these foundational skills to refine your processes of inquiry and techniques. Check out these Core Studio course descriptions to learn more.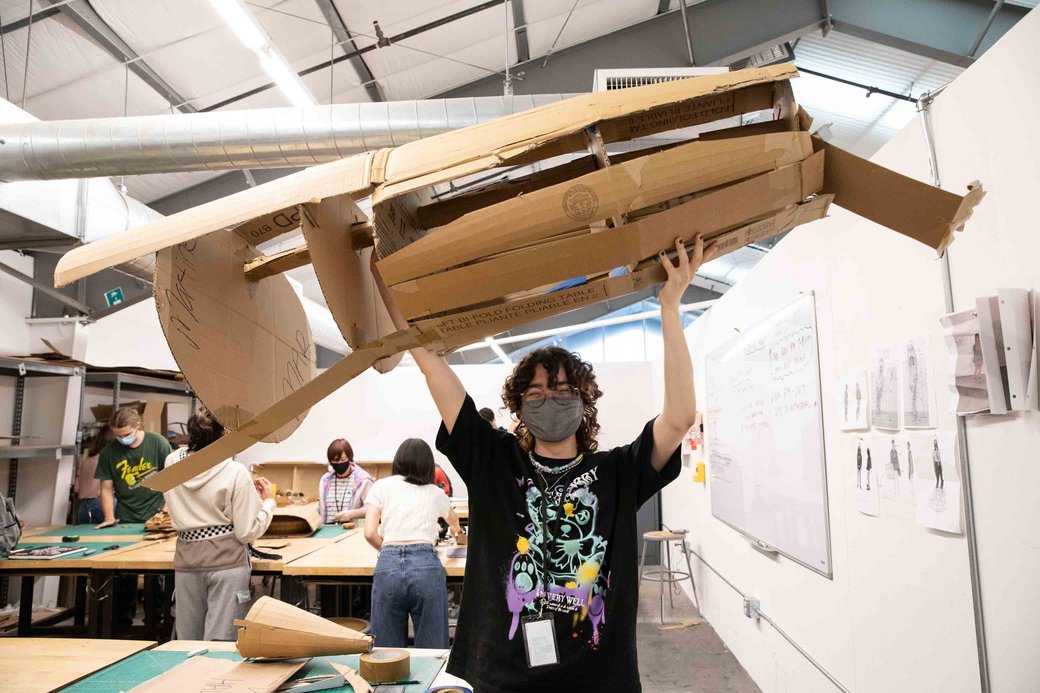 Challenge all assumptions
At CCA, we're more interested in giving you room to grow than asking you to adhere to a particular style or mode. Our goal is to train you on the tools and provide a guided experience that challenges you to develop your own style and points of view. You'll graduate a well-informed creative citizen of the world with something original to say.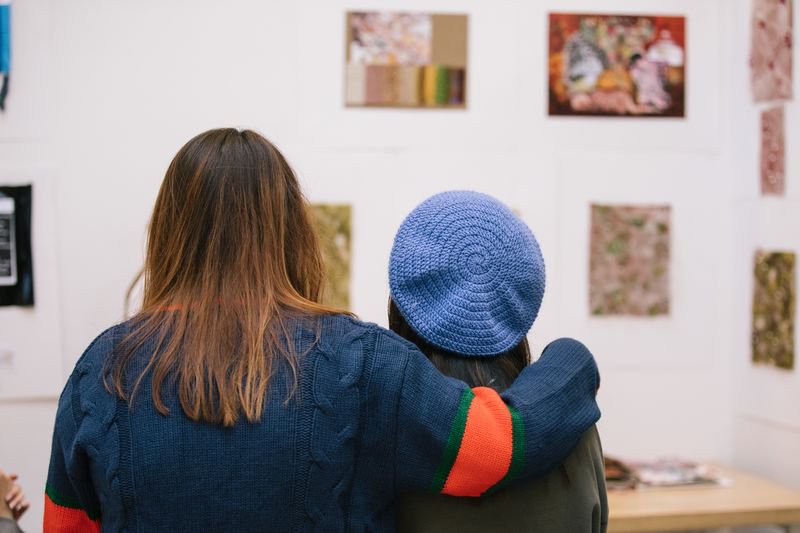 Join a supportive critique culture
Critique is a fundamental part of the art school experience, and learning how to give feedback in a constructive manner will help you in all aspects of life. Practiced in both studio and classroom, critique is like cross-training for your brain. You and your fellow students share your work, providing a brief overview or explanation of your intentions or challenges, and solicit input from the room, including your professors. Every student's work will be critiqued, and you'll participate in critiquing your classmates' work.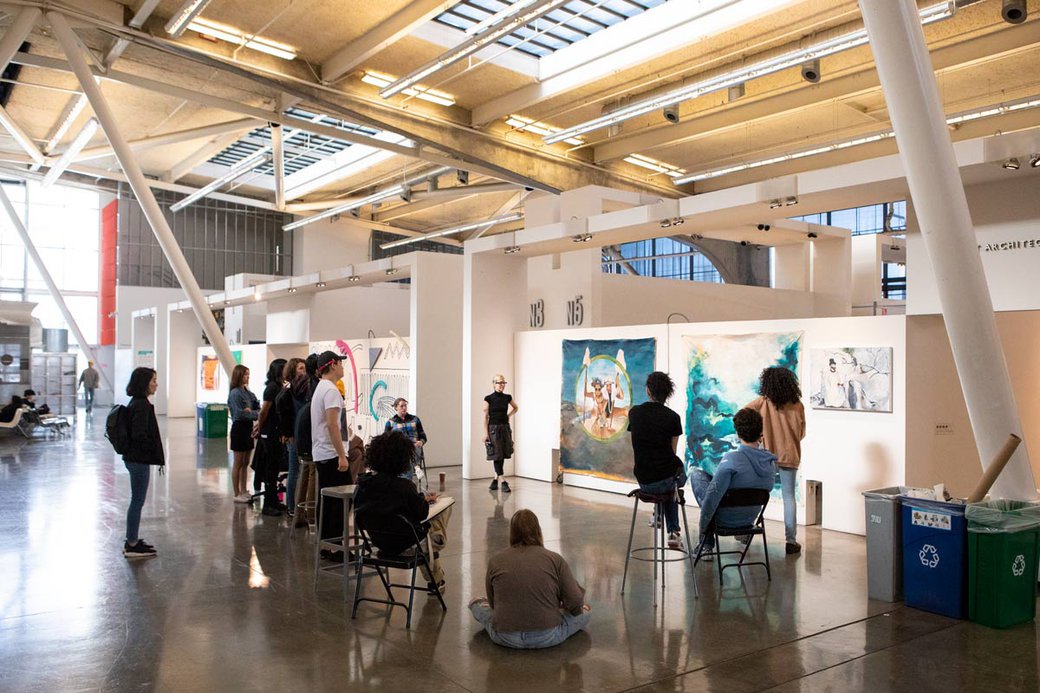 CCA's critique culture is open, engaged, and respectful, and it's through this dialogue that we are home to a unique arts community you won't find anywhere else. By participating in this culture, you'll receive invaluable information that will help strengthen your craft, concepts, and execution of ideas, as well as help you find potential solutions for challenges. From sustainable design and ecology to social justice and innovations in the Bay Area, you'll learn to open up the conversation and consider art, architecture, design, curation, and writing within a broad and interconnected context.
Critical Studies
Encompassing cultural history, social science, philosophy, sciences, mathematics, and more, Critical Studies teaches you to think critically and imaginatively about the world around you. You'll choose courses in these areas throughout your time at CCA. From literature and politics to economics and technology, learning about interdisciplinary methods of knowledge will help you to contextualize your own work within a larger cultural context.
Essential critical-thinking skills
You'll take Foundations in Critical Studies as part of your first-year experience. Through close readings and responses to cultural texts, you'll learn how to analyze diverse perspectives on major themes and topics. Being able to think critically and make a compelling argument, as well as having strong oral and written communication reflexes, are essential skills for a career in visual arts and design.
Critical Ethnic Studies
We're committed to equity, intersectionality, and social impact. Critical Ethnic Studies is an interdisciplinary field that will inform your research and creative processes at CCA. As part of this sequence, you'll take one seminar and one studio, for a total of 6 units, in areas outside your chosen major.
In-depth explorations and hands-on learning
Seminars are in-depth explorations of the formations of identity, society, power, and liberation in the United States and globally. You'll learn about the contributions of African Americans, Asian Americans, Native Americans, and Latinx to dominant American culture and subcultures. With a hands-on approach, Critical Ethnic Studies studios complement seminars that focus on convergences and relationships between race and ethnicity, artmaking, and design practices. Courses such as CONJURE! African Sacred Art, A Taste of Resistance, and Primeval Intersection encourage you to consider and incorporate questions about and explorations of cultural formations, power, and privilege into your studio and community practices.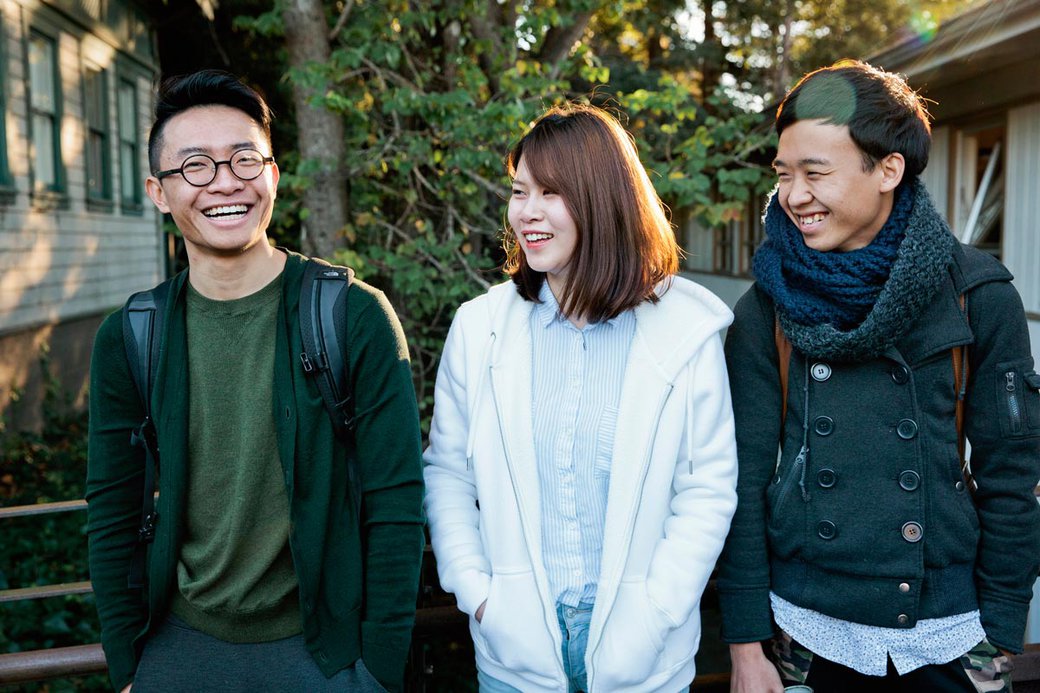 Undergraduate course requirements and electives
Classroom studies in art history, humanities and sciences, diversity studies, and a range of electives will equip you with a theoretical framework that, in combination with your craft-based work, will ignite your creative development and inspire you to take bolder creative risks.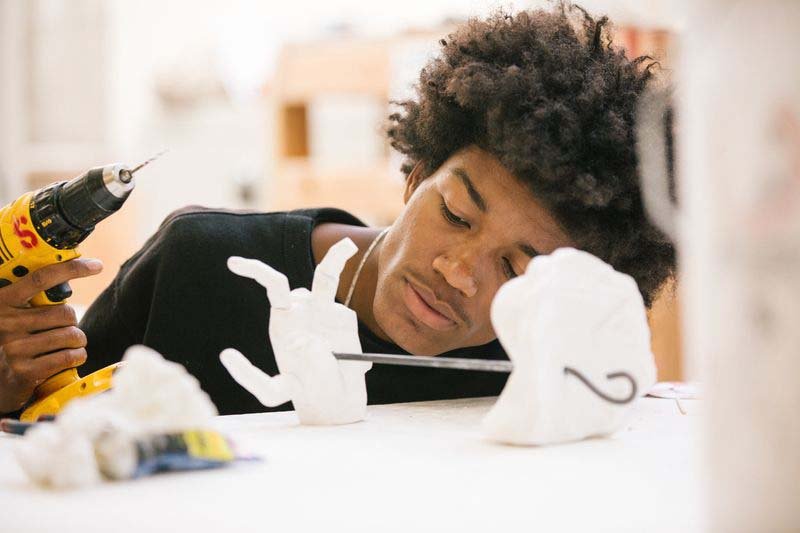 Electives
You'll also take elective courses to satisfy your undergraduate core requirements. (Electives are organized by discipline below.) You can absolutely take electives outside of your main area of study—in fact, we encourage it. Electives are your opportunity to explore another aspect of your major's discipline or get completely outside of your comfort zone and challenge your creative practice with additional interdisciplinary study, research, and perspective.
Learn from faculty across disciplines
Our First Year faculty help you build skills common to most architecture, design, and fine arts practices through Core Studio courses. Each course will be slightly different in terms of approach and theme, depending on who's teaching, but you'll leave the course possessing the same foundational skills and experiences. You may, for example, learn drawing from a professional architect, 3D from a textile artist and social activist, and 4D time-based narrative from an interdisciplinary sculptor. These courses teach you to think through all dimensions from different perspectives and prepare you for advanced creative work and the critical thinking required for your chosen major.
Important note for Writing and Literature majors
If you're a Writing and Literature student, you'll need to take two Core Studio courses during your first year. We recommend the 2D and 4D courses because they're focused on effective communication and storytelling. You may also choose to substitute your six required Writing Studio units for Drawing Studio and 3D.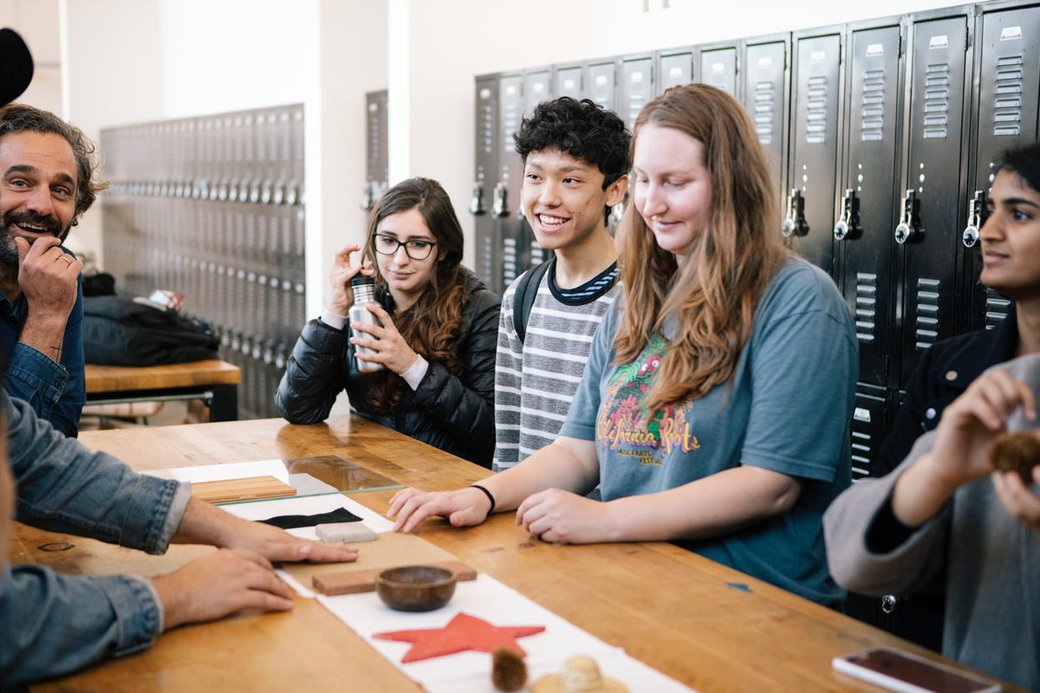 Collaborative, topic-based studios
By the time you reach your third and fourth years at CCA, you'll be ready for Upper Division Interdisciplinary Studio (UDIST) courses. The theme-driven UDIST courses are taught by faculty from various disciplines who develop and propose these innovative studios. UDIST courses are specifically designed to combine modes of research and making from a variety of disciplines in order to raise questions, develop techniques, create new work, and solve problems in ways that would not have been possible through single disciplinary means.
Social engagement and community partnership
In UDIST courses, you'll broaden your focused disciplinary methods to an approach that is all-encompassing and socially engaged. Thoughtful readings, seminar discussion, new tools, and ambitious collaborative projects form the backbone of the experience, while community partnerships help you take studio-based solutions out into the real world.
Sample ENGAGE course: Transitory Place
ENGAGE: Transitory Place (UDIST-3000-12) explores the range of local fibers found within San Francisco, the processing of them into proposals and artifacts, and the documentation and presentation of these resources. You'll connect with ranchers, farmers, hand spinners, and fabricators, as well as make objects and samples during instructional time in a studio environment. Primary research skills and documentation are emphasized, and you'll also enjoy hands-on workshops, including felting and dying. Additional work will happen in the Soft Lab and Wood and Rapid Prototyping shops.
This course is also part of the ENGAGE program at CCA, designed by The Center for Impact. ENGAGE partners students with local organizations to help them apply their critical and creative skills to real-world challenges.