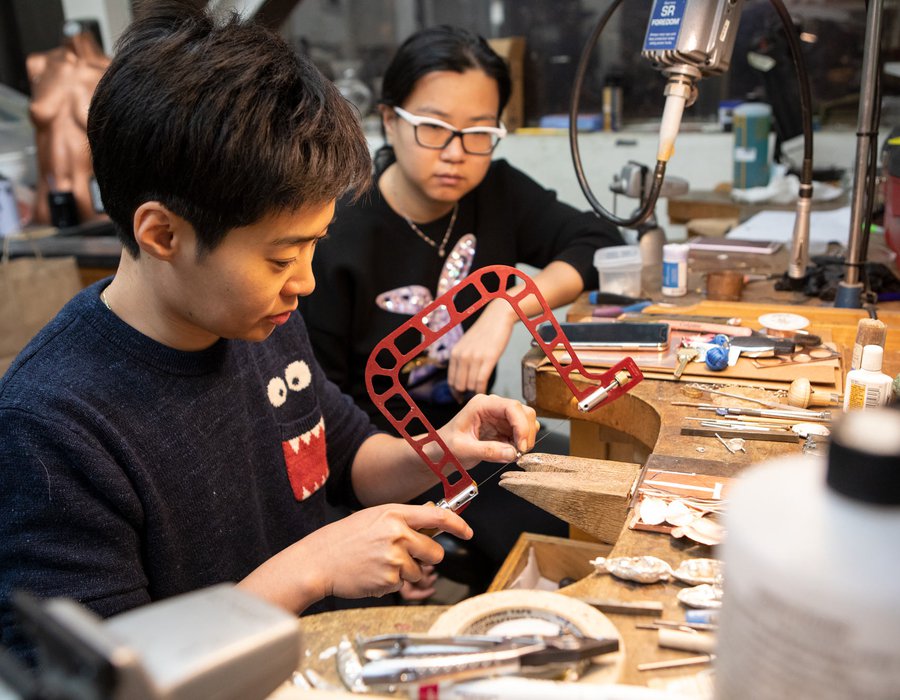 Create original jewelry, functional objects, and sculpture that bring your personal views and interests to life.
The Jewelry and Metal Arts program, founded in 1912, is one of the oldest and most recognized in the field. You'll explore a variety of processes for jewelry making and design through courses taught by nationally and internationally renowned faculty. Our location in the Bay Area gives us instant access to world-class museums and galleries, a large metalsmithing community, and materials suppliers.
Blend the traditional and cutting-edge
With faculty guidance, you'll use rapid prototyping equipment, including 3D printers, jewelry welders, and laser cutters to create innovative designs. Blending craft-based processes with cutting-edge technology helps you develop a unique aesthetic approach that's compelling and original. You'll also expand your ways of thinking and making during internships with professional Bay Area metal artists.
The main Jewelry and Metal Arts studio has three main work areas that include professional jeweler's benches and a breadth of jewelry tools. We cover the full range of techniques to help you master metalsmithing, contemporary jewelry design, sculpture, and installations:
Soldering
Cold connections
Forging
Casting
Enameling
Stone-setting
Hinges and mechanisms
Production methods
Holloware
Patination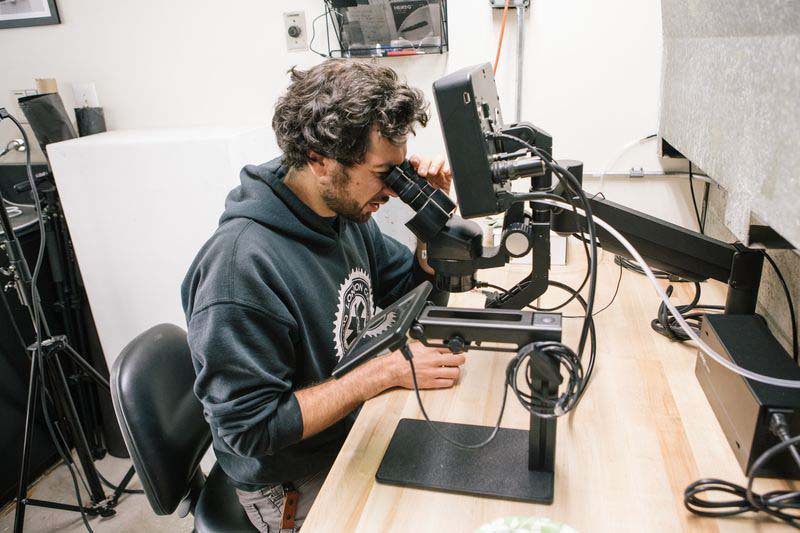 Examining metal as a creative medium
You'll examine metal through basic metalworking techniques, including filing, sawing and piercing, soldering, and forming. Then you'll build upon these skills while studying the history of the metalsmithing field and other fine arts practices. Your goal is to lay the groundwork for your own original concepts.
Our curriculum challenges you to develop your techniques even further by emphasizing fabrication, concepts, and narrative. You'll begin to create personally expressive work that engages with contemporary discourse. Opportunities to use traditional and contemporary techniques help you visualize and experiment with interesting dichotomies.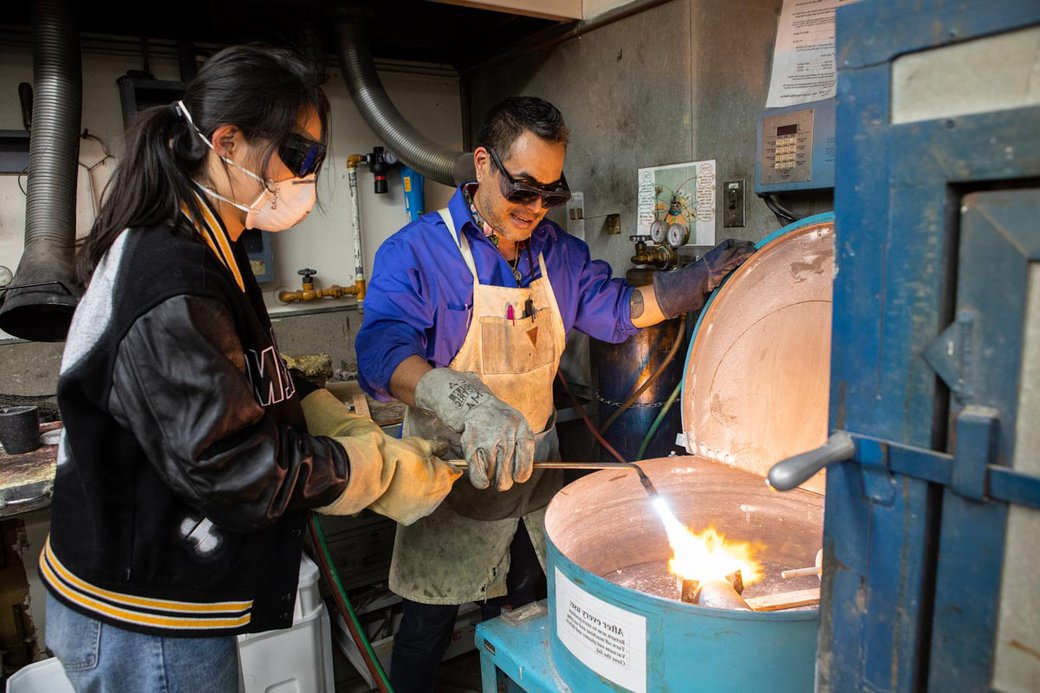 Project-based work and special techniques
As you develop a cohesive body of work for your senior solo show, you'll take project-based courses that challenge you to conceptualize and create quickly. Themes, such as specific art history movements and personal narratives, help you find new sources of inspiration. You'll have the opportunity to take four special technique courses in casting, enameling, production, and holloware to explore these skills in-depth.
Learn the tools of the trade
Rolling mill
Anvils, stakes, and hammers
Centrifugal and vacuum casting equipment
Sandblaster
Bandsaw
Annealing torch
Polishing, grinding, and etching tools
Enameling kilns
Shears and other hand tools
Hydraulic press
Pulse arc welder
Resin 3D printer
Our faculty are nationally and internationally recognized artists in jewelry, sculpture, metal arts, architectural detailing, large-scale public art, and installations. They work one-on-one with students to build their conceptual and technical skills while helping them bridge the gap between the program and other fine arts and design disciplines at CCA.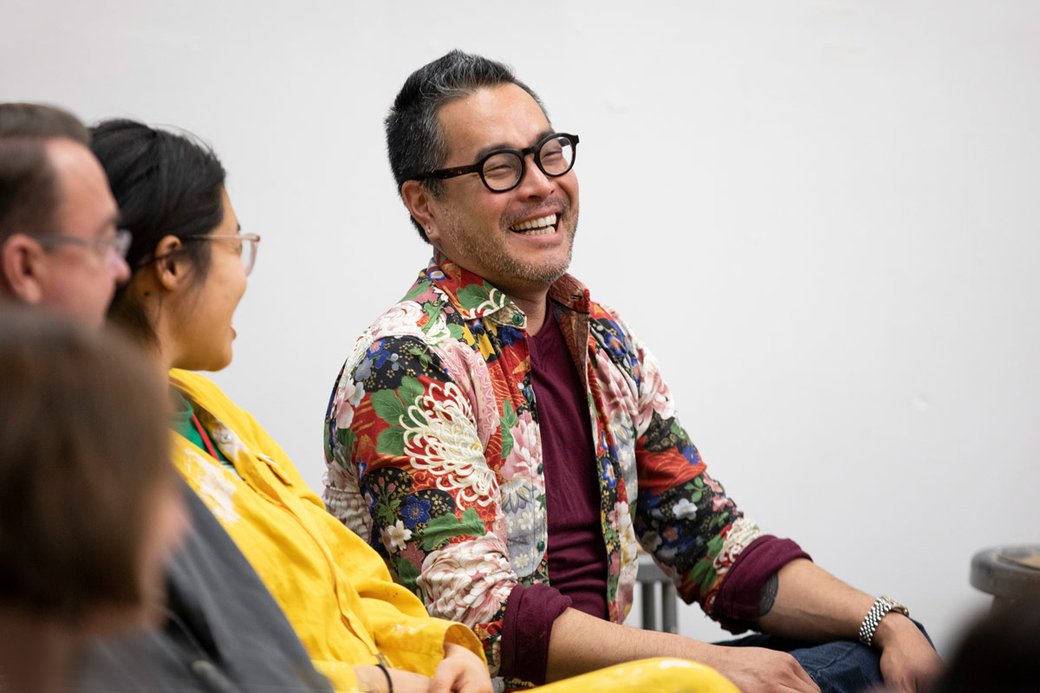 Chair Curtis Arima is a metalsmith who makes jewelry and sculpture in his Berkeley studio. His work has appeared in the National Ornamental Metal Museum, Vennel Gallery in Scotland, and the Sculpture Objects and Functional Art Design Fair in New York and Chicago. Arima has been nominated for a NICHE Instructor of the Year award and received a Best of Show award at the Innovations in Contemporary Craft exhibitions in Richmond, California.
Push materials in new directions
Jewelry & Metal Arts at CCA has offered metal arts courses for more than a century, emphasizing skilled craftsmanship, metal arts history, conceptual rigor, and craft theory. Courses explore fabrication techniques to create a range of refined metal works, including wearable art and experimental sculpture, and build a strong foundation of metalsmithing techniques through the study of traditional and contemporary approaches. View sample courses.
Investigate ideas through every dimension
Before diving into their chosen major, every undergraduate participates in the First Year Experience. Students explore a wide range of materials and tools over the course of two semesters. Faculty from different disciplines guide studio projects, group critiques, and theoretical discussions, setting students up for success throughout their major coursework.
Our alumni start their own businesses, teach at fine arts colleges, exhibit their work in museums and galleries, are accepted into artist residencies, and attend leading graduate programs, where they continue to collaborate with other metalsmiths and artists.
Their interdisciplinary approach to form makes them extremely competitive for national awards. Recently, four of our alumni received prestigious Windgate Fellowships for exemplary skill in craft. Another recent alum won the SECA award and a solo show at SFMOMA. Wherever they are in their careers, our students continue to create ambitious work that pushes the boundaries of metal arts.
Potential career paths
Educator
Fine artist working with galleries and museums
Production studio artist working with wholesale shows and shops
Designer for wholesale manufacturing
Sales expert in a jewelry shop or art gallery
Fine artist in custom jewelry and objects
Arts writer/critic
Gallery owner
Our applicants are often just as excited about research as they are about making objects. Some want to make wearable objects and fine jewelry, while others want to blur the lines between design, craft, and fine art. We look for promising artists who want to dedicate time and space to rewarding craftsmanship.